In 1997, a woman named Susie Merrill took a bunch of sugarfoots she found here at SSQQ and turned them into gunslingers.

After six years of hard work and persistence, Susie molded her team into a lean mean dance machine good enough to win a World Championship.

This is the story.

A

FAREWELL TO SUSIE MERRILL,
SSQQ'S SWEETHEART OF THE RODEO

Story written by Rick Archer
February 2003


On Saturday, January 25, 2003, SSQQ said goodbye to Susie Merrill, one of the studio's most popular teachers ever.

This night was our going-away party for Susie Merrill. Although I was dreading the evening and I knew Susie was too (she told me), the evening turned out much better than we had any right to hope for.

What were we afraid of? Tears. Sadness. Pain. Not only was Susie leaving, but the evening marked the final performance ever for the Heartbeat dance team. It was 'The End' for them as well. Susie wasn't the only one carrying a heavy heart into the night. It wasn't easy to pull the plug on something this good.

Anita Williams told me that her experience with Heartbeat over the past 5 years was one of the most positive things she has ever done in her entire life. And I imagine Anita wasn't the only person who felt this way.

Mixed emotions were the norm this evening, not the exception.

I have a lot to say about Susie Merrill. Susie is without a doubt one of the most talented women I have ever had the chance to know.

Susie is a born extrovert. Charisma and charm come so naturally to this woman. Susie has always had this gift.

There are so many people who love Susie because she is such a giving, outgoing person.

One of my fondest memories of Susie was her late-night all-night chat fests with my close friend Mike Fagan back in the 90s. Every Thursday as I would lock the doors after a Whip Practice Night I would notice Mike Fagan, the man who gave Martian Whip its name, and Susie standing on the sidewalk outside talking each other's ears off. Occasionally I would go join the conversation. Imagine my shock when I realized these talks never actually ended.

Susie has always had boundless energy and doesn't need much sleep. The same can be said for Mike. One time I asked Mike how late they talked. 1 am. 2 am. 3 am. They even made it to Dawn once. Good grief.

Apparently they knew the Bellaire Police very well. The Bellaire Police drive through our parking lot several times a night. Mike and Susie would just wave to them and the police would wave back!

So what did Mike and Susie talk about? Life, love, dance, Whip, who knows. If I had to do it all over again, I would put a table with chairs out there and call it 'Susie's Corner'. In fact, I intend to do exactly that when Spring rolls around. At least they would have had a place to sit for crying out loud (RA Note: this is where I got the idea to put that round table out in front of the studio.)

Susie came to SSQQ in the late Eighties.

Susie was part of an exceptional group of dancers that included Susie's close friend Sharon Crawford (better known these days as Sharon Shaw)...

as well as SSQQ instructor Ben Liles who is pictured dancing with former SSQQ instructor Linda Rooks.

During the Nineties, Linda Rooks was a truly gifted instructor for us. Linda met Rad Decker here at the studio in the late Nineties and got married.

Ben Liles became a cornerstone member of Susie's Heartbeat Dance Team. His leadership was rewarded big time - this is where Ben met his future wife, the lovely Diana Beasley.

Ben and Diana married in 1999.

They have two children - Cole on the right and Allison below.

SUSIE, BEN, LINDA AND SHARON TO THE RESCUE

One day in March, 1988, I was minding my own business with nothing particular on my mind as I drove the studio. That changed quickly enough the moment I discovered I had been evicted from the premises.

Back in 1987 SSQQ sub-leased two small rooms at our 4803 Bissonnet location. Our landlord was Glen Hunsucker, owner of Dance Arts Unlimited. SSQQ had been sharing this location with Dance Arts for the past seven years.

As I showed up for work that day, I was stunned to find there were chains on the door.

I took me a while to start breathing again. After I got my nerves under control, I noticed there was a phone number on the window of a vacant suite to call about renting space. I didn't waste any time calling that number.

Gary Hargrave, the man in charge of the Village Savings account, agreed to meet with me about the problem.

In Mr. Hargrave's office, I learned that Glen had stopped paying his rent. Hargrave was furious at Glen because there had been lies, broken promises, and evasions. Hargrave speculated that Glen had a serious drug problem.

I was angry. I discovered I had been paying Glen more money in rent to him than Glen was supposed to pay Village Savings! All he had to do was take my check and pass it on to Village Savings, but Glen had more important things to spend his money on. So Glen got himself evicted… and now it looked like I was going down with the ship. Always be careful who you hitch a ride with.

I asked Mr. Hargrave to consider renting to me. Gary Hargrave told me to forget about it. No way!

I could understand why Hargrave was angry at Glen, but I didn't see why he was so negative about a finding a new tenant. Hargrave replied that he assumed my business was in cahoots with Dance Arts. Since he hated Glen with a passion for all the trouble the man had caused him, there was no way he was going to take a chance I would turn around and let Glen in the back door.

I reassured Mr. Hargrave that Glen and I ran separate businesses. I said I could prove it.

Mr. Hargrave began to look at me in a different light. The truth was, he had never even heard of me until I had called him this morning. He had no idea what my operation was.

Hargrave asked me to prove that our businesses were separate. I said I could produce canceled monthly rent checks I had been writing to Dance Arts for over eight years without missing a payment. Once Mr. Hargrave saw that I had been paying all along, he realized that my business was totally separate from Dance Arts. I asked if I could assume the lease and he said yes. Suddenly without any warning at all (I had no inkling Dance Arts was in this kind of trouble!!)

So we had a deal - I would take over the space. As a result, the size of my studio went from two rooms to five rooms overnight. My space tripled. And my rent increased slightly over what I had paid Dance Arts, but for three times the space. Not a bad deal.

This meant instant expansion. Now instead of two classes a night, my program would offer five classes a night. I had 5 rooms to fill 7 nights a week!!

There was only one problem - I didn't have five teachers!

So I went on a hiring spree. I began to hire my best students as teachers on the spot. Sharon, Susie, Linda, and Ben plus another valuable instructor named Debbie Reynolds were instrumental in elevating the dance studio to prominence in the blink of an eye.

Imagine how proud I was to paste "SSQQ" across my front door for the first time in my life!

And you know what? I picked some good ones. All five of them - Ben, Linda, Debbie, Sharon, Susie - turned out to be incredible teachers for over a decade. This core group with stayed with me throughout the 90s as SSQQ grew to become the two-ton gorilla it is today. Ben and Sharon are still with us today.


What a great collection of Cheerleaders! Susie is there with her best friend Sharon Crawford. Also pictured is former SSQQ instructor Valerie Ryan in the pink and blue outfit plus Michelle Keating in maroon. This picture was taken at our 1989 Sock Hop.

After my initial expansion, I hired a second wave of instructors. Adding key people like Judy Archer, Maureen Brunetti, Linda Cook, and many others along the way, SSQQ would eventually become Houston's largest social dance studio.

Much of that success was due to the important contributions of Susie Merrill, one of SSQQ's leaders for the past 14 years. Susie Q had been such a enormous source of support for so long that you will soon see why I hated to lose her.

At the time of her retirement, Susie was best known to the 2003 generation of dancers for her three most important contributions, the Heartbeat Dance Team, her Triple Twostep class and her Night Club program.

Judy Archer was the first person on the SSQQ Staff to teach a class in Night Club Twostep. Starting with a Crash Course in May 2000 and a 4-week class in July 2000, Judy introduced Night Club to SSQQ. Unfortunately Judy was well ahead of her time. There simply wasn't much interest in Night Club here in Houston at the time. Living La Vida Loca dominated the dance scene. Judy tried again in April 2001, but the time still wasn't right.

Susie had become very interested in Night Club Twostep as she watched it performed at the various western dance competitions.

Here is a little background on Night Club. Night Club was a dance developed in the 60s by legendary dance coach Buddy Schwimmer. He was looking for something interesting to do whenever slow music was played. While his friends did the bear hug clench and grab with their girl friends, Schwimmer thought surely there was something more interesting that could be used. Schwimmer set about developing his own dance. (more about the origins of Night Club)

Twenty years passed.

Sometime in the 90s, Western dance professionals discovered how nicely Schwimmer's Night Club footwork fit the countless C&W slow dance ballads.

As a result in the late 90s Night Club became a part of the Western dance competitions.

After the professional dancers were exposed to Night Club at the different competitions and learned more about Night Club, they brought the dance back to teach their students.

Now slowly but surely an awareness of Night Club Twostep began to filter into the Western social dance scene with California and Colorado leading the way.

Unfortunately Houston lagged pretty far behind since the Bayou City already had an established Western dance tradition already in place.

In the early 90s Houston had successfully frozen out Line Dancing and now resisted Night Club as well.

I will name as many people as I can. Margi Tufts, Randy Goshorn,
Samantha Archer, Janet Wukman, Susie Merrill in front.
In back that is ?, Ray Meyer, ?, Suzanne Hegemier,
Martin Anderson, Dan Carr behind Sam, Jill Banta, ?, Marty Shea

But Susie was undaunted. She was certain the dance would catch on if only more people knew about it. She also recognized that her team would eventually need this dance if they ever wanted to compete at a higher level.

Susie set her mind to learning everything she could about Night Club. As part of her preparation, she ordered every dance video available and studied the tapes endlessly. In September 2001 Susie decided it was time to take her first stab at teaching Night Club here at SSQQ. Like Judy, Susie found that the Houston dance market was still not quite ready to embrace Night Club.

Seven months later in April 2002 Susie asked if she could teach Night Club again. Of course. This time the dance caught fire at SSQQ! Susie created a huge wave of interest and surfed it for a big ride. May saw SSQQ's first-ever Intermediate Night Club class. June saw an Advanced level. August brought a Super-Advanced level. Her four levels were very well received. From practically nothing, Susie had taken Night Club from a non-existent dance with barely a pulse and managed to create an entire program. Like Judy Archer who created the SSQQ Swing and Salsa programs and Sharon Crawford who created the SSQQ Death Valley, Western Waltz, and Western Cha Cha programs, Susie had every right to be proud of this sophisticated dance that she had carefully nursed to prominence.

Creating a successful Night Club program in 2002 was very satisfying, but Susie had even bigger fish to fry. She had a dance team poised on the edge of a huge breakthrough.

While Susie was growing up in Oklahoma, she had two passions - her chemistry set and her ballet class. Pretty odd combo, right? Susie has been involved in positions such as running hospital laboratories and selling pharmaceuticals her entire career, but she will freely admit dance has always been her true love.

Jill Banta and Marty Shea


Heartbeat began innocently enough. In 1997, Susie began to toy with a Western dance known as the 'Dallas Twostep'. This is a dance popular in the DFW area used to Polka-speed rhythms.

Renaming it 'Triple Two', Susie had a blast playing with its intricacies. Teaming up with her friends Rolando, Anita Williams, Jill Banta, Ben Liles, Mo Hendrix, and Janet Meyers (nee Wukman), Susie experimented with the timing and the footwork to create all sorts of new patterns.

At first Susie taught some crash courses and then four-week courses. She had so much fun that one day she came to me and asked if her group could do a Triple Two performance

at one of our Western parties.



Sure. I didn't give it much thought. Why not?

Now that they had a goal, Susie's group of friends began to practice. In September 1997 Susie and her friends performed the Triple Two for a Rodeo Party and a church group, then eventually at an SSQQ dance party. There were eight couples. They loved to perform!!

From the start money was never involved, a very unique feature of Heartbeat. There have been many fine dance teams in the Houston area that I have followed over the years. Every one of these teams paid a coach to train them. And none of them achieved the success that Heartbeat accomplished. Interesting. And none of them stayed together as long as Heartbeat.

So this was the start of the Heartbeat Dance Team. Susie's group practiced for the fun of it for about 1½ years, occasionally doing exhibitions. In 1999 they competed for the first time at the Fundango in Austin. That's when the team got hooked and decided to get serious. They began to perfect their choreography and technique.

For the next three years, Heartbeat competed in a variety of dance competitions.

Their list of events included:

1. The Austin Fundango in 2001
2. The Dallas Dance Festival in 2000 and November 2002
3. The Fort Worth Hoedown in 2001
4. The Houston Texas Classic in 2000 and May 2002
5. The Houston Waltz Across Texas in 2000
6. The New Orleans Mardi Gras Classic in July 2002.

The good news was that Heartbeat won their division practically every time.

The bad news was that they rarely faced any competition.

Anita Williams and Randy Goshorn sewing costumes


But Heartbeat didn't need to beat someone to know they were good!! They got tremendous compliments from the judges and the dance professionals wherever they went. Let me add that Heartbeat would perform twice a year at SSQQ and each time they brought the house down. They were a great team and they knew it. As 2001 began the team realized there was no team in the Southwest capable of matching up to them. If they wanted to find a challenge, they would have to widen their horizons.

They considered competing for the UCWDC (United Country Western Dance Council) World Championship Team competition. Unfortunately in 2001 the World Championships were held in the Netherlands. After 9/11 put a huge damper on everything, Heartbeat decided to pass on that expensive trip and compete instead up in Oklahoma City in the Fun Country National Championships. In December 2001 Heartbeat won this competition in fine style. This would have been a good place to call it quits, but everyone thought they still had something to prove.

This victory made Heartbeat realize they had a monster team. But how good were they? It was time to look around for even bigger competition. Susie and her team set winning the UCWDC World Championship competition as their goal. Practically the entire veteran team that competed at Oklahoma City in December 2001 signed on for another year. It was time for an all-or-nothing shot at the World Championship.

Heartbeat had a killer Twostep routine that featured amazing Western Swing patterns, humorous lip sync solos, and a clever 'Battle of the Sexes' segment. This routine had been honed to perfection over a five year period and was a great showstopper. Susie should be given a lot of credit for creating this highly entertaining routine.

But to win the World Championship they had to add a second routine for their short program. The addition of the new Night Club routine in 2002 proved to be a nearly insurmountable obstacle.

The problem was that since Night Club Twostep was fairly new, the standard or "acceptable" technique had not yet been clearly defined. This proved to be a huge and highly unanticipated problem.

The first priority in 2002 was recruiting people to replace valuable team members such as Gloria Sanchez, Jill Banta, Mo Hendrix, and Randy Goshorn who left at the end of Fun Country.



So in

January,

2002,

Susie conducted a huge recruitment push.

Overnight Heartbeat grew from 8 couples to 12 couples. Every one of the new people had to be trained, a massive project. Susie spent the next couple months catching the rookies up with the veterans.

By March the assimilation process was pretty much completed so Susie began the choreography for her difficult new Night Club routine. It was very slow going to get 24 different people to work as an integrated unit. It didn't help that Night Club was a dance no one was familiar with.

Progress was made at the speed of a molasses drip. April and May saw progress, but not much faster than your average glacier travels in a millennium. Building this intricate routine from scratch for 12 couples proved to be slow, careful, pains-taking work.

Back in the early days,
Mitch Istre, Candi Gordon,
Brian White, Ann White, Mo Hendrix, Randy Goshorn

Then disaster struck. By June Susie had implemented about 1/3 of her pattern. One day she heard that Dave Getty, the UCWDC event director, happened to be in town. Susie invited Getty to come take a look at her team one Saturday. Getty was not pleased. He was not impressed with the choreography and he didn't like an essential element of the dance known as the Rock-Step. In other words, the style Susie had adopted ran contrary to his 'artistic vision' of the dance.

This was a huge setback. When the head of the organization basically tells you your pattern eats horse radish, despair is the first emotion that comes to mind. After her meeting with Getty, Susie felt compelled to return to the drawing board. She had to practically start over and retrain her dancers. The Getty event occurred just weeks before Heartbeat was expected to put the Nightclub on the competition floor at the New Orleans Mardi Gras, the first of their two qualifying events. Susie had perhaps three weeks to accomplish what had taken her three months to do before. Before you can spell 'panic', Susie had Heartbeat back on their feet again.

The team entered a scramble mode, practicing until midnight every night the week before the Mardi Gras competition. They were able to get half of their choreography completed before this qualifying event. Only half, you say?? How do you compete with half a routine? Susie had an inspiration. Heartbeat simply repeated what they did have a second time to finish out the song.

Now that the July New Orleans event was over, Susie had precious little time left to hammer out the final choreography in preparation for the second qualifying event, the November Dallas Dance.

Susie knew her team would barely be ready in time. Just when it seemed she was going to pull it all together, Susie experienced a terrible nightmare. Unexpectedly her husband Bill suffered a stroke. This happened in October just two weeks or so before the Dallas competition. Bill was hospitalized, given every test in the book and was forced to undergo dangerous surgery.

Susie had to attend to Bill's extremely critical medical problem. But what about the routine??

Heartbeat was without their leader. The veteran team varsity members decided they had no choice but to carry on without her. They literally threw together the last few beats of choreography just to get them through Dallas Dance. Guess what? It worked.

By November fortunately Bill had made a recovery. Susie was able to begin to finish the routine. Due to the Getty fiasco and the various conflicting suggestions made by dance consultants that Susie brought in to work with the team, Susie had been forced to make significant changes to the Night Club choreography THREE times in a period of six or seven months. This was quite a feat considering that most team choreography takes seven to nine months to put one routine together. Factor in the constant missed practices, the new people, Bill's tragedy, and all the many problems that go into coordinating a huge group of 24 people and you begin to understand that Susie must have felt like she was swimming upstream for the entire year. Somehow she kept it together and was able to put her team in a position to win.

Candi Gordon and Janet Wukman Meyer forground
Ray Meyer, Brian White, and Diana Liles background

In December two short weeks before the World Championship competition, team practice moved into maximum effort mode. Training was held every night, a minimum two hours a night. It was an ordeal for everyone. Tension, exhaustion, and frayed nerves affected everyone.

People would drag themselves to work in the morning, drag themselves to the studio, then drag themselves home day in day out. Susie somehow managed to keep team members from maiming each other, no small accomplishment.

As the New Year hit, at last the routines were finally set. Heartbeat was off to Worlds!!

The event was held at the Gaylord Opryland Hotel in Nashville, Tennessee. Worlds lasted from December 31st through January 5th. Team members came trickling in by air and by car. Susie tracked down everyone and began to hold team practices in any nook and cranny she could find.


Practice was often difficult. For example one team practice at Worlds was held smack dab in the middle of a hallway as ballroom floor space was fairly limited. Dancing on carpeting isn't very easy. And how was the team going to practice their formations without proper space? Even more remarkable, choreography on the Night Club routine was still being mastered right up till the last minute. The practices were quite intense.

Finally the big day came. On Sunday, January 5th, Heartbeat performed their short program and their long program. There was intense pressure. There were many uncertainties. For one thing, Heartbeat had never performed the final choreography in front of an audience. The formations were still shaky. Some people had just begun to get the hang of the routine. Would they freeze up under pressure? Would the rookies hold up? For some team members such as Martha Gallia it was their very first competition. Everyone was excited, some a little nervous.

There were seven teams in the competition including the current 2001 world champion Celtic Tribe from Wales and the former 2000 champion Fire and Ice from a college in Utah. Heartbeat would be forced to win against very stiff competition.

The competition was so excellent it was a wonder that Hearteat didn't freeze up. For example right before Heartbeat was to take the floor, Anita Williams stood in awe as she watched Fire and Ice perform.

Anita turned to her partner Martin Anderson and commented on how great they were. Martin smartly told Anita to focus her eyes on Brian White and Ann Bush across the floor and to block Fire and Ice from her mind. It

was

good to have those veterans around.

Tony Catalano, Martin Anderson, Ray Meyer and Dan Carr

Indeed Heartbeat was filled from top to bottom with leaders and veterans. These people had spent years training to finally get the chance to put such great routines on the floor in front of the enthusiastic audience. They deserved to be there and they wanted to put on a great show.

But there had to be a definite sadness going out there knowing it would be their last competition as a member of Heartbeat. A tremendous team camaraderie had developed from spending so much time together over the past five years and especially during the difficult final year. And so much time had been sacrificed for this goal. It would be shame to lose their concentration now.

Everyone on Heartbeat danced to the best of their ability. But would their best be good enough?? No one had any idea how they had done. The results wouldn't be ready until later.

The next day, Monday, January 6, Susie and Bill were driving back to Houston. Her cell phone rang. Coach Susie Merrill was informed that her team had been judged the winners. Bless her heart - from a thousand miles away she phoned me to give me the good news. I immediately put the message on the ssqq web site so the entire community could share in the accomplishment.

Heartbeat had beaten six other teams from England, Wales, Canada, and other parts of the USA. Heartbeat had beaten some very talented teams. They were indeed the World Champions.

A 1999 Look at Heartbeat

The team members in the picture above from left to right are:

Marty Shea, Jill Banta, Chris Henderson, Mo Hendrix, Ray Meyer, Janet Wukman, Karen Day, Tony Catalano, Diana Liles, Dan Carr, and Ben Liles

Anita Williams, Randy Goshorn, and Kelly Baehr are kneeling in front.

Not pictured : Margi Tufts, Suzanne Hegemier, Martin Anderson, and Coach Susie Merrill.

I imagine Susie had tears in her eyes as she reflected on how her dream for so many years had finally come to fruition. I imagine she had many other thoughts as well - the enormous sacrifice of her time, the stress of team members missing practice or being late, the many nights of staying late to work with a team member struggling with new choreography, the pressure to put the choreography together despite so many inconsistencies from one coach to the next, the frustration of finding and training new members after talented people retired, the exasperation from dealing with the inevitable personality conflicts that arose, putting up with the second-guessing of her authority and her competence, and the constant uncertainty of whether it was all worth it or not.

After what Susie went through in 2002 it doesn't take much to see why she decided to retire after it was all over. Susie must be unbelievably exhausted. Mentally. Physically. She probably hasn't had a moment to herself in ages. She and Bill have a cabin on a lake that has stayed pretty much empty all year long.

I am sure many times

Susie

visualized a peaceful visit to her retreat. Heartbeat and I had the same thought -

as going-away presents,

Heartbeat gave Susie a hanging glider chair and Judy and I gave her a rocker. The wood from both presents matched perfectly.

Clearly we were all on the same page without having to say a word.

On Saturday January 25th Heartbeat performed for the final time at Susie's going-away party. That evening must have been so sad for everyone. Happy. Sad. Proud. Nostalgic. It is indeed sad to see such a talented group of dancers disband. But they definitely went out on top.

And so did Susie.
AND WHO WERE THE FINAL 2003 MEMBERS OF HEARTBEAT??

The Heartbeat Dance Team began in 1997. From its inception Heartbeat was almost completely composed of people who received their initial dance training here at SSQQ. Half the performers on the World Championship team were either current or past SSQQ instructors.

Heartbeat Members from Left to Right:

01. Edyta Borockecko
02. YJ Pu
03. Ann Bush
04. Brian White
05. Candi Angulo
06. Andrew Gordon
07. Anita Williams
08. Victor Marquez
09. Shirley Grossestreuer
10. Jim Colby
11. Martha Gallia
12. Dan Carr


13. Ben Liles
14. Diana Liles
15. Reza Taherian
16. Susan Waring
17. Ray Meyer
18. Janet Meyer
19. Priscilla Hamic
20. Tony Smith
21. Christine Sandel
22. Martin Anderson
23. Kirk Gunkel
24. Melody Moss



2008 Note about Heartbeat from Rick Archer:

Will there be another

dance

team

here at SSQQ

??

I think it could be done.

After all, the studio is deep in talent.

There are

still some veterans

from Heartbeat who

might

wish to

help

rekindle the flames.

You never know.

From the ashes a phoenix may

someday

arise.

All it takes is another leader like Susie.

Good luck finding that person. It isn't easy keeping a group this large together for as long as Susie did.

In retrospect, the genius of Susie Merrill was gaining everyone's confidence. Once she got their trust, Susie went about creating a family. Like Anita Williams said, this was one of the most positive things she ever did in her life.

I have no doubt the other team members feel exactly the same way. This was quite an accomplishment.

2008 UPDATE ON SUSIE MERRILL

-----Original Message-----
From: Susan Merrill
Sent: Saturday, August 18, 2007 5:41 PM
To: dance@ssqq.com
Subject: Reputation

Hi Rick,

I felt that I just had to respond to your REPUTATION article.

It amazes me that you even feel that it is necessary to defend yourself after all of these years and the literally thousands of students that SSQQ has trained over the years. Now that I am a full time teacher myself; however, I understand what it means to work day and night to prepare lessons, syllabuses and plan activities to please your students only to discover that you will never make all of them happy! Sometimes it is just necessary to vent in the hopes that most of your colleagues and students will understand. In my case, Bill takes the most of my venting. I am lucky that he is a good sounding board.

I remember when I was teaching at SSQQ and coaching my dance team. People would bring up the point that many times we won competitions because no one was competing against us in our division.

This position was ridiculous. We won for the reason that SSQQ had students who were committed. Students that I was able to count on to show up for practice after practice, year after year, and competition after competition. We had a studio owner who volunteered the space that we used and allowed us to bring in coaches from studios all over town to help us polish our choreography and our competitive skills. That studio owner—you—never once charged us a floor fee and provided all the heat and air conditioning we needed for over 5 years.

Were our students always the most perfectly polished on the competition floor? Probably not, but they had what all of the students that attend SSQQ have - a love of each other and a love of dancing. They were in it all for one and one for all. They were a team with a lot of heart and that is why they succeeded in staying together year after year while we watched other teams come and go.

SSQQ is successful because for years you and all of us who taught there have consistently created the best social dancers in Houston. You have always known what most of the other studio owners in Houston have never seemed to grasp.
MOST people learn to dance so that they can look good at a company party, their wedding, or some other social occasion.

They come to SSQQ to prepare for an event and they meet a community of people who are fun to be with, who help each other get better during practice sessions and who love to dance socially.

They have so much fun that they stay and continue to come back to be with their friends. Most of the people that complain about styles and techniques taught at SSQQ owe the students that they have to the fact that SSQQ got them interested in dancing in the first place.

I am proud of the 15 years I spent as an instructor at SSQQ and I proudly display a picture of my dance team, Heartbeat, and our world championship plaque in my classroom here in Longview! Each year when I introduce myself to my students, it is something that I point to proudly. They are not always interested in biology, but they love to hear about my dance career! SM


From: Rick Archer
Sent: Monday, August 20, 2007 10:33 AM
To: samerrill@wb4me.com
Subject: RE: Reputation

Susie, I guess I should not have to say you are one of the instructors I miss the most, but I will anyway. You are a force of nature, a real dynamo. If only I could have appreciated your skills more while you were here. In my defense, I will say it isn't easy to supervise someone who is brilliant because brilliant people don't always have the time or patience to ask permission every step of the way. Eisenhower and Patton are good examples. Patton drove Eisenhower nuts by doing things his way and disregarding orders. Or Truman and MacArthur.

I think one of my own strokes of genius came when I decided to get out of your way and let you run with the ball. That may be the secret of my success. Let you do the heavy lifting, then step in at the last minute. Beware the man who praises talented women; when the time comes, he is preparing to take all the credit.

But all kidding aside, I have no problem giving credit where credit is due. As I reflect back over my career, you possess more charisma and leadership ability than any man or woman I have ever come across. No one comes close, including me. You have a knack for getting lots of people to pull their oars in the same direction that very few people possess. Bringing up a sore spot, my ex Judy had comparable skill as a choreographer, but her lack of leadership ability doomed her while you succeeded. Too bad you got a late start at Longview HS; I could easily see you as the best Principal they ever had.

As far as my role in your team's success, I actually did take quiet pride in what you were doing. I realized early on I was not on the glory end of the stick, but took comfort that I contributed by sharing the studio's resources. My only regret is that you were too busy to take me up on my offer to publicize your team's accomplishments more often. Oh well. Job well done even without the extra glory my press releases would have brought.

Criticism. It sure hurts. You were trying to get something special done and someone tried to steal your credit by telling you practically anyone could win against no competition. I am sympathetic that you are sensitive on such a ridiculous charge. That's like saying the USA won the space race because they only had one team to beat. There is a reason you had very little competition. In truth, no one but you could field a team in the first place because the teams always all fell apart! Even if there were more teams, you would have swept the field anyway.

Regarding my Reputation article, I am still curious as to my own motivations for writing it. It was actually a form of 'automatic writing'. One day I saw an article in the paper and the next thing you know I couldn't stop typing. The particular Chapter you are referring to was actually the last chapter of nine that I wrote. Most people still haven't figured out what I am up to and I can see why - I don't know what I am up to either. I am worried that some test is coming my way and I will need all the support I can find. Moving the studio to a new location will be an enormous headache. I really do feel like Moses preparing for Exodus. The climate with the landlord and the neighboring businesses is so hostile I can barely stand it due to the parking crunch. Every day I go to the studio I worry about what crisis is going to hit next. My students don't make it any easier by constantly ignoring signs and common courtesy because they want to park close to the studio. The actions of a few end up alienating neighboring businesses, the landlord, and the City of Bellaire, but the entire studio gets blamed. It is an awful feeling.

But to be honest, I didn't actually feel defensive when I wrote that last chapter. In fact, I secretly appreciated the backdoor opportunity to ballyhoo the studio's accomplishments. It is not easy to toot your own horn. The criticism actually gave me an excuse to write a series of heartfelt compliments about my staff and the studio in general. I think my Staff is secretly swelling with pride at the things I said about them. If so, good. They deserve it.

Speaking of 'pride', as far as your own pride about Heartbeat, there is plenty of room for a follow-up story on your adventure in our Newsletter. Since you were too busy to fool with publicity the first time around, maybe you would enjoy writing a story about the program from beginning to end. Not only would I put it in the Newsletter, I would add it to your permanent story on the website. From that point on, your legacy would be easy to read and understand.

Afterwards, I can easily see a Reunion Party taking shape on some weekend convenient to you and Bill. Give him my regards, please, your husband is a good man.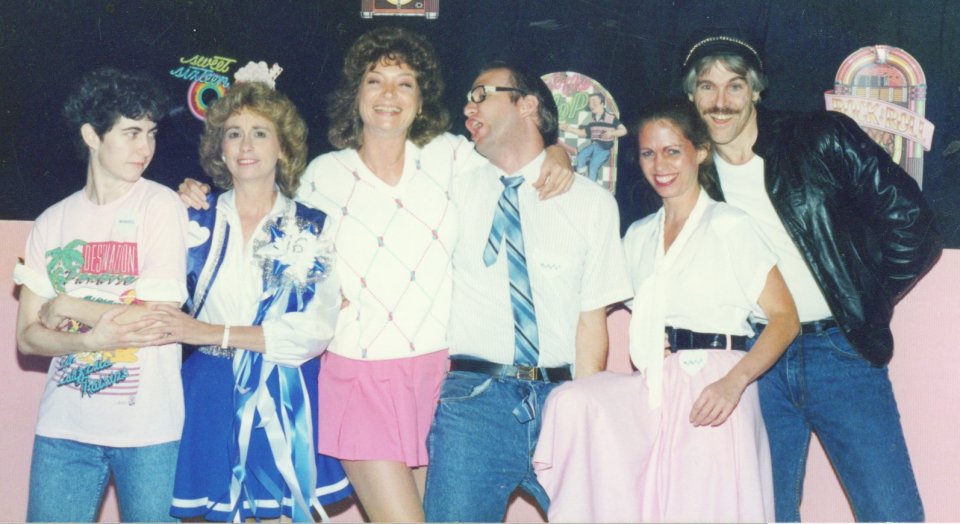 A 2008 INTERVIEW WITH SUSIE MERRILL
Questions asked by Rick Archer

1. When did you first come to SSQQ? What got you over here?

I came to SSQQ with some other singles from my single Sunday school class at Memorial Drive Methodist church in 1988. I enrolled in what I believe was Sharon's first Whip class. Linda Rooks, Ken Medor (sp), Donna Ruth, Carl Grey were all in that class. My girlfriends did not stay, but I was hooked. If you remember, our Whip class stayed with you in Martian Whip for several years, even after many of us were teaching. We took so many classes that you had to finally break down and start writing syllabuses for us. Remember-you did not believe in syllabi. You felt that the guys needed to take notes!! They used to carry 3x5 cards and keep their class steps on them for practice nights. All of that was when classes were an hour long and you could take whip for an hour and then another class for an hour and then go to practice night, so many of us stayed for two classes a night.

2. Weren't you part of the Studebaker's Group?

Seems like that was the big hangout when I first met you.

Yes, most of us went to Studebaker's one night a week regularly for jitterbug.

I never

actually

took a jitterbug lesson. I just followed the other guys.

Then one day you asked me to teach

jitterbug

. What were you thinking?



I kept telling you I hadn't taken lessons, but you insisted I could do it.



That's how Jitterbug became

the first thing I taught!



Fortunately

I paralleled Sharon's classes. I would go to her class on one night and teach the same material a couple of nights later.

Then the next month there I was teaching Intermediate, then Advanced.

Thanks to the overnight expansion of the studio, there was no such thing as teacher training in those days. Very stressful, but I survived.

I

ended up doing the same thing for

whip

a couple years later

.



The

first classes

I took

from you were in country western, later the whip super class as we called ourselves and actually, a ballroom waltz class!
3. Who do you remember from your early days at the studio? Sharon? Ben? Linda Rooks? Anyone else?

Donna Ruth, Ken, Linda, Ben, Valerie, Jan (Trisha Fagan's sister) and Jan's other sister. I can't remember her name-she's blonde and does not look a bit like Jan (her name was Louise).

I also remember Carl Grey and Richard McDonald (worked for Otis elevator-moved to Mississippi-helped me teach jitterbug for several years. Maureen Brunetti and Judy Archer, Debbie Reynolds. Tony Wolski, Iqbal, John Safos. Vicki Huddleston. Later-Gary and Betty Richardson.

Ted Jones and Margie Saibara and Mike Fagan came to dance for Thursday whip practice. We were beginning dancers and would stand around watching in awe.

I will never forget when you set me up to dance with Mike the first time. I was terrified, but I think I held up okay. Mike became a friend who was like a brother I never had. We used to talk and do dance moves until all hours of the night. One night we stood in front of the studio talking and working on moves until the paper boy delivered the newspapers! We had no idea it was the next day!

4. What was the studio like in those days?

When I started, everything was painted in bordello red and black. I remember one of our jobs as instructors was to light NUMEROUS tea light candles for the main ballroom for every practice night. The ballroom was not as large and we taught everything from cassette tape! I think we had the ballroom and maybe two other rooms. You had a game room with two video game machines and a long hallway where the three connected rooms are now. Only the back room by the kitchen was there then. You made a collage of pictures after every party and they hung down the long hallway. Everyone would walk down the hall to look at the pictures and see how they changed from year to year.

5. When did you get interested in western dancing?

Although I started at the studio with Sharon's whip class, I started taking western swing very soon after that. Valerie Ryan was my first western teacher. We all went to the old Wild West every weekend then. I remember that you published a specific t-shirt color for each week and we would wear that color when we went to Wild West so that we could find our group, which got larger each week.

6. How did you come to be an instructor? What did you teach?

I actually came from a very talented and dedicated group. Many of us became instructors and helpers. You asked me to teach after I had been taking classes less than a year. I started with jitterbug and whip. I had to beg you for months to get you to let me teach western. You were afraid I would wear out if I taught too many nights a week since I worked a full time job in health care during the day. I persisted; however, and you finally let me into the Western program on Sundays and later on Fridays. For most of the 15 years that I taught, I taught 3-5 nights a week.

7. Weren't you and Sharon part of the decision to eliminate the woman's point step on Step 4 of the western swing windup? Any memories on that? Do you remember debating the 'correct' way to do the Wild West Shuffle with me?

Yes, Sharon and I often "ganged up" on you. We seemed to be the most vocal of your instructors. We knew that you would not always agree, but we were persistent. Although that resulted in many heated "debates." We always respected why you did things the way you did, even if we wanted to do them differently. I think we debated the way to do the "hitch" in whip as well as the things you mentioned above. Then Sharon and I were always trying to change the west coast/whip basic step to what we considered the latest "fad" as the local whip gurus moved in and out of Southwest Whip. I bet we debated that at every teachers training.

Do you also remember the debate as to whether ladies turned on one foot or two when doing multiple in place turns in whip? You even video taped us to prove that we were moving from one foot to the other!!
| | |
| --- | --- |
| | |

8. How did the studio change over the years? What changes were for the good and what changes were for the bad?

Good changes:

1. 2 hour classes (1 hour of review and 1 hour new material) and ability of students to attend parallel classes. I think this really allowed students to get up and running on dances quickly.
2. The additional rooms that allowed us to teach more classes each night.
3. The sound system set up in two rooms so we could do one dance in the ballroom and an alternate dance such as whip in the back room.
4. Move to preprogrammed music for practice nights
5. Painting over the red and black!!!!!
6. When you let me start Heartbeat!!!


Bad Changes: I cannot think of too many.

1. When we stopped requiring the instructors to dance with the students during practice night. I always felt that we got to know our students and encouraged them to stay in the program when we were all dancing with everyone. I met some of my best friends that way---people that were not in my classes, but became friends and life long dance partners.
2. When we gave up routine teacher training and allowed assistants to train in instructors classes. I always felt that some of the teachers trained that way never got to work with more experienced instructors or had the chance to see other ways to teach.
3. We got older and students got younger!

9. What are some of memories about Heartbeat? Anything you would do differently if you had to do it all over again?

Heartbeat was the result of a random thought. I had this wonderful Triple Twostep class. I wanted more people to learn about this great dance. With that in mind, I remember getting a wild hair one night to do exhibitions to promote my triple two step classes.

I coerced my good friend and co-teacher, Rolando Ramirez, to help me come up with moves and then I begged six couples to help me put together our first team. We just wanted to do an exhibition at the studio and leave it at that.

Then we started getting requests around town to perform at rodeo parties and other events. That meant making costumes! After our first rodeo party performance, the team wanted to go "on the road". The only way I could think of to do this was to take them to a competition in Austin where they could do an exhibition.

After that the team took off. Here was a group of middle-aged adults, most of who had not dreamed of dancing until they took their first class at SSQQ. Most of them had been dancing less than a year, and now, they wanted to compete!!

That meant ramping up our training. We started working on technique-every Saturday morning at the studio. Turn technique for ladies and especially for the men, two-step synchronization (hitting the 1, 2, 3-5) and adding competition moves were just a few of the things we began to work on. Then we began having some other coaches come in to work on technique and polish the routines. We had world-class coaches in Houston and even some who came in from California to work with us. When we won the national championship and decided to go for the world championship, we practiced two to three days a week and had special practices that often required us to work every night before a qualifying event.

Throughout the five years we competed, not one member complained that I was asking too much. I have never known a more dedicated and committed group of people in my life.

One of my special memories about Heartbeat is that we had several weddings on the team-

Ben and Diana Liles, Janet and Ray Meyer, and Tony and Karen Catalano, Ann and Brian White. In addition Candi and Andrew became a couple on the dance team and are still together today. Victor and Christine met on the dance team and have recently married. We were a very close group.

I cannot think of anything I would do differently about Heartbeat. What a wonderful experience with such dedicated people. We have all made friends for life. We set a goal to be the 2003 World Champions, and we achieved that goal. How many people can say that in their 30s and 40s they decided to take on a challenge like that and were successful? WE CAN!!

Click here for a 1999 Story written by Susie Merrill about Heartbeat


10. What do you miss about the studio now that you have moved away?

Unquestionably, I miss all of my friends. That definitely tops the list. We were all inseparable for almost 15 years. Of course, I also miss dancing and the exercise that I got from dancing 5 nights a week. I can honestly say that SSQQ taught me my true calling-teaching. Although I no longer teach dancing, I teach biology and anatomy and physiology in a school with largely at-risk students. I have a picture of our 2003 Worlds Heartbeat team hanging in the classroom and when I wear my championship jacket to school-the kids always have to hear the story of Heartbeat. On March 8th, I will be taking 46 science club students to Martin Creek Lake State Park for an overnight camp out. I have promised that I will teach them the St. Louis Barn Dance!