THE 2011 LABOR DAY DANCE CRUISE WRITEUP
Written by Rick Archer
PHOTOGRAPHY ISSUES

As owner of a computer store, my friend Gary Richardson has always been interested in the latest technology. For example, Gary bought one of the very first digital cameras (2006?). Gary really liked his camera, but it was very expensive. Gary said when the day came that the price of these cameras came down and the quality improved, he could foresee taking lots of pictures because there was no reason not to. In the old days, you still had to pay for film and to have it developed. No more.

Gary's prediction was right on the money. Pixels are cheap. All you need is storage space on your hard drive or, better yet, just burn the pictures to a CD. In the past four years, we have seen the advent of the less expensive yet very excellent digital camera. We take these cameras for granted now. They are everywhere. I bought one myself. Then Marla bought one in addition to mine. So did a lot of other people.

Then came the cell phone cameras. Suddenly everyone was taking pictures... lots of pictures!!

Things got a little carried away picture-wise on this trip. I asked everyone to contribute their favorite 20 pictures. 100 people X 20 pictures = 2,000.

Well, we ended up with people sending me 4,000 pictures. I was so overwhelmed I barely used any at all. Please forgive.

Ed and Tracy Akin
No ONE TALKS TO ME ANY MORE

Our 2011 voyage aboard the Conquest was a dream trip. It was pure pleasure all the way through.

We had a small bump leaving Galveston. Thanks to the nearby tropical depression, the Conquest was late getting into port on our day of departure. That meant our group was delayed in the terminal for about two hours waiting to get on the ship.

C'est la vie. It was no big deal. That was the only real problem I can remember. Once we made it out to sea, it was a smooth trip the rest of the way. Our group of 97 had a marvelous week of sailing, dining, hot-tubbing and exploring together.

There was plenty of romance and lots of friendship. We danced ourselves silly and the group spirit was incredibly high. What a marvelous time!

As always, there were hijinks and mischief too. After all, the whole point of a vacation is to cut loose. However the hijinks were harmless and the hanky panky stayed pretty much below the radar. I had vague hunches about situations, but nothing I could put my finger on. Alas, this group has really learned how to shut me out when it comes to gossip. As far as they are concerned, no news is good news.

Of course the veil of secrecy remains intact mainly because I can't stand the hot tub... which just happens to be the major incubator for the best stories. However, until we can pierce through the thick veil of the hot tub steam, I guess those activities will be left to the imagination. I might add the one time I had a chance to actually break through the veil of secrecy, I decided I was too worried about what I might discover to pry any deeper.

As a result, there isn't much to write about. It's tough to write about perfection. Normally when no one misbehaves, I just make some stuff up. Unfortunately, it has been quite a while since I made up a really good tall tale.

For this trip, I may just have to stick to posting lots of pictures and add comments.
............

Veni, Vidi, Vici - I came, I saw, I Conquested... GOODBYE CONQUEST

This was probably our final trip aboard the Carnival Conquest. Now that the Carnival Magic is due to replace the Conquest in Galveston this coming November, it is unlikely we will be taking another trip aboard the Conquest anytime soon.

You would think after five trips aboard Conquest I would have developed some fondness for the ship, but that is not the case. I feel absolutely no nostalgia.

I suppose I should feel some sort of loyalty. After all, the Conquest "Clubhouse" really helped create our sense of "Family" starting in 2007. Someone discovered a largely deserted dining area one floor above the morning/afternoon buffet. Our group made a habit of eating there twice a day. This became a type of clubhouse for us, a place where we could always find someone to hang out with during the day.

Newcomers in particular liked this clubhouse. It made it so much easier for the veterans to meet the rookies and absorb them into the group. I would have to say many lasting friendships owe their start in part to some casual conversations over breakfast and lunch up in our clubhouse. Hopefully we will continue this feature on our next ship.

The dance floors weren't that bad either. The Lobby/Atrium on the Conquest was large enough for the most part. It featured a very nice wood floor that was actually superior to the Lobby floors on the Royal Caribbean ships. I liked this place a lot.

Alfred's Lounge was a very nice facility featuring a lovely circular dance floor. Unfortunately some idiot made this a smoking lounge for our first four years, so that was a major problem. However, this year the Lounge was smoke-free and our group loved being in there.

In 2007, our first year on the Conquest, Gary Richardson discovered a tile floor next to the Casino that was pretty good for dancing. Since they had an excellent Western singer on that trip, the Casino dance floor became our most popular venue. That hasn't changed. For example, in 2011, Marla and I danced Salsa, East Coast and West Coast Swing in this area on several occasions to excellent live music.

I don't care much for Vincent's, Degas, or the Blues Lounge, but those venues had serviceable dance floors as well. Pattie and Rick Barrett said they had the dance floor in the Blues Piano Bar all to themselves. They danced to their heart's content. Now that sounded like fun. I asked why they waited till the end of the trip to tell me. Pattie looked at me like I was nuts. "And have all you barbarians come in and steal our floor space? I don't think so!"

Looking back, all in all, the dancing was actually pretty good aboard the Conquest.

The problem is that we all knew it could be better. Once you have tasted the best, it is really tough to settle for the rest.

Back in the first half of the 2000s, our group fell in love with the Royal Caribbean Rhapsody. The Rhapsody had the finest dance floor of any ship I have ever been on. And the room was spectacular! The entire Lounge had a mural with dance scenes from the Big Band Era of the Twenties and Thirties. The pictures were reminiscent of the Astaire-Rogers dance movies. They served both as inspiration and invitation to dance. Of course the ocean could be seen as well in three directions. What a lovely room. It was quite romantic. We had so much fun dancing in the beautiful "Shall We Dance" Lounge that we loved returning to the Rhapsody every year.

Many good times, many good memories.

Alas, Royal Caribbean mysteriously chose to remove the Rhapsody in 2007 and didn't bother to replace it. Why RCCL left the Texas market is beyond me. It has been five years now and I still don't know the reason. I understand that it was probably an economic decision, but until someone offers up the details, I remain perplexed. Why leave such a valuable spot to your main competitor?

After all, if you live in Denver, Houston-Galveston is your nearest port. The same can be said for Oklahoma. And what about Kansas, Nebraska, North Dakota, South Dakota, Wyoming, Montana, and so on?

Now I understand that people in these states can pay an extra few dollars and journey to the more glamorous port of New Orleans. I am sure some do. The biggest problem for Houston is that it is not seen as a "fun city" to visit. We also have a handicap of sorts because the airport near Kingwood is over an hour away from Galveston. In New Orleans, you can actually walk to Bourbon Street from your cruise ship. So New Orleans has an advantage over Houston/Galveston for people who have to fly.

Texas is a different story. Carnival has Texas all to itself and I would assume Texas is a very lucrative market. Not only is our state heavily-populated, we are well off financially.

If you live in Texas, many people choose to simply drive down to Galveston. It's cheaper than flying and probably almost as fast when you include transfers and waiting in terminals. Dallas, Austin, and San Antonio are all within easy driving distance. Furthermore, seeing how Houston is the fourth largest city in the USA, I am sure the Greater Houston area is a gold mine for any Galveston-based ship.

Lucrative or not, RCCL pulled out of Galveston in 2007 and hasn't been back since. I have a hunch Carnival enjoys its Texas Cruise Monopoly a great deal.

Carnival isn't stupid. I suspect they are bringing their shiny new ship Magic into Galveston for two reasons - to further exploit their monopoly and to make it difficult for Royal Caribbean to regain a decent toehold in this area.

There is a rumor that the Magic has a great dance floor. Let's cross our fingers and hope that it true.
...........

INVASION OF THE NORMANS!!

Donald Taylor met his beautiful wife Jeannie through SSQQ. Actually Donald met Jeannie at Wild West, but after one spin around the dance floor, she suggested he take lessons at the studio... adding that she would be happy to join him in class.

Donald really enjoyed his first lesson and stayed with it. I might add having Jeannie around was a serious incentive.

Donald and Jeannie signed up together for our 2006 Rhapsody Dance Cruise and were immediately hooked. Their next trip was special. Donald and Jean got married just days before our 2007 Conquest Cruise and shared their Honeymoon with us.

Savannah was born in 2008. This makes Savannah an official SSQQ Kid!
Soon after the wedding, Don's job transferred him to Norman, Oklahoma. Not only was our dance group sad to see them go, Savannah's grandparents Jenell and JR Williams who live in the Houston area were even more distraught.
Usually when a family leaves town, we don't get to see them again unless they make a random visit at the studio. However, Donald and Jean were the exceptions. The two of them really had "dance cruises" in their blood.

Donald and Jean took a year off from cruising in 2008, but returned to join our group in 2009. Savannah was very young, but Jean's parents offered to watch her. What a relief!! So while Jenell and JR watched Savannah, Donald and Jean flew all the way down from Oklahoma to join us.

Donald and Jean were back in 2010, but this time they brought along Savannah, their 2 year old daughter, as well as parents and relatives. They set a record for the largest family to ever take a trip with us. In addition, Savannah officially became the youngest person to ever sail with us (FYI - Savannah now has company thanks to Laith, Gina and Brandon Nelson's 2 year old who joined us for the 2011 Eastern Caribbean cruise).

Donald and Jean continued to take dance lessons in Norman. They noticed that while the caliber of dancing was good, there was nothing to compare to our dance cruises. So Donald asked Marla if he could advertise the SSQQ cruises up in Oklahoma. Maybe some of their land-locked dance friends might be interested in seeing what the ocean looks like. Houston isn't exactly down the street from Oklahoma, but when you stop and think about it, Houston-Galveston is the closest cruise port to Oklahoma.

Donald went to work talking to his friends at the dance studio. He brought a contingent of 15 people along with him for this trip. I think some of them were a little apprehensive at first, but I thought they all had a great time. Donald should be congratulated for his hard work. These people added great energy to our group. Darren, one of Donald's neighbors, wasn't so sure it was such a good idea to be visiting "Texas". After all, he is a died in the wool Sooners fan.
Norman, as most of you know, is home to the University of Oklahoma... the Sooners! Thanks to the excellence of Oklahoma football, the Oklahoma - Texas football rivalry has been pretty intense over the years. People don't actually riot after the annual grudge match, but feelings can be heated.

It turned out that Darren had nothing to worry about. Naturally on this trip, there was a little Texas-Oklahoma teasing, but we are all used to that. After all, we have to tolerate George Handsome wearing his stupid Alabama Football tee-shirts all the time. If we can live with George and his obnoxious Bama tee-shirts, we sure as heck can accept some nice Sooner fans into our midst.

Just look at the smug look on his face. Oh my gosh, I just remembered Bama won again in 2012. Ugh. Speaking of George, I knew I liked the Oklahoma crowd when I saw them looking with the same revulsion at that hideous Bambi tee-shirt that I feel. The enemy of the enemy is surely my friend!

I might add the Longhorns and the Aggies have played well together for years on our group cruises. Cowboy fans and Texan fans manage to co-exist as well. If we can manage to have Aggies fans, Longhorn fans, Cowboy fans and Texan fans dance together without killing one another or George, I am sure we can extend the same privilege to Sooner fans.

Not only do we honor every race and religion in our travel group, we respect all football loyalties as well. Coming from Texas where football practically is a religion, that is the very definition of open-minded!


Jean's Mom and Dad Jenell and JR had traveled with us before but Darren and Lana Alexander, Carla Nash, Taylor Deason, Thomas Purcell, Catherine Bloye, Shelley and Dylan Dawson, plus Johnny and Nancy Brinkley were all Oklahoma people who came a long way to join our group.

The new people from Oklahoma who joined our group in 2011 seemed a bit apprehensive at first. One of their biggest concerns is whether "Oklahoma" dancing and "Texas" dancing were compatible. They were very suspicious if the "Texas Twostep" was the same as their Twostep.

Who can blame them for worrying? They had invested a lot of money coming on this trip based solely on the word of The Donald.

As they got to know Donald better, they began to have their doubts about him.

Wouldn't you?

I think the entire group was very relieved to find out that under his strange exterior, Donald was a respectable guy. Well, kind of respectable.

One of the biggest skeptics was Johnny Brinkley, pictured here with his lovely wife Nancy. Johnny had taken his first-ever dance lesson on a cruise to Alaska. Johnny really struggled. The dance teacher on board worked with Johnny for a while, then gave up on him. The instructor suggested Johnny stick to another hobby.

Fortunately, Johnny doesn't give up easily. He and Nancy eventually began taking lessons in Oklahoma. Even when their beloved teachers deserted them to move to Pennsylvania, they refused to give up their new found hobby.

Considering how well Johnny danced in my classes, he should be proud of himself. Not only did he acquit himself well, I think Johnny had a lot of fun in the process. He was excited to find out their dancing did indeed click with our style.

Even better, to his surprise, Johnny discovered he knew several moves we used all the time. His Stop and Go was the same pattern as our Peekaboo. The pattern might have a different name, but it worked just the same. Imagine that.


Their experience proves yet again that social dance patterns are fairly universal. I have been to other parts of America and several parts of Europe, so I promise you what we teach here in Houston is effective anywhere you go. If you can lead it, they can follow it.

We are a lot more civilized in Texas than people think, even if we do have to include people like George into our group.

The Stormin' Normans: Dylan, Shelley, Jenell, Carla, Taylor, Darren, Lana, Donald, JR, Jean, and Savannah -
living proof that Texans and Sooners can coexist harmoniously.

GERTRUDE BOOYSEN
SSQQ HEROINE AND CARNIVAL COORDINATOR EXTRAORDINAIRE

One reason our trip went so well is that a hero emerged. Or should I say 'heroine'?

Gertrude Booysen, a South African, was our Trip Coordinator. A Coordinator is a person assigned by the ship to make sure our needs are met. When I first met Gertrude, I assumed her hidden agenda was to keep an eye on us.

Our group had two activities the same day we left Galveston. First we had a 'Welcome Aboard' dance at 7 pm in Vincent's and later we had late night dancing in Alfred's Lounge starting at Midnight.

Every time I turned around at Vincent's, I bumped into Gertrude. Not that I minded. After all, Gertrude was extremely pretty. But it did seem odd that she was so accessible. I wasn't used to that.

Nor was it my imagination. Gertrude really was always there. During the first two nights of our Late Night Dancing at Alfred's, Gertrude actually sat in the background for an hour each night watching us dance.

That was new. I had never had a coordinator take time to watch us before. I didn't know Gertrude's motives. I decided she was just keeping tabs on us. If we were going to pull any shenanigans, Gertrude wanted to know about it.

I actually didn't mind. After all, we had nothing to hide. Gertrude was very inconspicuous. She sat alone in the recesses of the ultra-dark Alfred's Lounge. I don't know if Gertrude was told to watch, if she watched because she was curious, or if she watched to try to learn something. I found it disconcerting to have her there at 1 am in the morning watching us dance, but she was always so pleasant and positive I soon forgot she was even there.

In retrospect, I wish I had asked her to dance. It never even crossed my mind that Gertrude might be interested. My first impression was that she didn't trust us, but I later decided she was curious to learn more about our dancing.

The first problem came on Tuesday. We had an unusual "shared cocktail party" in the Disco with another group at a strange hour - 3 pm. The party was extremely well-attended. The promise of free drinks lured the entire hot tub crowd to come inside and dance in the middle of the day. Plus Marla said 'come as you are'. They liked that idea. Very clever ploy, Marla!

Except that we were not alone. Some other group would be joining us. That had never happened before.

Marla sold more than enough cabins to receive a PRIVATE Cocktail Party, but she didn't sell them by the final payment deadline. She was one cabin short (Marla sold several more cabins at the last minute, but it was too late). This meant we would have to share the room.

I knew all along this might prove to be a headache. What if the other group didn't like our music? Then what?

Gertrude was worried about the same thing. Shortly before the party started, she came to talk to me as I was setting up the equipment. She warned me that if the other group was not cooperative, she would be forced to play one of the ship's CDs as a compromise. Oh great. Barry Manilow's Greatest Hits, here we come.

Gertrude added that first she would go talk to the other group, then get back to me. Okay. What else was I going to say? But inwardly I groaned. I could visualize all the complaining if this didn't work out.

5 minutes later Gertrude returned and said everything was cool. I smiled. Thank you, Gertrude. Then I said I was going to go talk to them. Gertrude turned white which wasn't easy because she is dark-skinned. I still don't know why that scared her so much, but I went ahead and approached them anyway despite her undisclosed concerns. Gertrude just stared in horror. She seem convinced no good could come from this.

I went over to the group and said that I would be happy to play anything they wanted or something similar if I didn't have it. One man said, "Play some salsa for my girlfriend." I smiled and said of course.

I noticed Gertrude had been watching us from afar. She was very relieved when I returned. I can only assume there had been headaches in similar situations in the past.

As it turned out, our two groups got along very well. Kristi, Miss Fuzzy Wuzzy herself, had me play the Wobble Line Dance song and the Cupid Shuffle Line Dance song... many people from the other group joined right in. Soon we were all laughing to the music.

Then I got around to playing some Salsa music as promised. I noticed the man's girlfriend wasn't dancing, so I walked over to ask him first for permission to ask her. He didn't seem to mind a bit, so then I asked her to dance. There was a little hesitation in her eyes, but eventually she said yes.

It turned out this attractive young lady, age 21, didn't know a lick of Salsa. I guess that since she was Hispanic, she liked to listen to Latin music, but she had obviously never danced to it.

No problem. I taught her how to Salsa on the spot. By the end of the song, she was laughing and having fun. As I walked her back, she got a big round of applause from her group.

A few minutes later, she came back and asked me for another dance. Sure!

This time as I walked her back, I asked what was the nature of her group. She said they were all from Lackland Air Force base near San Antonio. She said she was shipping out to Afghanistan next week.

I stopped breathing. That was a big kick in the gut for me. I was beset with guilt. First, America had just lost all those magnificent Navy Seals a month ago when a missile had destroyed their helicopter in Afghanistan. Second, I had recently watched the "Pat Tillman Story" about the famous football player who had been accidentally killed by his own men while serving in Afghanistan. That documentary made it very clear how dangerous it was to do a tour of duty there. And now this beautiful young lady was going to going to be risking her life while I lived my life of ease back here in America.

I was instantly overwhelmed with gratitude towards all the people in the group, many of whom would be joining this lady on her trip over there. I also felt ashamed of myself for worrying that they might complain to Gertrude about my music.

Sometimes life can serve up a lesson out of nowhere that makes me feel so petty and small. From that point on, they couldn't get rid of me. Any song they wanted, I found it for them.

Fortunately the party went well for everyone and Gertrude was all smiles at the end. A potential headache had actually turned into a very warm event thanks in part to my willingness to go over and talk to the strangers in a spirit of friendship. Of course the Rum Punch helped thaw things out as well. It was a good party.

From that point on, Gertrude trusted us. No more watching till the wee hours of the morning at Alfred's. We were okay in her book.

We were scheduled to be in the icky smoke-filled Vincent's Lounge for late night dancing on Thursday, but Gertrude smoothed things out with someone to allow us back into Alfred's on Thursday. I was so grateful. Vincent's was just too small and I hated the smoke.

We were scheduled to be in Vincent's Lounge for late night dancing on Friday as well. Remembering how Gertrude had allowed us to use Alfred's instead of Vincent's the night before, I decided to skip Vincent's and show up at Midnight in Alfred's. Hopefully no one would care.

Someone cared.

They were finishing up the karaoke in there. I could tell from the guy who emceed the activities that he did not like seeing me sitting there one bit. At the first opportunity, he asked if we were in Alfred's that night. I replied that I hoped to use the facility, but that I was willing to go elsewhere if there was a problem. I knew full well I didn't have permission to be there. I was just hoping to get lucky.

He said nothing, but from his expression I assumed there was a problem. The emcee frowned and quietly consulted a woman at the bar. I noticed she made a phone call. Soon this 6' 8'' officer dressed in white showed up to say we couldn't use the room. He said the ship's staff was going to have a party in there instead. Oh. Gee, didn't they want to use Vincent's?

So I dutifully trundled my equipment over to Vincent's. Yuck and Double Yuck.

Someone walked into Vincent's. I think it was Joseph. He said he had just come from the Atrium/Lobby area. He said the whole area was empty. Really? Moving into the Atrium was a very tempting idea.

We had late-night danced in the Atrium several times during our 2010 Bahamas Trip. We had Alfred's waiting for us, but we hated the smoke. So when the band quit at Midnight, Steve Gabino plugged in his equipment and we kept on dancing in the Lobby to our heart's content. Not once had we ever asked permission and not once did anyone ever say a word.

Based on that experience, I decided it was easier to just set up in the Atrium and ask forgiveness later rather than ask permission first. Since things had been fine in the past, I hoped no one would care. However, a little birdie suggested this move would not be popular. I suspected someone would object this year. It was a sixth sense of some sort.

I wondered again if Gertrude had been ordered to watch us for a reason. I think that was the source of my concern. It wasn't Gertrude, but someone didn't trust us.

I had just enough time to set up and play the first song in the Atrium when Marla came down from Alfred's. She had a very big frown on her face. I assumed this first song would probably be our last song as well. I went over and asked Marla what was going on.

She said that shortly after I left for Vincent's, Gertrude had shown up to explain why we couldn't use Alfred's. When someone passed the word on to Marla that we had bypassed Vincent's for the Atrium, Gertrude overheard the conversation and suddenly looked very worried. She immediately got on her walkie-talkie to call the Hotel Manager for permission. Judging from Gertrude's expression, Marla concluded the Hotel Manager was very irritated. The major question was how loud would the music be and would any guests sleeping in nearby cabins be disturbed?

This argument was frustrating to me because there were no nearby cabins. The nearest cabin was one floor below. I idly wondered if sound went upwards or downwards. It probably dispersed evenly, but I doubt it would penetrate an entire floor. Besides, how much sound could two portable amplifiers possibly create? Plus we could always turn it down if necessary. However, it wasn't my call, now was it?

When I saw Gertrude walking down the steps to the Atrium, I assumed the worst. However, to my surprise, Gertrude suddenly flashed a smile and said it was okay. She had explained to the Manager that our music wasn't that loud and that we had used this area in the past without any problems. Once she pointed out that we had been using this area every year for the past four years, the Hotel Manager decided to trust Gertrude's judgment and give us permission despite his initial misgivings. I think she also pointed out that we were a very large and very loyal group. Once the Manager realized we do repeat business on a yearly basis, I think that helped persuade him to change his mind.

You don't get to be Hotel Manager without having a practical side. I remember back when I ran the studio, I used to get very irritated with some of the requests. However, once I settled down and gave it some thought, I occasionally changed my mind once I saw all the angles. I think that's what happened here after Gertrude gave him some good reasons to think it over.

A sense of relief swept over the entire group. Gertrude had gone to bat for us. The rest of the evening became the most popular night of late-dancing on our entire trip. Even as late as 2 am, we still had a group of 30 dancing the night away. Gosh, we had fun. And it was all thanks to our new best friend Gertrude.

When Marla personally thanked Gertrude for her efforts, Gertrude asked about our group's plans for departure on Sunday. After Marla gave her some of the information, Gertrude offered to escort our entire group off the ship on Sunday. Marla instantly accepted.

It was a little complicated, but it worked. On Saturday evening, Gertrude came to our dinner table and gave Marla a huge stack of "5" luggage tags. She said that anyone who put those tags on their luggage could wait in Alfred's Lounge the next morning and be one of the first people off the ship.

So Marla and I went around handing out luggage tags. I found out that one lady who was on George Sargent's Party Bus, but was not at dinner. So I went to her cabin during dinner to see if she was there. Yes. She was in her pajamas and asked me to wait outside. After she filled out the new luggage tag, she handed it to me in the hallway and I switched out a "27" tag for a "5". I sighed with relief. Now everybody could get on the bus at the same time. No waiting!
Sure enough, the next morning Gertrude came into Alfred's and led the whole group of "5" people off the ship. We were light years ahead of everyone else. It was the most pleasant debarkation I can ever remember. Smooth move!

I made sure to tell everyone what Gertrude had done for us. They were just as grateful as Marla and I were. The next time she appeared, Gertrude was personally thanked by many people in our group. I was glad to see them show their appreciation to this woman who had repeatedly gone out of her way to make our trip better.

And that's the story of Gertrude Booysen, the best Coordinator we have ever had, Carnival and Royal Caribbean included. I have met many coordinators who were good at their job, but I have never met anyone like Gertrude before. She is far and away the most helpful person I have ever met on a cruise trip… and I have 21 trips to use as comparison.

Gertrude was quite a gift!
THE TRIP TO JAMAICA'S YS FALLS

YS Falls is a stunning 7-tiered waterfall hidden in a secluded rural location in southwest Jamaica. I have seen plenty of waterfalls in Hawaii, but the YS Falls are special for two reasons. First, these falls have seven different sections. The different sections are so beautiful and so symmetrical that I had to keep reminding myself they weren't man-made. Nature did just fine all on its own. Second, I have never been this close to a waterfall before - we were all allowed right in the middle of the falls!! Not only was I impressed by the power of the cascading falls pouring down from the section above, I was able to leap cowabunga-style into a water pool ten feet below in the section in front of me. That was a serious WOW experience, trust me.

All credit goes to Marla. She found this trip and made it happen. This trip wasn't even offered as an excursion by our ship. Furthermore, Marla was able to bargain $60 off the list price by guaranteeing a large number of visitors. This trip was a perfect example of the power of using the group to get a better deal. It wasn't easy either. Marla went with one guy who completely folded on her with some outrageous no-refund demands at the last minute. Forced to disengage, Marla found an even better company to work with. They delivered everything as promised. I was really proud of Marla for finding these guys.

As thrilling as the experience was, there were some definite bumps in the road. Literally. One bus had no air-conditioning. Another bus lost a window pane. Even worse, due to the twisty, windy roller-coaster nature of the road, several people became quite nauseous. The company warned Marla this would happen, but there wasn't much she could do about it. All she could do was pass on the warning. This was just a risk we all had to take.
Another problem was the narrow roads. My bus had two precarious brushes with oncoming traffic. Only the skill of our driver saved us on both occasions. From what I gather, these near-collisions are a daily feature of driving in Jamaica.

Montego Bay where we docked is only 30 miles from YS Falls... assuming we could all fly. Unfortunately Jamaica is extremely mountainous which made the drive a very rugged experience. It didn't bother me a bit, but then I have a strong stomach. Out of the six people on my bus, two got sick. Others got queasy. After all the curves and ups and downs, the trip ended up taking us an hour and a half to get there and another hour and a half to return. That nasty 3 hour round trip explains why this trip isn't part of the ship's itinerary. This trip is not for the faint of heart.

I might add the food service was the worst we have ever experienced on any trip. In fact, I can't even think of a comparable experience. We can't blame the company that got us there and back. Our guides were just as disgusted as we were. The people feeding us were locals who could have cared less. I highly recommend anyone trying this trip in the future pack a doggie bag of fruit, sandwich and dry cereal and completely SKIP the food.

However, despite the tough trip and despite the terrible food situation, the Falls made it all worthwhile. For a moment there, we were all kids again playing in the most amazing water park of all time.

One neat feature of YS Falls was the relative absence of other tourists. I attribute this to the difficulty of actually reaching this remote location. The length and difficulty of that bus ride will scare most people off.

Tough luck for them. Trust me, the experience is so special that the trip is worth taking despite the hardships.
Wouldn't you love to have your very own waterfall in your back yard? From what I gather, that's exactly the situation here. The YS Falls are part of someone's private estate.

In its earlier days, YS Estate was once a sugar cane farm and later a stud farm as well. The fact that the falls are privately owned is another reason for the lack of crowds. You actually have to get permission to come here.

In 1990 the estate opened to the public as a tourist attraction. Since opening the falls, visitor numbers have been monitored and limited to prevent the falls becoming damaged through too much foot traffic. The estate does everything possible to preserve the beauty of the area.

The YS Falls are 120 foot tall and cascade over seven levels. Steps have been built up alongside the falls so visitors can view the falls at every section up close without getting wet. In addition, lifeguards on the site helped us safely experience the natural pools at the bottom of each level of the falls.

A dozen members of our group were led out into the middle and encouraged to take a high dive jump into the water pool below. Although none of us got hurt, I was secretly very happy not to be the first one to jump.

Two people excelled at this event for different reasons. Stacey Cook was fearless. She walked around those waterfalls without any fear whatsoever. Slipping and sliding was a problem for all of us and there were some very sharp rocks hidden underwater, but Stacey didn't seem to worry about the danger at all. She walked with the same confidence that the guides did. I think she must have been a gymnast as a kid. She was so steady on her feet despite the slippery rocks and powerful current that I swear she must have had some sort of training.

David "Lobster Boy" Johnson did a belly flop on his second dive that raised more water than Shaq O'Neal. If it had been a swimming pool, the pool have been empty afterwards. Dave described his leap as 'daring'. I think the better description would be 'painful'. Stacey got a great shot of his second dive; hopefully I can share it later on.
One water pool even featured a rope swing where you can swing "tarzan-style" into the water below. I tried it and had a sensational leap into the water.

My only regret was that there was a tree between Marla and me. Marla was at the wrong angle to see when to snap the action shot to prove my incredible bravery and athletic prowess.

When I climbed back up, Marla frowned and said she didn't think she got a very good shot. The thing about Marla is her brutal honesty. When she says it wasn't much of a picture, well, judge for yourself.

Witness the excellence of my Tarzan moment captured on film.
Several people weren't feeling quite as adventurous. These people enjoyed a relaxing swim in a heated wading pool at the bottom of the falls. The pool was fed by natural springs. I went in there too, but left immediately for an odd reason. It was so warm and comfortable in that water that I was afraid I would relax and not want to leave. Hey, no stopping now. I still had things to do!

Believe it or not, the Waterfalls were only part of the thrill. The real highlight of the day came when we tubed the YS River. I have been down the Colorado River in Colorado, I have been down the Guadalupe near San Marcos and I have tubed the excellent Lazy River at the Atlantis Resort in the Bahamas, but I have never tubed a river this aggressive before. This little river had some real pop to it! This was a Lazy River on steroids.

Someone handed me a paddle. I was confused. This paddle didn't help at all. Then I figured it out. We weren't given those paddles to increase our speed; those paddles were to be used to avoid crashing into trees and limbs that threatened us at every turn. I'm not kidding either. One man, Johnny Brinkley, actually received a bloody gash over his eye after being stuck by a low-hanging branch. And you know what? Johnny was proud of it! Johnny was like a little kid again. If you don't get any bumps and bruises, you aren't trying hard enough!

What a ride. There were five little waterfalls along the way on this 25-minute adventure. A couple of them weren't that little. I dropped a good two feet before hitting the water again. Thud!

Furthermore, we were surrounded by the lush jungle towering overhead. We had a canopy that rivaled any rain forest. The beauty of the river ride was unbelievable. I mean, this river was a kick and a half of fun!! And we had it all to ourselves. Woowee!

Speaking of little kids, Eileen Kondor and I raced each other down the river like ten year olds. I cheated at every possible opportunity, deliberately using my paddle to push Eileen into traps at the side of the river. And you know what? She loved it. Eileen said she didn't care if she won; she just enjoyed being a little kid again. Besides, she said, everybody would know she would beat me easily in fair race. Ouch.

In fact, Eileen even had the nerve to "coach" me in the proper technique to lift my backside as I went over the falls. Oh, please, as if Eileen actually knew what she was talking about! I swore under my breath if I heard one more word about her stream-lined behind and her stupid aerodynamic backside-lifting techniques, she was going in the water. I would have risked losing the race just for the satisfaction of putting Ms Know-it-all and her stream-lined behind in the water. Hey, she had a life vest on. No mercy. Unfortunately I wasn't able to catch her. But I wanted to. I was waiting for her at the end of the trip preparing to tumble her over… but the guide saw me and waved his finger 'no-no-no'. Darn it!
Later, I proudly told Marla of how fast I was in the water. As usual, Marla had absolutely no respect for my sensational first-place finish. I think her only comment was, "It must be so satisfying to win a race when no one else is even trying."

The only thing I didn't get to do was take the canopy zipline tour. I watched in agony as people took a long zipline ride 40 feet above the waterfall. Wow! I wanted to be up there so bad! That would have been awesome! But time prevented me from giving it a try.

One suggestion: If you ever decide to go into the falls, bring a waterproof camera along. Some of the members of our group got some great shots! Hopefully they will share them with the group.

After all the fun we had, none of us wanted to leave. I decided to make the long trip back much more enjoyable by telling dirty jokes. Instantly Marla reminded me that we had a 14 year old boy, Dylan from Oklahoma, sitting up in the front seat. I needed to hush up. Immediately came a voice from the front seat, "Oh, go ahead and tell the joke. I am not nearly as sheltered as I should be!!"

Locksley, our driver, nearly ran us off the road from laughing so hard.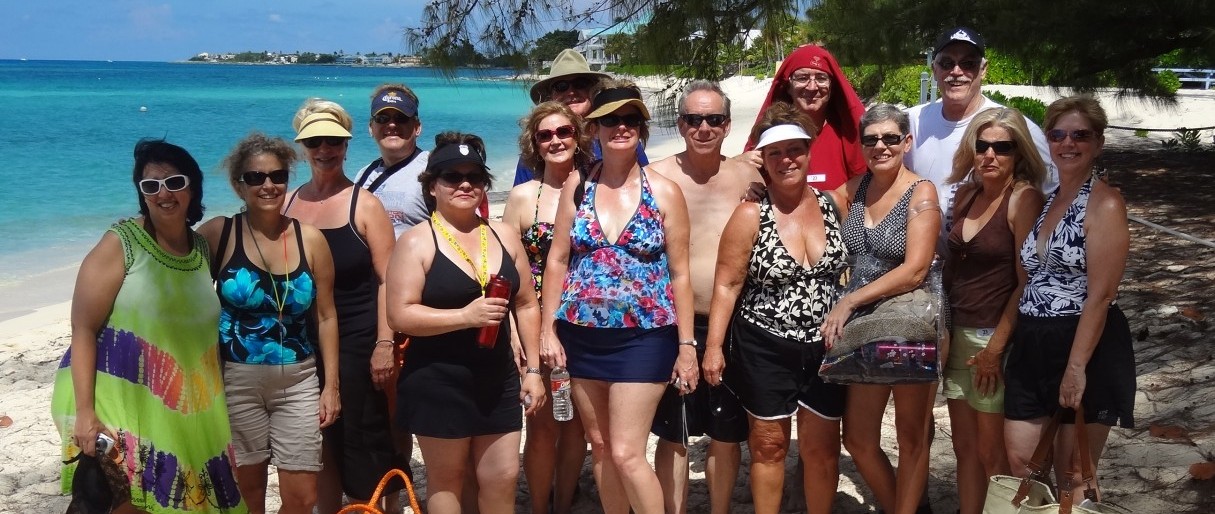 The Intrepid Beachcombers: Vanessa, Marla, Mary, Andy, Nina, Nancy, Johnny, Sherry, Mike, Jeanne, Thomas, Dee, Rick, Cathy, Stacy

THE SEVEN MILE BEACH WALK IN THE CAYMANS

When we got to the Cayman Islands, 18 people joined Marla and me for a walk on the famous Seven Mile Beach.

Two years ago, a group of us walked the entire stretch of the beach all the way back to the ship. Story of 2009 Seven Mile Beach Walk

I was really looking forward to doing this again and I invited people to join Marla and I on this walk.

This stretch of beach is extraordinarily beautiful. The sand is pure and the ocean is crystal blue. Due to the beauty of this long stretch, many resorts have chosen to build here. Wherever we turned there was a Hyatt, a Ritz Carlton, a Marriott, a Comfort Inn, or some brand-new luxury hotel in progress. This beach is the finest collection of expensive beach-side buildings I have seen outside of Waikiki Beach in Hawaii.
One amusing feature of the day was the three different cab drivers who argued with us that walking back to the ship could not be done. I am not making this up. When we were negotiating our group price at the pier, one woman distinctly said we were out of our minds. We ended up taking two different cabs. Kennedy, my cab driver, spent our entire drive to the end of the beach telling me the walk back couldn't be done. Marla later told me her cab driver had said the same thing. All three people independent of each other were convinced that this was an impossible task.

I didn't argue. After all, Marla and I had done this exact same walk back in 2009. I knew darn well it could be done. In fact, I was secretly amused at how hard my driver was working to put fear into my mind. I assumed this tactic worked with the first-timers, but I knew better.

The idea is to take a cab ride from the ship to the end of the beach, then walk back. Kennedy had a different agenda. He wanted to line up another cab fare for later in the day, so he tried to scare me. He showed me using his odometer that the length was nine miles. I watched the odometer carefully and believe it was accurate.

Using Google Earth, I had pegged the walk at 7.5 miles. Either way, I wasn't afraid. I already knew it was a long walk. But I also knew it could be done.
We were due back at the ship at 3 pm.

I had divided our 7.5 mile trip into five sections each about 1 ½ miles in length.

10 am Cemetery Beach start
11 am Public Beach
12 am Villas Galleon
01 pm Meridian
02 pm Royal Palms
03 pm back to the ship
I figured if we could get to the starting point at Cemetery Beach by 10 am, that would average out to one hour for every 1.5 miles. We met in the Lobby at 8:45, but due to a long wait for the next tender (the ship docked out in the bay and toot us ashore in a tender boat), we were delayed.

Our tender dropped off us at 9:40 am and our taxis got us to Cemetery Beach at 10:20. We didn't start our beach walk until 10:30 am.

30 minutes late. Hmm.

At 11 am, we took our first ocean break in front of a condominium known as the "Anchorage". Several people had fallen on some nearby slippery rocks, so we decided to go in the water and cool down a little.
The walk had been tough going because the loose sand allowed our feet to sink after each step. The lack of traction is a major problem on beach walks. Frustrated, several people tried walking on some big flat rocks at the water's edge. Bad idea. One person after another slipped and fell thanks to the water and the algae on the rocks. I was one of them. Marla slipped as well and bruised herself. Mary Cioffi fell even harder and skinned her knee. Blood came oozing out. Lots of it! Yuck!!

Mary noticed that several people had taken advantage of the stop to go in the water and cool off a bit. Mary said, "I think I will go in and let the salt water cleanse the wound."

So Mary walked into the water and began looking around. The first thing Mary said was, "Are there any sharks out here?"

I laughed and said yes, but that I wasn't worried.

Mary frowned. "Why aren't you worried?"

"Because you are the only person who has anything to worry about!"

"Why is that?" Mary demanded.

I replied, "Because with that bloody knee, you are shark bait. They will eat you first while the rest of us get the H-L out of the water."

Of course I was just kidding, but I do think Mary believed me. She shot up from the water and quickly returned to the beach, bloody knee and all.
We passed the Public Beach, my first check point, at 11:15 am. I was pleased. We were only 15 minutes behind schedule. It is probably just as well that I didn't know. I was secretly worried that Kennedy, the know it all taxi driver, was right. Maybe this walk was too much.

At Public Beach we were met by Rick and Pattie Barrett. They had been waiting for us and now joined the walk.
At 11:30, we took our second water break in front of a condominium known as "Harbour Heights". These water breaks were delicious fun, but caused an unanticipated problem. My wet swimsuit seemed to cling to my legs. The suit began to rub against the inside of my thighs when I resumed walking. I didn't give it any thought at the time, but by the end of the day my inner thighs were seriously burned by the constant friction. Ouch.

After cooling off in the water, we started making very good time. We passed the Ritz-Carlton, formerly known as the Villas Galleon, at Noon. I smiled. We had reach the end of our second leg right on schedule.

We took our third and final water break soon after at a place called "Turtle Run" at 12:15. As always, the sea was unbelievably delicious. The water cooled us down and made us all happy. Other than the sand traction problem, the walk had been excellent up to this point. Plus it wasn't hot at all. I hadn't noticed, but the sun had remained behind a cloud cover for most of the morning. That's when Pattie Barrett made the mistake of pointing this out to me. Bad move. Five minutes later the sun popped up and stayed out for the remainder of the day. I hold Pattie personally responsible.

After that, the walk was miserable due to the heat. The heat was tough on all of us and sunburns became a problem as well. I would later receive much teasing for my two-toned white and red forehead created by the cap I was wearing. Someone suggested a blue patch on my forehead would make a perfect American flag for 9-11. Such wit.

Fortunately, it was almost time for lunch. Marla decided it was time to move on and make the lunch push. Her move caught me off guard. I had been lagging behind at the rear like a good Boy Scout while letting Marla lead the pack. When she made her move, I panicked. We were pretty far apart, so I couldn't yell to get her to hold up. Before I knew it, everyone was heading off to our lunch destination. I was the last person out of the water. My problem was that I had taken my shirt off to briefly go in the water. Now I needed to put it back on or risk sunburn. This cost me valuable time.

I tried running to catch up, but suddenly doubled over in pain. My thighs had been rubbed raw by the wet swimsuit. They were killing me! I looked down and saw that my skin was a crimson mess. The sand on my wet swimsuit had rubbed my upper thighs raw. I could barely move without screaming! No more running for me. I had no choice but let everyone walk on ahead which is probably just as well. From that point on, I developed a highly unflattering walking style to keep my thighs from touching. I am so grateful no one was around to notice or to photograph.
I had intended to stop at a place called the Beach Suites for lunch, but discovered it is really tough to lead from the rear. Since Marla had no idea of my plans, she and everyone else walked right past the place. Marla stopped for lunch further down at the Royal Palms beach restaurant at 12:40. We were an hour and 20 minutes ahead of schedule.

When I finally caught up, I wasn't upset. The Beach Suites would have been much classier and very private, but the crowded Royal Palms would do fine. I especially liked this place because it had outdoor showers for to use to get rid of the aggravating sand. What a relief!

The Royal Palms is a very popular location with the cruise crowd. Unlike us who taxi past the Royal Palms and walk back, most people take a taxi directly there, have a good meal, and take a quick dip in the ocean. We saw many people from our SSQQ group as they stopped by to say hi.

Lunch was great. It really hit the spot. The only problem came when we saw the bill. There was some sort of "exchange rate" tacked on. I never heard of this tactic before.

Holy smokes! A sandwich with French fries and a beer was $20!! That was the best soaking I've had since my infamous $70 gelatto incident back in Rome on our 2008 Cruise to Greece and Italy. Can you imagine paying $70 for three ice cream cones?

Well, as tourist traps go, the Royal Palms wasn't far behind. Their little trick had inflated our expected bill by over $20.
Guess who I saw at the Royal Palms? Yup, my good friend Kennedy the cab driver walked by. He was looking for people to take back to the ship in his cab. I called to him and got up.

A highly whimsical smile crossed his face when he recognized me. He knew I was grinning for a reason. I enjoy proving people wrong, but usually don't rub their noses in it.

However, this guy had been so persistent I didn't feel guilty calling attention to my presence. He had deliberately discouraged us hoping to get us to agree to use him to take us back to the ship at the end of the day.

I asked Kennedy to pose with me for a picture. His response? "Sure, why not?"

He did indeed pose, but he didn't look very happy about it.
Kennedy didn't know it, but he got the last laugh. Most of our people bailed at the Royal Palms and took a taxi back for the final two miles. I am sure Kennedy took some of them and made his return trip money after all.

Meanwhile Marla and I nearly died from the heat on the final leg of the journey.

I underestimated the final leg of the journey and so did Marla. I was feeling cocky because I had expected to reach the Royal Palms at 2 pm and we got there at 12:40 instead. So I relaxed and allowed myself a couple of beers. Marla's mistake was allowing herself to sit directly under the sun during lunch while the rest of us hid under the umbrellas.

We began heading back to the ship an hour later at 1:40 pm. Out of 18 people, there were only seven of us left - Andy Bach, Mary 'Shark Bait' Cioffi, Dee Medina, Pattie and Rick Barrett, plus Marla and myself.

What I did not know was that the five legs were not symmetrical. The last leg was the longest by far. It was 2 1/2 miles which was probably one mile longer than the previous four legs. In other words, I had no extra time and the longest leg came at the time when I was exhausted and in great pain. The final leg was an ordeal.

Immediately something went wrong. As she had done all day, Marla took off without letting me know. She claims she informed me, but I didn't get the email. Consequently I was in no man's land. Where was Marla? Was she in the restroom? Or did she take off already? I stood there for a good ten minutes waiting in case she was still the restroom. Then I made my biggest mistake of the day… I tried running again.

I had changed out of my wet swimsuit into a clean swimsuit at the Royal Palms. At least I didn't have sandpaper ripping my flesh to shreds anymore. But the previous damage was too extensive. I could not allow my thighs to touch. So I ran with the grace of a waddling hippo as I tried to catch up to wherever Marla might be. The lousy traction in the sand only served to increase my dilemma. I burned a tremendous amount of energy.

I actually did manage to catch Marla. Unbeknownst to me, Marla was on her last legs too thanks to getting too much sun at lunch. Neither of us had any strength left and we still had two miles to go. Fortunately time was not a factor. As long we kept moving, I assumed we had enough time.

But I noticed the ship wasn't getting closer as fast as I wanted it to. Now I was starting to worry.

The beach part of our trip finally ended. Now it was time to make our way to West Bay Road and walk the sidewalk for the last two miles. This was a tough stretch. With the sun was bearing down and no shade whatsoever, walking the hot sidewalk into town while dodging traffic was an endless ordeal. The ship always loomed in the distance to taunt me at how much further I still had left. But I had "Kennedy" in the back of my mind... "it can't be done"... so I wasn't about to quit.
We finally got to the line waiting for the tender at 2:30 pm. To our dismay, the ordeal was not over. The line was enormous. We had a 30 minute wait with that brutal hot sun bearing down on us. We were too weak and too stupid to go sit in the shade somewhere. Our thinking was the sooner we could get to a shower and air-conditioning, the better. So we sat there letting the sun cook us nearly to death. Not smart.

So that's it for me. I have now walked the entire distance twice. I have proven that a 62 year old man can be do it, so I am fairly sure anyone in fairly good shape can do it too.

Now there is nothing left to prove. From here on, "Pleasure" will be my first priority. The Beach Walk is pure fun.

It is the final leg that everyone hates.

So in the future, I think Marla and I will join the others in a cab ride back to the ship after lunch at the Royal Palms... assuming we have any money left after eating there.

PIGGYBACKERS

I have an apology to make. Before this cruise started, based on four different odd situations, I was absolutely convinced something unpleasant regarding "Piggybackers" was coming down.

It turned out the rumors were mostly wrong.

A Piggybacker is my term for someone who signs up for a cruise with someone other than Marla and then attempts to participate in activities with our group members without permission. This back-door trick is so irritating based on previous experiences that I suppose I am pretty touchy about the subject.

Here is a fact that I need to make clear - if you try hard enough, you will probably find a way to get a cabin for a cheaper price than Marla can sell it to you. Credit card rebates, frequent flyer discounts, special Internet bargains... they are everywhere.

Marla is "Mom" in our small Mom and Pop organization. There is no way she can compete with the sales price of the big boys. Marla does the best she can. She sells the cruise to you for a group discount. There is no mark-up and you get lots of perks in the process. Her price is the best she can do, but Marla openly admits even her best price can be beaten.

What makes this situation especially irritating is that the Cruise Lines are a major part of the problem. Long ago, travel agents used to book airplane seats. Then the airplane industry found a way to bypass the travel agents. Did that make airfare any cheaper? Draw your own conclusion.

Now the cruise lines are trying to do the same thing. Once they get you on board, they throw all sorts of tempting offers at you designed to get you to bypass the travel agent and book directly through them.

For example, I came back to my room on the fourth night. A flyer titled "Where Next?" offered to book people's next cruise while they were still on board the ship. As an incentive, credits ranging from $50 to $200 in on-board credit were offered. If anyone took Carnival up on that offer, Marla would never see a cent of it. The ship has just cut out the middle man and given what might have been "Marla's commission" to you instead.

That's a "win" for you, a wash for the ship and a loss for Marla. They don't make any extra money because they just handed Marla's theoretical commission to you, but they do have another guaranteed booking. That's all the ship really cares about.

Even after you finish the trip, Carnival and RCCL try to remain your best friend. They regularly offer bargains via direct emails to you that will probably continue to beat Marla's price.

There is nothing Marla can do about it. They are trying to cut out the middle man and Marla is the middle man. If the cruise line wants to undersell her, they can. That's "The American Way".

Marla has only one advantage - your loyalty. We rely on your sense of decency to sacrifice the $30 discount here or the $25 on-board credit there so you can be part of our group.

The majority of our passengers do this reflexively. Just the fact that I keep bringing this subject up must feel like an insult to many of our passengers. They wouldn't dream of playing the ship's game and hurting Marla.

However, not everyone feels that loyalty. Some of those price breaks are pretty tempting. That's why we have to put our foot down. If people think they can sign up outside the group and still participate actively with people inside the group, then what incentive do they have to sign up through Marla?

At the moment, the problem is under control. Practically every cruise at least one person shows up who sidestepped Marla, but I think we can live with that. One of the things that set me off was that a long-time member of our group actually told Marla to her face he/she was considering signing up through an Internet spot and coming on the trip anyway. As it turned out, this person did not follow through on the threat, but that was one of the four situations that I was monitoring. At the time, I felt the need to remind people there is a line drawn in the sand.

So that was one rumor that did not pan out. Two other rumors did not pan out either.

The fourth rumor was correct. Two past SSQQ cruise guests did indeed show up on this cruise without booking through Marla. But they willingly kept their distance from the group, so I have no quarrel with either of them. In fact, I respect them for their behavior. They are welcome back with us any time they want to rejoin the group.

As for the rest of you, I apologize for over-reacting. Sometimes I worry too much.
..............


WORRIED AT SEA

Talking about 'worry', my fears about Piggybacking didn't amount to a can of beans compared to "Real Worry".

Can you imagine being in dance class aboard the ship and have one of the ship's personnel find you to explain there is an emergency phone call?

That's what happened to Lynn Brunson. Her son called the ship to tell her about the raging out-of-control forest fire in Magnolia. Many nearby homes had already been destroyed. The authorities had just ordered her son to evacuate. Even worse, he was told to leave all the horses and animals behind. The animals were completely defenseless.

What a nightmare!

Apparently Lynn's friend Linda received similar news as well. I don't know how either woman held up under this kind of unbearable stress. I am sure they were worried sick and cursed their utter helplessness.

The good news is that the homes of both women were spared. But I am sure the anxiety they experienced will stay with them for a long time. That sort of haunting fear doesn't go away very quickly.

What an awful feeling.
................


LOVE AND HAPPINESS

Congratulations to John Hunter and Gloria Cabrera. John proposed to Gloria at sea. They announced their engagement to the group on Thursday.

John and Gloria were a late addition to our group. They didn't sign up until August 9th. You don't suppose John had an idea ahead of time, do you?

We had two other engaged couples already on board - Tracy Schweinle and Ed Akin as well as Karl Rorabacher and Deborah Taylor.

When Deborah heard the good news about John and Gloria, she just sniffed. "Hey, Karl and I were there first. We set the mood!"

Feisty, huh? I remember back in the old days when Deborah was a sweet, quiet, gentle soul. Look at her now that she can dance and has a hunk for a honey.

I just hate it when those Bridezillas start getting so snippy.
..............


LET'S HEAR IT FOR THE BOYS!

I was super-proud of my guys on this trip. I noticed many of our men made a concerted effort to dance with as many ladies as they possibly could.

I wasn't the only one who noticed. Marla commented on it. Velma commented on it and several other women did as well. There was something special going on here.

The problem was that for whatever reason we had a lot more women on board than men. In situations like this in the past, a lot of women did a lot sitting. They got plenty of practice twiddling their thumbs. And yet several ladies commented they danced more on this trip with fewer men than they did on previous trips with more men. They kept shaking their heads in amazement. How could that be?

I know the answer. Without saying a word to each other, all the men took note of the situation and made a concerted effort to make sure their "sisters" had a great time.

Not every lady in our group can dance like a pro. On this trip, they danced anyway because the men stretched to include everyone. I noticed several men who could just as easily danced exclusively with the pretty girls go way out of their way to ask the quiet ones to dance as well.

I don't think they did it for the slightest selfish reason. They did it out of the goodness of their hearts. If I wasn't worried about embarrassing some people needlessly, I could tell some stories about a couple guys that impressed me no end.

I cannot begin to tell you how much these contributions meant to me. I was tickled pink to realize that we have a great bunch of guys in our family. I should know - I watched it happen. I saw one guy after another reach out to make sure EVERYONE felt included.

Good job, Guys. Keep up the good work!
.................


GARELD AND VIRGINIA

Speaking of great guys, my buddy Gareld continued to amaze me on this trip. Despite neck problems that had to hurt, Gareld danced every song every night with every woman.

I think Gareld is 83 now. He still dances more than I do! As I lay on the couch in exhaustion after a couple dances, I would look up and there's Gareld doing his Energizer Bunny impression. I would sit and stare in utter amazement at the man's boundless energy. How does he do it? Whatever Fountain of Youth he's drinking from, I wish he would share some of it.

Gareld is my hero. When I get to be his age, I want to be just as smart and just as active as Gareld is now. I have had these thoughts now for a long time. What surprised me is that during the trip on different occasions men would come and sit down next to me as I watched Gareld in action. Some of them didn't even know who he was. You know what they said?

"When I am that old, I hope I can do as good as that guy!"

In other words, they were all thinking the same thing I was - what a blessing it would be to have our wits, our energy, and our friends with us at that age. Gareld is a role model for all of us men.

Another thing I admire Gareld for is his loyalty to his lovely wife Virginia. Gerald is always at her side with love and with patience. I cannot begin to explain how profoundly impressed I am by Gareld's neverending decency.

I would be tempted to say I admire Gareld more than any guy I know except for one thing. The guy wears dresses! He doesn't just wear dresses; he wears them in public!

How can Gareld be a man's man if he wears dresses in public? I realize that this is just my own insecurity speaking. If anything, I should be more accepting of Gareld's embrace of his fine Scottish heritage. It bothers me that I can't be a bigger person on this issue. But, seriously, how can a guy who wears dresses in public be a "Real Man"?

This trip did not do my hang-ups about what it means to be a man any favors. When I went to pick up our Group Photograph, I noticed that our women had posed for a separate group photograph of their own. I picked up the picture. There were 60 women in stunning formal gowns all smiling up at the photographer. Naturally I looked first for Marla to see where she was. To my dismay, lo and behold, there was Gareld in the very middle of the picture, his Scottish kilt dress in prominent display with his knobby white knees showing. OMG!

When I saw the picture, at first all my masculinity issues came rushing to the surface. And then out of nowhere I had a sudden thought that made me smile. This guy was a serious Babe Magnet!! Gareld had a virtual harem out there. The man had more women than an Arab Sheik!!

There had to be secret. What could it be? Aha. It had to be the dress. What else could it be?

Perhaps this was the discovery I had been looking for. I had always wondered where Gareld got his uncanny popularity with women. Now I had a clue.

That must be it. The secret of Gareld's popularity with women had to be the dress.

On the next trip, I think I will wear a dress to Formal Night. Gareld is my role model. If wearing a dress will make me as popular with women as he is, then point me to the nearest "Big Girl" store. What do you think my best color is? Red is out. I am too shy. How about black? That might be right for me. Maybe the dark colors will disguise the girth a bit.

If a dress works for Gareld, surely it will work for me too. I want women to look at me with the same admiration they show when they look at Gareld.

I am grateful to Gareld for showing me the way to become A Better Man.

One more thing - I better not see any of you other guys trying this. Just Gareld and Me. This is my ploy. I thought of it first. No copycats.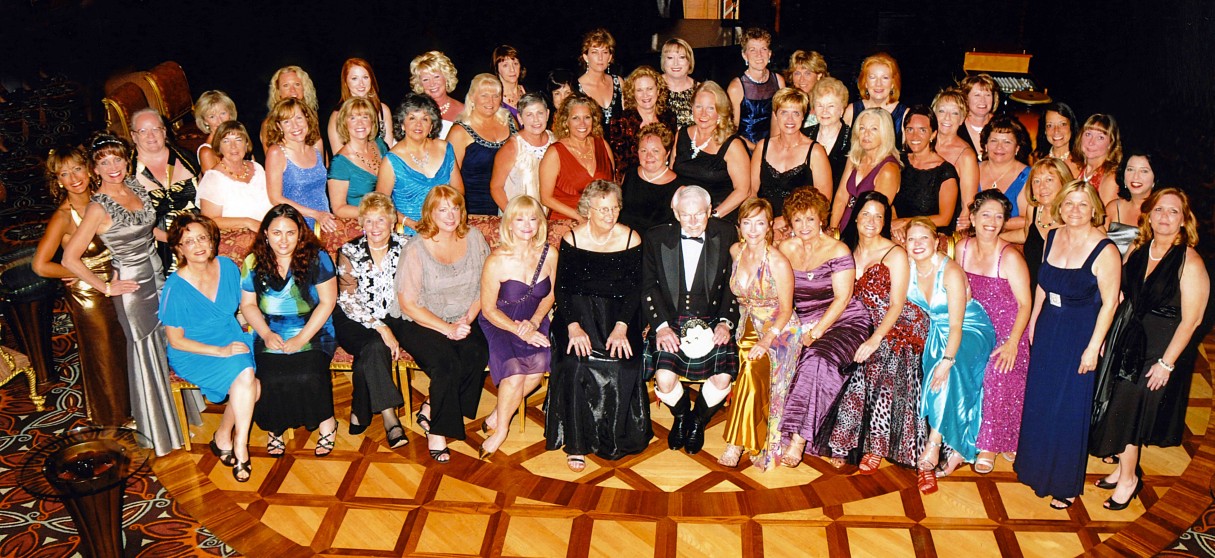 SAM AND THE PUSSYCAT DOLLS

Sam Lathrum got my vote for the man who made an effort to dance with the most ladies he possibly could. At our late-night dancing, Sam was the first guy on the floor and the last guy on the floor practically every night. Nor did he sit down very much. I cannot tell you how pleased I was to have his help making our Late Night Dancing a success. So to Sam I give the Gary Richardson award for dancing with more women after Midnight than I ever thought humanly possible.

Other men who did a great job included Karl, Michael, Joel, Jack, Joseph, Iqbal, Edward, and of course Gareld. And I must say, even Mr. Handsome got out there and did a bunch of dancing with several different ladies. There appears to be more to George than just a pretty face. George even managed to find romance on this trip! Wonders never cease. I was happy for him.

Enough about the boys.

Recognition should be extended to the three girls who really kept this trip smoking.

Kristi Fuzzball, Marsharita, and Swag Queen Andy were up to something every time I turned around. These three women were amazing. Where did they get their energy?

Kristi seems to be a born organizer. At every port, Kristi had a suggestion where people should go to have a good time. Then she turned around and led them over there. I am convinced she was the Pied Piper in a previous lifetime because people followed her everywhere.

Marsharita was more responsible for the insanity than any other person imaginable. Once upon a time, we had a legendary troublemaker named Phyllis Phrog. Phyllis was the best person I have ever seen for stirring up trouble. I honestly think Marsharita has caught up to Phyllis. Whether it was the Party Bus, her dinner table, the dance floor, or the Hot Tub, Marsharita created delightful mischief wherever she went. I might add Marsha had a huge smile on her face the entire time. Marsha was a real joy to be around.

As for Swag Queen Andy, she was the busiest person of all. Since I am a "boy", I will confess I don't really "get" the fascination with all the junk, uh, make that 'treasures' that Andy distributed on a daily basis, but I did see a lot of people having neverending fun throughout the week with Andy's cargo of precious trinkets. Her "Swag" as she called it gave a different twist to the phrase 'Booty Call'. Aye, surrender the booty, Matey!

So let's hear it for the Three Pussycat Dolls. These three ladies kept things hoppin' and boppin' all trip long. As for me, I just grabbed a corner of the Magic Carpet and enjoyed the ride.
..........


THAT'S AMORE!!

Velma and Lisa, also known as Thelma and Louise, were back as Queen and Princess of the notorious "What the H-L Gang" on this cruise. The 2011 trip was the third annual trek for this dynamic duo.

Marla and Thelma and Louise see eye to eye on everything. Consequently, Marla wanted to sit at the same table with the WTH Gang. That meant I was sitting there too. It was quite an experience.

Velma is the Queen Bee. And yet at the same time, Marla is the Empress. Does that make me the Emperor? No. Marla informed me I was merely the First Mate and DJ. Gee, thanks, such an honor.

I was very curious how these two powerful women would share the power. Actually I didn't see them clash once. Marla happily deferred to Velma's authority. Typical me, I tried to speak up, but I didn't get very far. One night I said that if we were a gang, we should get some gang tats. I recommended a cobra be our gang symbol. Queen Thelma glared at me and said I must have them confused with some other sort of a gang. These were nice people sitting at this table. That shut me up.

The next night I tried again. I asked permission to tell a dirty joke. It was a good one too, one of my best. Velma replied, "Not at this table. This table is for respectable people." I didn't ask again. That was the end of my conversation for the rest of the trip. Telling dirty jokes at the dinner table is 90% of my personality. I didn't have a second act to fall back on. Marla said it was the most pleasant development in ages. She couldn't thank Queen Thelma enough. I immediately became suspicious. Was there some kind of pre-trip collusion in operation here?

To my surprise, it wasn't just me who kept quiet. Most of the members of the WTH Gang didn't say a word. I have never seen a quieter bunch of people. Edward didn't say much. Roberta didn't say much. Sam by his own admission is a quiet sort. Princess Louise didn't say much. Carol and Jim didn't say much. Susan didn't say much. Marla has never been much of a dinnertime yapper either. And yet there was always conversation. How could that be?

Most of the conversation revolved around Queen Thelma and Lobster Boy Dave's playful banter.

Dave turns beet red the moment the sun sees him. On our last trip, Dave got so sunburned that I couldn't even bear to look at him. But obviously Dave has a higher pain threshold than I do. He got sunburned again on this trip and called it a "suntan". He said he didn't even notice the pain. After seeing his impressive belly flop in the YS Falls, I came to the conclusion that Dave probably doesn't even have nerve endings. There can be no other explanation.

Dave Johnson is an extrovert. Velma Thelma is an extrovert. They like to mess with each other. Dave constantly teeters on the edge of being thrown out of the Gang for discipline issues. Then the next night Velma forgives him and Dave is magically re-accepted back into the Gang. I estimate the two of them entertained the rest of us 80% of the time. The rest of the time we spent saying "WTH!"

I looked forward to our cheers. That was practically the only time I was allowed to speak.

Periodically, Thelma and Lobster Boy would get excited about something and Thelma would deliver a rousing call to action. We would immediately lean forward and clink glasses while exclaiming "WTH!" Now I would spell out exactly what WTH means, but then the spam censors would kick in and half of you wouldn't get this Newsletter at work. So you will just have to use your imagination.

We became a very tight knit group. One night they played "That's Amore!" in the dining room. Princess Louise immediately became happy. This was the song she had been waiting for. So we all locked arms and swayed to the music. That was fun. We even appeared to be on beat (however, we weren't quite as good at doing the Wave; that aspect of our gang rituals needs work).

And of course we concluded this classic song with a rousing cheer of "WTH!"

Our unmistakable happiness filled the room.

One night on the elevator, Dylan, the 14 year old unsheltered one, told Marla that the next time we all shouted "WTH!", he wanted to get in on the action.

So on the last night, I went over to his table and pointed Dylan in the direction of our table. I was going to lead him over there, but Dylan expressed his independence. He said he could find the table by himself and refused to let me hold his arm. Well, sure enough, he was right. Dylan found the table without my help. Once he arrived, I poured him half a glass of wine. Then I explained to the group that Dylan had asked to participate in our next toast. So we all grinned and proceed to let Dylan join us in a rousing exclamation of WTH!

Afterwards, I walked beside the grinning young man as we went back to his table. I caught the eye of his bewildered mother. I think I would rather not know what was going through her mind. Maybe I shouldn't have written about Dylan. I am sure I will never see his mother (or Dylan for that matter) on another trip now that she knows I spent the entire trip trying to corrupt the poor kid. Not only did I get him drunk and encourage him to use profanity, I really hope he doesn't remember those jokes.

Actually, I think Dylan got it right. Our table's fun was infectious. Even though I couldn't get a word in edgewise, I didn't care. I certainly enjoyed my time spent in camaraderie with this neat group of people. My only suggestion would be in the future to alternate "WTH" with "That's Amore!" on the next trip. As gangs go, these people are more lovers than fighters.
........

THAT TERRIBLE LET-DOWN FEELING

Once I discovered that the infamous WTH Gang wasn't nearly as rowdy as I had originally suspected, I had to rule them out for the coveted "Worst Behaved Table" award. They are way too well-behaved for me.

Now the pre-cruise favorite for this award was the Coffee Table... 'Coffee Tea or Me' was the perfect lead-in for this exceptional collection of proven misbehavers. This table nearly won the award the year before. If Mary Cioffi hadn't choked on her cigar, I think they would have won.

So when Jeannie Tobin, a notorious misbehaver, told me that all that table were missing was her and that she was signing up for the trip specifically to lead her table to Misbehavior Glory, I assumed the Coffee Table was a shoo-in. Boy, was I wrong.

This was the gang that couldn't shoot straight.

First of all, Mary Cioffi immediately set me straight that I was forbidden to ever call her "Coffee" again and that her name was pronounced "Chee-Off-ee". She added that she had sworn off cigars. I knew right then and there this table was in trouble. Everyone knows you don't irritate the judge on the very first night of the trip! That's no way to win! So that was Coffee down the drain.

Now I thought this table might still have a chance because Tracy Schweinle was at the table. Tracy was going to be "Tea"... T for Tracy, get it?

If you catch Tracy in the right mood, Tracy can be quite the H-Raiser. Nope, not this trip. Tracy was much too happy being with her honey and fiancé Ed Akin to cause trouble.

Except for the night that she rendered poor "Toothless Annie" speechless with her teasing, Tracy didn't step out of line one single time the whole trip. Darn it. Tracy and Ed were lost in Amore!

Poor "Toothless Annie". This trip was her chance to step up. She was supposed to be "Me" in the Coffee Table slogan. TA was supposed to go up to some hunk and say, "Coffee, Tea, or Me?" How hard is that to say? A couple of those lines said the right way and the "Worst Behaved" Honors would have been a no-brainer. But TA refused to cooperate.

And what about Jeannie? Jeannie was supposed to be hotter than that a nuclear reaction, but she was more fizzle than sizzle, more confusion than fusion. I didn't see Jeannie do anything bad the whole stupid trip!! If she stepped out of line, she waited till I wasn't looking. What a let-down.

Don't ask me why, but I liked this table. I love underdogs and underachievers. I wanted to give this table every chance to win after their near-loss to the obnoxious "Fun Table" last year.

Each night I stopped by to ask for evidence of misbehavior. Every night people would point at someone and say this or that happened, but not one person ever confessed this rumor might be true. And then if someone begrudgingly admitted something "might be true", I asked if there was any photographic evidence. Everyone would go blank. Oh, gee, we forgot to take a picture.

Oh, sure, you expect me to buy that? I knew better. Just like last year, this table was conflicted about winning. They just couldn't figure out how to pull the oars in the same direction and Shark Bait refused to set a bad example.

Oh well, there's always next year.
.........

SO WHICH TABLE DID WIN?

Beats me. Two tables might deserve the honor, but if they sandbag me I will skip them both.

I have to see the pictures. In this day and age of Instant Replay, a decision of this magnitude cannot be made without a second look. I will get out my magnifying glass and scrutinize for evil. You never know. There might have been some misbehavior I missed.

As I write, at this very instant various individuals are making crucial decisions about which pictures they will share with the Group at large and which pictures they prefer to hide from the world.

If they dish, their team will win. But if they decide to protect their dainty reputations, then they will let down their teammates. It is all about team, table and sacrifice.

This is what it boils down to. You can't win a Misbehavior Contest without evidence of misbehavior. Do these people want the glory or are they just a bunch of wimpy Reputation-protecting cowards?
..................

MAD MAD MAD!!!!

Continuing this "cover your youknowwhat" theme, there are a lot of blackmail threats being passed around as I write.

When I speak of MAD, you probably guessed wrong. Actually, no one was mad at anyone on this trip, at least not that I was aware of. This trip was the biggest love-in since San Francisco in the hippie era. They were "Mad" in a much different way than you might expect.

The final day of our dance cruise is historically a "drinking day". It is the final chance to cut loose and make a complete fool of one's self. Most of that drinking generally takes place in the hot tub, that churning burning cesspool of decadence.

Generally, I stay as far away from the Hot Tub as humanly possible. I worry that my presence might have a 'sobering effect' on people in every sense of the word.

You see, I am everyone's worst nightmare. I hold a major key to their "reputations". No one can really cut loose if they are worried some whiff of their naughtiness might hit the Cruise Writeup.

For example, one lady has been living a life of fear for two years now because a so-called "friend" of hers told me this particular lady lost her bikini top in the long, twisty Carnival Water Slide. You have no idea the look of panic that crossed this woman's face when I first threatened to publish this story. She immediately BEGGED me not to print the story.

Oh for heaven's sake, who cares if someone lost their top on a water slide! It's funny and it is a little embarrassing, but it doesn't make anyone a bad person. And it ain't like I've got a photograph. Nevertheless, the lady was so worried that I decided to omit the story. It's no big deal, but if she was that worried about it, I would accede to her wishes. To be honest, I think the lady was more worried about my 'embellishments' than she was about the actual truth.

That little incident gives us all an insight into the fear that some cruise members have about being exposed. Some people have jobs and children and boyfriends/girlfriends back at home. They really would prefer to fly under the radar.

That doesn't hold for everybody, by the way. Oddly enough, George Sargent seems fearless. I have said so many bad things about him dating all the way back to 2002 that George has developed some sort of immunity to my threats. That which doesn't kill you makes you stronger. He says everyone knows not to believe a word I say and that he doesn't care anymore. Write anything I want and he will simply deny it. Or maybe he won't deny it. In fact, George attributes much of his charm with women to the awful things I say about him. Those women come up to him to ask what the real story is and pretty soon he has them feeling sorry for him. That's judo for you... George can take the worst publicity and use it to his advantage.

So obviously there are differing opinions about my Cruise Writeup. Some people fear it; other people couldn't care less. And some people even relish it... as long as they come out unscathed, of course.

I can tell when people are being cautious about me. At one time, Anne Wells was the most cheerful woman on earth whenever she saw me. I was not only her dance teacher, I was her friend! I don't know what I said about her or what she heard about me, but one night I teased Anne that I was going to write a cruise story about her in the Newsletter. A look of sheer terror crossed her face. She had no idea I was just yapping. But I hit a nerve. Anne took me seriously. She has never been the same around me since. Now she gets a haunted look whenever I come around and moves away the moment she thinks I am not looking. I am convinced Anne has stories to tell.

Anne is not alone. I see lots of guarded looks. I just shrug my shoulders. They have a right to be careful. If it is juicy enough, I will print it. We once had an incident where two members of our group got smashed out of their minds. They were so drunk that they actually began to have highly explicit uh can't print it but youknowwhattheydid on the elevator at 2 am. Due to the darkness in the Lobby, they couldn't see out, but the people sitting in the Lobby could see in. From what I was told, they were Very Entertaining if you like that kind of stuff. So if I can print that story, I guess people have a right to be guarded around me.

After all, we all get carried away sometimes. Don't we?

This was our 21st Cruise together. This was our 12th Dance Cruise. I think there exists something known as "Rick's Rules". I think at this point on Day One of the Hot Tub, someone... maybe George, maybe someone else... pulls all the newcomers aside and gives them a stern lecture to shut their trap whenever I am around. Whatever they say, it works. Someone has put fear into these people. I don't get anything out of anyone anymore.

But we all know what can overcome that kind of caution. Booze.

Booze works almost as well as the Bible when it comes to walking into the Valley of Terror. Maybe even better. I have never seen anything loosen tongues like booze. They say loose lips sink ships. Well, loose lips might sink hot tubs too.

Something happened in the hot tub on the last day of the ship. There was a lot of drinking. At some point, four gay guys got invited into the hot tub. I highly suspect Someone from our group invited them in, but I don't know who. Apparently these four men were hot. In chemical terms, that made things in the hot tub highly volatile. Things happened. There were chemical reactions.

Relax, hot tubbers, I don't have the goods on you. You can breathe now. I have just printed all I know.

But I will say this - you owe me. I had the wildest story of my career and I had a source on the ropes. Like a cop who catches a drunk speeding at night, I had everyone's Reputation in my grasp… YOUR WORST NIGHTMARE!

It seems on the final night of the trip, I was scrambling around trying to get the #5 Luggage Tags to as many people as humanly possible. By accident, I ran across a person who was in a highly intoxicated state of being. This person had a serious case of Loose Lips.

The first thing out of their mouth was, "Has anyone said anything about me yet?"

I shook my head. Nope. Not yet. But I could tell the Veils of Hot Tub Secrecy could be effortlessly parted. All I had to do was ask an innocent question or two. This person was in a state of Oblivion. Their defenses were down. All secrets were there for the taking. One good prod in the right direction and I could learn anything and everything.

But I blinked. That's right. I blinked. I was given an opportunity to look down into the abyss and I chose not to go there. I realized this person was helpless and that any secrets revealed would be on their conscience forever. I didn't want to be a part of destroying everyone's fun, so I walked away from it. Best story of my career…. Coulda been a chapter in my book…. But I passed on it. What was I thinking?

My intuition told me some really weird stuff that happened in that tub! Some people took a dangerous walk on the wild side. But that is where I stopped. I had a situation to exploit, but I passed on the chance. Why? I decided it was none of my business. I guess I am getting old and soft.

I only asked one question. Were there any photographs taken?

The person pondered this question. "No, but I don't care if there were."

"Why not?"

"Because I have my own photos. If someone says something or shows a picture of me, heck, I will bury them with my own pictures! They wouldn't dream of it! It would be nuclear holocaust. It would mean utter annihilation. No one dares mess with me!!!"

I smiled. Those were the exact same words Nikita Khrushchev, Chairman of the Evil Empire, had used during the Cold War. "We will bury you!" Those were the days when America and Russia stockpiled enough nuclear weapons to destroy the entire planet many times over.

The reasoning behind this belligerent approach was labeled MAD: the doctrine of Mutually Assured Destruction. Mutual Assured Destruction is the military strategy in which a full-scale use of high-yield weapons of mass destruction by two opposing sides would effectively result in the complete, utter and irrevocable annihilation of both the attacker and the defender.

Today, thanks to the presence of underwater cameras everywhere, the same thing can be said about incriminating photographs. No, we don't carry guns in holsters anymore. But we do carry cameras.
.......


MARLA MCSTARLA

Marla exclaimed to me one night, "You know what? I think I am having fun on this trip!"

Well, what do you know about that? I was as surprised as she was. Things were going so well that Marla could actually stop worrying for a change and enjoy herself.

I asked her what was different. "I don't know. I guess I am dancing more on this trip than ever before. And everybody is being so nice to me! I can't begin to tell you how many new friends I made. "

That's Marla for you. The Marla I know is warm-hearted and conscientious to a fault. But the world more often sees a frenzied worry-wart who agonizes over every box of chocolate that wasn't delivered to a cabin like it was supposed to be. Plus any mention of bad weather drives her into a panic attack. To this day, Marla still has not recovered from the damage Hurricane Rita did to her psyche. Considering her peace of mind is directly related to the weather and to the ability of Carnival to get every detail perfect, you can understand why Marla is generally a tormented soul. Such is the life of a woman who tries to be a perfectionist.

And complaints. Oh, every complaint is a dagger to her heart. You have no idea how many people seek Marla out to complain about their roommate or their cabin. Some people even complain to her about the food. Others complain about the temperature of the hot tub.

Marla says she has considered wearing a backpack that says: "I am currently off duty. Please put your complaint in the backpack."

I told Marla I would buy her a tee-shirt in Cozumel. When I looked up, Marla had found one. It said, "Sometimes I wish I was a Missing Person".

I just grinned. When the complaining reaches a certain point, Marla wishes she had an invisibility cloak to shroud herself in.

Marla is special because she cares about what she does. Marla realizes that organizing these cruises is her way of contributing to something very important, so she takes her role seriously.

She sees people getting engaged, she sees people having fun, she sees people growing closer, and she sees a Group Identity being forged. She sees her guests put cruise pictures on Facebook and understands that these trips are special moments in people's lives. Many of these people deliberately save up all year just so they can spend their vacation with "The Group". Marla considers that an honor and responds accordingly.

The downside of caring too much is that Marla feels responsible for everything.

Intellectually she knows that people get the cabin they pay for, but then her guilt kicks in and she feels like she has let the person down.

Intellectually she knows that people who sign up at the last minute have to take whatever roommate is available. Some of these pairings have no chance of success. But Marla manages to feel guilty anyway.

Intellectually she knows that some dinner tables will not click. After all, there has to be one "Newcomer" table on each trip. Marla agonizes when she sees the Newcomers frowning. And so on.

Unfortunately, Marla gets worn out. There's just one of her and there are so many things that can go wrong. I feel bad because one night I contributed to her misery. One gentleman did not get his bottle of champagne. He called up our room to inquire. Marla was in the shower. I should have said she was out and taken a message, but instead I asked her in the shower what to do. Her response was a resounding round of profanity.

To my chagrin, I am pretty sure the man on the phone overheard her response. It was my fault for letting him see Marla in an unguarded moment. She couldn't believe the complaining had the ability to follow her all the way into the shower. Was there any sanctuary left?

But you know what? As soon as she had an opportunity to get her clothes on, Marla made sure that bottle of champagne got delivered.

That's why I am so proud of my wife. Marla may take everything too seriously, but her incredible sense of responsibility is what defines her. Our trips work like clockwork thanks to Marla. I cannot begin to tell you how much I admire her. As you can see, I am in awe of her talent and conscientiousness.

Let me add that many of you found a way to express your appreciation to her on this trip. It was such a relief to actually see Marla smiling on a cruise for a change.

Thank you, Marla, for another amazing trip. You have brought an incredible experience to so many people. I think I speak for many people when I say we are all grateful to you for your hard work and your big heart.
............


A TRIP TO REMEMBER

I cannot conclude this story without pointing out that a lot of people went out of their way to help make this trip so wonderful. Our trips are no longer a 'Rick and Marla Presentation'. The days of the two-man show are over. We may get the headline billing, but our supporting cast is awesome.

The leadership came from all directions. There were Hot Tub leaders, Dinner Table leaders, Dance Floor leaders, Bar Hopping leaders, and Party Bus leaders. There were several really important people who I have not even named. For example, Peggy McElroy did an excellent Party Bus of her own. Chris Shields didn't even make the trip this year, but still managed to contribute a safe place for us to park our cars at Capital One. Richard Greason unselfishly took picture after picture. Steven Beauchamp fascinated us with his magic tricks and endless supply of stories. Charley Denton always seemed to be in the middle of everything, but refused to call attention to himself. Iqbal Nagji was the same way.

Throughout the trip, I was struck by the number of people who looked for ways to contribute and participate without even being asked. Thanks to all these people, all the newcomers were quickly made to feel welcome. If anyone felt lonely on this trip, it was their own fault. All they had to do was show up and one of the many leaders would immediately try to get them involved.

I have never seen a more energetic bee hive in my entire life. You all made so much honey we may end up I bet Winnie the Pooh is ready to sign up. Thank you all for making this such a great trip! WTH!