Don and Marsha's Wedding

Story written by Rick Archer
November 2012

On 12 October 2012, the gang assembled for Don and Marsha's Wedding on a warm Friday evening. The ceremony was held in a lovely courtyard at the home of Marsha's father.

I would describe the ceremony as relaxed and informal. The entire evening had a wonderful charm to it. There were about 60 people in attendance. Some were relatives from Marsha's family and some from Don's family. The largest group in attendance were Don and Marsha's friends from Marla's SSQQ Travel group.

This was the first time a "land wedding" was followed by a honeymoon on one of Marla's cruise trips. Many of the people in attendance on Friday would also be taking a cruise two days later on Sunday. This was not a coincidence. Marsha and Don planned to use the Magic 2012 cruise trip as their honeymoon. As a result, not only did the wedding have the feel of a family gathering for the fellow travelers, so did the entire cruise.

Over the years, a group of friends has developed around Marla's cruise trips. I would like to share the story.
A Trip Down Memory Lane: Two Amigos and One Amiga

Iqbal

Marsha first came to our Travel group in Hawaii 2007. Marsha was a last-minute addition. However, as you can see, she fit right in. One of the people Marsha met on the trip was Iqbal.

Marsha, Iqbal, Marla, Keith - Hawaii 2007

Becky, Andy, Marsha, Victoria - Hawaii 2007
Greg, Mara, Iqbal
Hawaii 2007

Marsha and Iqbal were back the following year for
Greece 2008

This trip was Iqbal's finest hour. Iqbal was very familiar with this part of the world, so he took the entire group under his wing and shared his knowledge.


Iqbal was kind enough to lead us through the streets of Athens and Kusadasi (Turkey) for two straight days. We felt fortunate to have Iqbal as our guide.
This is a map of the Athens subway system. As they say, it was all Greek to us. Little did we know that the subway was even more complicated than it looked. Not only was there a strike that shut down part of the system, there was a spot where we all needed to get off and go to another train.

I honestly don't know how we would have negotiated this subway system without Iqbal. Most of us would have been forced to spend a lot of money on a ship-sponsored excursion or take an expensive cab ride as some did.

As for us, we didn't spend a dime on the ride. Iqbal wouldn't let us. He paid for the entire group to ride not only a bus, but the subway as well.



Iqbal took us everywhere. He showed us the Parthenon, the Acropolis, the National Museum and the Arch of Hadrin. Iqbal took us to see the bizarre changing of the guard at the State House, then showed us a great place to eat lunch across the street. Later Iqbal took us to a popular shopping area to finish out the day.

Thanks to Iqbal, we saw twice as much as any excursion for one-tenth of the cost.

Our group trustingly followed Iqbal through to convoluted streets of Athens for the entire day. In the afternoon, one of the ladies in our group took me aside. First Jackie marveled at Iqbal's expertise. Then Jackie said she wanted to thank me for organizing the trip.

As I always do, I quickly explained that Marla had done all the work, not me. Jackie smiled and nodded that she understood my point. Then she said she had something she wanted to tell me. Jackie began by saying how wonderful it was to feel so safe as we traveled the twisty, winding streets of Athens behind our fearless leader Iqbal.

Jackie said that she signed up for this trip by herself. She said that she had wanted to visit this area of the world for a long time, but didn't presently have anyone in her life at this time who could accompany her. Jackie said this trip was literally the answer to her prayer.

Even though she didn't know a single soul in our group, the people in our group had been so kind to her! Now she wanted to say how grateful she was that a single lady from the other side of the planet could feel so completely safe in such a confusing environment. Thanks to us, she was fulfilling a dream.

I smiled and thanked Jackie for her kind words. Then I added I felt the same way about today's trip that she did. Without Iqbal, we would have never had so grand an adventure. I ruefully thought back to how lost I had been in Rome just two days earlier. Thank goodness we had Iqbal to guide us through Athens!

Now that our group has completed its twelfth year, I am able to look back and point out there have always been people in the group willing to look out for someone who needs help. Iqbal's generosity on this day was the perfect example.

Not only did Iqbal save each person a tremendous amount of money, but he made us feel secure and at ease. We spent the day laughing and teasing each other without a care in the world. We were able to enjoy Athens so much more knowing that we had someone who knew how to get us back to the ship and was keeping an eye on the clock as well. It takes real skill to maximize one's time on shore.

Iqbal's knowledge allowed us to squeeze every precious moment out of our trip in Athens and still get back to the ship on time. Not one second was wasted. Without him, most of us would have returned much earlier due to our inexperience.
John, Carol, Iqbal - Vera Cruz 2001

Brenda, Iqbal - Rhapsody 2002

Iqbal has been a guiding force right from the start. The origin of our Travel Group can be traced back to Vera Cruz 2001.

Following my divorce in May of that year, I organized a cruise trip at the studio to see if I could recapture the "Group Spirit" we had once had back in the early days of the studio. To my amazement, 101 people signed up for the trip. I was delighted to see my idea worked like a charm. The energy was very high. Iqbal was on the trip and so was his friend John.

On a personal level, I wasn't doing very well. I started the trip in a very bad mood. I was lonely and not feeling particularly sociable. There was a woman on the trip on whom I had a big crush... a crush that was going nowhere.

This woman had not paid a bit of attention to me for six months. My uncertainty over why this woman kept giving me the cold shoulder was driving me crazy. That woman, of course, was Marla. I had clung to the hope that perhaps on this trip I could penetrate the veils of the mystery.

Fortunately I succeeded. With the misunderstanding solved, Marla and I fell in love. If you are curious, I have previously told this story in detail. Origin of the SSQQ Travel Group

By the time our next cruise came around in 2002, Marla and I were clicking on all cylinders. Rhapsody 2002 would turn out to be a very important trip. Three people were on this trip who would become remarkable leaders in our Travel Group. Iqbal was definitely one of the three.

Rick, Jill, Marla - Vera Cruz 2001



Rick, Marla - Rhapsody 2002
Joan, John, Iqbal, Lynn, Peggy -
Conquest 2007

Over the years, the main reason our group has grown is due to the fact that people talk their friends into joining. Here again, Iqbal is the perfect example. Iqbal talked Joan, his friend and favorite dance partner, into coming along on the Conquest 2007 cruise.

Joan enjoyed that trip thoroughly. She immediately signed up for our next trip, Greece 2008. Joan turned around and talked her friend Pam into joining us. Now Pam was part of the family too.

This is how Iqbal's leadership has helped our group to grow. Not only did he bring his friends on board, he shared his knowledge to make the trip safer and more enjoyable not just for Pam and Joan, but for the entire group. We naturally wanted to thank him.

Fortunately, the girls found the perfect solution. As you can see, there are real benefits that come from being a nice guy.

My daughter Sam, Iqbal, Jazzy Joan

Mara


Mara Rivas was the second remarkable leader on the Rhapsody 2002 cruise.

Mara began to get to know her eventual husband Bruce on that trip. However they didn't click right off the bat like Marla and I did. Their romance would take several years to incubate. However, Mara and Bruce would go on to have a special SSQQ Love Story of their own.

Bruce and Mara had originally met at the dance studio in 2002. They were both guests on our pivotal Rhapsody 2002 cruise. However they remained merely dance buddies on that trip.

Perhaps the spark should have happened on that trip, but it didn't. Cupid even had some help - Mara's friend Joanie kept insisting that Mara pay attention to Bruce. Joanie proclaimed, "Mara, that's a good-looking man! And he's single! You need to go get him, darling!"

But Mara kept her distance on that trip. Who knows. Maybe Mara wasn't ready. Maybe Bruce wasn't showing interest.

Nevertheless I have a hunch that at some point during that trip Mara at least put Bruce up on her radar board.

Mara and Bruce - Hawaii 2007
Joan, Betty, Rose, Gary, Mara, Marla, Maureen, Bethany - Rhapsody 2002

Rhapsody 2002 was notable because it marked the start of an important friendship - Mara and Marla.

These two ladies realized they saw eye to eye on all sorts of things.

Back in those days they were known as the M&M's.

I believe that Bruce and Mara started dating in late 2006. One night Mara was at our house for a Christmas dinner and she couldn't sit still.

Mara confided to Marla there was a new man in her life... and she had a date with him right after dinner! Once Marla found out it was Bruce, a big smile came over her face. Marla really liked Bruce.

Marla and I had the privilege of watching the two of them fall in love right before our eyes.
| | |
| --- | --- |
| By the time the Hawaii 2007 cruise came along that next summer, Mara and Bruce were definitely a couple. They would go on to get married in December 2008. | |
Mara on her triumphant
Champagne Night

Wedding Rhapsody 2004


Right from the start, Mara assumed a leadership role on our cruise trips. One of her best ideas was Champagne Night. Her inaugural event took place on Wedding Rhapsody 2004.

That was trip where I married Marla in an oddball ceremony we labeled our "Oops Wedding". The entire day was full of mishaps, but the trip itself was wonderful.

Marla and I shared our honeymoon with the group. Since then, several couples have done the same thing.

Don and Jean Taylor shared their honeymoon with us on Conquest 2007. Gary and Tracy did the same thing on Greece 2008.

For Magic 2012, not only did Don and Marsha share their honeymoon with us, so did Thomas and Cathy Purcell.

During our 2004 trip, Marla had a bottle of champagne sent to every cabin as a "Thank you" gesture for sharing our honeymoon. Only one problem...

One of the men who was sharing a cabin with another man complained to Mara that he didn't want to drink the champagne with his cabin mate. Wrong message. So what was he supposed to do with this bottle of champagne?

Mara suggested we all pool our bottles of champagne and have a party on Formal Night. What a great idea! Not only was the party a smash hit, some of the guests got very smashed indeed.

And that's how the tradition started.
Patty and Joe, Kurt and Jean - The Gang Grows
Thank goodness Mara was at our 2004 wedding. Mara was instrumental in keeping Marla glued together during all the Wedding Ceremony issues.

Also present at the ceremony were Joe and Patty. They were not on the cruise itself, but came down for the wedding ceremony. Both Patty and Joe were stunned by the beauty of the ship.

When Joe saw how sad Patty was when it was time to go, he had an idea. One day at the studio Joe surprised Patty with a birthday present. He announced to Patty they were signed up for our next cruise.
Marla had become friends with Patty in dance class. Patty enjoyed Marla's smart mouth quips at my expense.

Mara and Patty would soon become friends as well.

In 2009, Bruce and Mara met Kurt and Jean in dance class.

The two couples would go on to become inseparable best friends.
Mara has a special talent. She is a born hostess and an excellent organizer.

Never were her talents more apparent than on the Barcelona 2009 trip, my favorite.

The group had many very special moments together.

This picture shows the group out dining. That is Rick E aka Zorro, Jean, Joan, Fran, Gus, Albertin, Kurt and Bruce.

The picture on the left shows the group with Barcelona's incredible Sagrada Cathedral in the background. Albertin, Claudia, Joan, Zorro, Jean, Bruce, Rick A, Kurt, Patty, Joe, and Marla are pictured. Mara took the photograph.

The Barcelona trip was indicative of the energy Mara has invested in making the cruise trips fun and meaningful for a great number of people.
In addition, Mara has done the group a marvelous service in hosting several parties at her home throughout the year.

This is a picture of a New Year's Eve Party that Mara hosted for her group of friends. I think there were men at that party too, but they weren't pretty enough to rate a picture.

Ever since I closed my studio in 2010, I think Mara has done the group a remarkable favor by helping people maintain very close ties throughout the year.

Like Iqbal, Mara is a person who deserves great credit for her leadership.

Mara's finest hour came on our 2011 Cruise Trip to the Eastern Caribbean. Mara put in countless hours organizing one special event after another for the group.

I think the pictures tell the story.

The courtyard of the beautiful Hotel Convento, Virgin Islands 2011


Kurt, Tiffany, Jean, Ryan outside Hotel Convento, Virgin Islands 2011


Group Trip to El Yunque Rainforest near San Juan, Virgin Islands 2011

A Day at the Beach in Saint Thomas, Virgin Islands 2011

A visit to Morro Castle in San Jaun, Virgin Islands 2011


Formal Night on the cruise trip, Virgin Islands 2011


A tour through Old San Juan, Virgin Islands 2011


A tour through Old San Juan, Virgin Islands 2011


Bio-Bay, Virgin Islands 2011 - "Damn it, Joe!"



The picture on the right was taken during our tour of the El Yunque Rainforest outside of San Juan, Puerto Rico.

Our guide, Louie, turned the girls into tropical runway models with the use of a very large leaf found in the nature preserve.

It is trips like these that have helped these women form close friendships that continues on a year-round basis back in Houston. Mara deserves tremendous credit for creating and preserving these ties.
Gary


We have spoken of Iqbal. We have spoken of Mara. A third person who has shown great leadership over the years is Gary Richardson.

Like Mara, Gary and Betty's first cruise took place on Rhapsody 2002.

Gary loves to dance. On the 2002 trip, Gary was especially frustrated because there were not enough opportunities to dance. This drove him nuts because the Rhapsody possessed a terrific dance floor. In fact, as we would learn through experience, the Rhapsody had the best dance floor of any ship we would ever travel on. Except what good is a dance floor if you canít use it?

Gary created a unique solution. After the band quit playing at Midnight, Gary would plug in his boom box and invite his friends to stay and dance in the deserted room while everyone else went to bed. Our group now had this wonderful dance floor all to themselves. What a treat!

Over the years, Late Night Dancing became a very important tradition on every cruise trip. This was the time when people could dance to their heart's content and make many close friends in the process.
There was only one problem. Dancing late into the night had consequences.

Naturally they got up so late the next morning they missed breakfast in the dining room.

No problem Ė the buffet room stayed open all morning long just for that problem.

Gary and Friends basically time-shifted for the rest of the trip. They would dance into the wee hours and sleep through the morning till 10 am or so. This arrangement worked like a charm. It also led to two more traditions.

The first tradition was Gary's three-hour breakfast. Gary would sit in the Windjammer all morning long talking to people. You have no idea how much laughter and friendship was created during those long mornings in the Windjammer.

This tradition transferred nicely to the Conquest starting in 2007.

The other tradition Gary established was cruise photography. Gary was a photo enthusiast long before the day of the digital camera. Gary would bring his camera into the Windjammer and take pictures all morning long. People LOVE having their picture taken! Even better, Gary loved taking people's pictures.

Gary made many friends on the Rhapsody 2002 trip. His dancing, his photography, and his hours spent in the Windjammer were much appreciated by everyone. They weren't the only ones who were happy. Gary returned home with a big smile on his face. He was hooked on cruising!

Gary wasn't alone. So were a lot of people. Taking cruise trips with friends was turning out to be a lot more fun than anyone could have ever imagined.

Gary had one more trick up his sleeve. At the end of the trip, he handed me a copy of the pictures he had taken. Gary's gift helped me discover the importance of photography in telling stories. Thanks to Gary, we not only have pictures to document the highlights of every cruise, we also get to see what we looked like ten years ago.

In the years since I closed my studio, Gary has helped keep the cruise group together. Not only does Gary offer weekly dances every Tuesday at the Westwind, he sponsors popular public dances at the Pavillion. It is these kind of activities that have helped keep the group tight-knit in the recent years. Mara, Gary, Iqbal... and many others... have gone out of their way to maintain the ties within our Travel Group year-round.

The Gang

Thanks to Gary's photography, I was able to document the exploits and hijinks of our many colorful guests. This picture is famous. These were the Usual Suspects. The picture was taken on the Rhapsody 2004 Wedding Cruise. There was a lot of mischief that took place on that trip that has NEVER been documented. Wait till the book comes out.

Several of the people sitting at the table became leaders in their own right. For example, on many trips, Steve Gabino was our official Cruise Photographer as well as the DJ for our Late Night Dancing.

Mr. Handsome, sometimes known as George, has gotten more publicity than any other person in SSQQ Cruise history. He has deserved every rotten thing I said about him too... although he will deny everything. George started our Hot Tub tradition... as well as all the awful things that happen in there.

Phyllis Trouble began her Legend on this same trip. More than anyone, Phyllis was wonderful at making the new people feel like part of the group. She was especially good at stirring up Trouble in the Hot Tub.

Gary Schweinle, my wonderful friend, was a huge supporter of our cruise trips. He died an untimely death in 2008, but while he was alive, no one was a bigger supporter of Marla's travel program than Mr. Hat. Today Gary's love for the trips is carried on by his graceful wife Tracy.

Jean, Leslie Alph, the Great Gabino, Eva, Leslie Grapevine, George Mr. Handsome, BK, Gary Mr. Hat, Phyllis Trouble, Gina
Conquest 2011 Pre-Cruise Party

The story of Don and Marsha begins with the Conquest Pre-Cruise Party in 2011.

At this point, Marsha was a fixture in our Travel community.

Marsha had started with Hawaii 2007 and Greece 2008. Marsha was having so much fun she decided to try one of our dance cruises. Marsha signed up for Conquest 2008.

Marsha had an absolute blast. In quick succession came Conquest 2009 and Conquest 2010.

Along the way she acquired her distinctive Marsharita nickname due to her willingness to make the Margaritas at our land parties. Trust me, her particular kindness was always much appreciated. That goes for me too.

Marsha once made a Margarita for me at a New Year's Party that absolutely snapped me out of a serious funk.

It wasn't so much the alcohol as it was the gesture. Marsha saw my long face and went out of her way to cheer me up.

Liana, Sherry, Nina - 2011 Conquest Precruise Party

Maite, Rowena, Andy, Charley, Phyllis
| | | |
| --- | --- | --- |
| George | Marsharita, Ed, Karen - 2011 Conquest Precruise Party | Ray, Mona |
| | |
| --- | --- |
| Rowena, Charley, Liana, George, Dee, Sam, Lori - 2011 Conquest Precruise Party | Eileen, Imre - 2011 Conquest Precruise Party |
Andy, Mary - 2011 Conquest Precruise Party


In August 2011, Marla and I hosted a Pre-Cruise Party in our home for the guests for our upcoming Conquest 2011.

The buzz in the air revolved around Marsharita's new boyfriend. As Marla explained it to me, Marsha had been dating Don for about a month. I believe (could be wrong) they had met through a rodeo committee activity.

One problem. Marsha was going on this upcoming cruise without Don. They both had mixed feelings about this. After all, Marsha had booked the cruise six months earlier. The timing didn't permit Don to join her.

So where was Don tonight? Why didn't Marsha invite him to our party? Marsha said Don had other commitments, but might be able to drop by.

Just as the party was starting to wind down, a man I had never met before entered the room and promptly gave Marsha a big hug. This was Don. He warmed up to us quickly. As you can see, Don felt right at home!

Our surprise guest Don!!

| | |
| --- | --- |
| Peggy, Carolyn, Pam, Ann, Mike - 2012 Dominica Precruise Party | Don and Marsha at the 2012 Dominica Pre-Cruise Party |
| | | |
| --- | --- | --- |
| 2012 Dominica Cruise | 2012 Dominica Cruise | 2012 Dominica Cruise |
I liked Don the moment I met him. So did Marla. The entire group felt the same way. Don is a friendly, outgoing guy. He is very easy to like. Everyone stepped forward to shake his hand and introduce themselves.

Don grinned. I think he appreciated the warm welcome.

While he was at our house, Don told us all he wished he could have joined us on the Conquest 2011 cruise. Marsha saw her cue and smiled.

"Well, gee, Honey, Marla has another cruise coming up next March. Let's take that one!"

Don nodded. It sounded like a good idea. So Don decided to take the cruise plunge. He and Marsha signed up for our Dominica 2012 cruise in March.

I could be wrong, but I don't think Don had ever been on a cruise before. We all promised Don we would take good care of him. Don said he wasn't worried. "I've got Marsha to show me the ropes!"

I think Don enjoyed his first cruise. Every time I looked, he was smiling. That's always a good sign.

And guess what? On the Dominica 2012 cruise, Don and Marsha announced their engagement.
Don and Marsha's Wedding


Don and Marsha were married on Friday, October 12th, 2012.

As I mentioned earlier, Don and Marsha had three families at the wedding.

There was Don's Family, Marsha's Family, and then there was the Travel Group en force. This was a happy moment for all of us.
Patty, Barbara, Iqbal, Larry, Eleanor, 3 ladies I don't know,
Clark in back, Tim, Nina, Sherry, Karen, Nina, Edward behind Jeanne


I think the one regret I heard Marsha say was that they didn't have room to invite more people.

Many friends had to be left off the list.

Don and Marsha shouldn't feel too guilty. They certainly did the best they could.

I would guess there were at least 30 people from the Travel Group in attendance, perhaps even 40.
Steve Gabino, our resident photographer, taking pictures


On the other hand, I saw their point.

Don and Marsha had as many of their friends at this wedding as the courtyard could possibly hold.

As you can see, it was pretty crowded out there.
| | |
| --- | --- |
| Jackie, Rowena, Patty, Barbara, Iqbal, Eleanor, Jack, Rick E, Charley, Joe, Larry | The Ring |
| | |
| --- | --- |
| Joanne, Joel, Vivian, George, Liana, Clark | Just married! Don and Marsha |
| | |
| --- | --- |
| Peggy, Vivian, and Kurt. Jean and Tiffany are barely peeking out | Jean and Marla |
| | |
| --- | --- |
| Sherry, Karen, Tracy, Ed | Phyllis, Rowena, Marla |
| | |
| --- | --- |
| Jean, Marsha, Kurt. This was a happy night. | Joe, Patty, Jeanne |
Magic 2012 - Don and Marsha's Honeymoon

Front: Andy, Liana, Marsha, Mona, Kristy
Back: Toni, Marla, Karen, Sherry, Nina, Fran, Mary, Joanne, Joan, Tracy, Karen, Phyllis


Don and Marsha on the Magic Bus
Back: Joan, Sherry, Tracy, Marla, Rowena, Peggy, Joyce, Anne
Middle: Vivian, Mona, Phyllis, Patty, Sharon
Front: JoAnne, Andy, Marsha, Kristy, Liana

At the Welcome Aboard Party, the First Dance
In the pool at Freeport, Bahamas: Vivian, Steve, Sharon, Karen, Richard, Rowena, Marsha, Don, Charley, Kristy, Gabino

Don, Marsha, Jo Anne, Sherry, Jeanne, Fran, Mary

Marsha and Don on Formal Night

Late Night Dancing: Liana and Gary on the floor. Eleanor and Larry to the left. Barbara and Joseph in front.
Seated: Victoria, Mona, Ray, Linda, Vivian, Steve, Maureen, George, Mary, Marsha, Sherry
In Back: Danesh, Andy, Don, Anne

| | | |
| --- | --- | --- |
| Don and Marsha on the Dance Floor | Smooching for the Paparazzi at the Sunset Party | They certainly aren't shy around the camera |
| | |
| --- | --- |
| Dinnertime | On the Magic Party Bus |
| In the Spotlight Lounge | A Happy Honeymoon Indeed |
The Magic 2012 Sunset Farewell Party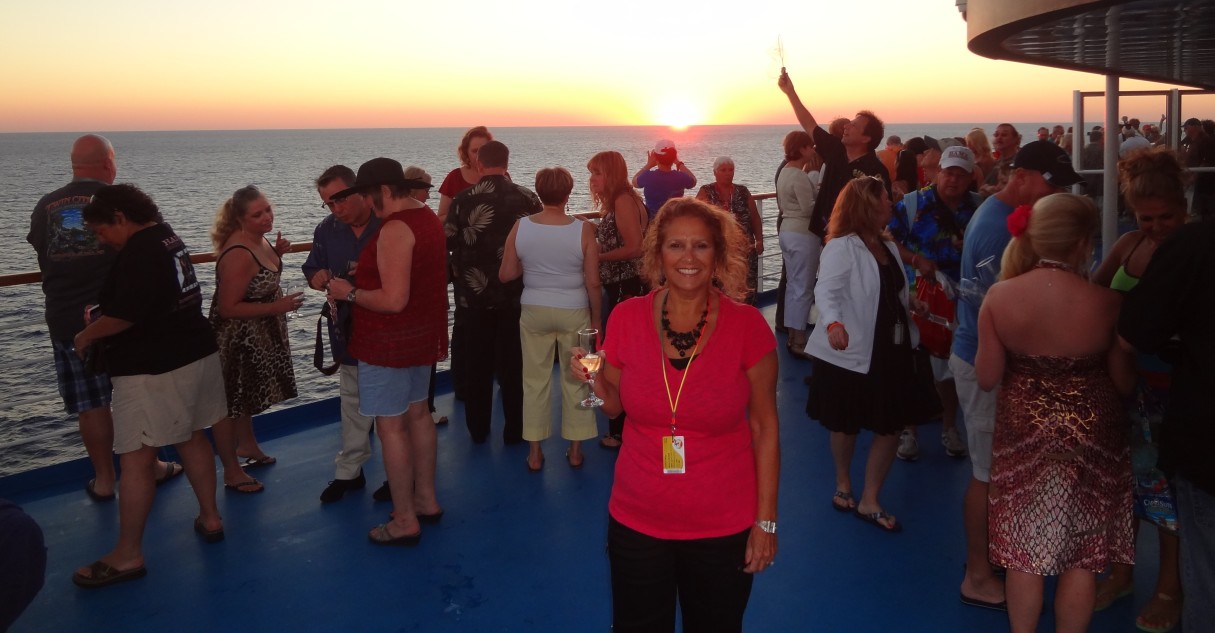 | | | |
| --- | --- | --- |
| Eileen and Imre Kondor, 2003 | Bruce and Mara, 2008 | Jean and Don Taylor, 2007 |

This year's Sunset Farewell Party had deep significance for me. This delightful tradition was the idea of Iqbal. I have noticed that as our Community continues to grow, this event gains importance on each trip. It is our way of saying "Auld Lang Syne" at sea... let us not forget old acquaintances.

On this trip, Don and Marsha joined a very exclusive club. They were one of 12 different couples on this trip who met through the cruise trips and the dance studio and decided to get married.

Seven of those couples are pictured here. Don and Marsha make eight. Besides these twelve, there are many other married couples who met at my dance studio who have been on other cruise trips. All told, I count over 50 couples in our Travel Group who met through the cruise trips and SSQQ-Bissonnet.

Perhaps just as significant, there were at least another dozen couples traveling on this trip who look like they may join this club someday. I prefer to let them have their privacy during the formative stages of their relationships, but their commitment seemed equally as strong as the married couples. They are clearly well past just the "dating stage".


One amazing thing about our group is that these couples and the singles continue to co-exist in perfect harmony. Nevertheless, the pendulum has clearly shifted. Once our trips had more singles than couples. That is not true anymore.

Basically our group isn't quite as "wild and crazy" as the Sizzling Hot Tub days of yore. I suppose this means we have all settled down a bit. In fact, don't tell anyone, but we are dangerously close to becoming "respectable". You would be hard pressed to find a church congregation with a higher percentage of committed couples than our own Travel Community.

Why do so many couples come on these trips? Not only do they enjoy the company of other couples like themselves, but they have learned something along the way. Many of our friends have discovered that the cruise experience is a powerful way to keep the romance alive.

Don't ask me how the formula works, but the pictures make it very clear that these cruise trips have turned us into a very big family.

I am grateful to Marla for her work. Without her guidance, this community would not even exist.
Virginia and Gerald McEathron, 1997

Toni and Richard Greason, 2010

Richard took many of the pictures used in this story.
I would like to express my appreciation.

Ed and Tracy Akin, 2012

The Newlyweds

I thoroughly enjoyed participating in Don and Marsha's Wedding and Honeymoon. I am glad they chose to share such an important event in their lives with us. I know I speak for a lot of people when I say how much fun it was to bask in the glow of their big smiles all week long. How they kept up their energy is a mystery beyond me.

I doubt Don and Marsha got much privacy, but maybe that's not what they wanted. Personally, I think they enjoyed the attention. They both seem comfortable in the limelight.

Don and Marsha were already a big part of the Travel Family before the trip even began. However, thanks to the key role they played on this trip, Don and Marsha are now in a position to become leaders if they choose to. I hope they use their influence wisely.

I look forward to the next chapter of the SSQQ Travel Adventure. It could be interesting.

Rick Archer
November 2012

Don and Marsha Wicks, 2012