NEW ZEALAND - AUSTRALIA 2019


2

019 New Zealand Australia Itinerary




March 08:

Day

0

1

Friday

Sydney, Australia

March 09:

Day

02

Saturday

cruising to New Zealand

March 10:

Day

03

Sunday

cruising to New Zealand

March 11:

Day

04

Monday

New Zealand: Milford Sound, Doubtful Sound, Dusky Sound

March 12:

Day

05

Tuesday

Dunedin, New Zealand

March 13:

Day

06

Wednesday

cruising

March 14:

Day

07

Thursday

Wellington, New Zealand

March 15:

Day

08

Friday

Napier, New Zealand

March 16:

Day

09

Saturday

Tauranga, New Zealand

March 17:

Day

10

Sunday

Auckland, New Zealand

March 18:

Day

11

Monday

Bay of Islands, New Zealand

March 19:

Day

1

2

Tuesday

cruising back to Sydney

March 20:

Day

13

Wednesday

cruising back to Sydney

March 21:

Day

14

Thursday

disembark Sydney, Australia
Cruise Pricing


(All rates are per person double occupancy)

Inside Virtual Balcony
Category 4U, Decks 7, 8, 9

$1567

Balcony Category 8D
Decks 6, 7, 8, 9

$1948

Balcony Category 6D
Decks 10, 11, 12, 13

$1971
A Note from Marla Archer:

Dear Travel Friends,

Rick and I invite you to join us on our long awaited trip to Australia and New Zealand in March, 2019. We will be sailing on Royal Caribbean's Ovation of the Seas for a 13 Night Cruise departing Sydney, Australia on March 8 cruising to see all the incredible sights in New Zealand and returning to Sydney on March 21st.

Australia and New Zealand are two of the most requested destinations. This is understandably so. As one can see, the cruise part of our trip is mostly New Zealand with its spectacular natural beauty. Staggering mountains, lush waterfalls, and pristine marine preserves are among our New Zealand destinations. If you are a nature lover, this is the trip of a lifetime for you! This cruise is definitely on my bucket list and I know others within our Travel Family agree.

This is not to say we are neglecting Australia. Using Sydney as both the embarkation and disembarkation port, each guest has the opportunity to add a 'pre' cruise or 'post' cruise land trip to visit Australia's interior. Now that we have traveled this far, Rick and I definitely intend to take advantage of this rare chance to see Australia.

Please note Australia and New Zealand are 1,200 miles apart. This will give us four wonderful days at sea to dance and party just as hard as we possibly can. The combination of two incredible destinations, sailing on one of Royal Caribbean's finest ships, the phenomenal value offered, and great friends guarantees this trip will be equal to our terrific 2016 Greek Isles Cruise... and maybe even better!

This trip is so impressive that I have had 24 people sign up before Rick even announced the trip in his Newsletter. Please come join us and share in our adventure!

Marla Archer

A Word to the Wise: Since I have a limited amount of group space and my rates are considerably lower than Royal Caribbean's prevailing rates, sign up now. If you know this is something you want to do, be smart and take advantage of the lower rate and get a great stateroom location. Do not pay more unnecessarily. Nor is there any reason to take the risk of getting shut out like several did on our Greek Isles Cruise..
The Great New Zealand Trivia Quiz

Rick Archer's Note: One of the joys of traveling is the chance to learn some more about areas of the world we did not know much about. I would guess that of all locations on earth, we know the least about Africa.

After Africa I suppose it is a toss-up between Asia and Oceania. I bet most of you do not know a darn thing about New Zealand. I have prepared a little quiz for you. Let's see if you are any good.

RICK'S NEW ZEALAND TRIVIA QUIZ


1. What famous movie was filmed in New Zealand?

Lord of the Rings
Game of Thrones
South Pacific
Godzilla
King Kong
Battle of Iwo Jima

2. Which European first discovered New Zealand?

Abel Tasman
James Cook
Amerigo Vespucci
Ferdinand Magellan
Posh Spice


3. Which is closest to the Arctic Circle?

Australia
South Africa
Russia
Argentina
New Zealand


4. The first people of New Zealand were known as:

Aborigine
Zulu
Maori
Kiwi
Scottish
Polynesian
Aucklander
Martians

5. How far is New Zealand from Australia?

200 miles
800 miles
1,200 miles
2,000 miles
3,000 miles


6. New Zealand is comprised of:

600 islands
One main island
Two main islands
Three main islands
Seven main islands


7. New Zealand is closest to:

Tahiti
Galapagos
Hawaii
Philippines
Fiji
Australia

8. Which is not an island just off the coast of New Zealand?

Chatham Island
Pitcairn Island
Stewart Island
Auckland Island
Great Barrier Island


9. The tallest mountain in New Zealand is

Mt Victoria
Mt Elizabeth
Ayers Rock
Mt Cook
Mt Krakatoa


10. The capital of New Zealand is:

Wellington
Dunedin
Auckland
Melbourne
Sydney


11. What do Norway and New Zealand have in common?

Deep oil reserves
Proximity to the Poles (no, not Poland, dummy)
Great skiing
Fjords
High Quality of Living Index

12. Which island is not a neighbor of New Zealand?

New Caledonia
Falklands
Tahiti
Samoa
Tonga
Fiji


13. Which celebrity is not from New Zealand?

Keith Urban
Russell Crowe
Lorde
Peter Jackson
Hugh Jackman
Lucy Lawless


14. New Zealand is famous for what sport?

Cricket
Soccer
Skiing
Rugby
Australian rules football


15. What is the most unusual feature of Auckland?

below sea level
located on isthmus
located on peninsula
main part developed inside extinct volcano
located on archipelago


16. What is the favorite dance of New Zealand?

The Scottish Reel
Thriller
Waltzing Matilda
Haka
Jive


17. If you sail due east from New Zealand, the next landmass you will reach is:

Tahiti
Samoa
Indonesia
Galapagos
Argentina
Hawaii

Sydney is the oldest, largest, and most beautiful of all Australian cities. In 1788, Captain Arthur Phillip, commander of the First Fleet, established the first British colony in Australia here at Sydney Cove. For those unfamiliar with the history of Australia, England decided to use it as the dumping ground for its worst convicts.

That was then, this is now. Sydney reflects the adventurous spirit of its early settlers to this day. As one glides along the lovely harbor on a ferry, you can gaze with wonder at the white sails of the Opera House and admire the graceful arch of the Harbor Bridge. Amidst so much beauty, it is hard to imagine this vibrant state capital was once a brutal convict colony.

There are all sorts of things to do at Sydney. Visitors can explore Sydney's fabled history in the narrow cobbled laneways and historic buildings of the Rocks. Along the way, be sure to take a look at the city's excellent museums. While you're at it, definitely check out the rock paintings of the Gadigal aboriginal people who once thrived on this land.

Visitors can climb the harbor bridge, surf the green-barrel breaks at Sydney's golden beaches, or fly over the city on a scenic tour. The national parks which surround the city also provide appealing day trip possibilities.


TOP TEN THINGS TO DO IN SYDNEY

1. Spend the day at the Sydney Opera House.

One of the world's great icons, the Sydney Opera House is a UNESCO World Heritage Site and the star attraction on the glittering harbor. This graceful building, shaped like shells or billowing sails, perches on a finger of land surrounded by water.

A masterpiece of architecture, the Sydney Opera House is one of the world's most famous buildings. There are many ways you can experience what the Sydney Opera House has to offer. You can take a photo on the steps of the Opera House, explore it majestic exterior and splendid interior on daily tours, and enjoy performances held under its iconic white sails. The Sydney Opera House in Circular Quay hosts more than 40 performances each week.
Snap a photo while gliding by on a harbor cruise, relax at one of the restaurants, stroll around its exterior, or take an organized tour of this magnificent structure, which encompasses theaters, studios, exhibition rooms, a concert hall, and cinema.

On the edge of Sydney Harbor, one of the world's great natural harbors, the Sydney Opera House was evaluated as "one of the indisputable masterpieces of human creativity, not only in the 20th century but in the history of humankind".

The Sydney Opera House hosts 1,600 performances every year including ballet, opera, theatre, dance, music and comedy as well as children's shows and more. You can combine shows with delicious food at the Opera Kitchen and Bennelong Restaurant, or enjoy pre-show drinks at the Opera Bar.


2. Climb to the top of the Sydney Harbor Bridge

Nicknamed "The Coathanger" and dating back to 1932, the Sydney Harbour Bridge is one of Australia's grandest engineering feats.

The Sydney Harbour Bridge was the city's best-known landmark prior to construction of the Opera House. Supported by massive double piers at each end, it remains the world's largest steel arch bridge, connecting the harbor's north and south shores in a single curve rising 134 m above the water. Along its length run two railway lines and eight lanes for road traffic, the direction of which can be varied according to traffic flow. Increasing bridge traffic encouraged construction of a harbor tunnel in 1992 to ease congestion, but motorists can still drive over the bridge for blue water views. Pedestrians can stroll across on walkways or join a guided ascent through 'Bridge Climb' for a breathtaking panorama of the city and harbor.

Daring souls who want to climb to the 440 feet high summit can book the Sydney Bridge Climb. This is a spectacular opportunity that takes groups of up to 13 people on an approximately 3.5 hour climb to the top of the outer arch. Tours run throughout the day, beginning with a dawn climb and ending with a night climb. 1.5-hour Sampler Climbs and 2.25-hour Express Climbs are also available.

Visitors are free to walk or cycle across this vast structure, but book a Bridge Climb for the opportunity to scale to the summit and enjoy unbeatable panoramic views. No special climbing skills are required, and there are various sessions throughout the day, including at twilight and dawn.


3. Walk Sydney's famous Bondi to Coogee coastal trail.

Hands down Bondi is a favorite for the best beach near the city. About 15 minutes by car or bus from the central business district, it's a great spot to trade the hum of traffic for the soothing slosh of surf. Bondi actually comes from an aboriginal word meaning "noise of water breaking over rocks." From here, visitors can breathe in some beautiful scenery along the Bondi to Coogee Coastal Walk, which winds its way along the sandstone cliffs past popular cafés, rockpools, beaches, and bays.

This photogenic 3.7 mile walking track will take you through scenic Eastern Sydney beaches, including Bondi, Tamarama, Bronte, Clovelly, and, finally, Coogee Beach. The trail begins at Bondi Icebergs pool, winds past Aboriginal rock carvings at Marks Park, and offers plenty of opportunities for a swim along the way. At the end of your walk, enjoy lunch at seaside eatery Coogee Pavilion - its rooftop boasts beautiful 270 degree views. Express buses operate from Bondi and Coogee to the city centre.


4. Get up close and personal to the animals at the Taronga zoo.

Enjoy close-up encounters with exotic wildlife plus superb views of the Sydney skyline at Taronga Zoo. Nestled on a point along the north side of the harbor, the zoo inhabits prime Sydney real estate in the posh suburb of Mosman. Highlights include the Lemur Adventure Park, Koala Encounter, and Seal Show.

Visit the animals with their incredible waterside address just 12 minutes ferry ride north from Circular Quay. Taronga Zoo houses more than 4,000 animals from various exotic and native species, including gorillas, tigers, leopards, chimpanzees, giraffes, Australian sea lions, kangaroos and koalas. Once you've been up close with the animals, experience the wildlife from a new perspective by tackling the treetop Wild Ropes - more than 60 high rope challenges over four courses, including zip-lines, rope climbs and suspended bridges. For the ultimate sleepover, book the Roar & Snore experience, allowing you to stay overnight at the zoo, sleeping in luxury safari-style tents.


5. Ride the ferry to Manly

Manly, on Sydney's north side, is renowned for surf breaks, scenic walks and laidback cafés. A half-hour ferry ride from Circular Quay, a trip to Manly is the perfect day out.

In company with Bondi, Manly Beach is Sydney's most iconic strip of sand, named by the State's first governor Arthur Phillip in 1788 for the impression made on him by "the confidence and manly behaviour" of the area's Aborigines.

Manly, on Sydney's north side, is renowned for surf breaks, scenic walks and laidback cafés. A half-hour ferry ride from Circular Quay, a trip to Manly is the perfect day out.

Join an EcoTreasures snorkeling tour to discover more than 200 fish species, including the famous Blue Groper, in the calm, clear waters off Manly's Shelly Beach; or test your balance stand up paddle boarding, available for hire from the Manly Kayak Centre. Enjoy fish and chips from one of the countless takeouts, or sit down at the charming Fika Swedish Kitchen - the cinnamon bun pudding is delicious. Make a weekend of it and stay overnight at The Sebel, which is located just steps from the beach.


6. Take in the natural beauty of the Blue Mountains

Famous for its rock formation known as the Three Sisters - along with quaint hotels and charming townships - the Blue Mountains National Park is just under a two hour drive from Sydney. Here you can discover one million hectares (2.5 million acres) of tall forests, sandstone cliffs, waterfalls and bushland, either mountain biking, abseiling or on foot. For a unique perspective, head to Scenic World in Katoomba, home to a cableway, a walkway over the rainforest canopy and a glass bottom skyway.

7. TOP THINGS TO DO IN THE BLUE MOUNTAINS

Go touring--Soak up the streams, waterfalls, forested valleys and cliffs of the Blue Mountains along the many well-marked walking trails. Follow the original 1884 horse track from Katoomba to Jenolan Caves on the three day Six Foot Track, or take the easy 1.1 mile Princes Rock Walk to a lookout over Wentworth Falls, Kings Tableland and Mount Solitary. You can also wade and boulder-hop your way down Glenbrook Gorge, on the 1.9 mile Glenbrook Gorge Track, or creep up the sheer cliffs around Wentworth Falls on the challenging National Pass. Many of the walks can be done independently, however if you're unfamiliar with the region and weather conditions, it's best to join a guided tour. Life's an Adventure offers a great Six Foot Track tour, as well as a two day Wolgan Valley and Glow Worm Cave Walk. You can also discover the Blue Mountains' rich Aboriginal heritage on a walking tour with a local Darug guide from Blue Mountains Walkabout. If your feet need a rest, spend a day on the hop-on hop-off Blue Mountains Explorer Bus or with Blue Mountains Trolley Tours. Both companies visit 29 stops, including the major attractions, around Leura and Katoomba.

8. Take in Scenic World

A trip to the Blue Mountains wouldn't be complete without calling into Scenic World at Katoomba. There you can ride the Scenic Skyway gondola across Jamison Valley, taking in views of the Three Sisters, Mount Solitary and Katoomba Falls. Scenic World is also home to the Scenic Railway, the world's steepest incline railway, descending more than a quarter mile down the escarpment. This thrilling ride passes through a long tunnel and gorge, ending on the valley floor, and is a huge hit with children. Scenic World is near the Three Sisters, a dramatic rock formation that's best seen from Echo Point Lookout. It's one of the most visited sites in the region, however you can also get up close on a walking trail to the top of the Three Sisters via Honeymoon Bridge.


9. Explore Jenolan Caves

With 11 spectacular show caves, underground rivers and awe-inspiring formations, Jenolan Caves is among the finest and oldest cave systems in the world. You can explore the caves on a guided day tour, get goosebumps on a ghost tour or enjoy a monthly cave concert with natural acoustics and fairytale ambience. Above ground, stroll through the bush and marvel at Blue Lake - you may even spot a kangaroo. Have lunch at the award-winning Chisholm's Restaurant, in historic Caves House, where you can also stay the night.


10. Visit the Botanic Garden

With thousands of plants from the southern hemisphere and around the world, including the rare Wollemi Pine, the Blue Mountains Botanic Garden at Mount Tomah is a must-see for nature lovers. The cool climate garden is .62 miles above sea level and has stunning views across the area. Wander around the estate and explore the many formal gardens. The Greater Blue Mountains World Heritage Exhibition Centre is also worth checking out to understand why the region was classified a World Heritage Area.

Sydney Opera House

Harbor Bridge

Bondi to Coogee coastal trail

Taronga Zoo

Manly Beach

Blue Mountains

Gondola Ride to Scenic World and Blue Mountains.
See the Three Sisters rock formation on the right.

Jenolan Caves

Botanic Garden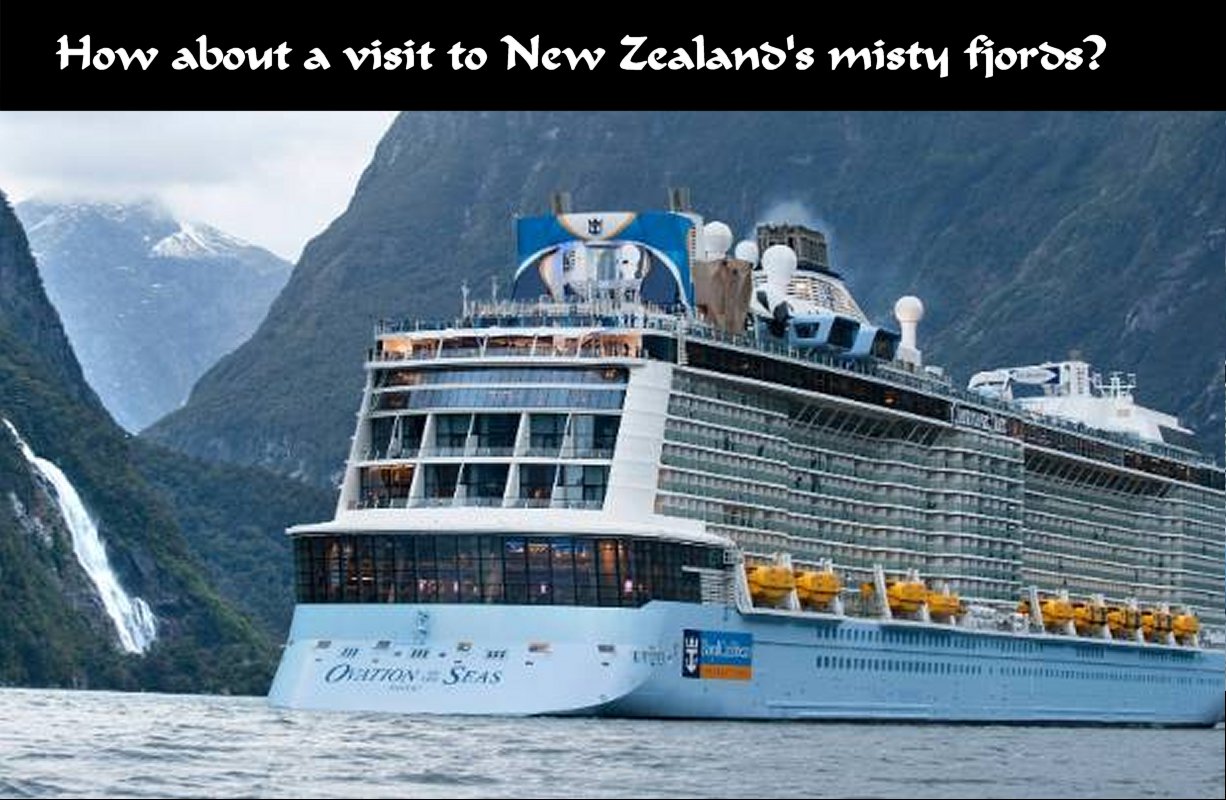 Fiordland is a geographic region of New Zealand in the southwestern corner of the South Island. It comprises the western-most third of Southland.

Most of Fiordland is dominated by the steep sides of the snow-capped Southern Alps, deep lakes, and its steep, glacier-carved and now ocean-flooded western valleys.

Due to the often steep terrain and high amount of rainfall supporting dense vegetation, the interior of the Fiordland region is largely inaccessible. As a result, Fiordland was never subjected to notable logging operations, and even attempts at whaling, seal hunting, and mining were on a small scale and short-lived.

Our cruise trip will not actually dock in Fiordland, but rather sail through and treat us to the spectacular views. You may have an opportunity to spot some of the area's wildlife in the water, such as dolphins and seals.

As it turns out, there are twelve different fiords. Our ship will take us to the three most important: Milford Sound, Doubtful Sound (love that name!), and Dusky Sound.



.
Milford Sound


Situated on the west coast of the South Island, Milford Sound is a fusion of spectacular natural features with amazing visual cues around every corner.

Described by Rudyard Kipling as the 'eighth wonder of the world', Milford Sound was carved by glaciers during the ice ages. Breathtaking in any weather, the fijord's cliffs rise vertically from the dark waters, mountain peaks scrape the sky and waterfalls cascade downwards from as high as 1000 metres. When it rains in Milford Sound, and it often does, those waterfalls multiply with magnificent effect.

The first thing that strikes many visitors is the diverse nature of the scenery. Staggering mountains rest side-by-side with lush waterfalls. Those who see Milford Sound wildlife are also struck by how diverse it is, as well as how all its inhabitants live together in harmony.

Milford sound has a long and interesting history, from early Maori habitation to the first European explorers. Milford Sound was recognized by early colonists as a very special place and it been visited by curious explorers for over 200 years. Nineteenth century botanists have found rare plant life and the earliest photographers have documented it's natural wonders.

Milford Sound rich and varied history has been a resource for Maori for around 1000 years. The famous English naval commander, Captain Cook passed the entrance to Milford Sound twice and so the European "discovery" of Milford Sound is credited to Welsh adventurer John Grono. Despite modern access by road, sea and air, Milford Sound retains it's natural beauty and still attracts an abundance of wildlife including dolphins, fur seals, penguins and many different sea birds.


Doubtful Sound

The grandeur of towering peaks descending into deep waters, outstanding waterfalls and fjords covered with ancient vegetation, all make up the unforgettable solitude and serenity of Doubtful Sound, New Zealand.

Practically untouched by man, the physical grandeur of towering peaks descending into moody waters, outstanding waterfalls from high-up ice-age valleys and fiords clad with ancient vegetation, create a powerful atmosphere of solitude and serenity. Its rugged peaks, verdant rainforest and twisting, hidden inlets will take your breath away.

Doubtful Sound is the second largest fiord in Fiordland National Park. Three times longer than Milford Sound and with a surface area 10 times larger, this is an unspoiled wilderness of many moods.

Located deep in the heart of Fiordland, and almost inaccessible to humans, Doubtful Sound is within a temperate rainforest and home to a largely undisturbed wildlife.

First named 'Doubtful Harbour' by Captain Cook, who was unsure of whether or not the inlet was navigable, was later renamed Doubtful Sound by whalers and sealers. The sound is home to several large waterfalls, notably Helena Falls at Deep Cove, and the Browne Falls, which have a fall of over 600 meters. The fjord also protects the southernmost population of bottlenose dolphins as well as fur seals, penguins, and numerous sea creatures such as sea anemones, coral and starfish.


Dusky Sound

Dusky Sound in southern Fiordland is one of the most remote parts of the New Zealand mainland. Dusky Sound, New Zealand's longest fjord, is also one of the most beautiful, with numerous wooded islands and inlets.

It was given its name by Captain Cook, who sailed past the fjord on his first voyage, in 1770, as evening was falling. First impressions are that nothing has changed since Captain Cook entered Tamatea/Dusky Bay.

It looked too forbidding to enter and Captain Cook named it Dusky Bay before sailing on by. It was three years later on his second voyage to these parts that he penetrated its dark, forest-laden shores. In a sense, it is ironic that Dusky Sound has remained as untouched as it has because it hosted New Zealand's European settlement, a short-lived base for sealers and whalers in the late 18th century.

The upper reaches of the sound are steep-sided, and the high precipitation of the region leads to hundreds of waterfalls cascading into the sound during the rainy season.

Milford Sound

Doubtful Sound

Doubtful Sound

Dusky Sound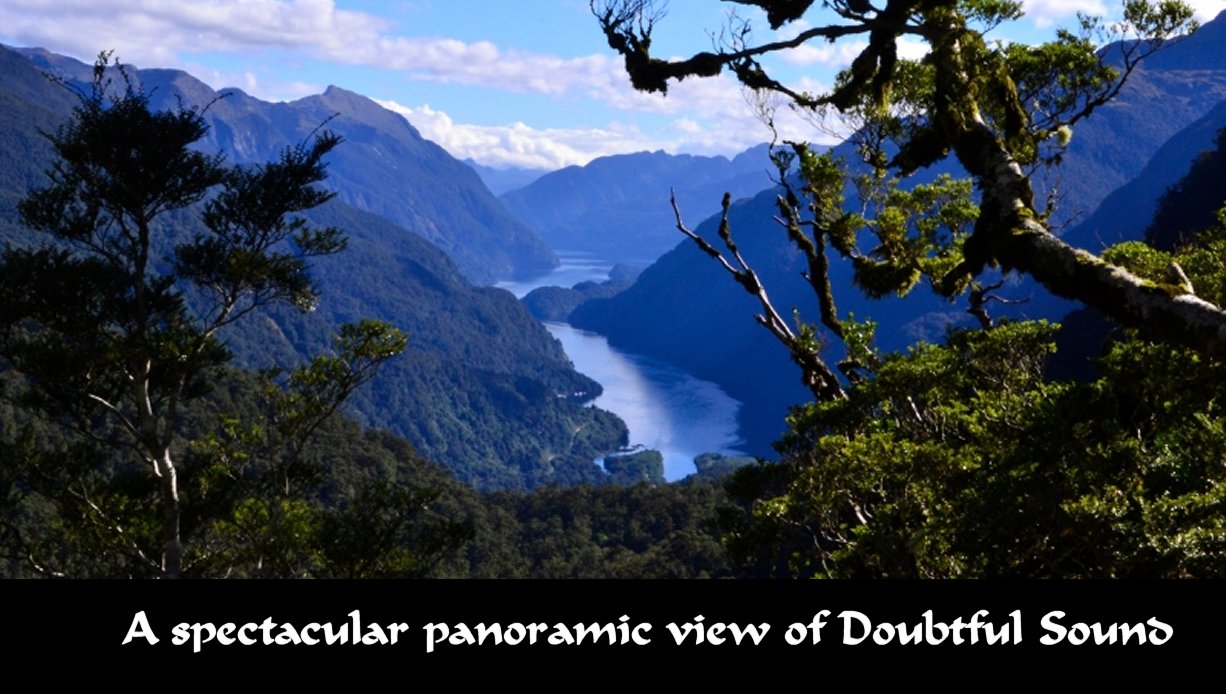 Dunedin (duh-NEE-din

)

is the second-largest city in the South Island of New Zealand

.

Its name comes from Důn Čideann, the Scottish Gaelic name for Edinburgh, the capital of Scotland. Known as the Edinburgh of New Zealand, Dunedin is the country's city of the south, wearing its Scottish heritage with pride. Surrounded by dramatic hills and at the foot of a long, picturesque harbor, Dunedin is one of the best-preserved Victorian and Edwardian cities in the Southern Hemisphere. Nightlife buzzes with funky bars and delicious restaurants and the natural attractions are unique and fascinating.

Archaeological evidence points to the area having been long inhabited by Maori prior to the European arrival. In 1848 a Scottish settlement was established by the Lay Association of the Free Church of Scotland. Between 1855 and 1900 many thousands of Scots emigrated to the incorporated city. Dunedin became wealthy during the Central Otago Gold Rush, beginning in the 1860s. While Tauranga, Napier and Hamilton have eclipsed the city in size of population since the 1980s to make it only the seventh-largest urban area in New Zealand, Dunedin is still considered one of the four main cities of New Zealand for historic, cultural and geographic reasons.

The harbor and hills around Dunedin are the remnants of an extinct volcano. Dunedin is a region of unique landscapes and fascinating cultural history. Enjoy getting close to rare wildlife and soaking up the traditions of this unique city.

Don't miss a drive up the Otago Peninsula - the views are endless and the beaches are beautifully rugged. Nestled at the foot of Taiaroa Head is the Royal Albatross Centre, the only place in the world on the mainland where you can view Northern Royal Albatross in their natural habitat. On Dunedin's doorstep you will also find incredible wildlife including the world's rarest penguin colonies.
Points of Interest

Dunedin Railway Station

In the early 1900s Dunedin was the commercial center of New Zealand. In 1906 this magnificent railway station was opened.

Today the station remains, fully restored to its former glory. The ornate Flemish Renaissance-style architecture features white Oamaru limestone facings on black basalt rock. The sheer size, grandiose style and rich embellishments of the station earned architect George Troup the nickname of Gingerbread George.

The booking hall features a mosaic floor of almost 750,000 tiles of Royal Doulton porcelain. The one kilometre main platform is the country's longest and every year in October becomes what is probably the world's longest catwalk, for the South Island's main fashion show.

An excellent tourist excursion service is the only train now using the station. Much of its ground floor is used as a restaurant, and the upper floor houses an art gallery and a sports hall of fame.

Visitors are welcome to view the exterior from the well kept grounds and wander inside to marvel at the ornate interiors.


Taieri Gorge Train


A highlight of your visit to Dunedin is a trip on the Taieri Gorge Railway - one of the world's great train trips and one of Dunedin's top attractions. Departing daily from downtown Dunedin into the Taieri Gorge, this trip travels through some of New Zealand's most beautiful and ever changing scenery which can not seen from the road! With sightseeing stops, on board cafe, outside viewing platforms it is the perfect all weather activity and one of the key attractions in Dunedin.

Take a scenic round-trip through the wilds of New Zealand's South Island on a Taieri Gorge railway journey from Dunedin. Depart from downtown Dunedin's attractive railway station and head deep into the Taieri Gorge by train. Gaze out over ever-changing corners of the New Zealand countryside inaccessible by road. With informative and entertaining live commentary on board, gain insight into the railway's construction and the challenges faced by the engineers. Enjoy sightseeing stops on route and discover top attractions around Dunedin.

The stunning Taieri Gorge Railway is a world class train trip and one that should not be missed.


Larnach Castle and Gardens

Discover New Zealand's only Castle, built 1871 by William Larnach, merchant baron and politician, for his beloved first wife Eliza. It took more than 200 workmen three years to build the Castle shell and master European craftsmen spent a further 12 years embellishing the interior. Larnach spared no expense on his dream home, which features the finest materials from around the world.

The Castle is still privately owned and cared for by the Barker family who purchased it as their home in 1967. Decades have been spent on the Castle's restoration, with the family having restored empty buildings from ruin and assembled a large collection of original New Zealand period furniture and antiques. This living collection showcases the craftsmanship and spirt of New Zealand.

Open to the public throughout, this conservation project has been funded through admission fees. The family has always been committed to opening their home and sharing this significant period of Dunedin and New Zealand's history.

Scandalous and tragic stories, spectacular tower views and a Garden of International Significance complete this enjoyable award-winning experience

The gardens at Larnach Castle have been rated by the New Zealand Gardens Trust as a Garden of International Significance. Today, the Castle is surrounded by 7 acres of maintained Gardens.

There is always something to see in the gardens at Larnach Castle. This is more than just a Garden of International Significance; it is a unique collection of specialized gardens. There is a Patterned Garden, the Lost Rock Garden, the Serpentine Walk, the Rain Forest, the South Seas Garden, the Alice Lawn, and the Laburnum Arch and Green Room.

To assist in exploring the gardens, a color map is provided, with features to be found including the Wishing Well, the Dungeon, a Methane Gas Generation Plant and a challenge to find the Oamaru Stone Cheshire Cat!

Purakaunui Park can be reached by car. It is located 25 minutes from Dunedin. Attractions include walking, bird-watching, kayaking, swimming, surfing, fishing and yachting. Be sure to see the spectacular water falls.

Dunedin Railway Station

Taieri Gorge Train

Larnach Castle and Gardens

New Zealand is 1,500 miles from Antarctica

Purakaunui waterfall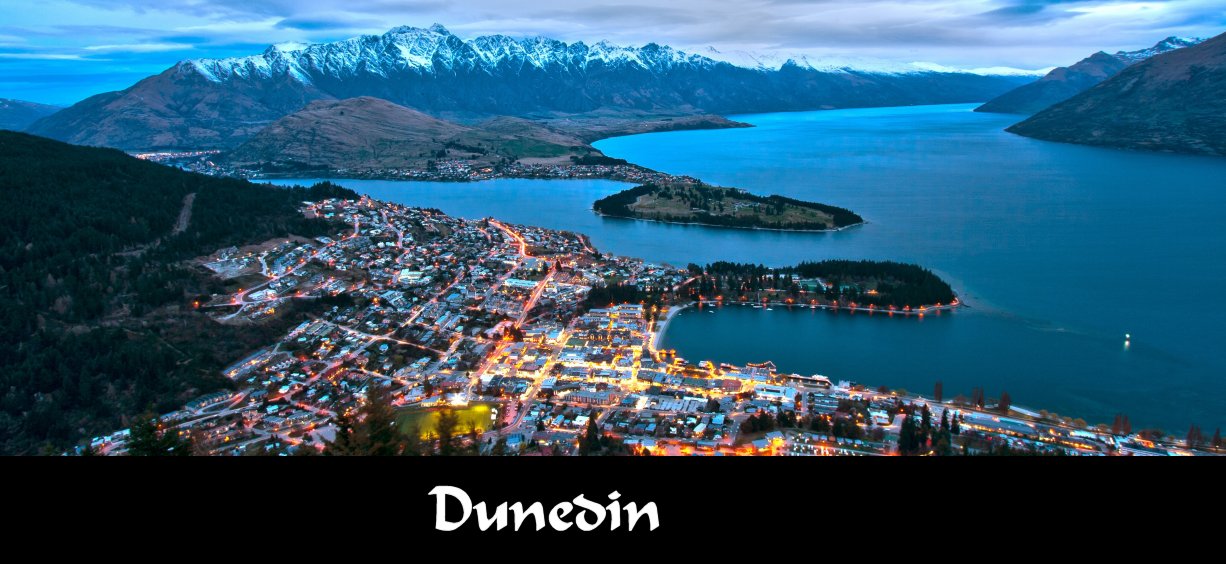 Wellington is the capital city and second most populous urban area of New Zealand, with 412,500 residents. It is located at the south-western tip of the North Island, between Cook Strait and the Rimutaka Range. Wellington is known as the world's windiest city, with an average wind speed of over 26 km. For you trivia buffs, it is also the world's southernmost capital of a sovereign state.

The earliest date with hard evidence for Maori living in New Zealand is about 1280.
European settlement began with the arrival of an advance party of the New Zealand Company on the ship Tory on 20 September 1839, followed by 150 settlers on the Aurora on 22 January 1840.

Situated at the southern end of the North Island, Wellington, New Zealand, was recently named "the coolest little capital in the world" by Lonely Planet.

Many points in Wellington are accessible by walk on walk off from the ship.

A pedestrian city, the easiest way to discover the essence of Wellington is on foot. Malls and side alleys connect its streets, cafes spill from refurbished Victorian buildings, the waterfront inspires new and exciting public spaces, and eclectic street art is scattered throughout.

Downtown Wellington is an ideal shopping destination. Considering how compact the city is, it takes no more than twenty minutes to walk from one end of downtown to the other. The city's best-known shopping area is Lambton Quay on Willis Street, also called the Golden Mile for its row of department and designer stores. For a more bohemian alternative, visit Cuba Street. Here you'll find markets, alternative boutiques, secondhand stores and, of course, great cafés.
You'll find plenty to see and do within Wellington's compact downtown area. Make time to explore the wildlife areas surrounding the city too.

Walk or take a bus from the city to the summit of Mount Victoria for a 360-degree panorama of Wellington. Enjoy fantastic city and harbor views.

Walk around the stunning waterfront and follow the Wellington Writer's Walk - quotes from New Zealand writers are celebrated in large stone sculptures.

While you are at the waterfront, why not stop at Te Papa. It is an innovative national museum and a world leader in interactive experiences. New Zealand's history, art and people are showcased in fun and interesting exhibitions.

Te Papa is the most visited museum in Australasia and entry is free for most exhibitions.


Cable Car

Jump on the famous Wellington cable car and climb the hill from downtown Lambton Quay to the Botanic Garden. There are sweeping views of the city and harbor.

Wellington offers plenty of outdoor opportunities. For starters, there's the terrific 8K Red Rocks Coastal Walk along the southern coastline, past the lava formation of Red Rocks to the seal-covered shores of Sinclair Head. If you're up for a tougher test, you could go on a rock-climbing excursion or hire sea kayaks. You also have the option of hiring a 4-wheel-drive ride for a trip to the rugged hill country with spectacular views of Cook Strait and the South Island.


Zealandia

For you nature lovers, visit Zealandia, the world's first fully-fenced urban ecosanctuary, with an extraordinary 500-year vision to restore a Wellington valley's forest and freshwater ecosystems as closely as possible to their pre-human state.

The 500 + acre ecosanctuary is a groundbreaking conservation project that has reintroduced 18 species of native wildlife back into the area, some of which were previously absent from mainland New Zealand for over 100 years.
Set around a picturesque reservoir, ZEALANDIA is home to some of New Zealand's most rare and extraordinary wildlife - all thriving wild in a world-first protected sanctuary.

Zealandia

Cable Car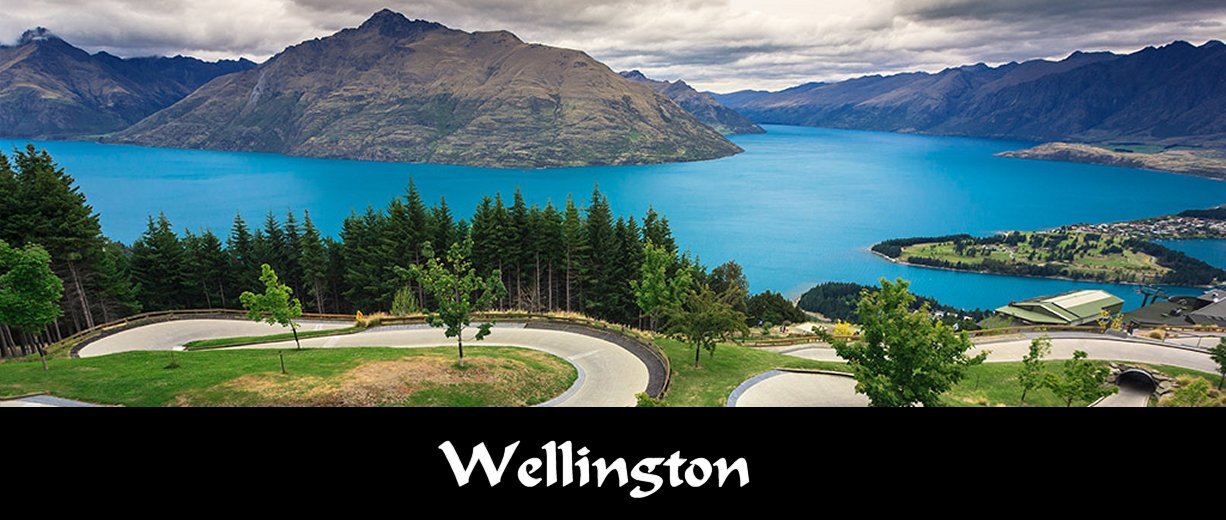 Napier is a seaport located in Hawke's Bay on the eastern coast of the North Island. The population of Napier is about 63,100

Napier is one of New Zealand's most attractive cities with beautifully preserved 1930s architecture which provides Napier a special point of difference. Rivalled only by Miami beachfront's Streamline Moderne, it is the most comprehensive Art Deco styled town in the world.

Palm trees line the inner-city streets and the wonderfully sculpted Marine Parade, as the name suggests, runs along the shore of the city. Along Marine Parade various parks, gardens and memorials give the water's edge its distinct character.

A national disaster resulted in Napier becoming one of the purest Art Deco cities in the world. In 1931 a massive earthquake rocked Hawke's Bay for more than three minutes, killing nearly 260 and destroying the commerical centre of Napier.

Rebuilding began almost immediately, and new buildings reflected the architectural styles of the times - Stripped Classical, Spanish Mission and Art Deco.


Napier's city center has the feeling of a time capsule - the seamless line of 1930s architecture is quite extraordinary. One of the ways to enjoy the streetscape is on a self-guided walk - ask for a map at the information center at the Art Deco Trust.

The port is also a gateway to exploring the Maori heritage, seascapes and wildlife of Hawke's Bay and the many vineyards and wineries in the region.
The National Aquarium of New Zealand on Marine Parade is a Napier destination you wouldn't want to miss. Opened in March 2002, it has a huge ocean tank with an observation tunnel and holds the most comprehensive collection of marine life in the country. The aquarium's magnificent architecture resembles a stingray. Exhibits include kiwis, piranhas, crocodiles and every sea creature you could imagine.

Napier is the home of New Zealand wine, housing the oldest wineries and wine-making establishments in the country. With some of the best sunshine hours in New Zealand, mountainous shelter from prevailing westerly winds, and refreshing sea breezes, not only is Napier a great climate for visiting, but is ideal for grape growing.

Hawkes Bay is New Zealand's oldest winemaking region, home to New Zealand's oldest winemaking establishments, some producing wines for over 140 years. Today the Hawkes Bay is New Zealand's second-largest wine region, leading the country with 70% of Cabernet Sauvignon and 30% of Chardonnay production. It also produces high quality Syrah, Sauvignon Blanc, Riesling and sweet dessert wines, while smaller boutique wineries are constantly experimenting with new varieties.

Why not book yourself on a tour or grab a wine map and take yourself? From boutique wineries to major operations, you're bound to find something special to swirl around your glass.

Shine Falls is one of New Zealands' most spectacular sights. Unfortunately it is a 90 minute drive... 3 hours both ways... and we are only in Napier for 6 hours. So it is do-able... but don't linger.

.

Art Deco Trust

Botanical Garden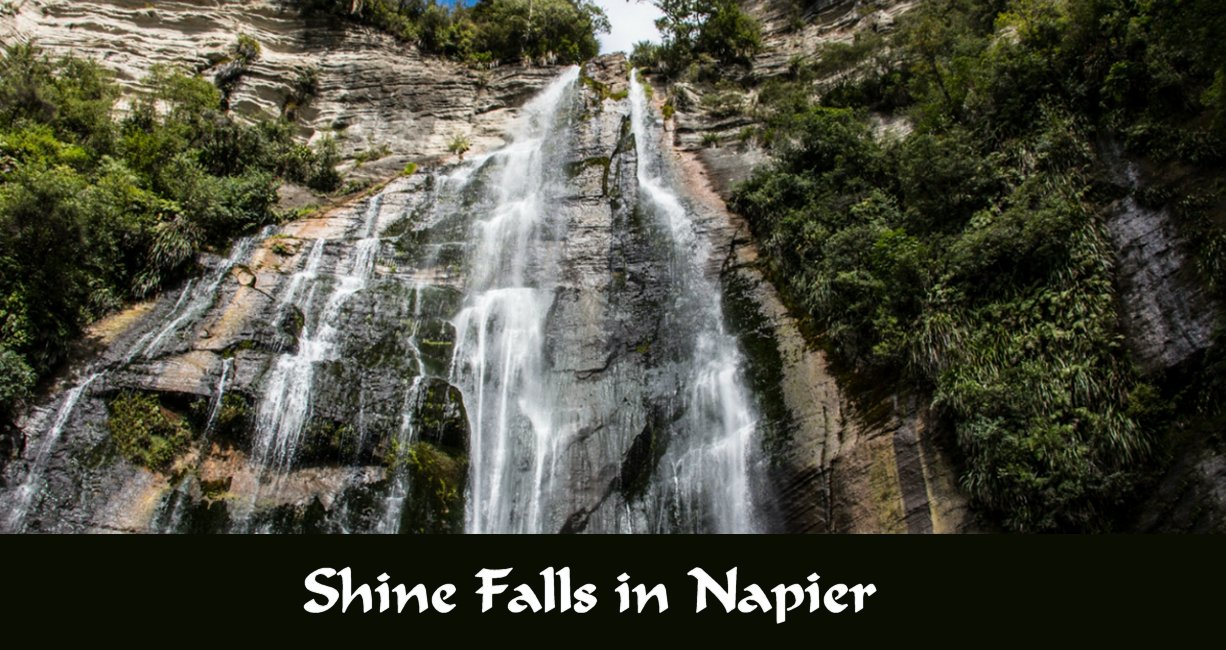 Tauranga is a beautiful coastal city looking out over the wide Bay of Plenty to the north with Mount Maunganui arising conspicuously to the north east and the forested hill country of the central North Island to the south.


Pohutu Geyser

Tauranga was first discovered and named in the 13th Century by the Maori. "Tauranga" meaning is 'the place of rest or anchorage'. It has grown rapidly in recent years and now offers cosmopolitan city living combined with a laid-back atmosphere.

No visit to Tauranga would be complete without a trip to Mount Maunganui.

Reminiscent of Diamondhead, the extinct volcano that looms over Waikiki Beach in Oahu, Hawaii, Maunganui is a perfect example of New Zealand's extremely mountainous landscape. This extinct volcanic peak rises from the mists of Tauranga Harbour, attracting tourists from all over New Zealand and abroad. Known as simply "the Mount" to locals, Mount Maunganui is home to a spectacular beach nestled at the southern end of Tauranga harbor.

The sheltered inner bay offers warm waters and white sandy beaches, while the ocean side is a surfers' paradise. The area, once a Maori stronghold, now houses the resort town of Maunganui, which is known for its tiled pavements lined with palm trees, turquoise-painted street lamps and gorgeous coastline. And while you're here, take a dip in the hot saltwater pools located at the base of the mountain.

Head just outside of town to the site of Te Puia, which includes a thermal valley, the Pohutu geyser, mud pool, and the Pikirangi Maori village. Soak your tired limbs in the rejuvenating thermal pools and then learn more about Maori culture at the carving and weaving schools.

If you're timing is right, you just might get to witness the spectacular sight of the Pohutu geyser shooting nearly 100 feet into the sky. Explore walking tracks and waterfalls, or take your courage with you to the TECT All Terrain Park to experience high wire adventures, mountain biking and motorsport activities.

Visit Kaimai Mamaku Forest Park located in the Kaimai mountain range, the natural park is part of a natural barrier between the Bay of Plenty and Waikato regions. With over 200 miles of hiking and walking trails, nature lovers will find plenty of local flora and fauna to observe.

Or if you are feeling lazy, relax on one of the many golden beaches that make this area popular with surfers, sailors, and divers. Venture out on the water for dolphin watching, or even a jet boat ride if you have a need for speed. Grab a bite to eat and a refreshing glass of New Zealand vino on the Strand-a waterfront area is filled with restaurants, cafés, and pubs, which is also the perfect location for people watching.

Mount Maunganui

Kaimai Mamku Forest Park
Auckland is located on an isthmus in the northern part of the North Island.

For those of you who have no idea what an 'isthmus' is, it is a narrow strip of land with sea on either side, forming a link between two larger areas of land.

Auckland has two harbors and two bays.

In this case, Auckland can be accessed from the West Coast or the East Coast with ease.

One imagines this unusual geography makes Auckland the answer to the Trivia Question... which is the largest city in the world built on an isthmus.

By the way, there is a major USA city built on an isthmus. Can you name it??

Answer below in the Trivia section.
| | |
| --- | --- |
| | |
| | Auckland is the largest urban area in the country, with an urban population of around 1,600,000. Auckland is a buzzing urban hub nestled between two contrasting coastlines. The city hosts a combination of metropolitan delights and natural landscapes. The harbor side city of Auckland is surrounded by natural attractions. There are so many beautiful places to see. |
Auckland's diverse landscapes provide countless opportunities to get immersed in nature. To the west, a lush native rainforest plunges down the hills to meet the sea on dramatic black sand beaches, while the east sheltered golden sand beaches are fringed with red-flowering pohutukawa trees. To the north the rolling hills of wine country meet stunning coastlines and in the south you'll find picturesque country gardens, unspoiled forest and tranquil bays to explore.

The Waitakere Ranges, spanning West Auckland, are around 30 minutes from the city and are home to lush native bush, stunning waterfalls and walking tracks.

With over 150 miles of walking tracks, the ranges are a wonderful place to explore on foot, surrounded by spectacular scenery. Favorite scenic spots like the Karekare Falls, just a few minutes' walk from Karekare beach, are very accessible.

Popular short walks deeper into the ranges include Kitekite track, only a 45 minutes walk, where you'll discover waterfalls, streams, pools and beautiful native bush. Native plant life includes nikau palms, silver tree ferns and regenerated kauri. Listen out for the call of the tui and look out for adventure seekers canyoning down the giant six-tier waterfalls.

Just past these ranges you'll find the ruggedly beautiful black-sand beaches of Piha, Muriwai, Bethells and Karekare.

Auckland's East Coast is home to more tranquil coastline that looks out to harbors dotted with islands. Don't miss a visit to Goat Island - a marine reserve and snorkeling mecca; Tawharanui Regional Park, or the quaint beaches of Devonport.

Auckland is also home to 48 dormant and extinct volcanic cones, many of which offer spectacular walking paths and views at the top. Don't miss a short hike up Mount Eden, where you'll find panoramic views of the Auckland region, or catch the ferry to Rangitoto, a volcanic island in the Auckland Harbour.

Auckland Hauraki Gulf Marine Park encompasses an incredible 3 million acres of coast, sea and islands and there are so many ways to explore it.
The jewel of the Hauraki Gulf is Waiheke Island, a haven of beautiful vineyards, olive groves, farm land and golden beaches - and only a 35-minute ferry ride away from downtown Auckland. Sip on award-winning wines at some of the 30 boutique vineyards and wineries, enjoy fine dining and pick up superb local artwork.

Make sure you get out on the water while you're here, whether it's a relaxing harbor cruise, a fishing charter, whale and dolphin spotting, diving, kayaking or surfing.

Enjoy a visit to Auckland's Botanic Gardens. With more than 10,000 beautiful and fascinating plants, Auckland Botanic Gardens is a gardener's nirvana.
Enter through the award-winning visitor center and begin your visit with the refreshingly different edible garden. Here fruit, vegetables, nuts and edible flowers are featured to encourage people who want to grow more of their own food. You will have a wonderful opportunity to find out more about the unique features of New Zealand's natural vegetation. A special feature of this garden is the collection of threatened native species.

Deeper into the gardens, past the lower lake, things become a little more exotic. Palms from around the world grow alongside many mature native trees in a delightful setting with two meandering streams. Color becomes the focus throughout the extensive rose, camellia and magnolia gardens. From here the spring blossom valley leads to the African garden, a collection of plants from the southern end of Africa - an area regarded as one of the world's richest floral kingdoms.

Passing the upper lake and the intriguing rock garden, the edible theme emerges once more at the aromatic and informative herb garden. Signage also explores the contribution that herbs make to medicines, dyes, insect repellents, cosmetics and perfumes.

New Zealand's indigenous Maori people called this land Tmaki Makaurau, a maiden desired by a hundred lovers. It was a place fought over for its vast riches, including its forested hills, productive volcanic soils and harbors full of seafood. The name still holds true, as Auckland's lifestyle is ranked among the best in the world.

One more thing - the golf courses in Auckland are spectacular.

Waitakere Range

Piha Beach

Botanic Gardens

Golf Course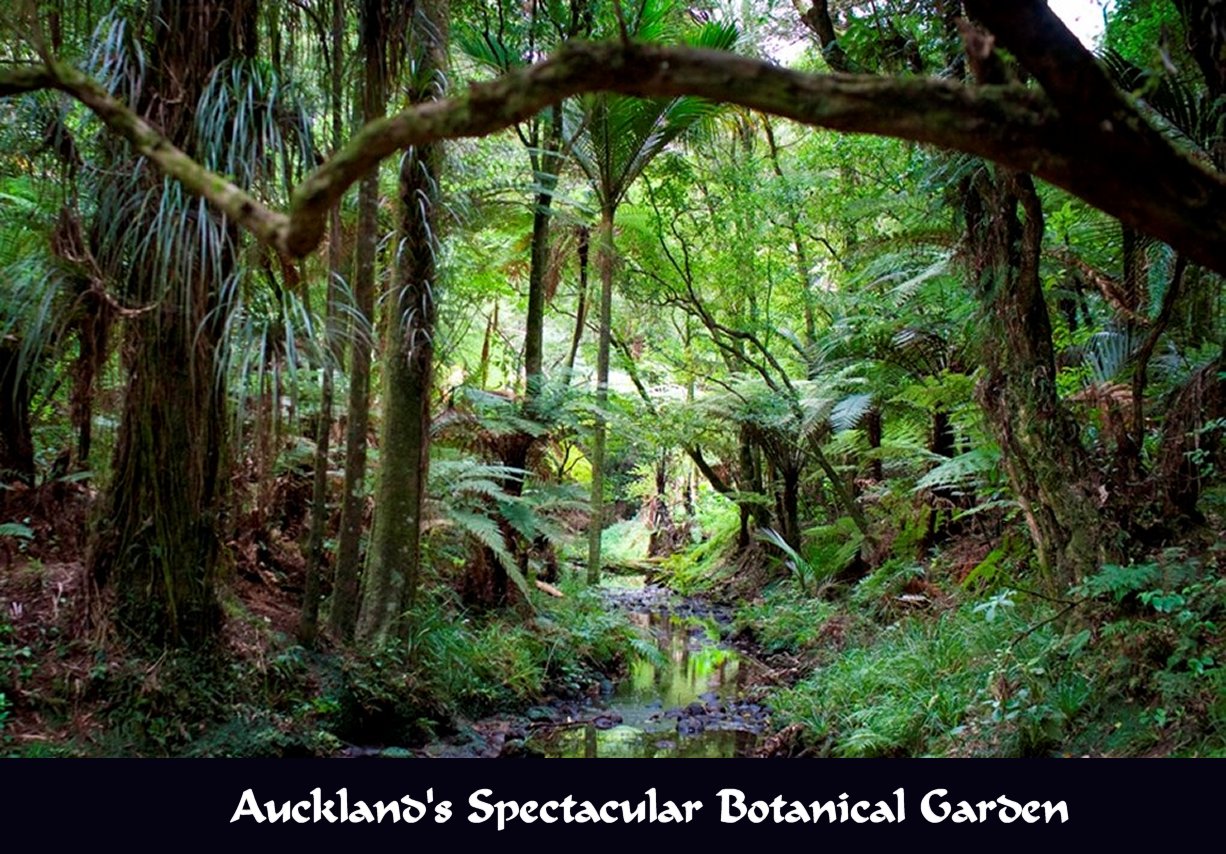 BAY OF ISLANDS, NEW ZEALAND

The Bay of Islands is an area on the east coast of the Far North District of the North Island of New Zealand. It is one of the most popular fishing, sailing and tourist destinations in the country as well as s one of the most picturesque sites in all of New Zealand. The Bay of Islands is a stunningly beautiful length of sand and rock coastline that circles a sea pierced by 150 islands, secluded bays and an abundance of marine life.

Since there is so much to see, perhaps the best way to appreciate the beauty is to take a day trip on an excursion boat.

These islands comprise the archipelago of small islands in the Bay of Islands. Most of them are uninhabited by man, many are still unexplored. About the only island which has some facilities is Urupukapuka Island lying northeast of Russell. There are some 40 sites on the islands which are part of the Bay of Islands Maritime and Historic Park. Its visitor information centre is at Russell. These islands may have marked walks, Maori pas and other historical sites, as well as recreation reserves.

There are many activities to select from: sailing, fishing, snorkeling, swimming to golfing walking, eating out - it's all there. Swimming with dolphins is a favorite thing to do in the Bay of Islands. Many operators in the region offer excellent trips to spectacular Cape Brett and the 'Hole in the Rock' on Piercy Island.

Wherever you are in the Bay of Islands, it's impossible to escape the lure of the sea. Catch a ferry or charter boat and immerse yourself in the blue-green world of island and beach. Or paddle a sea kayak in and out of island nooks and crannies.

The townships of this historical bay are alive with memories of the area's colorful history. Visitors are welcome to explore the well-preserved relics of the past, both Maori and European, in romantic Russell, Paihia, Waitangi or Kerikeri.

The Bay of Islands was the site at which the earliest contact between the indigenous population and European settlers took place. Visit Waitangi to see the treaty house, where New Zealand's founding document was signed by Maori and Pakeha leaders.

Russell, once the rowdy and bustling capital of New Zealand, today maintains a lively and casual island feel due to its isolation from the mainland. From here walk north to Flagstaff Hill, a reserve that was once the scene of a historic confrontation between Maori leader Hone Heke and the British Colonials. The flag pole flying the Union Jack was severed four times before war settled the dispute.

Kerikeri, the earliest permanent settlement in New Zealand, houses some of the country's oldest buildings, bush walks, arts and crafts and local cuisine. Kerikeri is New Zealand's earliest European settlement and permanent mission station, often described as the Cradle of the Nation. Kemp House, built in 1821 beside the Kerikeri inlet, is New Zealand's oldest surviving wooden building.

There are many beaches close to Kerikeri. Here you may swim, fish, kayak and sail. You can even take a trip on the SS Eliza Hobson, a restored steamboat, which takes you down the beautiful Kerikeri inlet. Golfers may visit the well known Kauri Cliffs Course at beautiful Matauri Bay, one of four world class courses in the area

Take a trip to see Haruru Falls. Haruru means "big noise", which is a good indication that these falls are worth seeing. The water falls in a horseshoe shape - very rare and quite spectacular - and Maori legend states that a taniwha (water monster) lives in the lagoon below. You can walk to Haruru Falls along the Waitangi walking track, or drive to Haruru Falls township - which is only 2 miles from Paihia. In the 1800s, there were over 100 Maori villages along the Haruru Falls river.

Sights like this abound in the Bay of Islands

Haruru Falls
| | |
| --- | --- |
| | |
| | Following our visit to the Bay of Islands, the time has come for the two day journey back to Sydney, Australia. This is the perfect time to finally get some rest. |
Royal Caribbean's Ovation of the Seas

Ovation of the Seas is a Quantum Class ship entered into service in 2016. A non-stop fun ship filled with loads of bells and whistles--Rip Cord I Fly, North Star Capsule, Bumper Cars, Club Two70, a Bionic Bar plus all of our expected venues.

The ship's entertainment scene is outstanding, with Broadway-style shows and cabarets that combine human talent with technical wizardry. All-singing, all-dancing gadgets are not just confined to the stage. Ovation has myriad high-tech features including Royal IQ, a free interactive scheduling service that lets passengers make reservations for dining, entertainment and activities; it's available as an app for mobile devices or can be used via kiosks and tablets throughout the ship. Thanks to a huge investment in satellite Internet, connectivity is fast and efficient. It's good to see USB ports for in-cabin charging and the option for RFID WOWband wristbands, which can be used instead of key cards.

North Star: The exclusive North Star promises to elevate you both physically and emotionally, revealing 360-degree views of a world you've truly never seen before! Simply step into the intimate, jewel-shaped capsule, and gently ascend over 300 feet above sea level, where you can take in breathtaking views of the ocean, the ship, and the exciting destinations that we visit.

Rip Cord IFly: Experience the exhilaration of skydiving without ever leaving the deck, courtesy of RipCord by iFLY. Feel what it's like to fly, as you float on air within the safe confines of this groundbreaking simulator. It's a whole new thrill for thrill seekers of all kinds.

Bumper Cars: SeaPlex, the largest indoor amusement activity space at sea. You can get down on the roller rink or run away to circus school. And the first-ever bumper cars at sea onboard, so you can bump your game like never before.

Club Two70: This is one venue you have to see to believe. Day to night, Two70 presents immersive scenery on a 270°, floor-to-ceiling wall of windows. From ocean views to a lively undersea scene to surreal vistas, grab a drink and start gazing because you never know what you'll see. In the evening, it's a place that can take you anyplace, where live entertainment pairs with an amazing multimedia event. When evening turns to night, Two70 transforms turns into a nightclub like no other. And during it all the hand-crafted cocktails are flowing at Two70 Bar.

Bionic Bar: Meet two robotic bartenders who know how to shake up your night out. They can mix, muddle, and stir it up too. With moves as fluid as the Pimm's in your cup, they can create an almost endless combination of cocktails, whether it's a classic Manhattan or a custom order of your own design. Just order by app on the nearby tablets and watch your bionic mixologist do its thing. Designed and powered by the minds at Makr Shakr, the Bionic Bar® is making history at sea.


Club Two70 Dance Floor

Rip Cord I-FLY
| | |
| --- | --- |
| North Star | Bumper Cars |
| | |
| --- | --- |
| Bionic Bar | Flowrider |
| | |
| --- | --- |
| Solarium | Pool Area |
| | |
| --- | --- |
| Balcony Stateroom | 'Virtual Balcony' Inside Stateroom |

Marla's Notes:

Royal Caribbean Cancellation Charges:
1. UNTIL DECEMBER 8TH, 2018 -- NONE
2. DECEMBER 9TH, 2018 - JANUARY 10TH, 2019- $450 PER GUEST DEPOSIT
3. JANUARY 11TH, 2019 - FEBRUARY 7TH, 2019 -- 50% OF TOTAL FARE
4. FEBRUARY 8TH - FEBRUARY 21ST, 2019 -- 75% OF TOTAL FARE
5. FEBRUARY 22ND ONWARD -- 100%

SSQQ Travel Service Charges:
1. $50 Charge for any Change
2. $100 Per Person for cancellation of trip

Marla Archer
"SSQQ Travel"/West University Travel
713 862-4428 (direct line)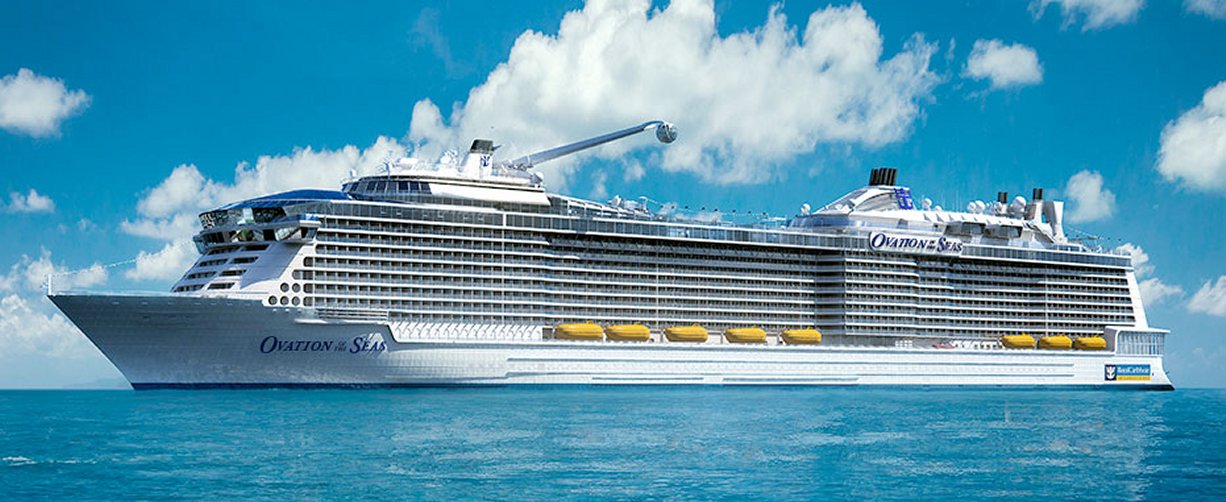 The Great New Zealand Trivia Quiz

Rick Archer's Note: One of the joys of traveling is the chance to learn some more about areas of the world we did not know much about. I would guess that of all locations on earth, we know the least about Africa.

After Africa I suppose it is a toss-up between Asia and Oceania. I bet most of you do not know a darn thing about New Zealand. I have prepared a little quiz for you. Let's see if you are any good.

RICK'S NEW ZEALAND TRIVIA QUIZ


1. What famous movie was filmed in New Zealand?

Lord of the Rings (if you didn't get this one, quit now)
Game of Thrones
South Pacific
Godzilla
King Kong
Battle of Iwo Jima

2. Which European first discovered New Zealand?

Abel Tasman (Mr. Tasmania, 1648)
James Cook
Amerigo Vespucci
Ferdinand Magellan
Posh Spice

3. Which is closest to the Arctic Circle?

Australia
South Africa
Russia (Arctic Circle, trick question. Did you get it?)
Argentina
New Zealand


4. The first people of New Zealand were known as:

Aborigine
Zulu
Maori
Kiwi
Scottish
Polynesian
Aucklander
Martians

5. How far is New Zealand from Australia?

200 miles
800 miles
1,200 miles
2,000 miles
3,000 miles


6. New Zealand is comprised of:

600 islands
One main island
Two main islands
Three main islands
Seven main islands


7. New Zealand is closest to:

Tahiti
Galapagos
Hawaii
Philippines
Fiji
Australia

8. Which is not an island just off the coast of New Zealand?

Chatham Island
Pitcairn Island
Stewart Island
Auckland Island
Great Barrier Island


9. The tallest mountain in New Zealand is

Mt Victoria
Mt Elizabeth
Ayers Rock
Mt Cook
Mt Krakatoa

10. The capital of New Zealand is:

Wellington
Dunedin
Auckland
Melbourne
Sydney


11. What do Norway and New Zealand have in common?

Deep oil reserves
Proximity to the Poles (no, not Poland, dummy)
Great skiing
Fjords
High Quality of Living Index

12. Which island is not a neighbor of New Zealand?

New Caledonia
Falklands
Tahiti
Samoa
Tonga
Fiji


13. Which celebrity is not from New Zealand?

Keith Urban
Russell Crowe
Lorde
Peter Jackson
Hugh Jackman
Lucy Lawless


14. New Zealand is famous for what sport?

Cricket
Soccer
Skiing
Rugby
Australian rules football


15. What is the most unusual feature of Auckland?

below sea level
located on isthmus (Answer to Trivia Question: Seattle, Washington)
located on peninsula
main part developed inside extinct volcano
located on archipelago


16. What is the favorite dance of New Zealand?

The Scottish Reel
Thriller
Waltzing Matilda
Haka
Jive


17. If you sail due east from New Zealand, the next landmass you will reach is:

Tahiti
Samoa
Indonesia
Galapagos
Argentina
Hawaii

From: Tom Holthe
Sent: Wednesday, February 28, 2018 12:24 PM
To: Rick Archer
Subject: Erroneous answer to New Zealand Quiz

Something to ponder. Regarding question 17 in your New Zealand quiz, you do not run into Tahiti if you travel east of New Zealand, you hit Chile (which is not one of your options) Please see attached picture.


Rick's Reply:

I spent all of 30 seconds making up that question using Google Earth and I daresay I forgot the Earth is curved. Small mistake.

Had the Earth been flat, I would have been correct. Furthermore, I doubt seriously that anyone BUT YOU cares. That said, I am forced to admit I have made my first Geography error in the past 30 years. For your troubles, I will buy you a beer on the trip. ;-)

A Note about the Australia-New Zealand Trip from Margaret Easley

From: Margaret Easley
Sent: Saturday, February 24, 2018 4:12 PM
To: Marla
Subject: Marla's 2019 Cruise trip to New Zealand and Australia

Hi Marla!

Just read your newsletter and it brought back great memories of Australia and New Zealand. You haven't asked for tips on what to do but being the travel agent without clients that I am, I decided to put in my two cents anyway!

Australia

We had a wonderful time in Sydney! Definitely our favorite city that we saw in Australia! Probably you can't get a good condo now, but we loved the condos we stayed in! Roomy, A/C, and most importantly a washer and dryer in the condo! The subway system is awesome - you can basically get anywhere on the train and if you can't get there by train you can use the tram or ferry. All of them take the oyster card. Now for the highlights of our Sydney stay:

1. Climb the harbor bridge! Do the most popular (I think) which is the climb over the top arch. I am definitely afraid of heights but managed to do this without a lot of drama. Just the sense of accomplishment for me was a major high not to mention the views!

2. We greatly enjoyed both the ferry to Manly Beach (and the beach itself was awesome) and the zoo. The gorillas were the most entertaining animals I have ever seen with the "toddler" really showing out and turning somersaults for us and rushing the window and banging on it. Koala exhibit - yawn. Much better one at a wildlife park on the way to the Blue Mountains.

3. Blue Mountains were very pretty but it is an all day trip and basically is a smaller grand canyon with trees. Wouldn't be first on my list, but if the tour includes the wildlife park, then maybe.

4. Our favorite restaurant was the Sydney Haufbrau House which is right down the street from the pier. It is very easy to get around Sydney. Circular Quay (the subway station) is right down from the pier where you will dock. The ferries are also there. To get to this restaurant, you just cross the busy street in front of the pier and walk up the hill. If it is a weekend, there will probably be a street fair going on since part of this is a pedestrian mall. The Hauffbrau house is at the top of the hill on the corner of the pedestrian mall. They have a good happy hour and live german music. We loved to share the Weiner Schnitzel but I know Rick is a Vegetarian. Also great pretzels.

5. There is an old hotel called the Australian Heritage Hotel up the hill from the pedestrian mall. I think it is on York Street. I can't find my journal but I think this is the name. Just ask any native where the old hotel is that sells coat of arms pizza. Again, this is something you would have to enjoy yourself since one side has Kangaroo and the other side has Emu. These are the two animals on the Australian coat of arms. Delicious and not too expensive according to Sydney prices! They also have a happy hour.

6. There is a free walking tour of Sydney that begins at 10 AM that would be very beneficial the first day or so to learn the layout of the city. Just google free walking tour Sydney.

So many things to do in this great city! Prices for food are outrageous! China town is close to the main subway station and that is where we stayed the longest. Just around the corner from our condo was the main street of china town and they had some pretty good restaurants and one little window where you can get great little "donut holes" (can't remember what they called them - they were basically little cream puffs) at a very reasonable price. You can't miss it because there is always a long line out into the street, but the line goes quickly.

New Zealand

We had bad weather all through our New Zealand cruise. Hope you are luckier! The seas were so rough that even though they had a wonderful dance venue and teachers, we didn't get to dance until the latter part of our 12 day cruise.

None of the tours we went on were much to write home about - again the weather made this less fun since it was very cold and rainy. However, the big highlight of this cruise was the little tour I found that let you swim with the tiny wild dolphins in the bay! Definitely one of our most enjoyable experiences! The tour group was called ecotours and they were fabulous. Started out very spartan. They had a tiny trailer at the pier with one wooden bench and some hooks foe the women to get changed into their wet suits. The lucky guys got to strip down outside in 48 degree weather with spits of rain and gale force winds. Certainly not an auspicious beginning. I was not happy. However, the suits turned out to be very warm and after that things got really good. The swells were about 5 meters that day, but the dolphins were everywhere and we got to swim with them darting all around for a good hour. Then back on our little boat to see penguins and sea lions while drinking hot chocolate and eating ginger cookies (which settled my queasy stomach - the swells were making me turn green). All in all a very wonderful day for a reasonable price - $165 each.

OK. I'll stop. Whatever you do, I know you'll have a wonderful time. Sydney ranks up there with London and Barcelona for me and Tom.

Safe travels!
Margaret