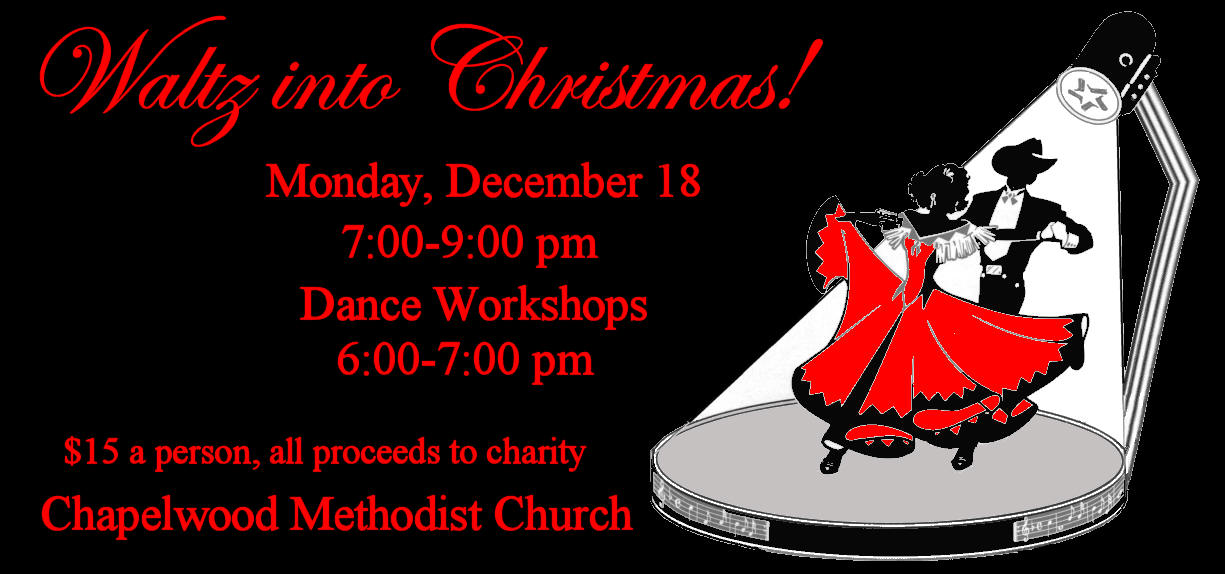 A Holiday Celebration of Community

through Music and Dance


THE TRADITION OF GIVING AT CHRISTMAS
Rick Archer's Note:

One purpose of our Waltz into Christmas Party is for lots of people to have fun. Our other purpose is to raise money for charity. All proceeds will be donated to Chapelwood Methodist Church in support of their 'Christmas Manna' project.

Please allow me to explain the background of this idea. In December 2022, I received a note from Susan Agnew, our Chapelwood sponsor, asking for help with a project that was very important to her.
From: Susan Agnew
Sent: Monday, December 5, 2022 9:40 AM
To: Rick Archer
Subject: Announcement Tonight

Hello Rick,

I hope you have a fabulous turnout for Sharon's Waltz Open House tonight! In addition to the nametags, I'm going to leave a stack of cards with information about Chapelwood's Christmas Manna program.

Christmas Manna is a long-time Chapelwood tradition of adopting families that need help buying gifts and clothes for their children, and I've been involved with this program for many years. As of yesterday, we still have over 50 families that need to be adopted, so I'm reaching out to everyone I can think of. If anyone is looking for an opportunity to give back this holiday season, I would ask them to consider adopting one of our Manna families.
Susan had done me a huge favor. Once upon a time, my friend Sharon Shaw was responsible for teaching Western Waltz to classes approaching 100 students at a time. I saw an opportunity to bring Sharon out of retirement for a one-night celebration, but to do so I would need Chapelwood's Fellowship Hall to accommodate the expected large crowd. To my surprise, Susan was kind enough to let me use this room for free. (Click here for the story of Sharon's Waltz workshop)
In return, Susan asked me to make a brief announcement about her Christmas project. However, Sharon was so busy with her large class, I could not find a place to interrupt. Afterwards, I felt guilty for my oversight. Then it dawned on me that I was in position to do better than a simple announcement. I told my class I was donating all tuition from our December dance class to Susan's project. The group was so touched by the idea that many pulled out their wallet and added extra on the spot. Our efforts were greatly appreciated.

From: Susan Agnew
Sent: Friday, January 6, 2023 12:53 PM
To: Rick Archer
Subject: Thank You Again

Happy New Year!

Rick, I want to sincerely thank you and everyone with the Monday Dance group for your generous contributions to our Christmas Manna program. We were able to provide toys, clothing and gift cards to 150 families in need, and made their Christmases so much brighter.

Also, you are too kind to keep giving me so much credit in your emails. I'm happy the dance classes are going so well and that we can accommodate your group.

Have fun dancing,
Susan Agnew
Chapelwood Recreation

(For further information about this program, click here)
As one can guess, I was very touched by this outpouring of kindness on the part of students who are also my friends. Call it the Christmas Spirit working through me, but I immediately made a vow to do this again next year if given the chance. I promised myself I would organize a December dance party to reflect the Christmas tradition of giving.

At this party, I wish to emphasize Waltz. First and foremost, Waltz was the reason I asked Sharon if she would be willing to come out of retirement. Second, Waltz has a rich musical legacy at Christmas. Classics such as The First Noel, What Child is This, It came upon a Midnight Clear, Silver Bells, We Three Kings, and Carol of the Bells are all Waltzes. I promise to play these carols at our party as a rather unique way to pay tribute to our Lord.
WHEN: MONDAY, DECEMBER 18, 7:00 - 9:00 PM

WHERE: Chapelwood Methodist Church, 11140 Green Bay, 77024.

WHO IS INVITED: ANYONE WHO LIKES TO DANCE REGARDLESS OF THEIR EXPERIENCE AND ABILITY. COME ONE, COME ALL FOR A WORTHY CAUSE.

COST: $15 PER PERSON. PEOPLE ARE WELCOME TO CONTRIBUTE MORE IN THE COOKIE JAR IF THEY WISH, BUT IT IS NOT NECESSARY NOR IS IT EXPECTED. FOR THAT MATTER, IF YOU ARE BROKE, WE INVITE YOU TO COME FOR FREE.

DRESS: WEAR WHATEVER YOU WANT. THIS IS NOT A FORMAL DANCE PARTY, THIS IS A FUN DANCE PARTY. PLEASE DRESS COMFORTABLE.

FOOD: IT DEPENDS ON THE KINDNESS OF STRANGERS. TYPICALLY PEOPLE BRING ENERGY FOOD TO MUNCH ON... COOKIES, CAKE, CHEESE, FRUIT, CRACKERS AND GUACAMOLE. A TABLE WILL BE PROVIDED FOR FOOD CONTRIBUTIONS.

DRINK: WATER FOR SURE WILL BE PROVIDED. PERHAPS WE CAN HAVE SOME PUNCH AS WELL. NO ALCOHOL, PLEASE. REMEMBER, THIS IS A CHURCH.
MUSIC: IN ADDITION TO THE CHRISTMAS WALTZES, THERE WILL BE REGULAR DANCE MUSIC INCLUDING COUNTRY-WESTERN TWOSTEP MUSIC AS WELL AS CLASSIC BIG BAND SWING MUSIC. AS FOR WEST COAST SWING, WE WILL MAKE SURE TO PLAY POLKA MUSIC SUITABLE FOR WCS AS WELL.

CIRCLE DANCES: AS A WAY TO EMPHASIZE THE CONCEPT OF COMMUNITY, WE WILL HAVE THREE CIRCLE DANCES INCLUDING THE COTTON EYED JOE, THE BARN DANCE, AND THE BEER BARREL POLKA. THESE DANCES ALLOW EVERYONE TO DANCE WITH EVERYONE IN THE SPACE OF THREE MINUTES. THEY ARE VERY EASY TO LEARN ON THE SPOT. HOWEVER, IF YOU HAVE NO IDEA HOW A CIRCLE DANCE WORKS, CONSIDER COMING EARLY TO THE CIRCLE DANCE WORKSHOP FROM 6-7.

DANCE WORKSHOPS: IN ADDITION TO THE CIRCLE DANCE WORKSHOP, SHARON SHAW WILL TEACH "INTRODUCTION TO WESTERN WALTZ" IN ONE ROOM AND RICK ARCHER WILL TEACH "INTRODUCTION TO THE TEXAS TWOSTEP" IN ANOTHER ROOM. BOTH CLASSES WILL RUN FROM 6-7 PM AND THERE IS NO ADDITIONAL CHARGE. THE IDEA IS TO GIVE PEOPLE WITH A MINIMUM OF SOCIAL DANCE EXPERIENCE A CHANCE TO PARTICIPATE IN THE DANCING AT THE PARTY.

AT 8 PM, MEMBERS OF THE HEY LOLLIES SQUARE DANCE CLUB WILL GIVE AN 8-MINUTE SQUARE DANCE DEMONSTRATION. RICK AND SHARON WOULD LIKE TO THANK THE LOLLIES FOR THEIR CONSIDERABLE HELP IN ORGANIZING THIS EVENT.

CLICK HERE FOR MAP TO CHAPELWOOD AND FELLOWSHIP HALL.
| | | |
| --- | --- | --- |
| | | |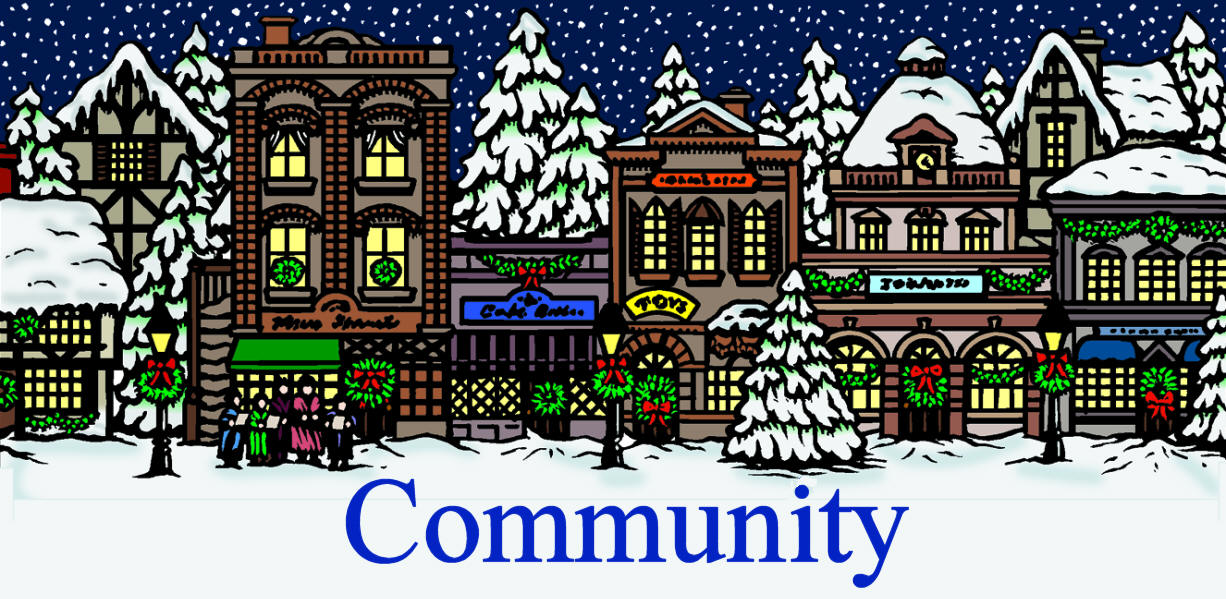 ABOUT THE HEY LOLLIES SQUARE DANCE CLUB
Rick Archer's Note:

Marla and I joined the Hey Lollies Square Dance Club in September 2022 at the encouragement of our friends Sharon and Bill Shaw. Marla and I agree this was one of the smartest moves we have ever made. I can report with all honesty that square dancing has enhanced our marriage considerably. That is because Marla and I participate each week in a terrific activity that involves dancing, friendship, community, and exercise. I might add that square dancing is a lot more challenging than I ever imagined. It requires some serious concentration to master the moves. Some people might object to that, but not me. I like the mental challenge of learning and remembering. I also like the smile that square dancing puts on Marla's face throughout the evening.

Hey Lollies has around 175 members. The club dances every Thursday night at Chapelwood United Methodist Church, 11140 Greenbay Street. It is necessary to know the major square dance patterns in advance. For that reason, the Lollies have developed what many say is the top training program in the city, perhaps even the state. Run by Tim Ploch, an experienced and very popular instructor, the 9-month program trains new members on a year-round basis. Classes are held every Thursday in a different room at Chapelwood. The next set of classes will begin in September 2024.
Due to an odd coincidence, Rick and Sharon's Social Dance program and the Hey Lollies Square Dance program both meet at Chapelwood. When the Lollies heard about Rick and Sharon's Waltz into Christmas charity event, they asked to be included as a way to do a good deed as well as form closer ties to Houston's social dance community. As one lady put it, "the chance to use a night of dancing for a good cause sounds pretty irresistible to me."

Amen to that.



WALTZ LESSONS IN NOVEMBER
Out of curiosity, do you know how to Waltz? A two-hour party allows for roughly 35 songs to be played. With seven Christmas Carol Waltz songs on the schedule, roughly 20% of the music will be Waltz-related. If by chance you would like to learn Waltz or brush up on patterns that need polish, Sharon Shaw and Rick Archer will be offering Waltz classes in November.

Sharon's class covers the Traveling-style of Waltz better known as "Western Waltz". Sharon's class has already met 8 times in September and October, so you would be joining her November Advanced class in progress.

Rick's class will cover Stationary Waltz (as seen in his Wedding picture with Marla). Stationary Waltz patterns are very useful for special occasions such as a First Dance at a Wedding or a cruise trip where the dance floors are limited in size (such as the one seen in the picture). Rick and Marla's November class will be taught as if the students are new to Waltz or perhaps new to the Stationary Style. The class is perfect for Beginners.

For more information, please visit our Chapelwood webpage.

ADVANCED WESTERN WALTZ (Sharon)
WHEN: 4 MONDAYS (Oct 30, Nov 06, 13, 20)
COST: $30 per person

BEGINNING STATIONARY WALTZ (Rick)
WHEN: 7 MONDAYS (Oct 30, Nov 06, 13, 20, 27, Dec 04, Dec 11)
COST: $50 per person

Once upon a time, Waltz was incredibly popular in Europe thanks to Johann Strauss and his beautiful Viennese Waltz music. Wouldn't it be fun to see if we can recreate a marvelous spectacle such as this?