Greg Norman's Yacht

Pictures Contributed by Gary Richardson
Story Written by Rick Archer
First Published: August 2005

FORWARD: Greg Norman, also known as "The Shark", has been a highly successful golf pro on the PGA circuit for a number of years. His prowess at golf and great popularity has obviously rewarded him well.

In addition to his athletic ability, it is a well-known fact that Mr. Norman is a shrewd businessman. Furthermore he is very personable which has led to many endorsements.

You are about to see what kinds of material rewards come to someone as talented as Greg Norman.
Here is Greg Norman's yacht. Say hello to Aussie Rules as she is called.

Have you ever dreamed of buying your own yacht and putting out to sea to cruise the world?

This story answers the question of what the super-rich do with their money when they decide to have fun. Most of us have no shot at something this magnificent, but it is pretty wonderful to see what is possible nonetheless. I suppose some people might criticize Mr. Norman for making his opulent toy so conspicuous, but I don't mind at all. Indeed, I feel very grateful that I have been permitted to get a peek at this marvelous lifestyle. I thoroughly enjoy stoking my fantasies!

I am sure that right about now you are wondering to yourself if it is too late to take up golf. Who would have ever imagined that an odd little Scottish game like GOLF could be parlayed into a yacht as magnificent as this!?! Wow!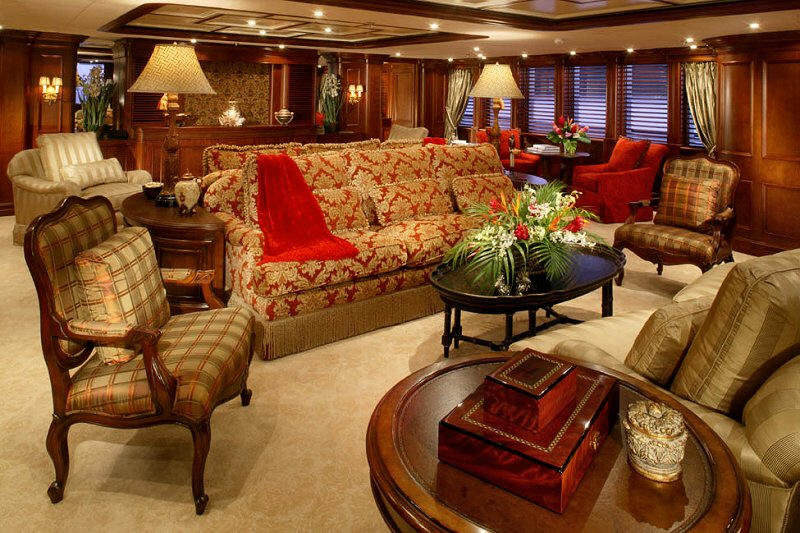 Rick Archer's Note:
May 2008

Before we continue, I would like to explain more about this web page. I have no connection to Mr. Norman. These pictures were simply forwarded to me in an email from a friend back in 2005. I was so amazed by the beauty of the yacht that I immediately posted them on the Internet for my friends to see.

It wasn't until I did an update in 2008 that I realized these pictures were taken from a web site titled AUSSIE RULES. I assume that Mr. Norman had this site created. Now that I realize the true origin of the pictures, let me state that I will remove these pictures without any hesitation if asked to do so.

I hope that Mr. Norman and his representatives would understand that I maintain this page strictly out of admiration for his floating work of art. Any cursory glance around my SSQQ web site would show I am not exploiting the pictures in any commercial way. Mr. Norman certainly has every right to be proud of this beautiful ship and I thank him for sharing its beauty with the rest of us.



So now let's have a closer look!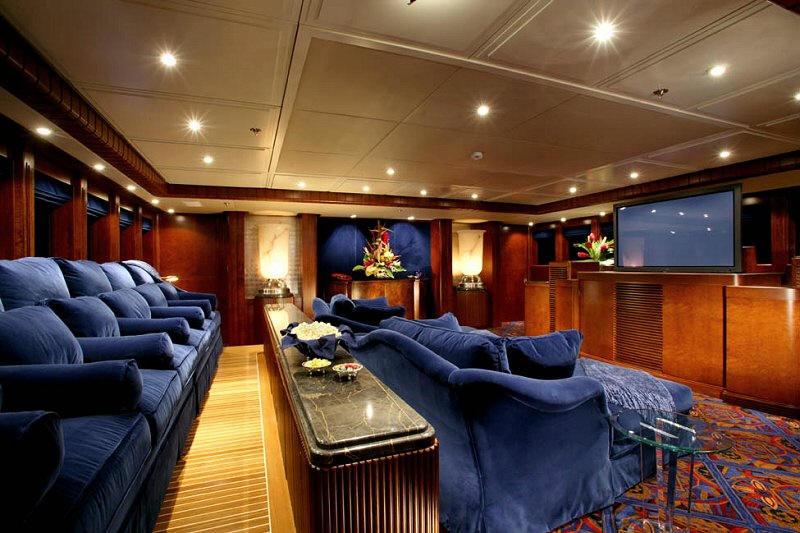 That's quite a home-viewing theater! However, to make a small joke, this magnificent room is 'par for the course'. Everything about this ship is both colorful and rich as well as tasteful and warm.

Greg Norman took delivery of his new toy in 2005. At 69.5 metres (228 feet) in length, it's the world's largest aluminum and composite private yacht. He named his beautiful yacht "Aussie Rules".

Back when Greg Norman first cruised into Sydney Harbor, onlookers gasped at the immense size of the yacht. They remarked, "What a massive ship! Why, it's nearly three times the size of the ferries in the Harbor!"

Norman had his yacht built for $70 million dollars. He helped design the yacht himself. Rumor has it the company meant to build it for him "at cost" in return for the excellent advertising of having him as an owner, but they actually lost money on it.
In addition to being opulent, the yacht is also built for Jacques Cousteau-type fun and exploration.

There is onboard diving equipment for 30 people including a decompression chamber and two huge compressors. Dives of all types can be accomplished by operating the Nitrox Mixing Panel onboard, enabling each guest's air tank to be customized with a mixture of gases.
Even the Bridge looks comfortable. That helps make those long nights of cruising the Pacific Islands more enjoyable.
The more we see, the more the yacht resembles a floating mansion!
Very pretty. As you see, dining can be held outdoors if the weather permits.
The picture above gives us an idea of the breath-taking views that might accompany a simple morning breakfast at this open air table! Now check out the sunken cocktail area. Are you envious yet?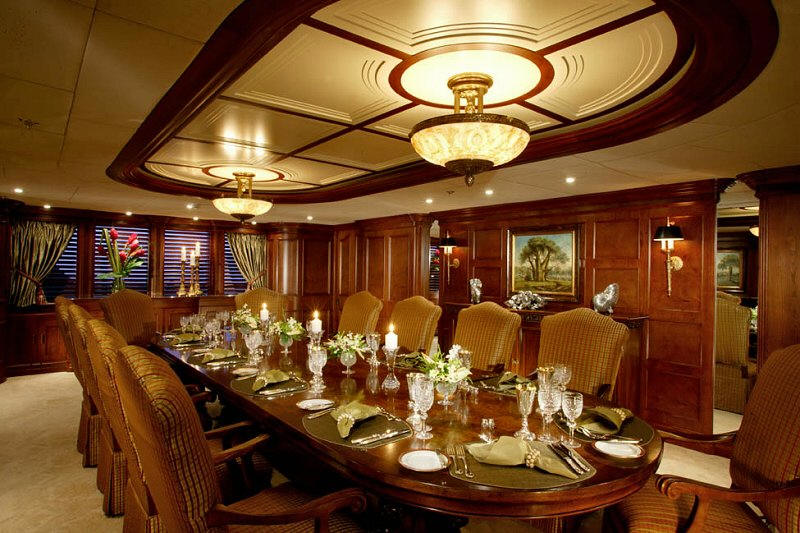 When night falls or stormy weather comes calling, we see that the yacht has an exquisite interior dining room as well. All the comforts of home but no grass to mow and no property taxes to pay! What a dream.


THE FUN SHIP!

Mr. Norman wanted his yacht to be practical in addition to comfortable. When visiting tropical islands and scuba locations, he wanted everyone to have as much mobility as possible. To get the people out to those choice dive spots or maybe to visit a deserted beach for a splash in the warm water, the following additional "small" boats are kept onboard:

A 42-Foot Custom Built "Game Fisher" can be launched and retrieved from the deck. Perfect for a 4-person overnight fishing expedition. Has a gourmet galley for cooking up the catch while it's still fresh.

There is a 22-Foot Novurania Equator with a meager 800 horsepower so you can get to the best diving sites ahead of everyone else. It has beach landing capability as well.

Two 18-Foot Hewes Bonerfishers for those special occasions when Norman and his friends wish to maneuver over the sand flats in Key West, Florida.
Plus a 30-Foot SeeVee for afternoon fishing.

Plus a 13-Foot Narwhal Rescue Boat in case someone falls off one of those other boats.

Plus 4 Yamaha Waverunners!!! Good grief already! Where do they store it all? Watching all those boats emerge reminds of a Russian Matryoshka Doll where the little dolls just keep coming out of the bigger ones!

There seems to be no end to the storage space in this magnificent vessel. You almost begin to look for a car and a helicopter to emerge as well! So much pleasure and so much comfort.

Well, now it's time to wrap it up. Hope you enjoyed the visit. If you have enjoyed viewing these pictures, you will definitely enjoy seeing even more pictures at the home page for AUSSIE RULES

What you see here is only the tip of the iceberg. There you will find dozens more pictures plus a great deal of explanation about the yacht.

As for me, I'm signing up for golf lessons today. Maybe I will see you on the golf course! Rick Archer
| | |
| --- | --- |
| | |