COZUMEL CRAZINESS

I suppose no ssqq summer dance cruise would be complete without an afternoon of drunken madness down in good old Cozumel. This has definitely become an annual cruise ritual.

I visited one year. I stayed long enough to realize this is one adventure that is not for the weak of heart, the pure of spirit, or the sober of mind. I haven't been back since. Fortunately, assuming the pictures don't lie, this event seems to be doing just fine without me.

Does that mean I disapprove? Not at all. From what I gather, these people are having a ball. I just don't bounce back from heavy drinking like I used to. This is definitely a game for the young and restless.

And now for the pictures. By the way, that waitress is really pretty!

Random Cruise Joke: The Diary Entries Of A Woman On A Cruise Ship

Dear Diary:

MONDAY: What a wonderful cruise this is going to be! I felt singularly honored this evening as the Captain asked me to dine at his table.

TUESDAY: I spent the entire afternoon on the bridge with the Captain. He is so charming.

WEDNESDAY: The Captain made several proposals to me unbecoming an officer and a gentleman.

THURSDAY: Tonight the Captain threatened to sink the ship if I do not give in to his indecent proposals!

FRIDAY: This afternoon I saved 1,600 lives ... twice!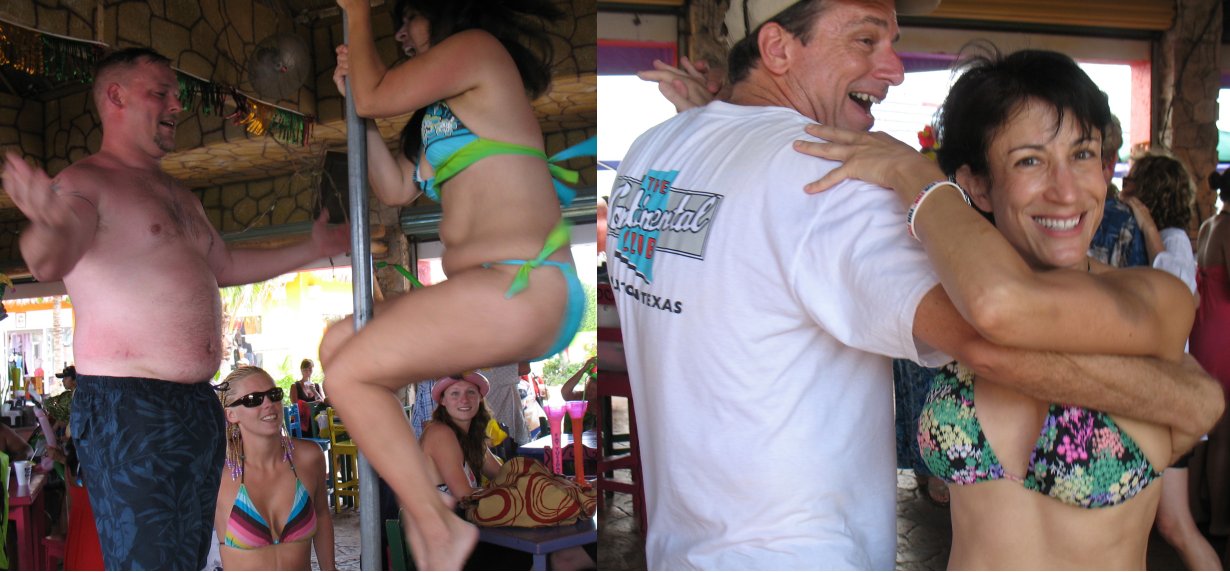 SOMETHING ABOUT KRISTI

Kristi Wohlfahrt is a character. I don't know her very well at all, but she is, well, unusual. Maybe 'quirky' is the right word. Marla knows her better since Kristi has been in several of her classes, so I asked Marla to describe her. Marla stared at me for a moment, then just shook her head in frustration at her lack of words. Finally Marla blurted out, "Let's just say Kristi is different." Not a very satisfying description, is it?

Kristi is an experienced cruiser. I hope Kristi forgives me if I quote the wrong number, but I think she told me she has been on 30 or 40 cruises. That would mean Kristi has been on more cruises than anyone I know. Make that 'a lot more'. That tidbit made me curious to learn more about her.

Before the trip, Kristi was nice enough to share the names of several of her favorite cruise hangouts. Curious about her list of locations, I decided to check one out in Jamaica

At Kristi's suggestion, I invited Jim and Denise Duncan to join Marla and me for an entire day at a posh hotel nearby our ship complete. The price seemed fair, especially since it included unlimited cocktails all day long. We soon discovered a wonderful secluded beach complete with a view of the ship. To our surprise, just a couple minutes after we settled in, there was Kristi!

I was about to have another big surprise as well. On my way to procure a rum-laced yum yum Pina Colada, I explored the surroundings. That is when I discovered our 'secluded beach' was the hotel's private nude beach. Wow! My eyes began to bulge at this discovery.

Breast-taking, er, I mean, breath-taking! Actually, now that I think about it, I really did stop breathing for a moment there. That was when a security guard threatened to snap me in two. Just as I was about to take a picture, a security guard showed up out of nowhere to inform me he was there to enforce privacy and that I wasn't allowed to take pictures. He said if he saw that camera again, he would have to confiscate it for the day. Darn!

As an idle thought, I wondered where people receive training to get jobs as nude beach supervisors. Once I got over my disappointment at not being allowed to take pictures, we had a great time on the beach (or at least I did. Jim swore he didn't have any fun at all, but I didn't believe him).

I admit I was distracted for a while, but eventually I got used to the nudity. This allowed me to turn my attention to an interesting conversation with Kristi. While we were on the beach relaxing in our lounge chairs, Kristi told me some pretty unusual stories which of course I shall not repeat. For the record, I kept my eyes focused on the ocean the entire time. As entertaining as Kristi's stories were, later when I sobered up, I realized we had talked all day and I still didn't know a thing about her.

However I had learned enough to sense Kristi is definitely one of a kind. Just for starters, her curious preference for colorful fuzz-lined objects was more than enough to raise an eyebrow. I wonder what Freud would say.

I keep saying pictures are worth a thousand words. If so, then I think I will let these interesting snapshots of Kristi speak for themselves.

Pretty Denise Duncan with her clothes on, John Hall,
Kristi with her clothes on too

Kristi's cute fur-lined pink laptop looked like something
straight out of "Legally Blond"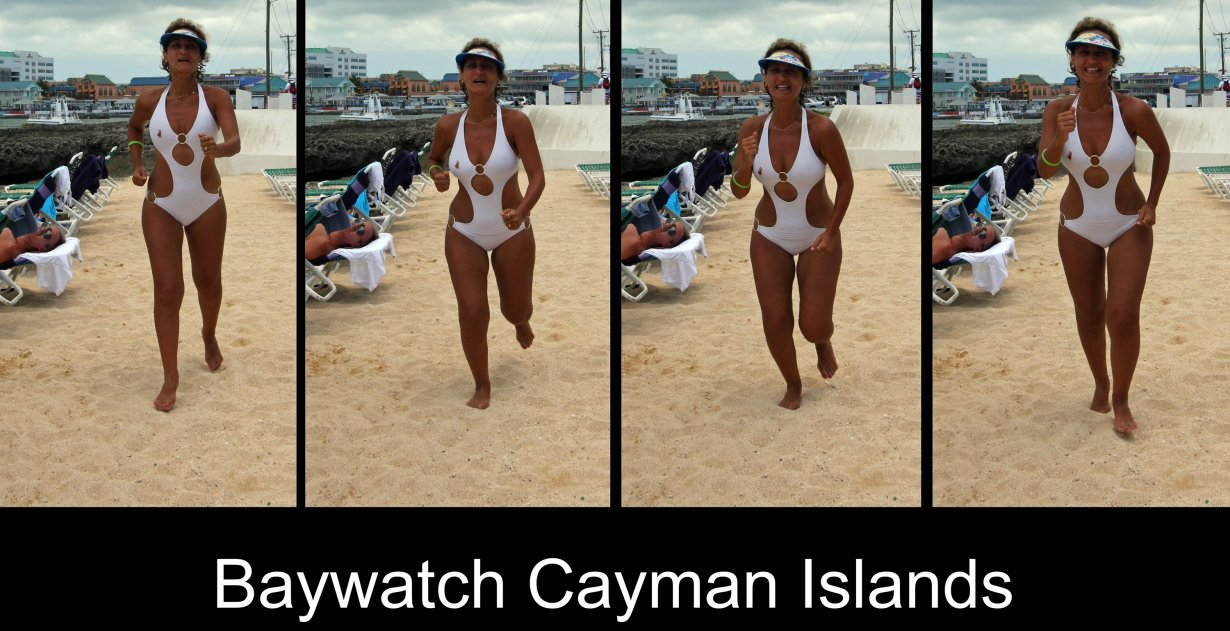 This "Baywatch Cayman Islands" collage is a pictorial compliment that Steve Gabino paid to Mona, a very beautiful woman.

As you can see from all the photos I have posted so far, Steve Gabino is not just a photographer, he is an artist. From Mona's Baywatch Centerfold to this goofy "Muscle Beach" picture below, I think you will agree that Steve shows a wonderful imagination.

My hat goes off to Steve. As they say in basketball, the kid can really play. Steve made my recap job very easy. I am indeed grateful.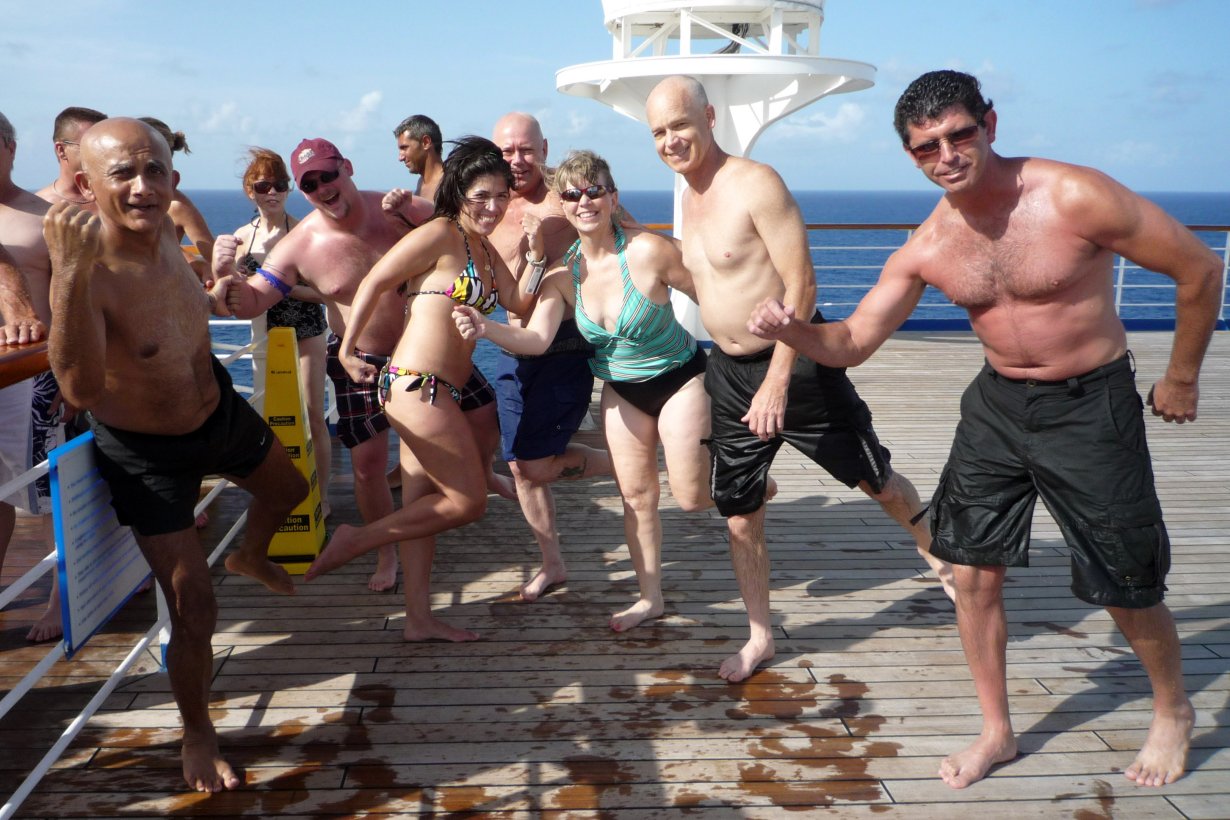 The intimidating Muscle Beach Gang includes Iqbal Nagji, Toni Maciel in back, Scott Greason, Veronica Saucedo, Gordon Grant, Peggy McElroy, Kevin Macleod, & John Hall.
| | |
| --- | --- |
| | |

ABOUT STEVE GABINO

Steve did a wonderful job on this trip. In addition to taking photos for us, Steve did the DJ work for our dance classes and at our late night dancing at Alfred's. His music made our dancers happy all week long. Like everything else on this trip, everything came off smoothly.

As I said previously, my friend Gary Richardson has filled this same DJ-Photographer role for the past six years. I have always been pleased with Gary's work. However, to tell the truth, I was pretty sure Steve would take over Gary's responsibilities with the greatest of ease. After all, Steve has done a marvelous job with our Halloween pictures for two years in a row. He has so much talent for photography. In addition Steve's Swing music at our dance parties always collects great praise.

Sure enough, when I got his collection of cruise pictures, I couldn't help but smile. Not only did Steve magically seem to take a picture of practically everyone on the trip, his pictures scanned the spectrum from beautiful to funny to clever. It was a real treat to set my computer on "slide show" and let Steve's pictures appear one by one.

Of course, as I put together my cruise recap, I am in great debt to Steve. How many times have I said that a picture is worth a thousand words? Without Steve, I would be hard-pressed to tell many of these stories. Instead, I have a wonderful picture for practically every occasion.

Steve will be selling a CD for the cruise soon. Most likely he will retail the CD when we have our post-cruise party sometime in October. Do me a favor and buy one. This young man is trying to develop a side business as a photographer. Steve did such a great job on this trip, I would like to see him rewarded. Please let him know how much you appreciate his work by purchasing a copy. You get a wonderful memento from the trip and he gets rewarded for putting in a lot of time editing the CD. It's a win-win for everyone.

In addition, if you ever have a need for a photographer at an event, be sure to contact Steve at sgabino@yahoo.com

Let me add a word about Steve's stunningly pretty girlfriend Vivian. You know, being part of Steve's working holiday had its ups and downs. While Steve is out there photographing the special moments for other people, you can assume Vivian could just as easily be sitting by herself on the couch.

Yes, Vivian has a wide circle of friends as well, so I don't suppose she was ever alone much of the time. That said, her role changed on this trip. Previously, she and Steve were civilians. Now she was sort of along for the ride. For the record, I never heard her say a negative word all week long. I think we are all in debt to Vivian for so graciously sharing her handsome boyfriend with the rest of us all week long. Vivian showed a touch of class that we all appreciated.
| | |
| --- | --- |
| | |
QUITTIN' TIME

Cozumel has the most amazing harbor. I am no engineer, but I know enough to understand just how deep the water must be for an enormous ship like the Conquest to dock safely. By comparison, Grand Cayman sits at the top of a steep volcano, but visiting ships are still forced to drop anchor well out in the water and tender its passengers ashore.

What makes Cozumel so special is that these massive ships can dock just a couple hundred yards offshore. The result is a marvelous intimacy with the island of Cozumel. If you feel sandy and yucky after a day at the beach, you can go to the ship, shower off, put on fresh clothes and return to visit the nearby shops and bars for a second flurry of activity.

Since 95% of its passengers are eating, shopping, or getting blitzed just a few hundred yards away, all the ship has to do is blow its foghorn to let everyone know when it is time to go. The drunks usually have enough snap left in them to know what that blaring sound means. Even if they don't, the bar tenders have learned to give them a shove in the right direction. There is a sadness as we walk back to the ship. After Cozumel, we are headed home.

It's Quittin' Time.
SUNSET AT SEA

They say there is nothing prettier than a sunset at sea.

Thanks to our friend Iqbal, SSQQ has a lovely tradition of getting the group together on the final night of the trip to watch the sun go down.

Here is a pictorial review of this year's ritual event.
| | |
| --- | --- |
| Mark Sellers, Roberta Burns, Edward Sanchez, Susan Bloome | Mary Webb, Mike Wilhelm, Frances Webb |
| | |
| --- | --- |
| Denise Jenkins | Jo Ann McCracken |
Linda Fleischer and Denise Duncan


Kevin Macleod and Peggy McElroy. What a great picture.
Maybe it is my imagination, but it always looks like Peggy is up to something

| | |
| --- | --- |
| Lisa Mallet and Gene Garner Another great picture. | Louis Cottrell |
| | |
| --- | --- |
| Denise and Jim Duncan. Now that I think about it, these are all great pictures! | Iqbal Nagji and Deborah Taylor |
| | |
| --- | --- |
| Winnie Guo and Ben Smith | Teresa Hackbarth and Matthew Webb |
| | |
| --- | --- |
| Mary Ann and Stephen Veregge | Nothing like a Sunset at Sea |
Linda Fleischer, Joyce Isiminger, Jeff Plaster, Virginia and Gerald McEathron
Don't worry, inside Jeff is really smiling

Ann Wells, Peggy, Kevin, Denise. Is it a bird or a plane?
I assume they are smiling at the sunset above, but with these guys you never know