Istanbul 2015 Itinerary

Friday

,

October 23

Overnight on ship in Istanbul

Saturday,

October

2

4
Depart Istanbul

Sunday,

October

25

Ephesus, Turkey

Monday,

October

26

at sea

Tuesday

,

October

27

Haifa, Israel

Wednesday,

October

28

Jerusalem, Israel

Thursday,

October

29

Jerusalem, Israel

Friday,

October

30

at sea
Saturday,

October

31

at sea

Sunday,

November 01

Valletta, Malta

Monday,

November

02

Messina, Sicily

Tuesday

,

November

03

Naples, Italy

Wednesday

,

November

04

Rome, Italy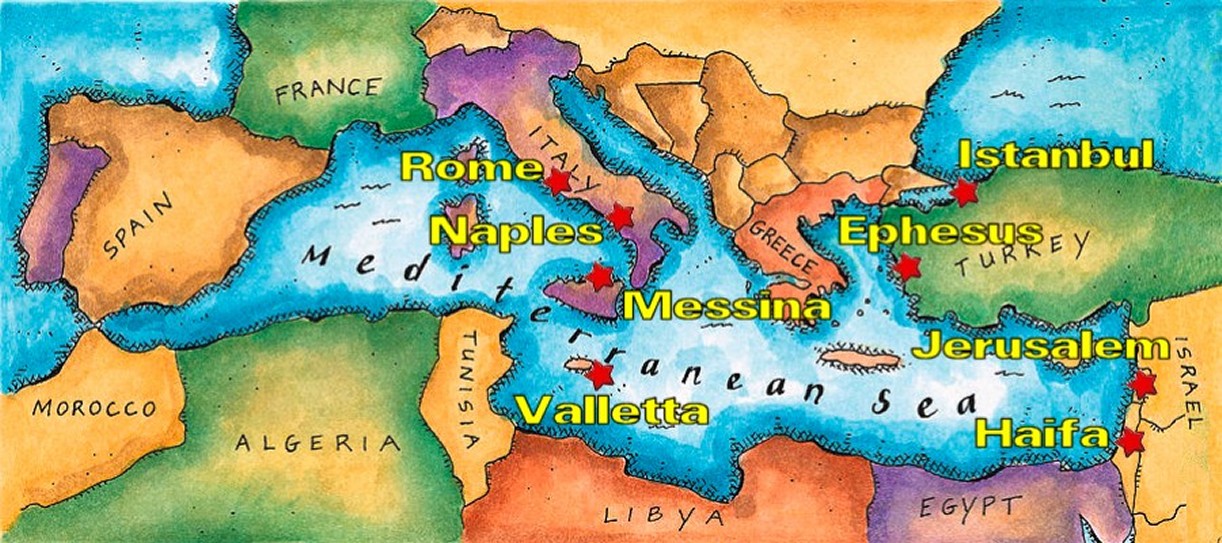 A Journey to the Origins of Western Civilization

About the October 2015 Trip to Istanbul, Jerusalem and Rome


Cruise Pricing
(All rates are per person double occupancy)

Inside Category 10 Deck 3

$1546

Oceanview Category 7 Deck 2

$1756

Veranda Category 2B Deck 9

$2141

Concierge Veranda C2 Deck 8

$2336


A Note from Marla Archer:

Dear Travel Friends,

Rick and I invite you to join us on a spectacular 2015 trip to three of the most important cities in all of history.

We will be taking a 12 Night Cruise Adventure aboard the Celebrity Constellation, October 23 - November 04. Our goal is to explore ancient civilizations, picturesque ocean vistas and experience the world's greatest cultural centers throughout the Eastern Mediterranean.

With every passing year our cruise adventures have taken us to more glorious destinations. This year's cruise continues that tradition. Our embarkation port is Istanbul, Turkey.

When I book a cruise, I am never quite sure what kind of reception I will get. In this case I was concerned because Istanbul is so far away.

In fact, Istanbul is the most distant departure city that I have ever booked. The previous record was Copenhagen, Denmark, at 5,000 miles from Houston (Russia 2012).

And how far off is Istanbul? This fabled city is a cool 6,000 miles from Houston. Would people be willing to travel this far?

However, then I noticed something very interesting: Istanbul has just been ranked the #1 travel destination in the world for 2014.

And Rome has just moved into #2. Curious, I looked for a cruise to Istanbul and found one that actually ended in Rome. A cruise that started in the top destination in the world and ended in the second most popular destination in the world sounded pretty good to me, but when I saw the trip included two entire days in Jerusalem, my decision became a no-brainer.

2 days in Istanbul, 2 days in Jerusalem, disembarking in Rome and all these other great ports as well. I could not pass this trip up.

So I took advantage of a terrific offer from my Celebrity sales manager - 10 points! - and booked the cruise. Trust me, these points will translate into perks that will be passed on to you.

I have a more extensive write-up for each location further below, but here is a brief overview of the trip at a glance:

Istanbul

With every passing year our cruise adventures have taken us to more glorious destinations. This year's cruise continues that tradition. Our embarkation port is the #1 ranked travel destination in the world, Istanbul.

"Au revoir! Istanbul and Rome have just knocked Paris and New York off top spots of 10 best destinations in the world (and London moves into third place)

Millions of TripAdvisor users voted on their favorite destinations around the world, and Istanbul took the top spot. This is surprising because the city jumped 11 spots from the previous year, surpassing perennial favorites like London and Paris.

Despite announcing record tourist figures for 2013, Paris, the French capital lost out to Turkey and dropped to seventh in this year's Travelers' Choice Destinations awards, voted for by millions of holidaymakers.

A newcomer to the top 10, Istanbul swooped in to take the number one position, just ahead of Rome, the Italian capital, which itself rose two places from fourth last year.

Rome took New York's place at #2. New York fell out of the top 10 of the TripAdvisor list to number 12.

So why are travelers flocking to Istanbul?

Perhaps it's because the vibrant city embodies both ancient and modern. It's chock-full of historic mosques and monuments, but it also has tons of hip boutiques, cool restaurants, and design-savvy boutique hotels that hipsters, foodies, artists and fashionistas love. The city feels decidedly chic - and travelers from all over the world are taking note."

Ephesus and Haifa

We have an overnight in Istanbul, where we use the ship as a floating hotel, so there is plenty of time to check out the Istanbul's many sights.

Then we are off to Ephesus to explore its ancient civilization.

Continuing on with a day at sea to rest, then we spend a full day in Haifa. The shoreline here is as incredible as is the beauty of the Baha'i Gardens.

Jerusalem

Then we continue on to one of the major highlights of the trip-- Two full days in Jerusalem. We will have plenty of time to visit the Western Wall, The Church of the Holy Sepulcher, Dome of the Rock and even travel to Masada and float in the Dead Sea.

Valletta and Messina

The cruise concludes with visits to two of the most stunning locations imaginable, Valletta, Malta and Messina, Italy. Visit picturesque villages in Valletta and then spend a relaxing day in the beautiful Taormina or explore the foreboding Mt. Etna.

Naples

When we arrive in Naples, you may take the ferry over to the Isle of Capri, and see Italy's most romantic getaway spot including the Blue Grotto or spend your day exploring Pompeii.

Rome

Our cruise disembarks in Rome. You may decide to fly home, but Rome is certainly worth staying over and getting a hotel.

Why not stick around a while longer? Even though Rick and I have visited Rome twice, we will definitely stay. There is still so much left to see.

I know I will be headed to the Vatican for a more intensive visit. And Rick said he would be glad to lead a walk through the streets of Rome retracing our steps from our first visit. He promises to use a better map, so maybe I will come too.

We have reached that time in our lives that we feel it is time to explore the world while we are still able. This cruise is definitely on my bucket list and I know it is on many others within our travel family.

Let's go see the world together!


Marla Archer
713 862-4428
marla@ssqq.com

PS - For a humorous look at my husband's thoughts about this trip, be sure to check out Rick's Anecdotes

Istanbul

Istanbul

Bahai Gardens at Haifa

Mount of Olives at Jerusalem

The Stunning Isle of Capri in Naples

Rick, Marla and Sam (Rick's daughter) at Rome's Trevi Fountain
Marla's Notes:

Istanbul is hot and I am not talking about the weather. Istanbul is on fire because it was rated the number one travel destination for 2014. Istanbul has acquired a reputation as one of the world's most hippest cities. Besides the exquisite Ottoman mosques, there are all kinds of restaurants, bars, galleries and clubs around town.

Istanbul is such a diverse city that it's almost impossible to split it up into definable districts. The only real distinction that can be made is between the European and Asian sides, which are separated by the Bosphorus Strait. Stretching from the Black Sea, straddling across the Bosphorus, touching the Sea of Marmara, Istanbul, with an estimated population of between 10-13 million. You can spend the morning in Europe and the afternoon in Asia, with just a ferry ride in between; how cosmopolitan is that?

Did you know we will be able to use the cruise ship as a hotel for one night? By going in one day early before registration, Rick and I will have two full days and nights to explore this exciting half-Asian, half-European city.

While I am in Istanbul, I would like to cruise the Bosporus Sea. I would like to see the Topkapi Palace and Blue Mosque. And then I definitely want to see the legendary Grand Bazaar.

Now here are some of the various sites to see in Istanbul.
Sultanahmet

Most people who come to Istanbul land feet first in Sultanahmet. This peninsula (known as Sarayburnu) juts out into the Bosphorus, the Golden Horn and the Sea of Marmara. Rich in history, it's a natural magnet to millions of tourists every year.

The home of Topkapi Serayi (Topkapi Palace), Ayasofya (Hagia Sophia) , the Blue Mosque (Sultan Ahmet Mosque) , Yerebatan Serayi (Yerebetan Basilica Cistern) , and the At Meydani(Hippodrome), Sultanahmet is filled to the brim with hotels, restaurants, cafes, bars, and rug stores, as well as a plethora of fascinating museums, mosques, markets and historical sites.

The main drag, Divan Yolu, is the heartbeat of the area, and there are hundreds of tiny back streets and alleyways to explore the history of the old city. The labyrinthine Kapaliçarsi (Grand Bazaar /Covered Bazaar) near Beyazit University is also on this street.

Sultanahmet can be a little intimidating as it truly caters to only tourists. You'll have to learn quickly not to respond to "Hey! Are you American?" as the salesmen are notoriously aggressive.

Eminönü

Situated right on the waterfront on the Golden Horn, Eminönü is the end of the tramline. It is generally buzzing with activity during the day, with street peddlers selling you things you never even knew you wanted. The vast Misir Çarsi (Egyptian Spice Bazaar) is the main feature of Eminönü Square and Mimar Sinan's Yeni Camii (New Mosque) is a familiar landmark with its minarets standing tall above the general chaos. Ferries to the Asian side and the Princes Islands leave from the huge docks lining the shore, where you can stop by and have a balikekmek (fresh fish sandwich) while you wait for your vessel. The Sirkeci Train Station is also here: all trains to and from Europe begin and end their journeys here.


Beyoglu / Taksim

A veritable symphony of Occident and Orient, Beyoglu is the pulsating heartbeat of Istanbul's day and nightlife. Istiklal Caddesi -- a paved thoroughfare perpetually swarming with Istanbul's colorful hoi polloi -- is at the hub of the metropolis while a maze of narrow winding lanes filled with funky cafes, soulful bars, continental restaurants, historic cinemas, prominent theaters and exclusive shops shoot off in all directions around it.

Taksim Square, featuring the impressive Monument to the Republic, leads the way into Beyoglu's bohemian open-air museum, past the Greek Orthodox Aya Triade Church and the French Consulate. A quaint old tramway carries passengers past the Rumeli Han, Çiçek Pasaji, Cite de Pera, Atlas Pasaji, Galatasaray Lisesi, and several elegant consulates.

Every year the International Istanbul Film Festival , International Istanbul Music Festival, International Istanbul Theater Festival and the International Istanbul Jazz Festival are held here and in nearby districts. Beyoglu, which has been the traditional home of Istanbul's gay community, hosts various other annual events, including the Bosphorus Festival, Roxy Music Days, Aksanat Jazz Festival and the Blues Festival.


Tünel

This is undoubtedly Istanbul's Bohemian Quarter, which not so long ago was perceived as a bad part of town, with its dark deserted streets and creepy abandoned buildings. However, the area has undergone tremendous development in recent years. Tiny cafes, live music venues, and open-air restaurants and bars now quietly coexist with art galleries, antique bookshops and music stores.


Karaköy

Around the first century BC, there was a tiny village situated on the mini peninsula of the Golden Horn where the modern suburb of Karaköy stands today. These days, Karaköy is a bustling port with a lively fish market, a hectic ferry terminal and a shady nightlife; an intriguing landscape at the mouth of the Golden Horn. Scores of locals fish from the Galata Bridge and an array of vendors peddle all kinds of goods along the sidewalks.

A vast underground marketplace where you can buy electrical appliances and guns, among other things, provides not-so-safe passage under the busy road to the entrance of Tünel. Up the hill is Bankalar Caddesi, an historical area filled with banks, art galleries and do-it-yourself stores. All visiting international cruise ships dock in Karaköy.


Galata

The Genoese-built Galata Tower is the most central point here. The renowned Turkish film Istanbul Beneath My Wings tells the story of Hazarfen Çelebi, who flew from this tower with a home-made pair of wings. The main street, Galip Dede Caddesi, is a hub of activity with shops selling musical instruments and antique books, and you'll also find a good dose of tiny local restaurants.

The Whirling Dervishes have a home here at the Galata Mevlevihanesi (Dervish Lodge) ; the Goethe Institute provides locals with a good dose of culture and art; and there are countless mosques, churches and synagogues hidden away in obscure side streets.


Golden Horn

The most interesting part of the Golden Horn district comprises of the stretch of land between Eminönü and Ayvansaray, up as far as Eyüp. The Selimiye Mosque, the Fethiye Mosque and St. Steven's Church grace the shoreline while the Kariye Müzesi (Chora Church) and Mihrimah Mosque are further inland. The old city walls start at Ayvansaray and snake overland to Yedikapi.


Besiktas and Ortaköy

Besiktas -- which is actually dismally devoid of places to help you paint the town red -- is at the center of the three-way fork that leads up the hill to Levent. Ortaköy, on the other hand, is a bustling suburb on the waterfront. Bubbling over with cafes, bars, restaurants and tea houses, this area is a popular weekend hangout for locals.

Ortaköy's back streets are buzzing with handicraft stalls filled with trinkets and souvenirs on summer weekends. This part of town is renowned for its mosque, church and synagogue within close quarters of one another. The Bosphorus Bridge spans the waterway overhead.


Bosphorus: Arnavutköy to Sariyer

The Bosphorus shore on the European side is lined with Ottoman-style mansions, high society hangouts and fish restaurants. There is only one main road and it follows the shoreline all the way to Zekariyeköy, a popular weekend getaway for the citybound.


Sea of Marmara Coast: Kumkapi to Yediküle

Kumkapi is a distinctly touristy area filled with over-priced fish restaurants and not much else besides views of the sea. The coast road heads out toward the airport past the old city walls and Yediküle Fortress.


Asian Side & Bosphorus: Kadiköy to Anadolu Hisari

Kadiköy is a quieter version of Beyoglu with a more subdued atmosphere. The tiny cobbled lanes are filled with restaurants, cafes, bars, cinemas and shops, but most importantly, residents! The Asian side of town is where most Istanbulites live; you'll have a harder time with no Turkish language skills here, but it's worth it to pop over on the ferry and experience a more relaxed way of life.

The coast road snakes past Üsküdar, a pretty suburb with plenty of fine examples of Mimar Sinan's work, including the Mihrimah Sultan and Semsi Pasa Mosques.

Selimiye Barracks (where Florence Nightingale worked during the Crimean War) is up on the hill. Heading toward Anadolu Hisari, the road winds along the shoreline (which is less built up than that of the European side). There are plenty of parks and trees, outdoor cafes and restaurants and a string of historical buildings to explore including Beylerbeyi Palace , Kuleli Mosque, Kuleli Naval Officer's Training School, Küçüksu Park and Kiosk and Anadolu Hisari.


Princes Islands

There are four islands in the Sea of Marmara that attract crowds escaping the summer heat: Büyükada, Heybeliada, Kinaliada and Burgazada. Ferries leave from Sirkeci, Kadiköy and Bostanci regularly. There are no cars on the islands -- the transport here is limited to horse-drawn carriages. Each island offers plenty of places to eat and sleep, and there are Greek monasteries atop the hills of Büyükada and Heybeliada.


Harbiye-Nisantasi-Sisli-Mecidiyeköy-Levent

The Military Museum in Harbiye is a good landmark from which to begin exploring Istanbul's business life. Nisantasi is the central shopping district, while Sisli is strictly a business district that goes all the way to Levent and beyond to Maslak. There is now an underground metro linking Taksim with Fourth Levent


Top Things to Do in Istanbul:

Hagia Sophia

The magnificent Ayasofya was originally built by Byzantine Emperor Justinian in 537 BCE, and it was used as a church for 916 years. It was then used as a mosque for 481 years, and Turkey's first President, Atatürk, declared it a museum in 1935. It is no longer used as a place of worship, so you needn't be too concerned with your attire.

Built on a square base instead of the usual rectangular one, it has been the inspiration for Ottoman mosques for countless centuries. The incredible frescoes and mosaics in the upper gallery, despite being damaged, are among the most popular in the city. From 2007-2008, each gold tile piece in the ceiling was restored to its former glory.


Topkapi Palace Museum

Topkapi Sarayi, on the Seraglio Peninsula, became a museum in 1924. The Harem, Baghdat Pavilion, Revan Pavilion, Sofa Pavilion, and Audience Chamber distinguish themselves with their architectural assets, while other artifacts on display reflect palace life. Gülhane Park is located on the slopes below the palace extending to the seashore, and is popular among Istanbul residents for picnicking and open-air concerts. In the park is the Gothic Column (courtesy of Claudius II), known to have been one of the main obelisks of the Byzantines. One of the most interesting parts of the palace is the Harem, so be sure to get there early to sign up for a guided tour.


Sultanahmet Camii Blue Mosque

Dubbed the "Blue Mosque" by Europeans because of its beautiful interior ceiling tiles (famed Iznik tiles), Sultanahmet Camii, with six minarets, is a one of its kind. Built by Ahmet I between 1609 and 1616, the architect was Sedefhar Mehmet Aga, one of Mimar Sinan's most prominent students. Inside, it's surprisingly small, though very detailed, and the city has installed a lovely wrought iron chandelier at the entrance. The shrine near the mosque houses the tombs of Ahmet I and his wife Kosem Sultan. The Blue Mosque is a working mosque, so non-worshiping tourists are not permitted to enter during prayer times, which occur 5 times daily for 30 minutes


Arkeoloji Müzesi

Arkeoloji Müzesi (Istanbul Archaeology Museums) has twenty galleries filled with artifacts gathered from all over Turkey and the Near East celebrate 5000 years of history with exhibits from Byzantium, the Ottoman Empire and the many civilizations of Anatolia and ancient Egypt. The main building houses the finds of nineteenth-century archaeologist Osman Hamdi Bey, in particular the famous 4th-century Alexander sarcophagus discovered at the royal necropolis of Sidon in Lebanon. The Museum of the Ancient Orient contains artifacts from Egypt and Mesopotamia, including a magnificent frieze of a bull from the Ishtar gate in Babylon.


Basilica Cistern or Sunken Palace

The Sunken Palace is located opposite the Blue Mosque. it's an eerie, mysterious place, where you feel like you are in ancient times This is an amazing Roman building that was created in 532 AD. The Romans used built the palace with columns from earlier Pagan temples.

Rumeli Fortress Rising Above the Bosphorus

Street featuring the Galata Tower

Cappadocia

Hagia Sophia

Grand Bazaar

Spice Bazaar

Cruising the Bosporus

Hagia Sophia

Topkapi Palace

Blue Mosque

Kusadasi, Turkey, is a port which serves as the gateway to Ephesus, the site of well-preserved Roman ruins located 12 miles inland.

Ephesus, an ancient city created by the Ionians in the 11th century B.C. and later expanded by the Romans. Now considered to be one of the grandest reconstructed sites in the ancient world, the region also hosted the likes of Cleopatra, Mark Antony, the Virgin Mary and John the Apostle. Kusadasi has grown from a small sleepy fishing village into a sprawling tourist center, serving the thousands of tourists who flock to the area to visit the nearby ruins of Ephesus. These ancient ruins are considered the most important in Turkey. The site of the ruins is large. Only an estimated 15% has been excavated. The ruins that are visible give some idea of the city's original splendour, and the names associated with the ruins are evocative of its former life. The theater dominates the view down Harbour Street which leads to the long silted-up harbor.

Don't miss the chance to visit the once powerful trading and religious city of Ephesus. Travel through the Magnesia Gate, the main entrance to the ancient city, and continue along marble streets grooved by chariot wheels. Gaze upon beautiful temples, porticoes, fountains and frescoes. Discover the three-story Library of Celsus, the Temple of Hadrian, the Odeum, the Fountain of Trajan and the Great Theater.

The Great Theatre was considered the most magnificent structure in the ancient city of Ephesus. It is located on the slope of Panayir Hill, opposite the Harbor Street, and easily seen when entering from the south entrance to Ephesus. It was first constructed in the Hellenistic Period, in the third century BC during the reign of Lysimachos, but then during the Roman Period, it was enlarged and formed its current style that is seen today. Being the largest in Anatolia, the theatre has the capacity of 25,000 seats.

The cavea has sixty-six rows of seats, divided by two diazoma (walkway between seats) into three horizontal sections. There are three sections of seats. In the lower section, Marble pieces, used for restoration, and the Emperor's Box were found. The seats with backs, made of marble, were reserved for important people. The audience entered from the upper cavea. The stage building is three-storied and 18 meters high. The facade facing the audience was ornamented with relieves, columns with niches, windows and statues. There are five doors opening to the orchestra area, the middle one of which is wider than the rest. This enhanced the appearance of the stage, giving it a bigger, monumental look. The theatre was used not only for concerts and plays, but also for religious, political and philosophical discussions and for gladiator and animal fights.

The Library of Celsus was built in 135 AD to store 12,000 scrolls and to serve as a monumental tomb for Celsus. It was unusual to be buried within a library or even within city limits, so this was a special honor for Celsus. Though the building itself does not have much historical significance, it is important today because it is one of the few remaining examples of an ancient Roman influenced library. It also shows how public libraries were not only built in Rome itself, but also all throughout the empire. After a massive restoration project, which is considered to be very true to the historical building, the front façade of the building was rebuilt and now serves as a prime example of Roman architecture on public buildings.

The name "Temple of Hadrian" is not entirely accurate: it is more a monument than a temple, and was dedicated to Hadrian, Artemis and the people of Ephesus. An inscription tells us that it was erected around 118 AD. The temple was partially destroyed in the 4th century, and it was during the course of restorations that the four decorative reliefs were added to the lintels of the interior of the porch.

Explore the 14th-century Turkish baths and the Isa Bey Mosque on your way to the Basilica of St. John. The Basilica of St. John (St. Jean Aniti) was a great church in Ephesus constructed by Emperor Justinian in the 6th century. It stands over the believed burial site of St. John, who is identified as the apostle, evangelist (author of the Fourth Gospel) and prophet (author of Revelation). The basilica is on the slopes of Ayasoluk Hill near the center of Selçuk, just below the fortress and about 3.5 km (2 miles) from Ephesus.

Visit the Temple of Artemis - one of the Seven Wonders of the Ancient World. A column and scanty fragments strewn on the ground are all that remains of this Seventh Wonder of the World. According to Strabo, the Temple of Artemis was destroyed at least seven times and rebuilt just as many times. Archaeological findings instead attest to at least four rebuildings of this temple, starting in the 7th century B.C. The temple served as both a marketplace and a religious institution. For years, the sanctuary was visited by merchants, tourists, artisans, and kings who paid homage to the goddess by sharing their profits with her. Recent archeological excavations at the site revealed gifts from pilgrims including statuettes of Artemis made of gold and ivory... earrings, bracelets, and necklaces... artifacts from as far as Persia and India.

Get to know the local and rural life of the Turkish people and their way of living and head to the lovely town of Sirince. It is a wonderful little Aegean village of 600 inhabitants that is located in the hills at about 1000 feet above sea level. Most of the houses in the village date from the 19th century or earlier and they were built at a time when Sirince was predominantly a Greek village. The village lies in a lovely bowl of hills surrounded by peach orchards, vineyards and olive groves.

The higher hills are covered with pine forest. Nearly all houses command a pastoral panorama extending over many miles, undisturbed by any modern development. Farming remains the principal activity. Villagers make wine and olive oil, and grow some of the best peaches in the country. After exploring the village of Sirince, stop in one of the wine houses and tase the home-made fruit wines. Then head for Tire, another interesting town about 62 miles away from Sirince.

Great Theater

Library of Celsus

Temple of Hadrian

Temple of Artemis

Next stop: Haifa

Located on the historic slopes of Mount Carmel and overlooking the beautiful Mediterranean, Haifa's terraced landscape features panoramic views of the sparkling bay and the medieval fortress city of Acre.

To the east lies the snow-capped peak of Mount Hermon. The city's terraced landscape offers a rich variety of breathtaking panoramas, giving the observer the sensation of being on a heavenly peninsula.

To the northeast, across the sparkling waters of the harbor sits the medieval walled fortress city of Acre.
An important industrial port, Haifa is Israel's northern capital and third largest city. Visitors will find a unique blend of traditional and contemporary culture. It is home to ancient temples, churches and mosques, as well as elegant hotels, shopping malls, cinemas and white-sand beaches.


Baha'i Gardens and Golden Dome

Perhaps the most popular and most visited attraction in Haifa is the magnificent Baha'I Shrine and Gardens. With its stone peacocks and eagles and meticulously manicured cypress trees, these beautiful, geometric cascading gardens were originally planned by Shogi Effendi, the late Guardian of the Faith. Recent redesigns and improvements have put these gardens on a level with some of the most magnificent horticultural marvels in the world.

When you look at the gardens, remember they were built through voluntary contributions from members of the faith; giving whatever they could for the glory of God. Most people working there are volunteers, demonstrating their love for the prophet of this age, Baha'u'allah, and his teachings of unity, equality of man and woman, respect for the environment and so much more. Pilgrimage there is a sacred duty, performed at least once in a Baha'is life wherever possible.

The gardens have three entrances, one from the top of the mountain, one in the middle which leads straight to the shrine, and the third one at the bottom of the gardens in the German Colony. After walking down the gardens it is recommended to walk around the German Colony and feel the History and see all the beautiful architecture. In the German colony in Ben Gurion ave. there is a small souvenir and gift shop which is a must.

Go too to Acre (or Akka) nearby and see the ancient walled city that was a prison in the time of the Ottoman Empire and where the Baha'i leader, family and followers were held for many years yet rose above the squalor that their oppressors thought would wipe out their faith.

Walk the main streets and by the harbour, enter the tunnels built by crusaders and the citadel where the Baha'is were first imprisoned and in the 20th century where Israeli freedom fighters were kept during the British mandate. This is a fascinating, deeply historical area of Israel.



Other Sites of Interest:

Cave of Elijah - Elijah is considered a prophet by both Judaism and Islam. The Carmelites have a tradition that they were founded by Elijah at this time. According to tradition Elijah lived in a cave on Mt. Carmel during the reign of King Ahab.

Stella Maris, a French Carmelite church, monastery and hospice. This is the founding place of the Carmelite Order, a religious order of the Roman Catholic Church. Located atop Mount Carmel, there is a hiking trail connecting it to the Cave of Elijah below.

German Colony - in 1868 members of German Templar Society (not to be confused with the Knights of the Templars) purchased land that was far from the city and set out to build the first planned agricultural community in the Holy Land.

Many of the original templar houses have preserved and undergone restoration in the last decade of XX century. Now the main street of the former colony (Ben Gurion Boulevard) is a promenade, with many restaurants and coffee shops. The City History Museum and the local Tourist Board are located here.

The Celebrity Constellation docked in Haifa

The fabulous Bahai Gardens overlooking the Mediterranean

Bahai Gardens

Marla's Note: Don't forget we will spend TWO DAYS in Jerusalem. That allows for a lot of flexibility.

Israel's capital city occupies an important place in the hearts and minds of Muslims, Christians and Jews alike.

The walled section comprising the Old City of Jerusalem is an area rich in the historical traditions of these three religions. It is home to the Church of the Holy Sepulchre, the Dome of the Rock, and the Al Aksa Mosque on the Temple Mount. The Western Wall provides the focal point for Jewish worship and stands as an enduring symbol of the Jewish homeland.

The Old City can be accessed through seven of the eight gates punctuating the ancient walls enveloping it. Within these walls are the separate quarters of the Muslim, Jewish, Christian and Armenian communities.

A dazzling array of merchandise can be purchased from the lively Arab souk (open-air market), and meandering through the narrow corridors and cobbled pavements of the ancient centre inevitably provides a feast of sensations. For an orientation of the Old City it is best to set off along the Ramparts Walk, originally designed for watchmen, or to climb the Citadel of David for a panoramic vista of the eternally fascinating city of Jerusalem.

Although famous for its many remarkable historical and religious sites Jerusalem does have more modern attractions too; the city has all you would expect in the way of amenities, shopping, restaurants and nightlife - although if you are visiting Israel primarily for these sorts of activities Tel Aviv will be more to your liking.


Temple Mount (Al-Haram al-Sharif)

Temple Mount, known by some as Mount Moriah, is a site of tremendous religious importance to Muslims, Jews and Christians alike. It is one of Jerusalem's most famous landmarks and can be found within the walled section of the Old City. The glinting golden dome of the Dome of the Rock rises impressively from Jerusalem's skyline and has become the city's most distinguishable feature.

Temple Mount is of Jewish and Christian historical importance on two accounts: the large rock is believed to be the place where Abraham offered his son Isaac up for sacrifice, and the First Temple is the place where the Ark of the Covenant is said to have been housed.

Even though off limits to Jews today, it is still a focal-point of Jewish life, and Jews worldwide face the Temple Mount during prayer. For Muslims the same rock is the place from which Muhammad, in a dream, ascended to heaven. In commemoration of this apotheosis, the Dome of the Rock was built over the site in the 7th century. It is known to Muslims as the Noble Sanctuary or Al-Haram al-Sharif, and is one of the three most important sites in Islamic culture. Also located on the Temple Mount are the Al Aqsa Mosque and the Islamic Museum, which houses a collection of Korans and other Islamic relics.


Masada

Situated in the Judean Desert and overlooking the Dead Sea, is one of Israel's most popular and remarkable tourist attractions - the mountaintop fortress of Masada.

This enduring symbol of Jewish history is the site of the heroic defence by 967 Jewish Zealots, who rose against the Roman Empire in 66 AD and took their own lives when defeat seemed inevitable. The ancient fortress which the rebels defended against Roman siege was built by King Herod on top of the plateau.

You can still explore the ruins of the ancient palaces and structures at the site and see the remains of the most complete Roman siege system in the world; the Roman camps, siege wall and ramp are still clearly visible. Masada is a UNESCO World Heritage Site and a place of profound interest for military history buffs as well as those touched by the bravery of the men, women and children who stood their ground against the Roman Empire.

A cable car ride or hike up the Snake Path takes one to the top, where breathtaking views can be enjoyed over the Dead Sea and the surrounding desert. The Masada Sound and Light Show recounts this dramatic history with special pyrotechnic effects, and takes place in a natural amphitheatre on the west side of the mountain reachable only from Arad.

The Yigal Yadin Masada Museum is also fascinating.


The Israel Museum

The Israel Museum has achieved world-class status with its remarkable collections, spanning from prehistoric archaeology to contemporary art. These include displays of archaeology from the Holy Land, a comprehensive compilation of Judaica and the ethnology of Jewish people, and a fine art collection encompassing the Old Masters and renowned contemporary works.

Perhaps the most exciting artifacts in the museum are the Dead Sea Scrolls, which date from between the 3rd century BC to the 1st century AD, and were famously discovered in a cave by a shepherd in 1947. Numerous temporary exhibitions, publications, lectures and educational activities form part of the museum's cultural program, and over 950,000 visitors are drawn to this vast complex each year.

Another great attraction of the Museum is its Art Garden, which was designed by the Japanese-American sculptor Isamu Noguchi. It is a fusion of Zen landscaping, incorporating the natural vegetation of the area such as rosemary bushes, olive and fig trees. Displayed within this picturesque setting are the famous sculptures of Rodin, Bourdelle, Maillol, David Smith, Henry Moore, Richard Serra, Sol LeWitt and James Turrell. The Israel museum is impressive and has an extensive collection; you will probably require a few hours to explore it properly.


Tower of David Citadel

The Citadel was constructed in the 1st century BC as a fortress for King Herod, and has since served as a strategic defense position of the Old City. The tallest tower of the Citadel, the Phasael, is the place to appreciate the magnificent panoramic view of Jerusalem as well as the orientation of the Old City.

The Citadel contains the excellent Museum of the History of Jerusalem, featuring fascinating displays of 4,000 years of the city's past in the courtyards and rooms of the fortress. Free tours of the citadel and museum are conducted in Hebrew on Mondays and Wednesdays at 10.30am, and in English every day except Friday and Saturday at 11am. The light and sound show held almost nightly is also a delightful way to learn about the history of Jerusalem.

In fact, the Citadel of David is a great first stop for visitors to Jerusalem as it covers the history of the city from biblical times to the present in a very accessible and interesting way. There are captions in English and Hebrew and audio guides available so you can easily explore without taking one of the tours. The citadel itself is thrilling with some fascinating architectural elements - those who struggle with steps should note that there are a lot of them at this site and seeing the place properly requires a fair amount of climbing.


The Dead Sea

The Dead Sea and its immediate environment is a landscape abundant with natural wonders. Most notable of these is the high salt and mineral concentration found in the sea's waters, that enables visitors to float effortlessly on the surface. The therapeutic properties of the black mud found in the region are formed by a mixture of sea minerals and organic elements.

For a completely rejuvenating experience, several Dead Sea spa resorts offer a range of health and beauty treatments. If you want a do-it-yourself treatment though, all you need to do is cover yourself in Dead Sea mud after your swim and allow it to dry on your body in the sun before washing it off again - your skin will feel amazing afterwards.

The water is also wonderfully warm, making swimming possible all year, even in winter. Some people complain of a stinging feeling in the Dead Sea, especially in eyes and mouths, which is simply due to the high salt content. If you have cuts and bruises they may well sting but the water is actually very good for skin ailments. Some visitors take goggles to protect their eyes but most just enjoy the floating sensation without submerging their faces.

The Dead Sea region also boasts some fascinating archaeological sites, with traces remaining of Persian, Greek, Roman and other civilizations. Notable historical locations include the notorious biblical city of Sodom that was destroyed along with Gomorra. Salt pillars emerge from this eight-mile (12km) geological ridge, located in the southern part of the Dead Sea area.


Via Dolorosa

The Via Dolorosa (Road of Sorrow), also known as the Way of the Cross, is the route Jesus is said to have followed as he carried the cross to his crucifixion. There are 14 stations along the way commemorating different events, starting at Lion's Gate in the Muslim Quarter of the Old City, where Jesus was convicted by Pontius Pilate, and ending at his tomb, inside the Church of the Holy Sepulchre within the Christian Quarter. Every Friday at 3pm priests lead a procession and prayers are said at each station.

A steady stream of pilgrims remember and honour Jesus' sacrifice by walking the Way of the Cross each year. Each station is clearly marked by a semi-circle of pavement stones with the Roman numeral of the station on the wall - some stations have additional inscriptions. There are many churches along the way, belonging to different Christian sects, and it is fascinating to enter as many as possible and compare the different interpretations of the Via Dolorosa and of Jesus.

There are also many other, more secular, attractions along the way, with shops, cafes, restaurants and other sights and distractions for those who want a less solemn religious experience. The pathway is historically unlikely to be the exact route walked by Jesus but it is a profound walk of faith for many Christians nonetheless - and an interesting cultural experience into the bargain.

Church of the Holy Sepulchre

The Church of the Holy Sepulchre is the holiest Christian site in Jerusalem - the site of Jesus' crucifixion, burial and resurrection. First constructed in 335 by Emperor Constantine, persistent damage has been inflicted on the structure over the centuries and subsequent repair-work has been undertaken by the religious communities that administer it.

The Church contains the Chapel of Golgotha and the three Stations of the Cross where Jesus was crucified. It also features the burial place of Christ. The Sepulchre marks the place of his burial and resurrection.

This incredible church it is an absolute must for Christians. It is filled with treasures and should be of great historical and architectural interest regardless of one's religious beliefs.

It is home to several different Christian denominations which all have their own styles of worship - some areas are common to all and some of the chapels are particular to certain denominations. It is important to either join a good tour or to do some research beforehand to understand the significance of what you are seeing because this is a church, not a museum, and there is not much information available at the site.

The church can get very crowded and you may have to queue for a long while to get in so it is a good idea to arrive early in the morning. Those visiting in the hope of a tranquil environment in which to pray and worship may be disappointed if they visit at a busy time. The tomb can only be entered by five people at a time so there is usually a long queue for this privilege as well.


Western Wall (HaKotel HaMaaravi)

The Western Wall, known to non-Jews as the Wailing Wall, is the most sacred Jewish prayer-site in the world.

Thousands of worshippers gather year-round to pray there, and to place folded written prayers into the crevices of the wall. The 1,916-foot (584m) wall is all that remains of the Second Temple of Jerusalem, built in 30BC by King Herod. It is made up of enormous stone blocks, and endures as a tribute to the scale of workmanship in past eras. Following Orthodox Jewish practice, the praying sections have been separated for men and women. Men are required to wear a skullcap (kippah) and women must be modestly dressed.

On Fridays, the Jewish Shabbat or Sabbath, the men's section particularly pulsates with the songs and prayers of the faithful, for in principle, the whole area is an Orthodox synagogue. The wall is also sacred to Muslims, who believe that it is where the prophet Muhammad tied up his winged horse, al-Buraq, before ascending into heaven.

For those interested in the architectural and historical aspects of the Western Wall there is an interesting tunnel tour that takes visitors through excavations along the Wall, which is much more extensive than is visible from the famous square. Be prepared to go through security and have your bags checked at the site and be aware that at some times, like when there are holy events underway, photography is not allowed.


Yad Vashem

This vital memorial to the Holocaust provides a multifaceted tribute to the millions of Jews who died during World War II. The focus of the museum is to commemorate and document the events of the Holocaust and provide ongoing research and education. The Museum's archive collection is the world's largest and most comprehensive collection of material, containing documents, photographs, films and videotaped testimonies of survivors.

These can be read and viewed in the allocated rooms - and doing so is an emotional, sobering experience. An inspiring tribute to the victims is The Hall of Names, where the names of the six million Holocaust victims are displayed. Symbolic gravestones are created from the 'Pages of Testimony', records of the biographical details of millions deceased.

Yad Vashem's library contains an impressive collection of material in many languages. The Historical Museum chronicles the history of the Holocaust, from the implementation of the Nazi's anti-Jewish policies to the mass murder of the concentration camps. The display includes photographs, artefacts, documents and audio-visual material. An important collection of Holocaust art is also displayed in Yad Vashem's Art Museum.

The International School for Holocaust Studies and Holocaust Research provides education and ongoing research on the Holocaust at both national and international levels. Other facets of the Yad Vashem experience include the Righteous Among the Nations exhibition, honouring the non-Jews who risked their lives during the Holocaust to save Jews; and the Encyclopedia of Communities, which records the historical-geographical communities of Jews destroyed or damaged during the Nazi regime.

Children under 10 are not permitted, and visitors should be aware that some may find the experience distressing.


Bethlehem

Bethlehem is just six miles (10km) south of Jerusalem, and is a major tourist attraction for pilgrims and visitors alike. The putative birthplace of Jesus, this is a charming town despite its tourist-centred commercialism. The Church of the Nativity is the focal point for a visit to the town, erected over the site of Jesus' birthplace. Bethlehem is also a wonderful place to experience the variety of Christian monasteries that represent every permutation of Christianity.

Christmas is celebrated on three separate dates in accordance with the Catholic and Western church calendars, the Eastern calendar followed by the Armenians, and the Julian calendar followed by the Greek Orthodox and Eastern churches.

For further exploration of the town's cultural diversity and to learn something about its secular history visit the Bethlehem Museum, established by the Arab Women's Union to celebrate the area's Palestinian cultural heritage. The exhibits include displays from traditional household items to clothing, jewellery and old photographs and allow insight into the domestic history of the town. The Bethlehem Museum is open Monday to Wednesday and Friday and Saturday between 8am and 5pm, and on Thursdays between 8am and 12pm.


Makhtesh Ramon (Ramon Crater)

The Makhtesh Ramon (Ramon Crater) is an extremely interesting geological site located in Israel's Negev Desert, about 53 miles (85km) south of the city of Be'er Sheva. The crater (or more properly, makhtesh) was not formed from the impact of a meteor, but is rather a geological formation unique to the Negev desert, caused by millions of years of erosion and weathering following the retreat of the ocean. These days, the vast crater is housed within Ramon National Park, one of Israel's most popular ecotourism destinations. The crater, which is shaped like an elongated heart, is a magnificent sight - and a potent reminder of the incredible age of the region. The crater is also home to a variety of indigenous plants and animals, including the Nubian ibex, striped hyena, Arabian leopard and Dorcas gazelle. There are numerous hiking trails leading down to the bottom of the crater, where you can see the ruins of prehistoric Khan Saharonim (a stop used by Nabatean traders travelling the Incense Route more than 2,000 years ago). An ideal destination for those who like their experiences of nature to be silent and expansive, there are also wonderful star-gazing opportunities (and cheap accommodation) available at the nearby town of Mitzpe Ramon.


Hezekiah's Tunnel

Yet another fascinating historical attraction in Jerusalem, Hezekiah's Tunnel is an absolute must-see for those who like to combine their sightseeing with a real sense of discovery and adventure.

The tunnel, which is about 2,700 years old, was built by Hezekiah in preparation for an attack by the invading Assyrians - he thought by shutting down the springs outside the city and redirecting the water under the city walls through a tunnel, he could protect Jerusalem's precious water supply and so outlast the invaders.

The incredible feat - the tunnel is 1,640 feet (500m) long, and carved out of solid rock - is made all the more remarkable when one learns that its middle section, which zig-zags wildly, was constructed in this way because the two teams of diggers (each operating from a different end of the tunnel) were trying to locate each other by the sound of the other's picks working against the rock. One of the very few 8th-century BC tourist attractions you can actually explore, Hezekiah's Tunnel is a wonderful place to pass a couple of hours, wandering through the bowels of Jerusalem's Old City. It is a particularly popular activity for kids, although it may not be suitable for the highly claustrophobic.

Ancient Jerusalem today

Temple Mount: The Western Wall and the Dome of the Rock

Artist rendering of ancient Jerusalem

Masada, Israel's "Alamo", an enduring symbol of Jewish courage

The Israel Museum

Tower of David Citadel

The Dead Sea

Via Dolorossa

Church of the Holy Sepulchre

Western Wall

Yad Vashem

The Dome of the Mount is in the foreground.
Bethlehem is on that hill in the distance

Ramon Crater

Hezekiah's Tunnel

Next stop: Valletta, the capital of Malta
Malta is a group of seven islands in the Mediterranean Sea. Only the three largest islands - Malta, Gozo and Comino - are inhabited. The terrain is low and rocky with coastal cliffs.
Malta, in the heart of the Mediterranean, is a melting pot of civilizations with a history stretching back thousands of years. The country has been inhabited since around 5200 BC and a significant prehistoric civilization existed on the islands prior to the arrival of the Phoenicians who named the main island Malta, meaning safe haven.

Later the islands were for centuries the seat of the Order of Knights of the Hospital of St John and then part of the British Empire.

Malta became independent in 1964 in a highly peaceful transfer of power.

The national language is Maltese, which is part of the Semitic language family that includes Arabic. English is also recognized as an official language, and many Maltese also speak Italian.
With 7,000 years of history, the Maltese Islands are steeped in culture and heritage.

This historic legacy, unique in the Mediterranean, is reflected in the country's national architecture and collections. There are so many areas of heritage and culture to be explored - the 16th century masterpiece Grandmasters' Palace, which is now parliament, the "Sacra Infermeria", which is now a fully equipped conference centre, the St. James Centre for Creativity - a superbly restored fortification where contemporary works of art are exhibited against the original rough-textured walls and rediscovered spaces. With these buildings, past and present blend into an enduring and admirable lesson in the art of living.

The arts have always played a large role in Maltese culture and continue to do so with cultural events occurring frequently. The National Museum of Fine Arts, housed in an exuberant Rococo building dating from the 1570's, exhibits some magnificent art, ranging from the early Renaissance to modern times. Both established and budding artists are encouraged to display their efforts through publicly-supported programs. There is always an exhibition of some kind running.

The walled city of Valletta

Next stop: Messina, Sicily

Sicily is an amazing island with a rich architectural and historical heritage, not to mention compelling natural beauty. It can be overwhelming in many different ways, especially for a first time visitor. The following is a list of highlights -- by no means all-encompassing -- but at least one that will serve as a guide.

Messina is just three miles off the coast of southern Italy's mainland. This bustling town has a complex history with roots in Greek mythology but because of an earthquake in the early 1900s, it's a relatively young city architecturally. Since the majority of the city has been rebuilt or refurbished within the last 100 years, you'll find the town has an interesting blend of new architecture and old styles.

For a show unlike any you've seen before, check out the world's largest astronomical clock, Orologio Astronomico, in the Piazza del Duomo. It's set in a 197-foot bell tower and when the clock strikes noon, it comes to life. As Ave Maria begins playing from a loudspeaker, the bronze mechanical figures start to move. A lion roars, a bird flaps its wings, and two historical heroines take turns ringing the bell, all before it ends with a statue of Jesus appearing from a tomb.

Other things to do in Messina include taking a walk through the Duomo, the town's main cathedral in the Piazza del Duomo. Although most of it has been refurbished in recent years, it has retained some of the original Norman-style features from 1160, when the Holy Roman Emperor Henry VI built it.

Stop and make a wish in the Fontana di Orione in the center of the piazza. The pre-baroque-style fountain was built to commemorate Messina's aqueduct and symbolized the four rivers, Tiber, Nile, Ebore and Camaro.

Spend some time in the Museo Regionale. Here you'll find an amazing collection of art rescued from the1908 earthquake, including pieces dating back to the 13th century.

Mount Etna

If you are more adventurous, a trip to Mount Etna is a highlight for any visitor to this area. Enjoy a scenic ride to Europe's largest active volcano. While en route, enjoy the delightful countryside of vineyards and orchards. The winding road up the slope passes through vast lava fields to the Silvestri Spent Craters, almost 6,000 feet above sea level. There you will be able to walk along the brim of these craters. You can see remnants of past eruptions. The road cuts among streams of solidified lava -- a black, petrified river flowing from the top of the mountain. More than 130 eruptions have been recorded since the 4th century BC; the most recent one occurred in 2002. The descent offers awe-inspiring views of volcanic cones and streams of hardened lava. Although the best views of the actual peak of Mt. Etna are from the distance of many miles, a closer inspection of its powerful destruction cannot help but impress any visitor.

Taormina

Take a tour to the well-known resort community of Taormina renowned for its beautiful setting. It is perched on a mountainside on the West Coast of Sicily.

Stop below the village of Taormina before proceeding uphill to the village gates. Upon reaching Taormina, you'll walk past the ancient village's many squares and see the small boutiques located along the Corso Umberto. Here you will find the "essence of Sicily," Taormina. Built in the 3rd century BC, the city was later almost completely renovated by the Romans. Taormina is perched on a terrace overlooking the sea. It's medieval character will delight you. Near the center of Taormina, you will find cobblestone streets to Palazzo CORVAIA, a 15th century building adorned with classic double windows. Proceed to the impressive Greek Theater, built in the 3rd century BC. Renowned for its width and for its unique acoustic qualities, it is still used for open-air concerts. Weather permitting; you will have an impressive view of Mt. Etna.

Enjoy the busy main street with its numerous shops and cafes and to savor the charm and atmosphere of this small medieval town with its palaces, squares, staircases and small side alleys.

Idyllically perched on a rocky promontory high above the sea, Taormina has been the most popular tourist destination in Sicily for a couple of hundred of years, ever since it became an integral part of the Grand Tour. Beautifully restored mediaeval buildings, breathtaking views around every corner and a giddy network of winding streets strewn with shops, bars and restaurants make for a perfect holiday spot.

Taormina's past is Sicily's history in a microcosm: Greeks, Romans, Byzantines, Arabs, Normans, Swabians, the French and the Spanish all came, saw, conquered and left.
Tauromenium, built on Monte Tauro, was founded by Andromacus at the behest of Dionysius the Tyrant of Syracuse in 392BC. The first Punic War saw Taormina falling to the Romans in 212BC and the town became a favorite holiday spot for Patricians and Senators, thus starting Taormina's long history as a tourist resort

After the fall of the Roman Empire, the Byzantines came only to be ousted by the Arabs in 962. They changed the name to Almoezia and set about introducing new agricultural practices (irrigation and citrus fruit farming) and other more cerebral pursuits such as philosophy, medicine and mathematics. Taormina continued to prosper both culturally and economically with the arrival of the Normans in 1079, who, under King Roger de Hautville, threw the Arabs out of Sicily.

After a brief period of Swabian rule, under Frederick II, Charles of Anjou was pronounced King of Sicily by the Pope. The people of Taormina refused to recognize this interloper as their king and, along with a great many other Sicilian towns, joined in the revolt against French rule during the Sicilian Vespers of 1282.

A hundred years of uncertainty followed before the Spanish took over affairs. Evidently impressed with Taormina, they chose Palazzo Corvaja as the seat of the Sicilian Parliament.
The rest, as they say, history.

Today, Taormina lives on tourism. Visitors flock from all over the world to see its Greek-Roman theatre, to amble along its perfectly preserved Mediaeval streets, to admire its dramatic views of Mount Etna and to immerse themselves in the archetypal Mediterranean atmosphere.

The main attraction is, without doubt, the theater. Now home to all manner of events, including plays, fashion shows, concerts, and cinema festivals, the Teatro Greco, as its name suggests, started its life in the 3rd Century BC hosting performances of works by Aeschylus, Sophocles, Euripides and Aristophanes. Originally quite small, it was enlarged by the Romans to accommodate their own particular brand of theatrical extravaganza. The views from the theater are spectacular, taking in a (usually) smoking Mount Etna and the Bay of Naxos down below.

Another testimony of Taormina's ancient origins is the Odeon. Right in the middle of the old Roman town, just below Palazzo Corvaja, this small theater was built by the Romans when the town became a military colony in 21BC. It was used both for theatrical and musical performances organized for the cream of local society. Strangely, at some point it disappeared, only to resurface again in 1892 when a blacksmith hit upon something that turned out to be red bricks while digging his land. He dug a little deeper and called in the experts who uncovered first the cavea, then the orchestra and finally the scene.

Taormina is centered around its main thoroughfare, Corso Umberto I. At the beginning of this charming street is perhaps the greatest symbol of Taormina's long varied history: Palazzo Corvaja. Its architecture is a sublime mix of Arab, Norman and Gothic and includes battlements, mullioned windows and shady courtyards. The Arabs built the original tower as part of the town's defenses. Its cubic structure, which is typical of many Arab towers of this period, is thought to have evoked that of the Ka'aba in Mecca. In the 13th Century the tower was enlarged by the Normans who added a wing containing a hall and some wonderful artwork. The Spanish followed suit, adding another wing at the beginning of the 15th Century to house the Sicilian Parliament. Its present name recalls one of the town's most important noble families who owned the building from 1538 to 1945.

For the first half of the 20th Century, until after the 2nd World War, Palazzo Corvaja became a kind of lodging house for poor families and fell into disrepair. After the war it was restored to its former glory and in 1960 another section was added to house the local tourism offices. The main part now houses the Sicilian Museum of Art and Popular Traditions.

At the other end of Corso Umberto I is Piazza del Duomo, complete with 13th Century Cathedral and Baroque fountain. As with many churches of this period in Sicily, the Duomo, dedicated to Saint Nicholas of Bari, has a distinctly fortress-like quality thanks to its robust structure and the battlements that delineate the roof. Its Renaissance doorway belies an essentially Gothic interior complete with a rose window at the west end.

Taormina is served by its very own cable car which ferries tourists to and from the seaside resorts down along the coast. Extensive beaches, rocky coves, tiny islands (such as the famous Isola Bella) and sea stacks abound, making this enchanting coastline a firm favorite with Sicilians and visitors alike.

Mount Etna, Sicily

Taormina Overlook

Taormina Town Square

Sicilian countryside

Taormina

Taormina

Next stop: Naples
Naples is not only picturesque, it's also one of the world's greatest cultural centers, filled with extraordinary works of art and architecture in the classical Greek and Roman styles. It is the third most-populated city in Italy and the biggest city in Southern Italy. Its name comes from the Greek Neapolis meaning new city. Its close proximity to many interesting sites, such as Pompeii and the Bay of Naples, makes it a good base for exploring the area. Naples is a lively and vibrant city, full of wonderful historical and artistic treasures and narrow, and winding streets with small shops.

Naples is in the region of Campania in Southern Italy, about 2-hours south of Rome. It sits on the coast on the northern edge of the Bay of Naples, one of the most beautiful bays in Italy. Its harbor is the most important port in Southern Italy.

Pizza, one of Italy's most famous foods, originated in Naples and pizza is taken very seriously here. You'll find lots of great pizza places but be sure you look for one with a wood-burning oven! Spaghetti also became popular in Naples and today the best is with clams or mussels. Seafood is abundant and very good in Naples, too.

Top attractions in Naples include the National Archaelogical Museum, Duomo, Spaccanapoli district, shopping, the harbor, castles, and other museums and of course a visit to Pompeii.

The National Archaeological Museum of Naples, Museo Archeologico Nazionale di Napoli, has one of the world's best collections of Greek and Roman antiquities, including mosaics, sculptures, gems, glass and silver, and a collection of Roman erotica from Pompeii. Many of the objects come from excavations at Pompeii, Herculaneum, and nearby archaeological sites. The Naples archaeological museum is one of Italy's top archeology museums and a Naples must-see site. Highlights include:

Mosaics - Covering the period from two centuries BC until the eruption of Vesuvius in 79 AD, most of the mosaics are parts of floors or walls from Pompeii, Herculaneum, and Stabiae. many have figures from Greek paintings. The most well-known are the mosaics from the House of the Faun in Pompeii.

Secret Cabinet - This room was created in the early 1800's to house the museum's many sexual items. It was closed for many years but reopened in 2000. Visitors must be at least 11 years old.

Frescoes - Most of the frescoes come from walls in Pompeii. Covering a period of about two centuries, the frescoes are excellent examples of Roman painting. They cover a variety of themes, including mythological, landscapes, and scenes of daily life.

Temple of Isis- A special exhibit holds wall painting removed from the temple of Isis in Pompeii as well as artifacts from the temple.

Pompeii Model - Made in the 19th century, the model of Pompeii is very detailed and helps the visitor visualize what it looked like before the eruption.

Sculptures - The museum has a huge collection of Greek and Roman sculptures, many of them Greek and Roman.

Coins and Metals - Six rooms containing more than 200,000 coins and medals from Ancient Greece, Rome, medieval times, and the Bourbon era.

Pompeii

While you're in the area, you'll want to visit Pompeii, one of the most famous excavation sites in the world. A thriving city 1900 years ago, it was devastated by the eruption of Mount Vesuvius in 79 A.D. when 30 feet of volcanic ash and pumice stone cover it. The ruined city of Pompeii, now dug out from the layers of dried lava that once swept through it, brings to light the life of 19 centuries ago and has sparked the imagination of the world.

Numerous myths have surrounded Pompeii, one of which is that a completely intact city was rediscovered. Actually, the Pompeians (that is, those who escaped) returned to their city when the ashes had cooled and removed some of the most precious treasures from the resort. But they left plenty behind to be uncovered at a later date and carted off to museums throughout Europe and America.

After a long medieval sleep, Pompeii was again brought to life in the late 16th century, quite by accident, by architect Domenico Fontana. However, it was in the mid-18th century that large-scale excavations were launched. Somebody once remarked that Pompeii's second tragedy was its rediscovery, that it really should have been left to slumber for another century or two, when it might have been better excavated and maintained.

Pompeii is the most important classical archeological site in Europe. Its wealth of monumental buildings is unmatched, as is its collection of mosaics and wall-paintings. But its architecture and art didn't exist in a void; they were the framework for a thriving commercial town where 20,000 people lived, traded, ate, drank, worshipped and frequented brothels.

Be sure to look for The Duomo. It is a 13th century Gothic cathedral dedicated to Naple's patron saint, San Gennaro. A huge festival is held when a vial of his blood is taken out of its storage place in hopes that it will liquefy. On one side of the duomo is the 4th century Basilica Santa Restituta (the oldest church in Naples) with columns believed to be from the Temple of Apollo, good ceiling frescoes, and archaeological remains from the Greeks to the middle ages. The 5th century baptistery has good 14th century Byzantine-style mosaics.

Spaccanapoli is one of the main streets crossing Naples and is the heart of the historic center. Teeming with people, the street holds many interesting churches, shops, and other buildings. The Spaccanapoli district is a string of narrow, winding streets and is mainly a pedestrian zone so its a fun place to wander around. Via San Biagio dei Librai, in Spaccanopoli, has some of the best antiquarian book dealers in Italy, terracotta religous and nativity figurines, and a doll hospital. Via San Gregorio Armeno is famous for its nativity workshops.

Mount Vesuvius and the tragedy of Pompeii

Next stop: Rome
THE MYTHICAL & MYSTICAL
ISLE OF CAPRI

The entire Mediterranean Sea was the domain of the ancient Greeks. In particular, Homer's Odyssey refers to all sorts of wild and exotic places where his hero Odysseus wandered to during his difficult journey home following the Trojan War.

At one time Homer's Iliad and Odyssey was dismissed as pure fantasy. However, the surprising discovery of ancient Troy gave renewed credence to Homer's legends. Since then, modern scholars have gone to the trouble of speculating what Mediterranean landmarks might have corresponded to places referred to in the Odyssey.

For the example, the narrow strait between Messina and Italy is said to have been the home of the terrifying monsters Scylla and Charybdis.

Scylla was a monster that lived on one side of a narrow channel of water, opposite its counterpart Charybdis. The two sides of the strait were within an arrow's range of each other — so close that sailors attempting to avoid Charybdis would pass too close to Scylla and vice versa. There was no room for error; any mistake meant doom.

The idiom "between Scylla and Charybdis" has come to mean being trapped between two dangers, choosing either of which brings harm.

So if this danger spot has been associated with the Strait of Messina between Italy and Sicily, what role might Capri have played in the Odyssey?

The rugged cliffs of the Isle of Capri make it very easy to believe this stunning island was exactly where the seductive sirens called and sang to Odysseus' sailors. The Siren's song was so beautiful it lured men too close to the shores. Many ships met their end on the rocks of the island.

To prevent his men from being shipwrecked, Odysseus had the sailors ears plugged with wax. As for himself, he was determined to hear the song of the Sirens. He had himself tied to the mast and warned the sailors not to untie him no matter how much he begged. Although Odysseus nearly went mad with temptation, he was able to live through the strange ordeal.

And that's how the cunning Odysseus and his crew managed to escape being shipwrecked on the Siren's island and imminent death.


Marla's Note:

Our stop in Naples will definitely be one of the highlights of the trip. It will also create a massive headache for our guests:

Do I visit Mt. Vesuvius and Pompeii?

Or do I go see the wonderful beauty of the Amalfi Coastline?

Or do I visit the stunning Isle of Capri?

These are questions I cannot answer for you, but I will say that Rick and I choose "Capri" when we came to Naples on our 2009 Barcelona cruise. I can add that Capri is just as beautiful as everyone says it is. And yes, the women wear nothing but Capri's day and night (just kidding).

Below is the research I did for the 2009 trip. And don't let me forget to point to the extensive story Rick wrote about our visit.

Rick and Marla Capri 2009

The Isle of Capri
Written by Marla Archer

Italy's most romantic getaway, the Island of Capri is one of the most scenic islands in the world. Beautiful whitewashed luxury villas draped in bougainvillea, rugged cliffs extending down to the sea and ancient alleyways through medieval villas, Capri's blissful attributes are enchanting.

The Isle of Capri is only accessible by boat. This little island on the Bay of Naples near the Amalfi Coast attracts glitzy jet setters that flock to the Piazzetta, just as Jackie Onassis and Audrey Hepburn did when they helped popularize the island in the 1950's and 60's.

Many of you have heard of Capri Pants. Capri Pants ("capris") are a style of pants usually worn in warm weather.

Capri pants were first designed by European fashion designer, Sonja de Lennart in 1948. Thanks to the jetset crowd, they grew in popularity during the Fifties throughout Europe. Capris became popular in the United States during the 1960s, largely due to the influence of the popular television series The Dick Van Dyke Show. The character of Laura Petrie, the young housewife played by Mary Tyler Moore, caused a fashion sensation – and some mild controversy – by wearing snug-fitting capri pants during the show's run.

The Piazzetta

The legendary Piazzetta opens out on to a fabulous view of Monte Solaro. The Piazzetta is the center of the island of Capri for tourists and locals alike. All those arriving in Capri have to pass through the narrow passages left between the tables outside of the various bars.

In the courtyard of the town hall there is the trunk of a column and a fragment of a circular marble base, discovered in the 1920's during the construction of the port, and probably belonging to the Villa Augustea of Palazzo a Mare. The Piazzetta was the center of local life, where vegetable and fish markets were held and, where, very infrequently considering the rarity of the product in times past, meat was sold. It was not until 1938, when the young Raffaele Vuotto decided to place a few tables in the square, that the Piazzetta began to take on a more fashionable appearance. From that moment onwards the Piazzetta became the focal point of island social life, which had previously been carried out predominantly in the town's hotels and in private houses.

The Faraglioni Rock Formation

The island of Capri is also home to mysterious natural wonders. and the massive rock formations of Faraglioni. The Faraglioni are three blocks of rock that have survived coastal landslides, erosion by the sea and all manner of atmospheric corrosion. The rocks have each been given a name: the first, still attached to the land, is called Stella, the second, separated from the first block by a stretch of sea; Faraglione di Mezzo and the third, Faraglione di Fuori or Scopolo, in other words the head or promontory stretching into the sea. The Faraglione di Fuori is the habitat for a famous species of blue tinted lizard, the Lacerta viridens faraglionensis, and is the only place where it can be found. It is thought that, following the separation from the mainland; a sort of protective chromatic adaptation resulted in the lizards' scales assuming the blue tones of the sea and sky. The height of the Faraglioni is, on average, 100 meters. The Faraglione di Mezzo is characterized by a cavity, a natural tunnel that has become famous throughout the world.

Blue Grotto

The renowned Blue Grotto is an incredible underground sea cave that continues to amaze visitors with its brilliant almost iridescent waters. Capri's Blue Grotto is known throughout the world for its size, the intense blue tones of its interior and the magical silvery light that emanates from the objects immersed in its waters. Visitors to the Grotta Azzurra can arrive either by bus or taxi from Anacapri; or by boat from Marina Grande in one of the tour boats that stop at the entrance of the cave during the trip around the island. In order to enter the Grotta Azzurra visitors climb aboard small rowing boats, with a capacity for two, maximum three, passengers and, lying on the bottom of the boat, enter the low and narrow mouth of the cave.

Entrance to the cave is not possible in the presence of south westerly and mistral winds. A small natural opening in the rocky wall forms the entrance to the Grotta Azzurra, roughly 2 meters wide and 2 meters high. The roof of the entrance is situated approximately 1 meter above the level of the sea and, for this reason; passengers are obliged to lie down in the boat whilst passing in to the cave. The boatman sets down his rows and maneuvers the boat inside with the aid of a chain attached to the vault of the entrance.

The Blue Grotto's interior is effused with magnificent blue tones. The vault, known as the Duomo Azzurro, has an average height of 7 meters rising to 14 towards the back of cave. The erosion cavity is approximately 60 meters long and up to 25 meters wide. The cave continues with the Galleria dei Pilastri, three connecting branches which flow into the Sala dei Nomi, the name of which was inspired by the numerous signatures left by visitors on the walls of the cave. Then there is the Passaggio della Corrosione, and the Sala della Corrosione, the furthest accessible point. The blue coloring of the Grotta Azzurra is created by the daylight, which enters via an underwater opening located immediately below the entrance to the cave.

The light is filtered by the water, which absorbs the red tones, leaving only the blue ones to pass into the cave. A second phenomenon creates the silver appearance of the objects immersed in the water: given that the index of refraction of the bubbles of air which adhere to the surface of the objects is different to that of the water, the light is allowed to egress. It is believed that, in the Roman period, under the rule of Tiberius, the interior of the Grotta Azzurra was used as a marine nymphaeum.

There have been those who imagined the cave as the habitat of Nereidi or of Sirens or believed it to be the realm of devils that bewitched all who dared to enter.


The Tragara Hike

Great history, nature, and culture have made Capri one of the most desirable tourist destinations of all times. Capri has followed a really unique path, from Roman emperors villas to soul-travelers, and intellectuals of '800 and beginning of '900, up to the worldly holidays of the international jet set during the Fifties (which made it famous all over the world.) Capri is full of natural beauty and charm.

Tragara is the most famous and best liked walk in Capri. Via Tragara is a road of ancient origins built in Roman times, now a favorite route along which tourists stroll and the address of a number of luxurious villas.

There are many elegant villas scattered along the way. A walk not to be missed is to the left, at the end of Via Camerelle. There is a steep but short path that leads to Via Tragara, a road that dates back to Roman times. The road is flat and well kept, lined with hotels, high-class restaurants, and magnificent villas, of which passers-by can catch only a glimpse of the entrances amidst the lush vegetation that screens the property from indiscreet eyes.

Buildings of particular note along Via Tragara include the German Evangelical Church, built in typical transalpine style and most unusual for Capri; Villa Discopoli, residence of the writer Rainer Maria Rilke; Villa Lo Studio where the poet Pablo Neruda stayed, and the Hotel Punta Tragara, said to have been designed, if only in part, by the architect Le Corbusier.

Via Tragara ends with a panoramic terrace with a fabulous view over the Faraglioni rocks. To the left you can see a part of the Amalfi Coast and to the right, you can see houses clinging to the slopes, the castle-topped Monte Castiglione, Monte Solaro and the bay of Marina Piccola. From Tragara belvedere, you can enjoy a wide view of the island's southern side. You will see Marina Piccola that over hangs the steep face of Mount Solaro, including the big opening of the Fern's Grotto in the center.

Monte Solaro is the highest part of Capri, towering 589 meters above sea level, and boasting a 360° panorama of the island of Capri. Monte Solaro is also called "Acchiappanuvole" or "cloud catcher" after the thick blanket of fog, which forms around the summit, especially at dawn, when the thermal difference between the sea and the rock is accentuated. The warmer, damper sea air condenses in a dense mist on the ground, the temperature of which has notably diminished during the night. Where its path is obstructed, the vapors rise upwards generating a characteristic crown of clouds. This phenomenon also occurs in the evening, especially in the autumn. The wind clears away parts of cloud, randomly revealing various segments of the beautiful island landscape below.

The Tragara Hike takes you to the top of Monte Solaro. The summit of Monte Solaro can be reached by foot in approximately an hour and a half. However, for the footwork-challenged, as an alternative, visitors can take the chair lift, thereby arriving at the peak in just 12 minutes.

Here one finds the ruins of the Fortino di Bruto built at the start of the 1800's, in the period of the battles between the English and the French. In the distance one can identify the mountains of Calabria, the Pennines and the Amalfi coast, the Sorrentine peninsula, the Gulf of Naples, and the islands of Procida and Ischia.

At Cape Massullo, the wildest area of the island, we find Casa Malaparte. It was the residence of the Tuscan writer Curzio Malaparte, who called it "Casa come me". Malaparte's house is really a unique architectural event in Capri context. It doesn't follow any of the island building manners, it doesn't do anything to camouflage into surroundings and nevertheless we can't imagine any other place where it could have been built. So much it had entered into collective way of viewing that it is considered an integral part of the landscape: in fact this area is simply called "at Malaparte's" by people from Capri.

On the northwestern promontory of the island, overhanging two capes of Vertereto and Arcera, we find another Roman imperial villa called 'Damecuta', name of unknown provenance that also indicates the whole headland's area. For its outstanding, solitary and defensive position, it recalls Villa Jovis and is probably another Villa by Tiberius. From Damaecuta you can enjoy a long range of vision towards the gulf especially Cape Miseno and Phlegraean islands.

Visitors to Capri are often surprised by the quantity and variety of walking routes on such a small island. Along these pathways, tourists can choose to immerse themselves in the authentic atmosphere of a coastal village, inhabited by fishermen and sailors; explore the marine caves; walk through masses of sheer rock and peer over precipices which drop dramatically into the sea; saunter through the patches of land cultivated by the country dwellers, planted with olive groves and orchards of lemon and orange trees; or stroll through the center of Capri with its ostentatiously luxurious boutiques, elegant hotels, artists studios, churches, and the remains of Roman villas.

One of the magical things about Capri is that, even in peak season in August, when the roads are crowded with tourists, one can always find a solitary spot in which to rest, or a hidden bay where to take a romantic swim in the crystal clear waters.

The enchanted Isle of Capri is indeed a magical place to visit for a day because so much beauty can be seen wherever your feet wish to take you!

And now here are some pictures that will give you an idea of what you will see when you visit Capri!

The Piazzetta

The massive rock formations of Faraglioni

Blue Grotto

Tragara Hike

Restaurant at the top of the Tragara Hike

Fortino di Bruto

The island of Procida as seen from Monte Solaro



Marla's Note:

Our cruise

ship does not actually dock in Rome but rather the port of

Civitavecchia

about 40 miles northwest of downtown Rome.

There are high-speed trains that take cruise passengers from the ship into Rome or to Rome's airport. The trip is about an hour long.

Rick and I have visited Rome twice previously and consider this magnificent city an old friend. We welcome the opportunity to return again; there is always something exciting to see in Rome. In my opinion, no other city in the world has so much history standing right in front of your eyes like Rome does.

Rick and I will undoubtedly stay two more days after our Istanbul. I am certain we will return to Vatican plus Rick has offered to lead a walking tour through Rome. On our first trip to Rome, we discovered that many amazing locations are all within a day's walking distance of each other. So we intend to take that walk again.

In addition Rick has promised to protect everyone from the twin dangers of gelato rip-offs and gladiator picture scams. Although these modern scourges are every bit as dangerous as Scylla and Charybdis from Greek mythology, Rick believes if we spot the dangers soon enough, surely we can avoid them.

Whether it's the Forum, the Sistine Chapel, the Pantheon or St. Peter's Basilica that sparks your interest and intellect, Rome is home to a lifetime's worth of historical, architectural and spiritual sites. Depending on traffic, the drive from Civitavecchia to Rome takes approximately an hour and a half.

Experience the history of Rome as you wander around the Colosseum, one of the most important monuments of ancient Rome and the Roman forum. A masterpiece of classical architecture, the Colosseum is an enormous amphitheater where gladiators, Christians and wild beasts once battled to the death in front of 55,000 spectators. Upon completion, spectacular 100-day celebrations were organized as part of the opening ceremony in 72 AD. Its name is believed to come from Nero's enormous statue of Colossus that stood close by.

The Forum was designed to be the centre of social, political and economic life in the city. The innumerable remains include the well-conserved triumphal arch of Emperor Septimius Severus, with reliefs depicting his victories and the base of the Temple of Saturn with its eight columns and their splendid Ionic capitals. The 'Rostrum' is the famous platform from which Mark Antony gave his oration in Shakespeare's play after Julius Caesar's assassination. The platform became the setting for many important events in Rome's history. It was named the 'rostrum' after the bows of the ships that form the decorative motif. The Temple of Vesta was the home of the Vestal Virgins, charged with keeping the sacred flame alight. The circular foundations still remain, near to a garden in which traces of the House of the Vestal Virgins can still be seen. The Basilica of Constantine and Massentius was used as the court, and the three remaining barrel-vaulted naves give an idea of its gigantic structure. The Arch of Titus celebrates victories in Judea, and in the reliefs you can see the spoils of war, including an altar and a seven-armed chandelier. Admission is free; guide tours in English cost EUR3.20

Be sure to visit the Vatican Museum, where you can walk through the many rooms that house the largest art collection in the world. The Vatican is among the most important historical sites in the world. The seat of the Holy Roman Catholic Church, The Vatican is also the home of the Pope. As the smallest state in the world, the Vatican has figured in key events throughout history. Occupying about one half kilometer of Rome, The Vatican is further significant because of its fabulous architecture, religious, and artistic treasures.

It was Pope Julius II della Rovere in the 16th century who commissioned Michelangelo to paint the history of creation on the ceiling of the Sistine Chapel. Among countless other notable events in the history of this important city are the convening of the College of Cardinals, at the death of a reigning Pontiff, for the purposes of electing a new Pope. No visit to Rome is complete without an excursion to The Vatican, a place so steeped in history and tradition that you will never forget it.

Travel through the magnificent St. Peter's Basilica, the largest church in the world. . Construction began in 1452 on the site where St. Peter was buried and took over 100 years to build. It rests on 800 pillars and is littered with 44 altars. During the next 200 years, such famous masters as Bramante, Michelangelo, Raphael and Bernini worked on its design and created an unparalleled masterpiece. View Michelangelo's "Pieta" and the 85-foot-high Bernini Pulpit. Admire one of the many masterpieces created by Michelangelo, the famous statue of Moses. This majestic bearded figure is depicted holding the tablets of the Ten Commandments.

If this is your first visit to Rome time, you must take in the Sistine Chapel. It is considered a masterpiece of Renaissance art. Dominating the chapel is Michelangelo's ceiling paining of the "Creation of the World.". The Sistine Chapel receives 50 million monthly visitors. The Chapel was built somewhere between 1477 and 1481 by Pope Sixtus IV. From 1480 to 1483, famous artists of Renaissance, such as Botticelli, Perugino, and Ghirlandaio, decorated the walls. After twenty years, Julius II commissioned Michelangelo to decorate the ceiling in 1508. Today, after the restoration, tourists can visit the chapel and see Michelangelo's "Last Judgment." You will invariably find the Sistine Chapel crowded with hundreds of tourists, so be prepared. The best way to see it is to go to the Vatican Museums early, so that you're among the first in line when they open. Silence should be observed and photography is not prohibited.

The Pantheon was commissioned by Marcus Agrippa, restored by Domitian, and subsequently rebuilt by Hadrian (who added the dome) before being turned into a church in the early 7th century by Pope Boniface IV. The building's sole source of light is the opening at the dome's apex (the oculus); according to popular legend, this formed the base for the bronze pinecone that is now in the Vatican's 'Pigna' courtyard, where it is used as a fountain. Many famous Italians are buried in the Pantheon, including Renaissance painter Raphael and King Vittorio Emanuele I.

No visit to Rome can be complete without a stop at the Fontana di Trevi. Tradition has it that throwing a coin over your left shoulder into the fountain guarantees a swift return to the world's most beautiful city. Anita Ekberg's dip in it was immortalized in Fellini's 'La Dolce Vita', and Italian actor Toto even sold it to an American, passing himself off as its owner. Earlier it was the setting for the award-winning "Three Coins in the Fountain" motion picture, ensuring its popularity worldwide. Designed by Nicola Salvi for Pope Clemente XII, it was completed in the second half of the 1700s. The statues in the centre represent Neptune supported by Tritons on either side while rococo-style Poli Palace provides the perfect backdrop.

If time permits, take a visit to Trastevere. This area of Rome was originally built to be a city port where storehouses held goods at the time of Augustus and continued to do so until the end of the 19th century. Trastevere then became a downtown market residential quarter and has now developed into a very desirable quarter. The heart of the district is Piazza di Santa Maria in Trastevere with its lovely church, a 17th century palazzo and a fountain in the middle which is probably Rome's oldest, having been designed by architects such as Bernini, Fontana and Della Porta. There are still some well-conserved medieval houses

If you have the extra time, explore the flavors and history of Etruscan Italy. Pre-dating the Roman Empire, the Tuscia region has been the cradle of the Etruscan civilization and is evident in hilltop Tuscania, with its roots dating from the 9th century B.C., contrasting with the Renaissance gardens, fountains, pavilions and maze of Villa Lante.

Rome isn't the only place to visit Italy. Hardly. Leaving the port area and heading north from Civitavecchia, you will view the warm colors of the Etruscan countryside. If you get the chance, make your way to Bagnaia. Stop by and appreciate a visit to the Renaissance gardens of Villa Lante. To create these beautiful gardens, one of the greatest architects of the time, Vignola, was called upon. Fountains, pavilions and a box-tree maze were all combined to create a peaceful yet playful atmosphere.

Walk through these inspirational and often whimsical gardens, taking time to enjoy the serenity and beauty of the setting. Then proceed to the lake of Bolsena and stop for views of the lake and the islands Bisentina and Martana Standing at the top of a rocky hill overlooking the Maremma region, Tuscania's Etruscan and Renaissance buildings have been beautifully restored and still reflect the Etruscan history. Walk through the narrow cobblestones lanes of this charming village and take in the views of the surrounding valleys.

Be sure to take plenty of Euros. The euro is the currency of the European Union and the official currency in Italy. Many stores and restaurants accept major credit cards, which usually offer a good exchange rate. When shopping remember there is a value-added tax to most purchases.

One more thing. Rick has written two extensive stories about our previous visits to Rome. If you get the chance to read them, you will come to realize Rome is an unusually fascinating place to visit... and maybe a bit challenging as well.

You will soon learn Rick has gotten into more trouble in Rome than all our other 30 cruises combined. If you ever want to irritate him, just whisper "Evil Map of Rome".

Fortunately, I think he has the place figured out now, but if he doesn't, I do. Our previous experience should come in handy in case you have any questions.

Marla Archer
713-862-4428
marla@ssqq.com


Victor Emanuel Monument

Roman Coliseum, one the new Wonders of the World

Castle Saint Angelo

View from the Basilica

Villa Borghese Grounds

St Peter's Basilica

The Roman Coliseum

The Trevi Fountain