THE ROAD TO MOSCOW 2020





Moscow-St. Petersburg River Cruise Itinerary




June 10:

Day

0

1

Wednesday

Arrive Moscow

June 11:

Day

02

Thursday

Moscow

June 12:

Day

03

Friday

Moscow

June 13:

Day

04

Saturday

Scenic cruising Moscow Canal

June 14:

Day

05

Sunday

Uglich

June 15:

Day 06

Monday

Yaroslavl

June 16:

Day 07

Tuesday

Kuzino and Volga-Baltic Waterway

June 17:

Day 08

Wednesday

Lake Onega and Kizhi

June 18:

Day 09

Thursday

Mandrogy, Svir River,
Lake Ladoga, Neva River

June 19:

Day

10

Friday

St. Petersburg

June 20:

Day

11

Saturday

St. Petersburg

June 21:

Day

12

Sunday

St. Petersburg

June 22:

Day 13

Monday

Depart St. Petersburg
| | | |
| --- | --- | --- |
| | From Russia With Love | |
A Note from Rick Archer:

Marla and I invite you to join us on the Road to Moscow, an exciting adventure deep into the heart of Holy Russia. Hopefully we will have better luck than Napoleon or Hitler, two warmongers who famously failed to conquer Russia despite overwhelming military superiority.

Our trip is quite unusual, a combination land cruise and river cruise. Using our Viking riverboat as a floating hotel, we will dock on the Moskva River in the middle of Moscow. We spend three complete days exploring Moscow by bus and on foot. Behold the stunning St. Basil's Cathedral, the imposing Kremlin, and the vast Red Square. If we are fortunate, perhaps Vladimir himself will come out and greet us. Don't worry, if you get lost, the secret police will help you find your way back to the ship.

After Moscow, our riverboat takes us on a long 600 mile journey up the celebrated Volga River. By comparison, last year's 'Dracula on the Danube' cruise was a mere 400 miles. During our 7 day trip on the Volga-Baltic Waterway, we will visit 5 small towns. Small towns, you say? Here the idea is to see Russia as it really is, not just what you read in the glamorous travel guides. This is our chance to see with our own eyes what the Russian people are really like, not just what we are told to believe.
Our final stop takes us to fabulous St. Petersburg. Here we see Peterhof Palace, the Versailles of the North with its gold-capped roofs and elaborate fountains. Other highlights include the amazing Hermitage art museum, a chance to float down the Venice-style canals, plus a night of Russian ballet.

Somewhere along the trip, Marla and I will organize Vodka Night. Once we have no idea what time it is, we will play silly games and sing sad songs. The highlight of the evening will be a chance to sing 'Those Were the Days, My Friend' ('We thought they'd never end').

Originally a Russian folk song, 'Those Were the Days' evokes the same themes as Auld Lang Syne. It is a touching tribute to the importance of remembering old friends and sharing good times together.

Vodka Night Photos will be verboten. Since we deserve to get smashed in privacy, Violators will be thrown in the Volga never to be seen again.

So why are we going to Russia? Because it is NEXT RIVER on our list! We've done the Rhone, we've done the Rhine, and we've done two sections of the Danube. One by one, Marla intends to cruise all the major rivers of the world. And why is that?
Because River Cruises are wonderful!

People ask me how a river cruise is different from an ocean cruise. Having been on five previous river cruises, the most obvious difference is the view from your room. A balcony view on an ocean cruise is like a screen saver. You see the same ocean all day long. Not so on a river cruise. There is always something new to see out your window... mountains, castles, vineyards, forests, rolling countryside, farms, villages.

A river cruise is like taking a long cross-country trip in an RV, except that we use a river as our highway. Rivers are much better than highways. No traffic, no billboards, no noise. Very pleasant, very relaxing. Beauty and peace abound.

There are those who worry about getting seasick. Not a problem on a river cruise. These inland rivers are smooth as glass.

Worried about your ship sinking? Don't bother. If there's a fire or some problem, jump in the water and dog-paddle to shore ten feet away. In some places the river is shallow enough that you can even walk to safety, then brag about your courage later.
Another difference between a river cruise and an ocean cruise is highlight reel versus in-depth study. An ocean cruise is like a tasty buffet. You spend four hours and its back to the ship

I remember the time Marla and I got to spend four hours in Paris on an ocean cruise. You see the Eiffel Tower, a little of this, a little of that, take some pictures and, poof, they whisk you away. Trust me, you cannot appreciate Paris in just four hours.

A land trip, say a trip to Italy, is a little closer to the river cruise experience. On a land trip, you immerse yourself in one area. However, there are some drawbacks. You live out of a suitcase, you spend long hours on a bus going from point to point, and you have a different hotel room every night. A river cruise is much better. You can totally immerse yourself in a certain area of the world and never have to unpack your suitcase thanks to our floating hotel.

To me, the major difference is the objective. An ocean cruise tries to thrill you, amuse you, give you a wide choice of things to do. There are shows at night, music events, gambling, dancing, game rooms, exercise rooms, rock walls, and trivia contests.

A riverboat does not have the space for all that, so the emphasis changes. A river cruise concentrates more on education. There are lectures and history lessons to attend if you wish. What is it like to live in the land you are visiting? What are the politics? Who was Peter the Great? What are the people like?

Here is what they mean by a 'Cultural Experience'. For example, at some point on the Russia Cruise, you will have the chance to visit a family in their home. They will recall what it was like to live in Communist Russia. The visit might make you squirm, but it will also be informative. You will come away with a much deeper understanding of the land you visit.

Dinnertime on a river cruise is a definite highlight. The meals are exquisite, the complimentary wine is plentiful, and the dinner conversation tends to be full of laughter and merriment. You will make some very deep friendships because we become very close during these fine meals. We are truly a family.

Afterwards we head upstairs to the lounge and have ourselves a Vodka or a Martini with our pals. People ask if there is dancing and the answer is yes. They have a modest dance floor in the lounge and a Piano Man musician happy to take requests.

At this juncture, April 2019, Marla has registered 34 passengers for our 13-day river cruise to Russia in mid-June 2020. Never before have we received such strong preliminary interest in a trip so far off in the distance. Considering Marla set an attendance record for this river cruise simply through word of mouth, I asked myself why this trip is so popular. I came to the conclusion that River cruises can be addictive. It is phenomenal the number of repeat customers Marla has. After our 2018 Dracula on the Danube River Cruise to Romania, 67% of our guests signed up for the upcoming Russia trip even though it was two years away!

Russia just happens to be next in line to cross off our list. There will be plenty of highlights at both ends of the trip... St. Basil's Cathedral, the Kremlin, Red Square, Hermitage, and Peterhof Palace. But don't underestimate the river portion of the trip along the Volga. You will love the view of the Russian countryside from the vantage point of your Viking riverboat. You get to sit back, put your feet up, sip your complimentary wine and imagine what is really like to live in this strange land.

Maybe it is as simple as the lure of vodka, caviar, nested dolls, balalaika music and Russian folk dancing. But I thinks it goes a little deeper than that.

Our group has hit a special time in life when we have the time, the resources, the health and the incentive to see as much of the world as possible. A river cruise is one of the most pleasant ways imaginable to do just that. It is not a stretch to say a river cruise is a rocking chair vacation. I can personally attest to the joys of sitting in my rocker watching the world go by.

If you like what I have said, I wrote another essay on the same topic after our first river cruise to France in 2014. Here is the link: Watching the World Go By

As for me, I hope you will join Marla and me for a great trip! Don't forget that Viking is running an April promotion. If you sign up by the end of the month, your air fare will be free. Contact Marla for more information, Marla@ssqq.com

Rick Archer





Russian Waterways at a Glance

Our trip spends most of its time along the legendary Volga River. Known as 'Mother Volga' in the homeland, there is an unmistakable reverence for this amazing river. It is by far the longest river in Europe. However, our Russian river route is not limited simply to the Volga River.

Unlike the Danube where the Viking ship remains on one river for the entire trip, we will transfer from one waterway to another. Hopefully our captain is paying attention. If we take a wrong turn on the Volga, we will end up in the Caspian Sea. Our next stop will be Iranian jail being tried as American spies. Fortunately this is highly unlikely since the captain will have about 1,000 miles to catch his mistake.

Our aquatic path has a name... the Volga-Baltic Waterway. It starts in Saint Petersburg and ends in Moscow, or in our case the other way around. As an avid proponent of naval power, it was the lifelong dream of Peter the Great to have a port on the western edge of Russia. The moment he laid eyes on the soggy marshland where the Neva River meets the Gulf of Finland, Peter found his spot. Only one problem... Sweden owned this territory. No problem. Peter started a four year war to grab the Gulf of Finland.

After the war was won, Peter said, "Let's build a city!" Immediately the engineers protested. "Sir, it is sheer folly to build on mud and quicksand. There is no way this swampland will support any kind of structure whatsoever!! Any work we do will be washed away by the Neva floods."

Peter merely smiled. "Gentlemen, we are a poor country, that is true. However there are two things which Mother Russia possesses in abundance... dirt and slaves. Put the serfs to work filling in the swamp."

Peter was undeterred because he knew what he was talking about. During his European Tour five years earlier, he had fallen in love with Amsterdam. Amsterdam was built in a river delta area similar to the mouth of the Neva. The Dutch had brilliant engineers who knew just how to reclaim land from the sea. With 60 miles of canals, 90 islands, and 1,500 bridges, Amsterdam was now famous throughout Europe for its exquisite canal system.

Thanks to this unforgettable experience, Peter fashioned his new city in the image of Amsterdam. He named it 'Saint Petersburg'. After his city was completed, Peter then created the Ladoga Canals in Lake Ladoga. Finally Russia had a secure means of river transport from the Baltic Sea into the Russian hinterland. Unfortunately, the waterway stopped there.

However, the Russians were not done yet. In addition to slaves and dirt, Peter should have added that Russia also has lots of water. Just beyond Lake Ladoga was Lake Onega. Just past Lake Onega were lakes galore all within tantalizing reach of one another. Like a connect-a-dot puzzle, these giant lakes were begging to be linked together.

All that was needed was a canal here or a river-widening there. Over the next couple centuries, there were a few projects, but nothing on a grand scale. Leave it to the paranoia of Joseph Stalin to solve the problem. Suddenly there were countless political prisoners. What to do with them?

In the Thirties, 200,000 gulag prisoners under the direction of Soviet secret police created the Moscow Canal linking the Moskva River to the Volga River. Now for the first time, Moscow had river access to five different seas: the White Sea, Baltic Sea, Caspian Sea, Sea of Azov, and the Black Sea. Moscow became known as the "Port of the Five Seas". It is amusing to think of Moscow as a 'Port', but I've heard the Russians like to embellish.

Pleased with the results, the Soviets said why stop here? At a great cost of human life, they put the political prisoners to work digging more canals. Soon enough, Lake Ladoga was connected to Lake Onega, Lake Beloye, the Rybinsk Reservoir and the Volga River. Behold, the Golden Ring of Russia was completed. This system of rivers, lakes, and artificial waterways formed a giant loop allowing riverboats to access an unlimited number of cities.

At the time, it is highly unlikely that Stalin or any of the later Communist leaders ever envisioned tourism. However, with the thawing of East-West relations in recent years, the Volga–Baltic Waterway has gained additional importance as a unique tourist route for boats sailing along the Golden Ring of Russia. We are fortunate Mother Russia has finally put out the welcome mat. Thanks to this elaborate water system, we can visit the two most important cities plus 600 miles of beautiful countryside without having to unpack a single time over a two week period.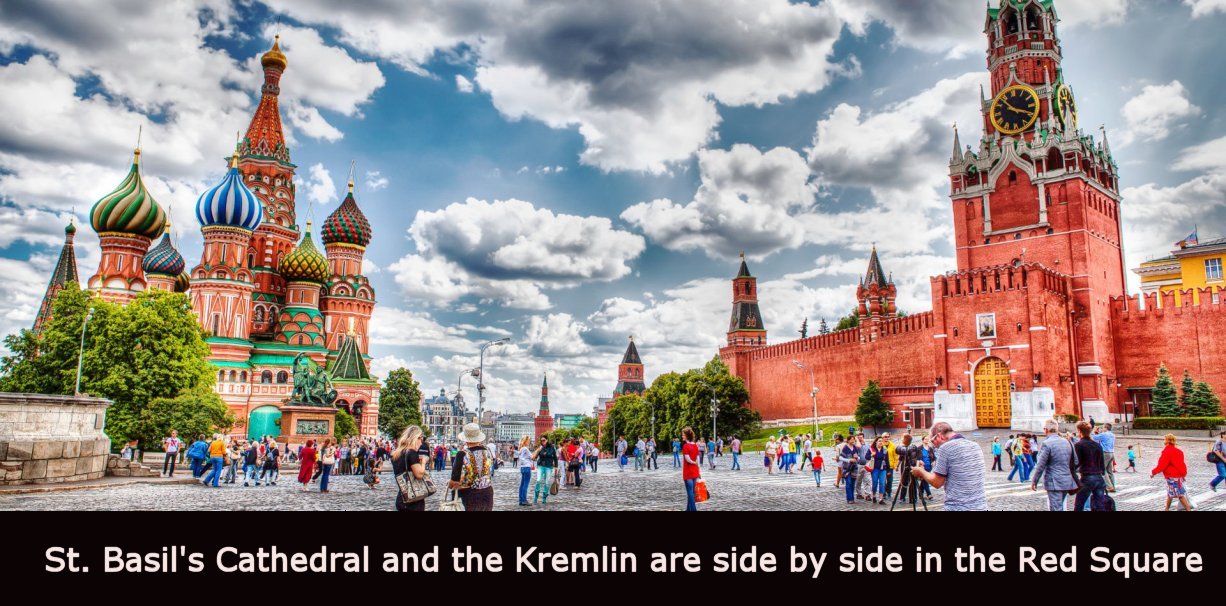 Day 1 - Moscow

Day One is basically a day to recover after the trip from Houston. Once you arrive in Moscow, you will be transferred to your ship which will serve as your hotel during the four-day stay in the city. Since most people are tired after the long flight, there is nothing scheduled. You will have free time to relax before dinner.

Day 2 - Moscow

You are welcome to walk around, but things won't get going till the afternoon. Relax, kick back in the morning, have a leisurely breakfast and enjoy an early lunch. The afternoon features a half-day tour of Moscow. See the famed Bolshoi Theater and stop at Red Square for a view of the brightly colored St. Basil's Cathedral and a visit to the famous GUM Department Store. You also get the chance to experience the city's Metro. Stay in the city center for an evening performance of traditional Russian folkloric music.


Day 3 - Moscow

Today you have a full day to further explore Moscow's many buildings, parks and monuments. Or you may choose an optional experience: Take a morning tour to Tretyakov Gallery, the world's foremost museum of Russian fine art. This afternoon you may visit the Cosmonaut Museum with displays that trace the history of space exploration or take a Jewish Moscow tour, illustrating the history and spirit of the Jewish people who settled in the city. Dine on board for dinner, then relax or take an optional Moscow by Night tour.


Day 4 - Moscow

After breakfast, we travel to the city's famous red brick enclosure known as the Kremlin. We will have a chance to go behind its walls to see historic gems like Tsar's Canon and Tsar's Bell, and tour inside two cathedrals.

In the afternoon, sit back and enjoy a scenic cruise along the Moscow Canal as we depart the city to begin our trip on the Volga River.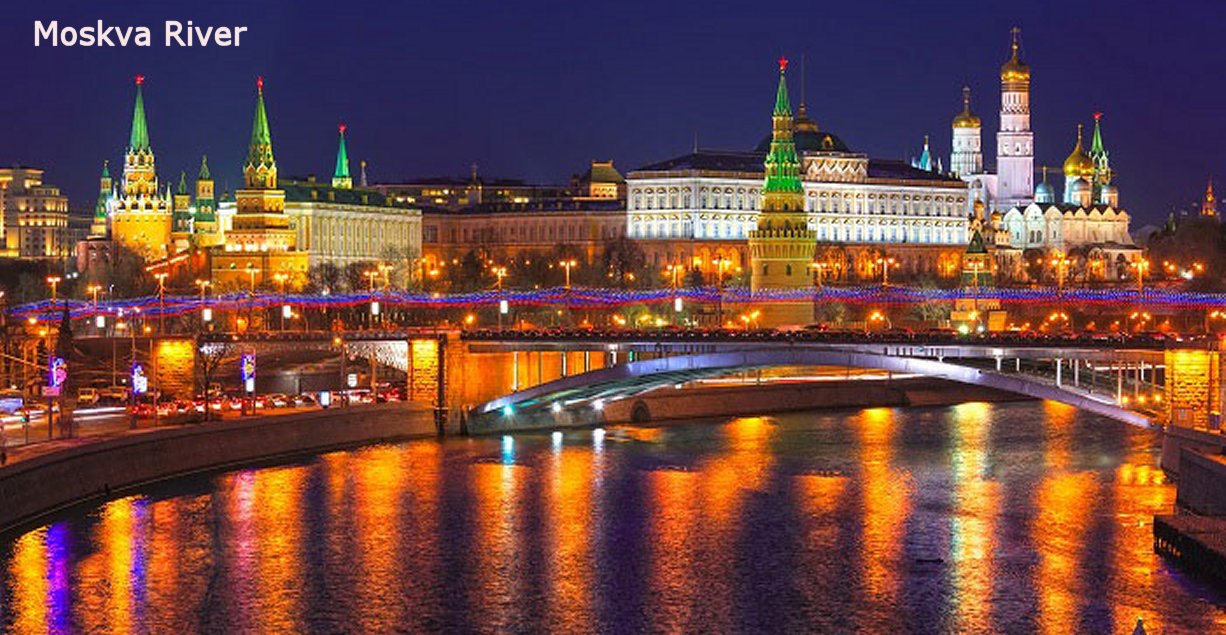 Day 5 - Uglich


We cruise the Volga throughout the morning. After lunch, you will disembark for a walking tour through the provincial village of Uglich.

Uglich is one of the Golden Ring cities that preserve the memory of Russia's historical events. See the former Kremlin of Uglich and visit the Church of St. Dmitry on the Blood, built on the site where Ivan the Terrible's son Dmitry was mysteriously killed.

We will visit a local family at their home for tea and friendly conversation. Be sure to practice your Russian in advance (just kidding).
Day 6 - Yaroslavl

We arrive this morning in Yaroslavl. This will be our second Golden Ring city. Tour this ancient town rich in monuments and visit the covered food market, where you may shop for handcrafted souvenirs. Nested dolls are sure to catch your eye. During your free time, you may visit the Church of St. Elijah the Prophet, featuring detailed frescoes and icons. Return to your ship for lunch and departure.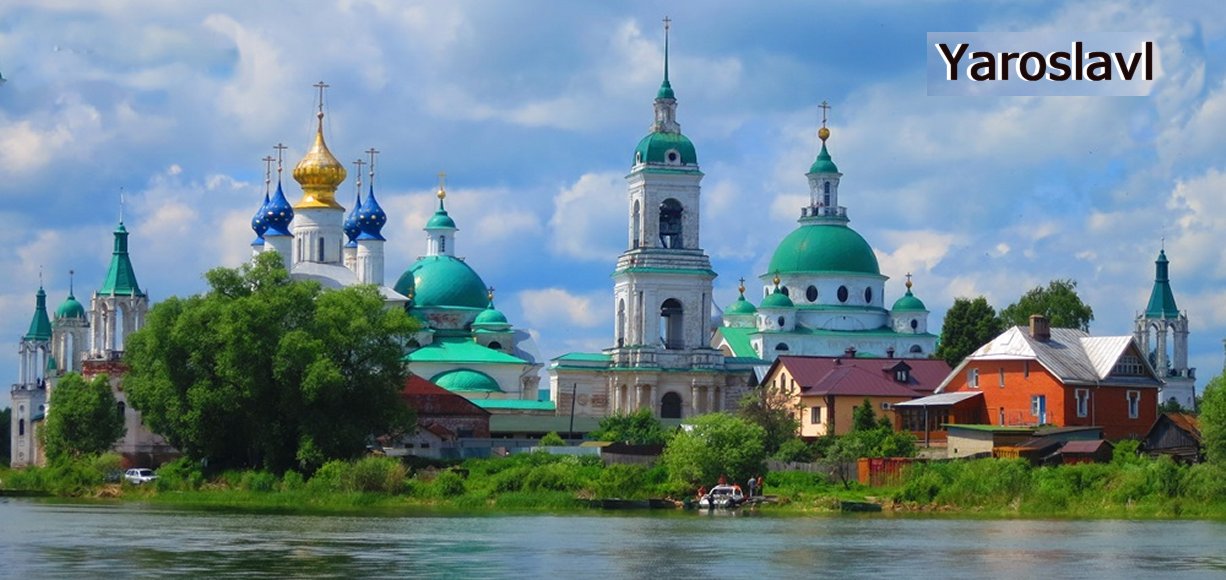 Day 7 - Kuzino

We dock in the morning at Kuzino, our third Golden Ring Russian village.

Today you will visit the renowned Kirillo-Belozersky Monastery, founded by Saint Cyril in 1397. We will take a guided walk through the monastery's historic grounds, seeing several small wooden chapels, the Assumption Cathedral and a museum.

You will also have the opportunity to visit a children's school in Kuzino or the local Merchant House. Return to your ship for lunch and an afternoon departure.

We will spend the remainder of the day on a leisurely cruise along the Volga-Baltic Waterway. This is a system of rivers and canals that links the Volga River with the Baltic Sea. The length is 229 miles and comprises seven locks.
Day 8 - Kizhi

The morning sees our ship sail through the tranquil waters of Lake Onega, Europe's second largest lake. In the afternoon we will arrive at the island village of Kizhi. From here we will set out on a walking tour through the Open Air Museum of Architecture, a UNESCO World Heritage Site.

Our visit will take us to a collection of wooden houses, windmills and churches. Our tour will be highlighted by the 3-tiered Preobranzhenskaya (Transfiguration) Church. This fairy-tale structure was built in 1714 without a single nail. We depart in the evening and cruise through the night.
Day 9 - Mandrogy

This will be a relaxing day as our ship cruises Russia's intricate waterways. We will traverse three different bodies of water. Our first route takes us along the scenic Svir River. We will travel the 139-mile "Blue Route" heading southwest from Lake Onega.

We stop in Mandrogy and take some time to explore this museum village. Visit the Vodka Museum or shop for handmade Russian craft items. If you wish, take an optional visit to a 'banya', a traditional Russian bath house. Or, if you prefer to stay on board, watch and participate in the art of 'matryoshka' doll making.

Later we continue along the Svir, then cross Lake Ladoga, Europe's largest lake, on our way to the Neva River. All three of our meals will be served aboard your ship.


Day 10 -
St. Petersburg

It has been a long journey, but today we complete the final leg of journey down the waterways of Western Russia. We will sail on the Neva River into St. Petersburg early this morning. After a leisurely breakfast, our first adventure will be a visit to the Winter Palace.

For you art lovers, this will be quite a treat because you will have a chance to tour the legendary Hermitage Museum. You will be amazed at this marvelous collection of art, antiquities, jewelry and sculpture.

However, save some energy. After we return on board for an early dinner, our evening will be highlighted by a performance of traditional Russian ballet.
Day 11 - St. Petersburg

Today's excursion goes to the Pushkin area. Here you will visit Catherine Palace, the elegant rococo 18th-century summer residence of the Russian tsars.

No, this is not named for Catherine the Great, but rather Catherine I, the widow of Peter the Great. Tour the various halls, including the storied Amber and Agate Rooms, and see the ornate decor throughout.

We return to your ship for lunch. After lunch, it is time for a city tour. We will see noted sights including St. Isaac's Cathedral, Peter & Paul Fortress and Nevsky Prospekt.

Dine on board, then relax. If you wish, you can attend an optional evening folkloric performance. Or perhaps even venture into St. Petersburg on your to see what you might discover.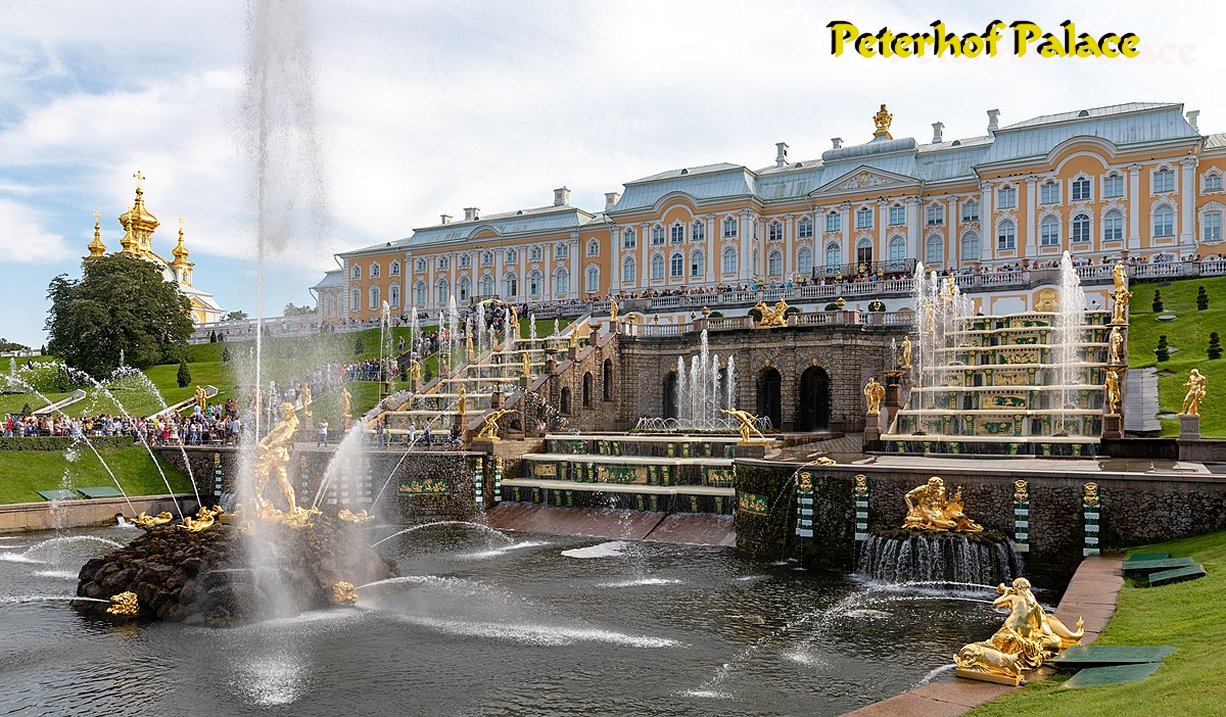 Day 12 - St. Petersburg

You have the day free to see the sights that interest you. Visit one of the many palaces, churches or museums. Be sure to consider taking the the optional morning tour to Peterhof Palace, a spectacular estate with landscaped gardens and beautiful fountains.

In the afternoon, you may choose to join an optional kommunalka visit to get a glimpse of these communal living spaces.

Another suggestion is to take an optional tour of St. Petersburg from the water.

Lunch and dinner are served on board.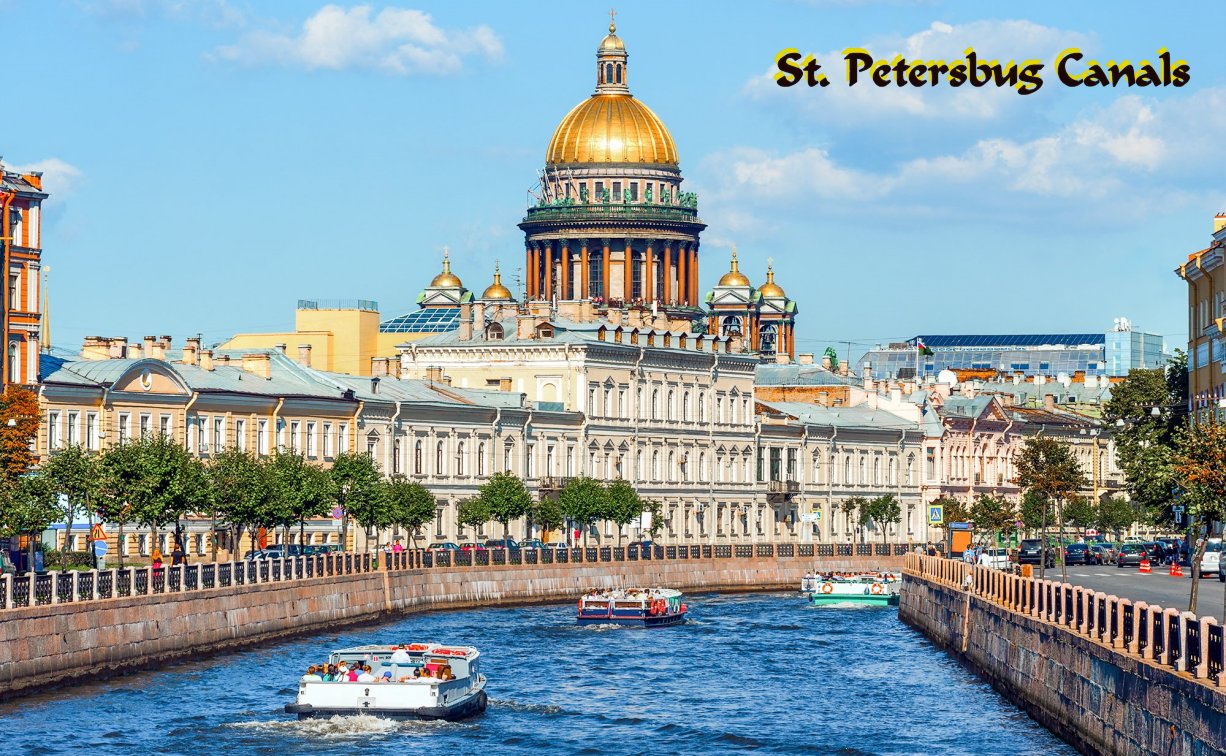 Day 13 - St. Petersburg

They say all good things must come to an end, but not with Viking

If you wish, you may extend your voyage with 2 additional nights in St. Petersburg. This will give you more time to explore this magnificent city.

Another option is to journey to nearby Finland to enjoy 3 nights in beautiful Helsinki.

However, if you must return home, after breakfast you will disembark and proceed to the St. Petersburg airport for your return flight. Thank you so much for sharing these past two weeks with us.

Marla's Note: There is an excellent 2-minute video on the Viking website that gives a nice overview of this trip. I recommend you take a look. Viking Russia Video
Marla's Notes:

Viking's Waterway of the Tsars-13 day trip June 10th -June 22nd, 2020, includes FREE AIR from Houston. (This current Air Promo extends to 4/30/19. I expect the Free Air Promo will continue, but I cannot promise.)

All of this is included in the price.

• One complimentary shore excursion in every port of call
• Free Wi-Fi
• Visits to UNESCO Sites
• Enrichment lectures & Destination Performances
• Beer, wine & soft drinks with onboard lunch & dinner
• 24-hour specialty coffees, teas & bottled water
• Port taxes & fees included in rate
• Ground transfers with Viking Air purchase

PRICING:

PRICING:
• VERANDA AX UPPER DECK (225 SQ. FT.) $7274 P.P. SOLD OUT
• VERANDA BX MIDDLE DECK (230 SQ. FT.) $7174 P.P. ONLY 1 LEFT
• RIVERVIEW CX MAIN DECK (160 SQ. FT.) $6174 P.P. LIMITED AVAILABILITY
• RIVERVIEW DX MAIN DECK (140 SQ. FT.) $5874 P.P. LIMITED AVAILABILITY
IF YOU WISH,

you can EXTEND YOUR VACATION WITH 2 NIGHTS PRE-cRUISE IN MOSCOW for $499 per person.



Enjoy extra time to explore Moscow, the capital of Russia and the major political, economic and cultural center of the country and the continent.

ALL THIS IS INCLUDED:

· 2 nights in Moscow: Radisson Royal Hotel, Moscow

· 2 breakfasts

· Guided Tour of the Famed Moscow Subway

· Services of a Viking host

· Hote & ship transfers

you can

ALSO

EXTEND YOUR VACATION WITH 2 NIGHTS POST-CRUISE IN ST. PETERSBURG $399 per person

Enjoy two extra days exploring St. Petersburg, Russia's second-largest city, a major European cultural center and important port on the Baltic Sea. See St. Isaac's Cathedral, Alexander Garden and Palace Square, and stroll along the Griboedov Canal.


ALL THIS IS INCLUDED:

· 2 nights in St. Petersburg: Angleterre Hotel, St. Petersburg

· 2 breakfasts

· Guided Walking Tour

· Services of a Viking host

· Hotel & ship transfers