Virgin Islands Recap

Written by Rick Archer
Last Update: December 2012

Rick's Note: Our trip to the Virgin Islands and several other Eastern Caribbean Islands took place in May 2011.

This was our 20th SSQQ Cruise. We traveled to the Eastern and Southern Caribbean Sea aboard the RCCL Serenade of the Seas.

For most of us, our trip was divided into two parts:

A pre-cruise visit to San Juan, Puerto Rico


The

cruise trip itself

which visited St. Thomas, St. Croix, Antigua,
St. Lucia, and Grenada.

On this page, you will get my overview regarding the entire trip. There is a good story about Grenada you will enjoy down at the bottom.

The stories on this page will then be followed by a five-chapter article on a series of adventures organized by my friend Mara Rivas complete with 300 pictures.

The story about Mara's adventures is fun reading, but I regret to say I did not write anything about our excursions on St. Thomas, St. Croix, and Antigua.

However, I do have a great picture from St. Thomas to share with you.

From left to right: Toni and Richard, Marla, Carolyn, Peggy, Rhoda, Robert, Cher, Patty, Joe, Ann, George, Nancy, Iqbal, and Mona.
So where all did we visit?? So many choices!

There is an entire chain of tropical islands stretching from Puerto Rico all the way down to the northern shores of South America.

There are 7,000 islands in the Caribbean. The Eastern Caribbean is an island-hopping paradise. Not all of these 7,000 islands are inhabited.

Anyone with a decent sailboat can usually find a deserted key somewhere for a trip ashore if you want to get away from the world.

Given the balmy weather, sleeping the night under the stars on your boat isn't such a bad idea either. Anyone searching for a little personal freedom would definitely find this an attractive location.

As for us, we didn't have a small sailboat. So we used a giant cruise ship instead.

San Juan, Puerto Rico

The trip originated in San Juan, the capital of Puerto Rico.

This city turned out to be a bustling metropolis of 1.2 million people. Industry thrives in Puerto Rico. San Juan turned out to be just as modern and active as any city back in the USA.

We quickly discovered that San Juan is a big city with a bustling business district, glitzy resorts and casinos, as well as one of the most stunning examples of colonial life in the Western world.

San Juan was founded in 1521. In 1508 Juan Ponce de León founded the original settlement, just to the west of the present metropolitan area. A year later, the settlement was abandoned and moved to the site of what is now called Old San Juan. San Juan is one of the biggest and best natural harbors in the Caribbean and is the second oldest European-founded city in the Americas

San Juan is built around an enormous harbor with a narrow mouth that was easily defended by the Spanish.

San Juan is actually two cities in one - Mainland San Juan and Old San Juan that is built on an island. Mainland San Juan and Island San Juan were separated by about 200 yards of water. If you study the picture, the red arrow points to the area where a bridge connects the island to the Mainland.

200 yards doesn't seem like much, but it prevented an army from simply marching up. This unique feature made the island far easier to defend.

Old San Juan is known as "La Ciudad Amurallada" (the walled city). The Spanish spent 200 years building walls around their island city. In some places, that wall is very imposing. You can't help but stare in awe at the enormous fort surrounded by 40 foot high stone walls.

The combination of the huge harbor and the easily-fortified island made San Juan very attractive to the Spanish. Plus the trade winds practically guaranteed any ship coming from Spain would land there automatically.

Consequently, Old San Juan became the unofficial capital of the New World. Since much of our group stayed in a hotel on the island, several of us flew in early to spend three days exploring Old San Juan. For history buffs like me, seeing the massive forts and learning about the battles was a real treat.

For others, wandering around and seeing the architecture of a different era was equally pleasing. The island of Old San Juan was easily hiked from one end to the other.

Our group also visited nearby parts of Puerto Rico. One night we took a kayak trip. Part of our adventure included paddling through a spooky canal that was so dark we barely could see where we were going. Twenty of us passed through a narrow canal in a dark and mysterious mangrove swamp.

Half the fun was listening to the married couples argue over whose fault it was for running the kayak into the trees in the dark. We could have really used a marriage counselor on that trip. For example, these two individuals are smiling in this picture, but it is all an act. Wait till you discover the dark secret they are hiding when you read Mara's Triumph.
Another highlight of our stay in San Juan was a trip to the El Yunque Rainforest just east of San Juan. Our group numbered an even dozen. First we climbed a huge tower that took us above the rainforest canopy. The view was absolutely stunning. The picture gives you a pretty good idea of what we could see.

Next we took a hike through the fabulous rainforest in search of the world's most awesome waterfall. That hike was simply sublime. It was about two miles - one mile to the waterfall and one more mile in another direction to get to our waiting vehicle. The trail was paved all the way which made it a very safe walk. We penetrated deep into the forest and were surrounded by beautiful foliage wherever we went. And of course the waterfall was stunning as advertised.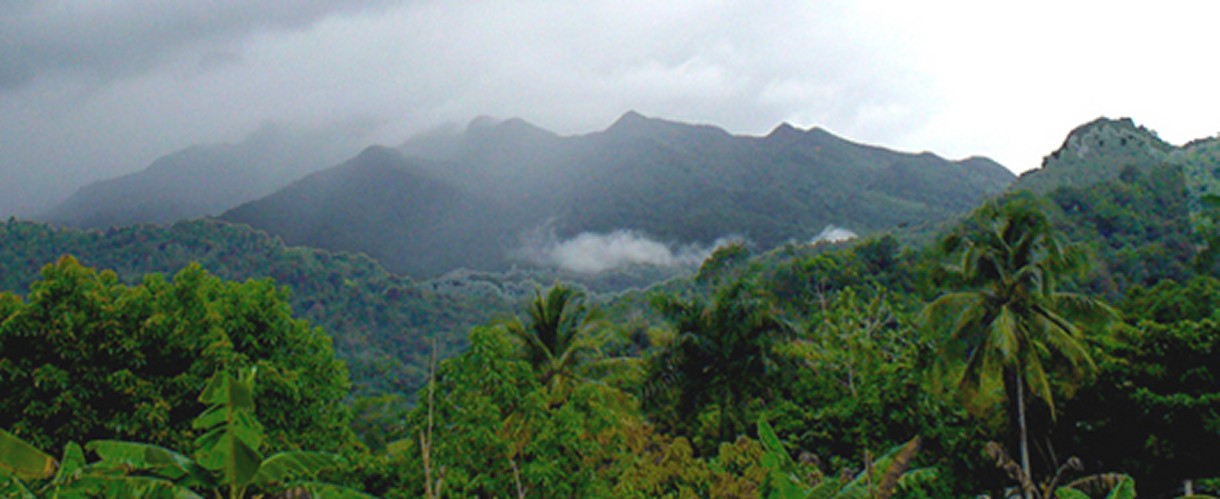 After three days in San Juan, it was time for the cruise to begin. Thank goodness! I needed a cruise to recover from my constant exploration of San Juan and Puerto Rico. Unfortunately, there was no rest for the weary. I soon discovered Marla had me down for hiking, biking, snorkeling, zip-lining, and climbing. Every single day of the trip was another macho adventure into the wilderness of the islands we would visit.

When I attempted to complain about all the activities, Marla had a quick comeback. My wife said she booked me on every tough excursion she could find because I am always complaining that all we ever do is sit on buses and stare at things. Be careful what you complain about!
All told, Marla had me doing something athletic for three straight days in San Juan and five straight days of visiting ports. Then on the final day, I was down for a two-hour dance workshop as our cruise ship headed back to port. Before our cruise trip, I had predicted I would be worn out by our trip to Puerto Rico, the Virgin Islands and the other nearby islands. Well, I was right. I returned from this trip utterly exhausted.

I was wrong about the dancing aspect, however. I didn't expect there to be any dancing at all. I was amused at how much people talked ahead of time about 'dancing' every night on the ship. I figured if their trip experience was similar to mine, they aren't even going to be able to get out of their chairs at night.

I said, "Mark my words. They might dance a little the first night, but after that these people are going to be in bed by 10 pm every night".

Well, I was wrong. While it is true that most of the married couples behaved as expected and hit the sack immediately after our late dinner, the wild and crazy singles managed to dance wherever they could fine music. After the band shut down, some nights Cher Longoria would turn on her Ipod system and play the necessary music to dance for another hour or so. When you are single, you live to dance.
There was some initial skepticism about the itinerary of this trip. Many of these islands were used for the production of sugar cane. After the Spanish managed to kill off practically all the indigenous people of the area through battle and disease, slaves were brought over from Africa to work the plantations. At some point, those slaves ended up inheriting the islands when the Europeans disengaged.

Fortunately, anyone willing to work never had to worry about eating. These lush islands would feed anyone willing to till the land or fish the waters. On the other hand, with no education and no experience at self-government, many of these islands stayed impoverished as far as industry was concerned. Few of the islands could even begin to approach the high standard of living enjoyed by US citizens.
For example, one person explained why he didn't go on this trip.

"The first cruise I ever went on was that cruise... Dominica, Martinique, Barbados, etc. It was the most boring cruise I have ever been on. I didn't like the islands...too many beggars everywhere we went. Don't know if it is still the same, but they really make visiting the towns no fun."

Well, this gentleman had a point. As I discovered, some of these islands were not particularly wealthy. Fortunately, however, the poverty was nothing compared to Jamaica. Although I will admit I was offered drugs on several occasions, not one person asked me for money on any of the islands. And the sales people were not nearly as aggressive as some places I have been (for the record, Kusadasi, Turkey, easily holds the record for the most aggressive sales people).

Best of all, the islands clearly made a concerted effort to keep their streets clean. I saw none of the depressed, suffering faces I commonly see in Jamaica. The people I encountered on this trip were basically happy and upbeat.
All in all, the Virgin Islands Cruise of 2011 turned out to be a very pleasant trip. Unfortunately, unlike some of our other trips, there are no amazing tales for me to share. I say 'unfortunately' because wild adventures make for good stories. In the old days, I would just make stuff up when things got too bland, but lately my tendency to exaggerate has been missing. I am sure that problem is just temporary.
In retrospect, nothing went wrong on this trip. Trust me, we have encountered our share of problems over the years.

The ship didn't capsize (2011 Egypt Cruise). No hurricanes (2001 Vera Cruz, 2005 Rita Rhapsody). No one missed the cruise ship at the end of the day (twice in Barcelona 2009). No norovirus (Oslo 2010). No volcanic eruptions to disrupt travel (Oslo 2010).

No tender failures (New England 2006). No long lines or waiting (New England 2006). No sex on the elevators (Rhapsody Cruise 2004). And since I stayed sober much of the time, I didn't see any zombies either (Rhapsody Cruise 2004).

Alas, everything went smooth as glass. This trip was just one long smooth groove of never ending fun reminiscent of a long walk on the beach. Boring to read about, I know, but nevertheless

pleasant

fun for the people who went.
In my opinion, this trip was a cross between our 2007 Hawaiian Islands Cruise and last year's Bahamas 2010 Cruise. The islands we visited featured the same tropical temperatures and the same rainforests as Hawaii complete with beautiful beaches and rugged extinct volcanoes thrown in for good measure.

For sheer physical beauty, several of the Eastern Caribbean islands were definitely a match for Hawaii. Now that I have seen both worlds, I would say Hawaii's advantage is in its wealth. Hawaii has an unmistakable economic superiority. Its infrastructure is superior and certainly no Eastern Caribbean island can match Honolulu for the endless string of opulent hotels that line Waikiki.

Yes, there are beautiful hotels and resorts in the Eastern Caribbean, however just not quite to the same extent.

That said, a trip to the Eastern Caribbean has many advantages over a trip to Hawaii. For one thing, these islands are much easier to get to, particularly if you live on the East Coast. I would say a good 50% of the people on our cruise ship were from the East Coast. They consider the Caribbean to be their own personal playground.

Second, these islands are much more affordable. One person estimated a trip to Hawaii could cost up to twice as much when you factor in air fare. Plus time is a problem. You give up practically an entire day flying to and back from Hawaii. By comparison, our flight from Houston to San Juan, Puerto Rico, was just slightly longer than a flight to Denver, Colorado. We were able to land in San Juan and still have an entire evening to explore the old town.

Potatoes or tomatoes, pineapples or bananas. Take your pick. A good argument can be made for both locations, but ultimately a trip in either direction is bound to be satisfying.
Our trip to the Virgin Islands resembled the 2010 Bahamas Trip because it was yet a further extension of our 'Family' Theme. The sense of community permeated practically every activity we engaged in. This trip had a definite feel of 'shared experience'.

Some trips were planned ahead of time as a group excursion. I have already mentioned our kayak experience and our visit to El Yunque. Another time on the island of St Lucia, 13 of us crowded into a single bus for a wonderful tour around the island. This exquisite tour was organized in advance by Mara Tiara. Thank goodness Mara took the time to find Cosol, our guide. His personality and competence helped make this trip one of the real highlights of our vacation.

Other times Marla and I would sign up for an excursion through the cruise ship only to run into other members of the trip. No matter what excursion Marla and I signed up for, we ran into other members of our group.

For example, one day Marla and I shared zip-lining with Zorro in Antigua. And it was a good thing we did! Zorro was unbelievably helpful at explaining how to stay in control.
Other times we formed impromptu groups on the spot. Marla and I got off the ship at St. Thomas without any idea what we were going to do for the day.

Down in the shopping area next to our pier, we met other members of our group discussing what to do.

Marla, Robert, Cher, Tracy and Ed decided to take a tram up to the top of a mountain. They ended up raving about their experience.

However, at the same time, Iqbal was organizing a group to hire a guide to drive us around the island. So I broke ranks with Marla and went with Iqbal, Sheba, Handsome, Peggy Sue, Carolyn, Ann, Nancy, Rhoda, Richard and Toni on a wild bus ride around St. Thomas.

Another day Marla and I shared snorkeling with Robert and Cher as well as Patty and Joe at St Croix.

No matter where we went, we had company. We had friends.

Did I mention our visit to see Flamenco Dancing? Or our visit to see the world's tallest cigar in Old San Juan? Now that was a real highlight! And what about the simple joys of sharing breakfast with our friends in the stunning open air patio of the El Convento Hotel? Or watching Marla's befuddlement when the waiter brought her a mountain of Mofungo, a native dish she made the mistake of ordering on the first night of the trip? Or for that matter getting drunk as skunk with our friends at the free wine and cheese party at the El Convento Hotel in the evening?

I can vividly remember hearing raucous laughter at my stupid jokes. Were my jokes funny? Probably not. I think maybe the delicious wine deserves most of the credit. But the point is simple - we all laughed together. Our shared experiences were special.

Grenada

Thanks to Marla's ambitious excursion project, the Virgin Islands Cruise of 2011 was the most physically active trip Marla and I have ever taken. We did something very active practically every day of the trip, sometimes even two things on the same day. Kayaking, hiking, climbing, snorkeling, zip-lining, and dancing too ... you name it, we did it. I was so pooped some nights that I almost fell asleep at dinner twice.

The highlight of the trip for me happened near the end of the trip. Remembering how much fun we had hiking to the waterfall at El Yunque, Marla and I signed up for another hike to a waterfall in Grenada. The start of our trip was unremarkable. Our guides bored us out of our minds with a ten-minute discussion on nutmegs, then ten more minutes on plantains, then ten more minutes on mangos.

Enough already! Give it a rest and let us hike! I confess I am not much of a naturalist. I could barely contain a giant yawn as I struggled to listen. Little did I know that my boredom would turn to terror just a few minutes later.

Once we entered the rainforest, Marla and I were confronted by a difficult downhill path hacked out of the dense foliage. This path was really steep! We had to navigate rocks and logs placed in the trail for traction. In the more level areas, there were no rocks or logs. Unfortunately, due to recent rains, the level areas were soggy. Our shoes sank deep into the mud several times. Due to the poor condition of the trail, we made very slow progress on this difficult downhill trail. One slip and we might slide quite a ways before coming to a stop. Considering sticks and stones can break our bones, we could easily fall and hurt ourselves.

And then it started to rain a little. Misting at first, neither Marla nor I had the sense to take our umbrella out of the backpack. It wouldn't have done us much good. The trail wasn't wide enough for the two of us to use the umbrella together. Plus the overhead foliage was so dense the umbrella would have constantly have gotten stuck in the branches. Besides, it was just drizzle. We didn't mind the rain that much. It felt refreshing! Refreshing, that is, until the rain went from zero to sixty in a matter of seconds.

The heavens opened up. Suddenly we were trapped in a water deluge of Biblical proportions. Then I fought to keep my balance as we continued down the trail. Marla struggled mightily as well.

Now the rocks we had depended on betrayed us. The rocks were so wet we couldn't plant our feet on them without slipping. And the red clay around the rocks turned into deep mud puddles. Finding a safe place to take the next step was a real challenge.

In the distance we could see the waterfall. However

first we had to cross a

raging

stream. There was no bridge. Marla and I and the other members of our hardy group helped each other across using the massive rocks in the stream as stepping stones. I enjoyed lending a hand whenever I could to help people with shorter legs keep their balance.



The picture on the right was the last picture I took.

I stuck my camera in my backpack under a towel for safety.

I wasn't about to cross that stream with my camera in my hand. At this point, we were

assaulted by blinding rain

. You can see some streaks in the picture of the rain pellets, but this picture doesn't even begin to capture

to intensity of the downpour.
Finally we saw the waterfall

(note: I got the picture off the Internet)

. Stunning!

Before our eyes, we had our very own miniature Niagara Falls. Thanks to the powerful rainfall, the waterfall was cascading tons of water at an enormous rate.

The waterfall was easily twice the size of this picture taken on a normal day.



Once we got to the waterfall, Marla

began to take off

her soaking wet clothes to reveal her

soaking

wet bathing suit underneath. I laughed. Marla was already soaking wet. Why even bother taking off the outer layer?

Must be a girl thing.

Undeterred by the constant rain pellets, Marla made her way into the middle of the water pond directly below the powerful waterfall. Marla hollered, "Take my picture!"



I reached into my backpack to retrieve my camera.

That's when I made a very unpleasant discovery - my expensive backpack wasn't waterproof like I had thought it was. Uh oh. My towel was soaking wet... and so was my camera. I tried turning it on... no luck. The camera was

ruined

. As I explained to Marla that the camera wasn't working, I heard one of the guides yell, "We gotta get out of here now

!

There is a real danger of mud slides plus the river becoming too difficult to cross."

As I saw him take off, I could sense the fear in his voice. I thought it must be serious for him to leave in such a hurry. I was shocked to see him turn his back on his and take off. Hmm. What did he know that I didn't know?

Well, I wasn't going to leave without Marla. Like a boy scout, I stuck around to help my wife. Plus she was very persuasive. "Rick, if you leave me now, you better pray I don't make it back to the bus..."
Marla struggled mightily to get out of the pond that had become much deeper thanks to the torrential waterfall. After Marla finally got out of the pond with my help, she asked where everyone had gone. I turned around to make a nasty discovery - everyone had left us, guides and all. We were the last people at the water pond!

Marla pulled her soggy outfit and shoes back on. She muttered some choice words about how cold and miserable she was. Normally Marla whines about the slightest ache and pain, but not today. Other than an occasional grumble, Marla was amazingly tough.

As we stood by the pond feeling deserted, we didn't see any point in sticking around. Together we grimly headed back.

When we got to the stream, thankfully there were a couple native Grenadans who had stuck around to help us across the stream.

Unfortunately the stream was no longer a stream. It had been transformed into a raging river. It was a good thing those men were there. It seemed like the water current had doubled its intensity in just the short time we had spent at the pond. Only half the rocks were still visible and the ones I could see were very slippery. Taking one tentative half-step at a time, it took us forever to cross.

Now we discovered that our downhill trail had also become a river of sorts.

This picture was taken earlier before my camera went out. However now the conditions were three times worse.

With the foliage cleared out of the way, our own trail was the easiest route for the rainwater to descend down the mountain. Lucky us. Try climbing uphill in a constant stream of water!

We could barely even see our feet at this point as the water ran over our shoes.
Helping each other, Marla and I slowly made our way back up the trail. Amazingly, even though we had been dead last and even though we were the oldest people in the group by a wide margin, we caught up to some of the members of our group. Of course we had a powerful incentive to catch up. The fear of being left behind had us both scared to death.

So why was this ordeal my favorite moment of the trip? I loved the challenge! To heck with the danger of falling in the river. To heck with the danger of being buried in a mud slide. To heck with the threat of twisting an ankle or hitting my head on a rock if I fell. Marla and I were determined to fight our way back to safety. I cannot tell you how proud it made me to know we were able to overcome this difficult path and match much younger people stride for stride in the process. I had no idea this old body of mine was that tough.

You know what? For a moment there, I actually felt like a kid again. This climb was an ordeal... and it was fun. Just for that experience alone, I would do this trip again in a flash.