Rick and Marla Archer had an 'Oops' Wedding in 2004 aboard the Rhapsody cruise ship. Whatever could go wrong did go wrong. And it was still a great wedding! Every bride who worries about things that could go wrong will be happy to know people can make mistakes and still have a beautiful First Dance.

| | |
| --- | --- |
| Wedding Dance Lessons | xxxx |

Slow Dance and Romance go hand in hand. Rick and Marla Archer have been preparing Houston couples for their First Wedding dance since 2004.

Written by Rick and Marla Archer
Last update: December 2012

Click Here to see an album of our previous Wedding Couples

The cost is $50 for a one hour lesson

713-862-2121

rick@ssqq.com


Slow Dance
Foxtrot
Waltz
Night Club


Twostep and Polka
Rumba
Tango
Swing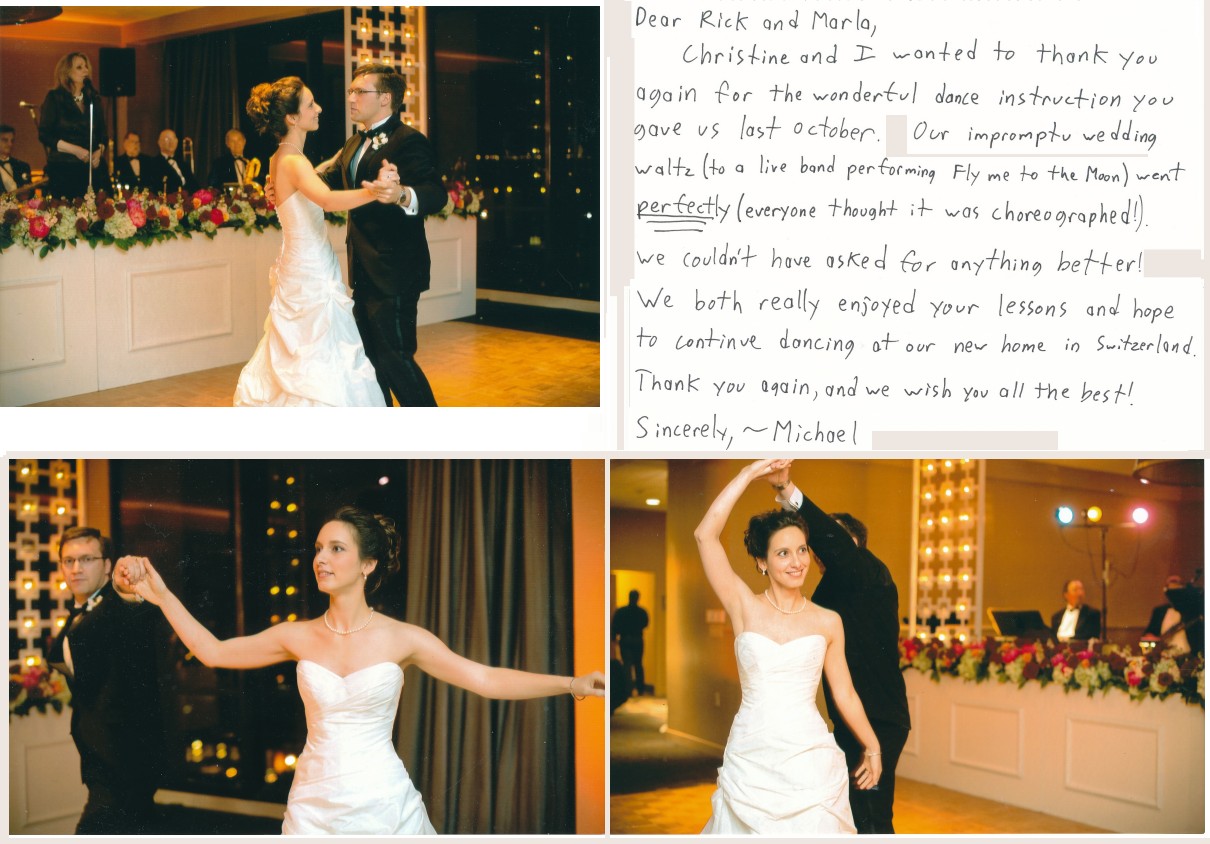 Rick Archer's Note - Aren't these some lovely wedding dance photos? That is Michael and Christine. Both Marla and I had the pleasure of working with them back in October 2010.

In an odd twist, when we first met them, Michael was the more experienced dancer. Usually, the lady is far ahead of the man. However, in this case, Michael had taken Ballroom lessons at Rice. As a result, it was Christine who was forced to do the catching up. She was constantly worried that she wouldn't be able to hold up her end of the bargain. I recall giving Christine plenty of reassurance that she would do just fine. Obviously she succeeded royally!

Michael and Christine took five lessons in all - four Waltz lesson for their Wedding Dance and one Swing lesson for dancing to the band later on. Over the course of time, Christine got the hang of it and became a confident dancer in her own right.

Study the picture we took of two of them last October. You can see how Michael was the confident one while Christine was still a bit unsure of herself. Christine was quiet and studious during her lessons. However, judging by those wedding photos, sometime between the lessons and the wedding, Christine underwent quite a transformation!

Christine's confidence definitely showed in her wedding dance pictures. Could Christine possibly be more glamorous? As you can see above, Christine is a classy, beautiful lady who is totally at ease with herself performing a difficult Waltz in front of a huge crowd of wedding guests.

Meanwhile the pictures show Michael deep in concentration as he made sure Christine's star turn out on the floor was a complete success. I am proud of Michael for sublimating his own dancing to fulfill the traditional of a leader who makes sure his lady draws all the attention. Thanks to him, Christine was truly a Cinderella dancing at her dream wedding. Congratulations to both!
What is Missing From this Picture?

Wedding Planner. Check
Wedding Dress. Check.
Wedding Cake. Check.
Caterer. Check.
Flowers. Check.
Dance Instruction???

Uh oh.

Dance Instruction is nowhere in sight.

Big mistake!

Do Not Wait Until the Last Minute!

A survey of wedding couples reports that almost half of all wedding couples wait till the last minute to prepare.

Someone actually wrote a book about all the mishaps various couples encountered during their journey to the altar. Chapter Three was titled, "The One Thing I Would Have Done Differently Then Knowing What I Know Now!"

Take a guess what the single most common thing mentioned? They said,
"Take Dance Lessons" or "Start My Dance Lessons earlier!"


At the end of the chapter, this passage was added:

"A glance at the message boards from several wedding sites available on the Internet offers this interesting fact.

There were 427 responses to the question
"What Would You Have Done Differently at Your Wedding?"

207 of these responses included "we should have taken dance lessons." This conclusion was usually reached after the couples viewed their own wedding video or attended another wedding where the couple did take lessons.

| | | |
| --- | --- | --- |
| Cristina and Travis | Devin and Taylor | Meredith and Christopher |
Rick and Marla's Note: As you might gather from the pictures, we are very experienced at helping people prepare for Wedding Dances.

If you are looking for training, please consider letting us help. Not only are we very good at this, we both thoroughly enjoy the process.

Would you like to see more pictures of Rick and Marla's Wedding couples learning to dance? CLICK HERE

Debbie and Jack - Wedding Foxtrot