2010 Oslo Cruise

A Lovely Stroll Through Paris


Written by Rick Archer
March 2013

Forward

Rick's Note: I suppose it might seem a little odd to some people that I am writing in 2013 about a visit that took place in May 2010. A casual glance at the calendar shows that our Oslo cruise took place three years ago.

There are two reasons for the delay. When we returned, I immediately threw all my energy into writing my intense story about D-Day.

As anyone who has read my account of that visit knows, I was deeply affected by my visit to Omaha Beach during this trip. I was so moved by the experience that I spent the next two months researching and writing my story. I am pleased to say that I did a very good job.

As it turned out, that story is now widely acclaimed as one of the best stories on the Internet to explain how the Americans were able to turn an almost certain defeat into a remarkable victory.

However, I was so spent when I finished my story that I took a break from writing. By the time I finished my lengthy seven chapter story about D-Day, it was time for our next cruise and I got distracted by the new trip. When my writing bug returned, I wrote about the next cruise instead. That's a shame because our 2010 Oslo Trip continues to be one of my three favorite cruise trips.

Perhaps I can use this story about Paris to help restart my engine and finish the stories about Ireland and Scotland as well. While I am at it, I suppose I should reveal the other reason why I have hesitated writing about this visit. The truth is that our 2010 visit to Paris frustrated me so much that I did not want to revisit this day. Writing about it was sure to aggravate me again.

This was the first visit to Paris for both Marla and me. As you will read, it was a largely unsatisfying day for us. Although Marla and I thoroughly enjoyed what we were able to see, we just didn't get to see enough.

I probably shouldn't say this, but a cruise trip is not the best way to appreciate Paris. After docking at Le Havre 95 miles west of Paris, we wasted four hours of the day traveling by bus trip to and from Paris.

Consequently we had only five very brief hours to appreciate Paris. Considering that the city turned out to be just as spectacular as advertised, this was hardly enough time to do anything more than whet our thirst.

For example, we didn't visit the Louvre Museum, very high on our list. We spent only five minutes on the famed Champs-Élysées. We didn't get to see the Arc d'Triomphe. We didn't get to visit the top of the Eiffel Tower. We didn't see Versailles. We didn't see Notre Dame. We didn't see Île de la Cité. We didn't take a river boat ride down the Seine River. We didn't see any of the lush city parks. Hell, it felt like we didn't see anything!!

All we did was scratch the surface. What little we did see suggested that Paris might indeed be the most beautiful city in the world. I can safely say that all our brief visit to Paris accomplished was to awaken a burning desire to return some day and see more!!


A Four Mile Walk Through Paris

Our bus dropped us off right at the curb of the Eiffel Tower. That actually made a lot of sense. If we hailed a cab at the end of the day, we could just say "Eiffel Tower". Better yet, no matter where we wandered on our long walk, we were never in danger of getting lost with that monster tower looming above.

I had to laugh. This was the best landmark since the Cayman Islands. The highest point in the Caymans is 50 feet. As a result, our giant cruise ship can be seen from wherever we go.

Marla and I had a simple plan. With just five hours, we would walk in one direction for 2 hours, eat lunch, then head back. As it turned out, the famous Seine River that winds through the very heart of Paris was nearby. We headed out along the banks of this historic river. It was literally "Springtime in Paris". The lovely pink cherry blossom trees were in full bloom.

As for poor Marla, this was perhaps her last good smile of the day. She was mysteriously tired from the outset. As it turned out, Marla was suffering from the onset of the awful Norovirus that plagued our entire ship. Indeed, one of her major goals for the day was to sample French coffee and croissants. No such luck. By the time we sat down for lunch, she had a serious stomach ache that prevented her from enjoying her meal.

This Norovirus is pretty serious stuff. Although I was spared, several people in our group caught it. It lasts for 24 hours and knocks people on their butts. I wrote an extensive article on our unpleasant Norovirus experience.

Marla's strength declined steadily during our walk. Marla was in so much pain that she was forced to stay in her room the next day. It drove her nuts that she would have to miss our trip to Omaha Beach, but she was in no shape to leave the cabin.
| | |
| --- | --- |
| The Seine meanders on a 20 mile trip throughout Paris. Marla and I had debated long and hard about taking a river cruise along the Seine. What a lovely way to see all the famous sights of Paris! Ultimately we chose to take a long walk instead, but we were full of regret all day long. It didn't help seeing these longboats shoot by on a regular basis. Nor did it help when our friends Bill and Sharon Shaw raved about how much fun they had on their Seine River experience later that evening. | Wherever we went, the Eiffel Tower was impossible to miss. I had no idea how immense this structure is. Some people call it the "Eye-ful Tower" while others call it the "Aw-ful Tower". Considering how much fame this tower has brought to the city, it is hard to believe the structure was bitterly criticized during its construction. French writer Guy de Maupassant was said to eat lunch in the Tower's restaurant every day. When asked why, he answered that it was the only place in Paris where he didn't have to look at the damn structure. |
| | |
| --- | --- |
| With Paris being labeled the world's most romantic city, I decided to see if the city lived up to its reputation. I made a project out of snapping photos of any romance I might notice during our journey. For example, in this picture, I have identified my very first target of the day. | Well, there they are, today's first romantic couple. Will there be any others? We will just have to find out. Notice the iron plug in the background. This entire area is a pier known as a "quai". Various small boats use that iron plug to tie their ropes as a way to secure their vessels. |
The Quai d'Orsay is part of the famed Left Bank of the Seine. The Quai has historically played an important role in French art as a location to which many artists came to paint along the banks of the river Seine.

The French word "Quai" means pier or wharf. Long ago, this was the spot where food from the countryside was delivered by boat to the heart of Paris. The same street becomes the Quai Anatole France to the east of the Palais Bourbon and the Quai Branly to the west.

The French Ministry of Foreign Affairs is located on the Quai d'Orsay. Thus the ministry is often called the "Quai d'Orsay" by metonymy. By the way, I had to look up "metonymy".

"The substitution of the name of an attribute or adjunct for that of the thing meant, for example suit for business executive."

La Rive Gauche is French for The Left Bank. Where Marla and I were walking on the southern bank of the river Seine was "The Left Bank" of worldwide fame.

"Rive Gauche" or "Left Bank" generally refers to the Paris of the Roaring Twenties. During this era, Paris was a beehive of artists, writers and philosophers. Pablo Picasso, F. Scott Fitzgerald, Arthur Rimbaud, Paul Verlaine, Henri Matisse, Jean-Paul Sartre, Ernest Hemingway, Gertrude Stein and dozens of other members of the great artistic community gathered at Montparnasse, located one mile south of the Seine.

These artists were featured in the terrific 2011 Woody Allen movie Midnight in Paris. Our own Greenwich Village in New York City served as a similar meeting place in the Sixties. Apparently great minds enjoy seeking the company of other geniuses. Today the phrase "Left Bank" implies a sense of bohemianism, counterculture and creativity.
| | |
| --- | --- |
| Aha, a teddy bear. As everyone knows, the cost of a hotel in Paris can be exorbitant. Here someone seems to have found a way to beat the high prices. | That structure is the Grand Palace, an exhibition hall and museum complex located at the Champs-Élysées. Built in 1900, it has seen major art exhibits, riding competitions, and technology conferences staged here. The bridge is known as "Pont des Invalides". |
| | |
| --- | --- |
| Located at the Pont des Invalides along the Quai d'Orsay, you cannot miss this impressive bronze sculpture of the artist Zadkine. It was created to decorate the Pavillon des Bois Exotiques of the Exposition Internationale of 1937, which was also situated on this spot on the Quai d'Orsay. | Each bridge along the Seine is decorated with beautiful sculptures. Wherever Marla and I went, we were greeted with tasteful objects of art such as these. I love Houston, but I doubt I will ever see the day when our city decides to replace the giant ugly billboards with tree-lined vistas and statues. |
| | |
| --- | --- |
| Pont Alexandre III is widely regarded as the most ornate, extravagant bridge in Paris. Those golden statues can be seen at either end. The bridge is named after Tsar Alexander III at the conclusion of the Franco-Russian Alliance in 1892. | In the center of the same bridge is this sculpture known as the "Nymphs of the Seine". Everywhere you go there are statues. Walking through Paris is like walking through an open air museum. |
| | |
| --- | --- |
| Midnight in Paris is a 2011 romantic comedy film written and directed by Woody Allen. It won an Oscar for Best Original Screenplay, a much-deserved award in my opinion. Taking place in Paris, the film follows Gil Pender, a screenwriter who is forced to confront the shortcomings of his relationship with his materialistic fiancée and their divergent goals. | What makes the movie so much fun is watching Paris in the 1920s come back to life. Using a very amusing fantasy theme, each night at midnight the hero travels back in time to meet the key literary and artistic figures of Paris in the Twenties, an era he idolizes. Suddenly we get to meet F. Scott Fitzgerald, Ernest Hemingway, & Pablo Picasso. These scenes are magic! |
| Several scenes in Midnight in Paris were shot on Pont Alexander III. Here is a picture from the middle of the movie that was shot on the bridge. | As you may have guessed, "Pont" is French for "bridge". Here is a picture from the final scene of Midnight in Paris that was shot on the same bridge. |
| After all that buildup about Pont Alexandre III, we crossed the Seine at Pont des Invalides instead. At the time I had no idea we were skipping the more famous bridge. Oh well. This bridge worked just fine. There's the Eiffel Tower to the left and one of the many riverboat terminals on the right. | Speaking of riverboats, I turned around to photograph the opposite direction and saw one coming right at us. Everyone was drinking wine and laughing with joy. I frowned immediately. I was deeply suspicious they might be having more fun than me. |
| | |
| --- | --- |
| Now that we have crossed Pont des Invalides, that is Rue Francois zigzagging to the northwest. | That is Avenue Franklin Delano Roosevelt straight ahead. We have now finished a quarter of our walk. |
| | |
| --- | --- |
| As we walked along Avenue FDR, we noticed a lovely park across the street. | I was intrigued by the thick shrubbery. What could be hiding in there, I wondered. Curious, we investigated. That little walkway in the picture led us to a lovely little bridge. |
| | |
| --- | --- |
| Is this just the coolest little bridge in the world?? This park was much too pretty. | To my delight, we discovered this lovely pond which was totally hidden from the street. How perfectly peaceful! |
| I quickly discovered this pond had fish. | Omigosh, this little pond even had a waterfall. This place was so perfect I idly wondered if that waterfall was real. I studied it carefully. Yes. With an odd sense of regret at just how delightful this spot was, I concluded the waterfall was real. |
| | |
| --- | --- |
| Now if ever there was a perfect spot for romance, this park had to be it. Sure enough, as if almost on cue, we ran across a young couple in the midst of kissing. | And then just around the corner I found another couple as well. More smooching. This park definitely had a romantic effect on people. I remember wondering where I would go in Houston to find a place with a similar effect. |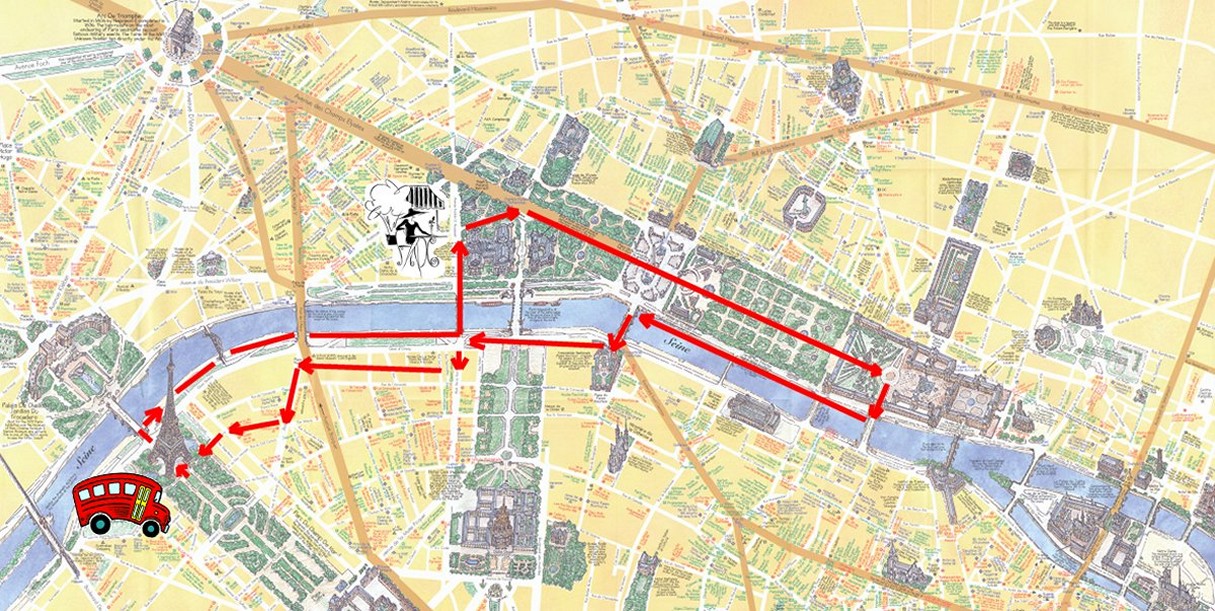 We decided to eat lunch in the spot shown above. If you want to find the little park, it was near our cafe across the street.
| | |
| --- | --- |
| We decided to have lunch since it was about 12:30 pm. We found a lovely cafe named "Le Grand Palais" at the corner of Avenue FDR and Rue Jean Goujon. This was the spot where Marla discovered she didn't have much of an appetite. I ended up eating most of her croissant. | Given its name, it is no surprise to find our restaurant was located right across the street from the Grand Palais. |
| | |
| --- | --- |
| After lunch, we quickly came to the Avenue des Champs-Élysées. As Wikipedia puts it, "with cinemas, cafés, luxury specialty shops and clipped horse-chestnut trees, the Champs-Élysées is arguably the most famous street—and one of the most expensive strips of real estate—in the world." The entire street is lined with those unusual clipped trees. | Several French monuments are on the street, including the Arc de Triomphe and the Place de la Concorde. The name is French for Elysian Fields, the place of the blessed dead in Greek mythology. According to a much used description, the Champs-Élysées is la plus belle avenue du monde ("the most beautiful avenue in the world"). |
| | |
The Champs-Élysées dead ends at this amazing obelisk.

This is the Obelisk of Luxor, a 75 foot high obelisk standing at the center of the Place de la Concorde. Two 3,300-year-old twin obelisks once marked the entrance to the Luxor Temple. Muhammad Ali Pasha, the self-proclaimed Khedive of Egypt, offered the two obelisks as a gift in 1829.

Notice the hieroglyphics at the base. After this obelisk was transferred from the Luxor Temple to France, its partner was never actually brought over and remains in Egypt.

The first obelisk arrived in Paris on December 21, 1833. Three years later, on October 25, 1836, King Louis-Philippe of France had it placed in the center of Place de la Concorde.
| | |
| --- | --- |
| There are two beautiful fountains that flank the Obelisk. This one is the Fountain of River Commerce and Navigation. Directly behind to the right is the Hôtel de Crillon which served as headquarters to the German high command. To the left is the Embassy of the United States. Interesting symbolism - captivator and liberator side by side. | I made a friend with this cute girl from Egypt. Well, sort of. |
The Place de la Concorde is the largest public square in Paris. The square was once known as "Place Louis XV" and featured his statue. During the French Revolution, the statue of Louis XV was torn down and the area renamed "Place de la Révolution".

The new revolutionary government erected the guillotine in the square, and it was here that King Louis XVI was executed on 21 January 1793. Other important figures guillotined on the site, often in front of cheering and jeering crowds, were Queen Marie Antoinette, Princess Élisabeth of France, Charlotte Corday, Madame du Barry, Georges Danton, Camille Desmoulins, Antoine Lavoisier, Maximilien Robespierre, and Louis de Saint-Just.

The guillotine was most active during the "Reign of Terror", in the summer of 1794, when in a single month more than 1,300 people were executed. The Obelisk now stands in the spot where Louis XVI was executed.

Here is an interesting picture of the Champs-Élysées that shows the Arc de Triomphe facing the Obelisk.

Speaking of the beheaded Louis XVI, few people realize that America owes its Independence to this man. Louis XVI was persuaded by Benjamin Franklin to come to the aid of the American Revolution. Upon securing a vital military alliance with France in 1778, the war soon turned in the colonists favor. French money, military expertise (e.g. Lafeyette), munitions, soldiers and naval forces proved essential to America's victory over the Crown.

Ironically, France gained little in return except for large debts. The treasury was now completely bankrupt. The consequences of the resulting fiscal crisis led directly to the French Revolution in 1789 and Louis XVI's death in 1793. While America gained its Independence, Louis lost his head.
Our next stop was the magnificent Garden of the Tuileries.

The Tuileries Garden is a public garden located between the Louvre Museum and the Place de la Concorde. Created by Catherine de Medici as the garden of the Tuileries Palace in 1564, it was first opened to the public in 1667.

It became a public park after the French Revolution. Throughout the 19th and 20th century, it was the place where Parisians celebrated, met, promenaded, and relaxed.

Today the Tuileries Garden is one of the most popular tourist destinations in all of Paris. The beauty of the Garden is world famous. Over the centuries, the Garden has become home to fountains, ponds, exquisite landscaping as well as countless beautiful statues. I will show the statues shortly. I think people would be surprised to learn the origin of the many impressive statues in the park.

On October 6, 1789, as the French Revolution began, King Louis XVI was brought against his will to the Tuileries Palace. The garden was closed to the public except in the afternoon. Queen Marie Antoinette and the Dauphin were brought here as well.

After the King's failed attempt to escape France, the surveillance of the family was increased. Then things got worse.

On August 10, 1792, a mob stormed the Palace, and the King's Swiss guards were chased through the gardens and massacred. After the King's removal from power and subsequent execution, the Tuileries became the National Garden of the new French Republic.

It was "the people's garden" now. In 1794 the new government assigned the renewal of the gardens to the painter Jacques-Louis David and his brother in law, the architect August Cheval de Saint-Hubert.

They conceived a garden decorated with Roman porticos, monumental porches, columns, and other classical decoration. They knew just where to find some very beautiful statues. Large numbers of statues were brought from the royal residences here to the Gardens for display. These fabulous works of art remain here to this day as an ironic "gift" to the people from the Royalty.

Music in the Tuileries, by Edouard Manet, 1682...
the Tuileries was the favorite meeting place of Paris
| | |
| --- | --- |
| | |
| | |
| | |
| --- | --- |
| | |
| Practically the first thing we encountered was this lovely pond known as the Grand Bassin Octogonal. The pond is lined with a series of very beautiful statues. Since I am a huge fan of statues, I took great pleasure in taking their pictures. | Since we were in a hurry, I didn't have time to learn the names. Sad to say, I have no idea what the names are or who created them. I did manage to figure out the one directly below is Theseus and the Minotaur. |
I was amused to see how the pigeons enjoy resting upon these statues.

The pigeons made for some fairly absurd images such as this admiring gaze.

Here it appears the statue is trying to get rid
of the damn birds. Do you blame him?
Our next stop was the "Arc de Triomphe du Carrousel". It was built between 1806 and 1808 to commemorate Napoleon's military victories of the previous year. The more famous Arc de Triomphe de l'Étoile on the Champs-Élysées nearby was designed in the same year, but it took thirty years to build and is about twice the size of this monument.

Peace riding in a triumphal chariot (located atop the Arc).

By the way, these two pictures are taken from Wikipedia. I could have used my own pictures, but these were superior photos and I didn't think the reader minded if I used the better snapshot.
This picture is titled

Military review in front of the Tuileries, by Hippolyte Bellangé

,

1810

The Arc de Triomphe du Carrousel, which can be seen on the right of this painting, was originally erected as a gateway of the Tuileries Palace seen in the picture.

The Tuileries Palace was where Marie Antoinette and King Louis XVI were held prior to their 1793 execution.

The Tuileries Palace no longer stands. It was deliberately destroyed by fire in 1871. This took place due to a political upheaval following France's defeat in the 1870 Franco-Prussian War.

Today there is much talk in Paris of rebuilding the Palace. The space where it once stood is still vacant. Since the nearby Louvre is in desperate need of room for expansion, there is a good chance the project will take place.
This is architect I.M. Pei's impressive Glass Pyramid skylight which was completed in 1989. It serves as the entrance to the Louvre.

Now it was time for the Louvre. This is the moment we had waited for. Some of the most famous works of art in the entire world are housed at the Louvre, including the Mona Lisa, Venus de Milo, and Psyche and Cupid.

In anticipation of this moment, I had created a wonderful 6-page article on the Louvre complete with 47 pictures and information about the best known paintings and sculptures.

After finishing my article, I felt like I was something of an authority. This was it. We were finally here at the most famous museum in the world.

My heart throbbed with excitement. I had waited my entire life to see this.

Mona Lisa, Leonardo da Vinci's masterpiece.
| | |
| --- | --- |
| Psyche Revived by Cupid's Kiss, by Antonio Canova | Venus de Milo, by Alexander of Antioch |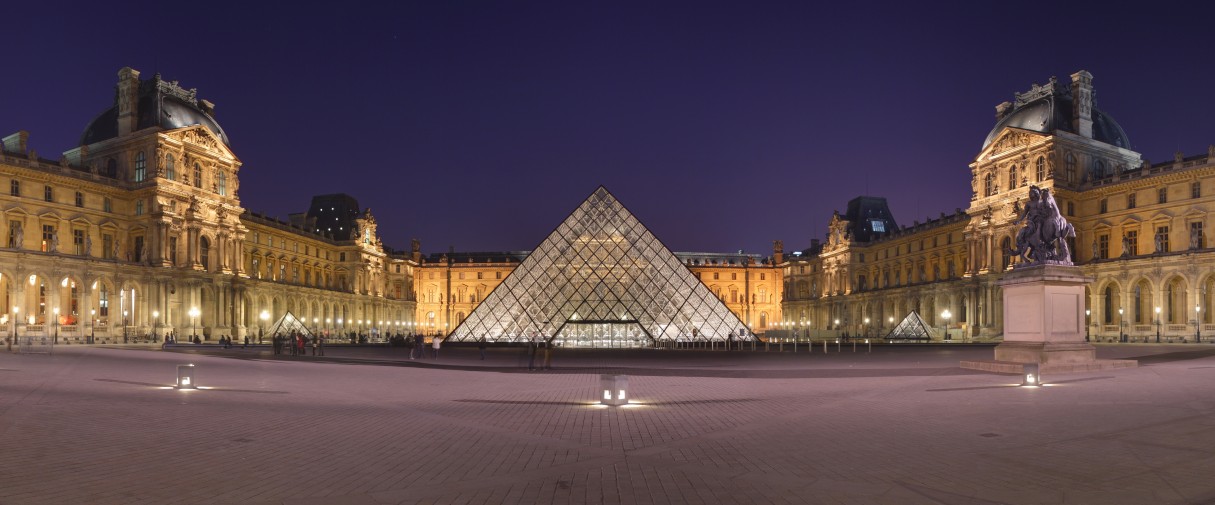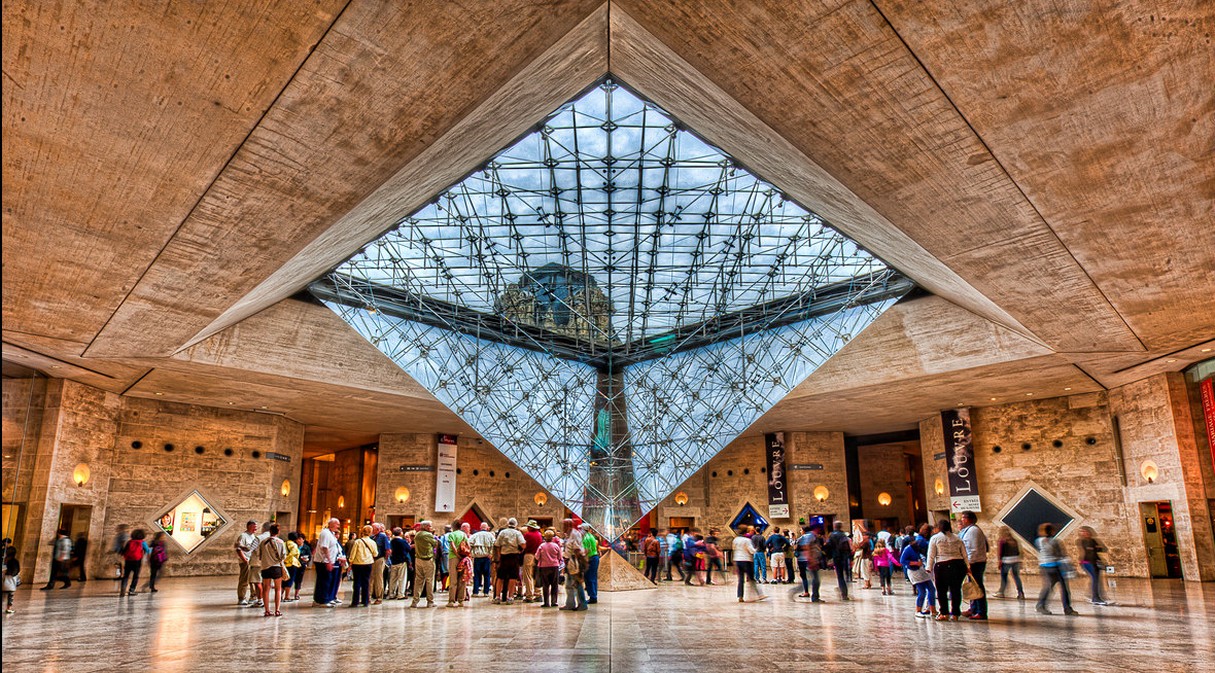 | | |
| --- | --- |
| | |

I did not take this picture of the crowd staring in awe at the Mona Lisa. Why not?

When Marla and I reached the entrance to the Louvre Museum, we had a small problem. The Eiffel Tower was 2 1/2 miles away and we had an hour and a half left. The Tower looked so far away, we weren't even sure if we had enough time to get back to our bus for the 4 pm rendezvous.

Marla and I were both crushed. There would be no Louvre for us today. So close yet so far. Our disappointment was overwhelming.

For lack of anything better to do, we went over to have a closer look at the Glass Pyramid.

As I read the caption explaining the Louvre in general and specifically the Pyramid, I noticed this blurb:

"Since completion of the Pyramid in 1989, as of 2002, attendance at the Louvre has doubled."


Houston Needs to Get its Act Together

2002

Hmm. I remembered that year for a very odd reason. That was the year I volunteered to help with Houston's 2012 Olympic bid.

"Envy" is not the easiest emotion in the world to deal with. As I stared at the Louvre, the Pyramid and all the amazing statues, I again could not help but compare my hometown to the amazing sights of Paris. I thought back to how mystified I was in 2002 to discover that Houston never had the slightest chance at winning the bid for the 2012 Olympics that eventually went to London. Paris finished second.

Truth be told, I was about as "un-worldly" as possible back in 2002. Other than a 1991 cruise to the Eastern Caribbean and a 1998 cruise to Jamaica and Cayman, I had never been anywhere else in particular. It would not be until 2008 that I would get my first look at Europe. My inexperience with travel left me quite naive in my outlook concerning my hometown of Houston.

I didn't know if Houston would win the final Olympic bid or not, but I was certain Houston was at least the finest American city to host the Olympics in case the committee wanted to return the Summer Games to the USA.

Look at things from my perspective. Back in 2002, Houston had just completed or was about to complete all the fine sports facilities we have such as Reliant Stadium, Minute Maid Park and Toyota Center. Plus we had the Astrodome to host other events. Better yet, we had this new monorail system that connected all the facilities into one nice line. Any visitor to the Houston Olympics could use the monorail to whisk them from one venue to another. I assumed at the time that Houston was a LOCK to sew up America's bid to host the 2012 Olympics... only to be crushed to find that New York and San Francisco were selected ahead of Houston. Not only was Houston unable to beat the great cities of the world, it couldn't even beat the cities in its own country.

I didn't get it at the time. Houston had by far the finest facilities necessary. But based on the results, it didn't seem like anyone was interested in my city. Houston didn't seem to have a chance.

It was not until I began to visit cities like Paris, Rome and Barcelona that I finally figured out what Houston was missing - Beauty. If Paris is a Beauty, then Houston is a concrete Beast.

By chance I saved this thoroughly obnoxious article in the San Francisco Chronicle that summed up the reasons for Houston's also-ran status.


Hey Houston... Better luck next time!

Ken Garcia, San Francisco Chronicle
Published 4:00 am, Tuesday, September 3, 2002

Houston's Olympics bid had it all -- except a sellable city

There's no denying that San Francisco's politics are a joke. The city's streets are a mess, its real estate prices are laughable, the city is congested, and it's hardly commuter-friendly.

But even with all its bureaucratic bungling and aging blemishes, San Francisco is still one of the most beautiful cities in the world. And more important, it's not Houston.

This undeniable fact was not lost on the U.S. Olympic Committee task force that selected San Francisco and New York as the finalists to be the U.S. candidate for hosting the 2012 Summer Olympics. And it underscores what so many cities over time have learned in trying to chip at the stature of San Francisco and belittle its standing as a world-class tourist destination: better luck next time.

For years, cities from Toronto to Tampa Bay have tried to convince big city officials and big league teams that San Francisco was somehow becoming second-rate. As they would say, Frisco is still pretty as a postcard, but definitely on the decline.

While longtime residents here might agree with that assessment, when neutral observers asked visitors which city they'd rather spend time in, somehow Houston, Dallas, St. Petersburg and Pittsburgh don't make the list. It's not even close.

A certain civic sneer emerges on the countenance of other city officials when San Francisco is mentioned in any capacity, an uncontrollable impulse based on the town's reputation for wackiness, openness and outrageousness. But often lost on them is the City by the Bay's elegance, sophistication and hard-earned ability to cater to the most cosmopolitan tastes and attitudes.

Our city has qualities that towns like Oakland, San Jose and Sacramento have learned to accept about San Francisco over time. Our competitors note San Francisco's superior attractiveness. They do so with reluctance and with envy-induced hostility at times, but still without question.

So it's rather amusing that second-tier towns like Houston continue to huff and puff when they get left at the threshold when competing against the San Franciscos of the world -- or for that matter, the likes of London and Paris and New York.

Houston is definitely big, admittedly super-sized in a Texas-Astrodome-LBJ kind of way. And according to those involved in the Olympic hosting competition, Houston had the most technically and financially sound bid among the municipal hopefuls.

Houston only had one problem. It's Houston.

"They can crunch the numbers, spin the truth and do more recounting of the votes than the state of Florida, and it always comes back to one point," wrote Houston Chronicle columnist Fran Blinebury, echoing the sentiment of the town's official delegation. "Image is everything. In the end, the 10 deciding members of the USOC task force voted with their hearts and their digital cameras instead of their heads."

Blinebury's commentary came on the heels of another Houston sports scribe, John P. Lopez. Lopez claimed that without all of its pizzazz and sexiness and popularity and allure, San Francisco wouldn't even stand a chance.

And he's right. For without all of those traits, San Francisco would be Houston. With better weather.

This last point should not be ignored because in the minds of Houston officials, their town's hell-like summertime heat was a major reason for elimination. They tried to dodge that perceived problem by offering up a plan showcasing an "air-conditioned Games" theme. Which is to say, "We hope you like your marathons indoors."

Yet reality suggests that weather played but a small role in the U.S. Olympic Committee's determination. After all, Atlanta was a sticky, furnace-like host to the 1996 Olympics. Nor did the heat stop officials from selecting Athens for the upcoming 2004 Games.

We can only assume the heat is a lame excuse for Houston. Maybe the committee really did want an internationally renowned city and a perennial top draw for tourists worldwide. If so, tough luck, Houston.

Perhaps Houston was so desperate to put itself on the global events map that chose to overlook the boring flat-terrain flood basin where it is located.

Instead the USA Olympic committee saw San Francisco, with its lovely hills and bridges and cable cars, as the perfect accent to a colorful, dynamic region that happens to include beautiful sports arenas from San Francisco to San Jose to Sacramento.

"I guess my idea of an international city and the USOC's just isn't the same," said Houston 2012 Foundation Chairman George DeMontrond III after the setback. Houston is the home of NASA, so we'll forgive DeMontrond for getting lost in space.

For all those civic wannabes in Houston who like to think their city's stock is now on par with the likes of New York and San Francisco, it helps to remember the small things. The 110-degrees-in-the-shade concept is a sure brochure bouncer. And oil refineries may be a great boost to the local economy, but smoke and haze and skylines full of petrochemical plants don't exactly send Europeans racing to their travel agents.

The good people of Houston will accept this over time, just like all the other cities have when they try to pass themselves off as San Francisco or Paris. Speaking of Paris, that would be the one in Europe, not the one in Texas.

Despite the snide remarks, this article definitely made its point. I think this article sums up my feelings about my 2010 visit to Paris fairly well. Houston remains a terrific place to make a living and raise a family, but who on earth would ever think of Houston as a tourist destination? What are people supposed to do when they come here?? What are visitors supposed to do for entertainment?

San Antonio has the Alamo and the River Walk and Austin has hills, lakes, and rivers. Meanwhile all Houston does is endlessly widen its freeways, cut down more trees, put up more billboards, and destroy Astroworld and Waterworld. Our ideas of culture include monster truck exhibitions, gun shows, and art cars. Paris has the Mona Lisa, Houston has the beer can house.

Oh well. Now you know why I was so depressed during my walk through Paris. This visit to Paris had been a real eye-opener for me. Sometimes "Ignorance" really is bliss.

For the rest of our walk, I was engaged in a constant mental debate over whether it is better to know or not to know that your hometown is homely.

Or is the adjective "homely" putting it too mildly??

Upon my return to Houston, on a whim I typed in "Most Romantic Cities in the World". Naturally Paris popped up immediately.

Out of nowhere, I had a gruesome thought. How exactly does the rest of the world view Houston??

With fear and trepidation, I typed in "Ugliest Cities in the World".

Sure enough, Houston made the list.

1 | GUATEMALA CITY, GUATEMALA

2 | MEXICO CITY, MEXICO

3 | AMMAN, JORDAN

4 | CARACAS, VENEZUELA

5 | LUANDA, ANGOLA

6 | CHISINAU, MOLDOVA

7 | HOUSTON, USA

Houston, we have a problem: You're ugly. This is the United States' fourth largest city when it comes to population, but the attraction sure isn't scenery. There are many other ugly American cities (let's face it -- American metropolises aren't exactly beauties: Atlanta, Cleveland...), but this one should win the title of ugliest of them all hands down thanks to a large impoverished and homeless population (close to one in five families live below the poverty line) and an irregular cityscape with no formal zoning regulations.

8 | DETROIT, USA

9 | SAO PAULO, BRAZIL

10 | LOS ANGELES, USA


Okay, enough Houston bashing for now. Paris has been the Grand Master on the world stage for a thousand years. Compared to Paris, Houston is barely a new kid on the block. Our city is not even two hundred years old and look at all the progress we have made!

The way I see it, it is too bad that our city may lack hills and lakes and mountains and mighty rivers. However, on the other hand, Houston has many blessings. Houston has the good fortune of being at the crossroads of national and international trade routes. With our ship channel, the cargo ships of the Panama Canal come beating to our doorstep. Not only do Texas farmers and businesses use Houston for its shipping, the entire southwest comes through Houston to cruise the Caribbean and the Gulf of Mexico. Planes to and from South America use Houston as the natural launch point to the next stage. We are in the middle of everything.

People make fun of our climate, but we never have the crippling snowstorms of the North. People make fun of our floods, but when you stop and think about it, it is a blessing to have all the waters of Texas come flowing past Houston. Ask Los Angeles or Las Vegas if they would like to have some of our water.

Houston is a business town, plain and simple. Call it as it is. Energy, Space, Medicine, Manufacturing, Shipping. Houston is an economic powerhouse the envy of many cities throughout not just the country, but the world for our prosperity.

Houston is still a kid. So during our growing phase, we are the ugly duckling. We are still wearing braces. We have made a conscious decision to knock down our trees to make room for the most elaborate freeway system on earth and suburban development. By refusing to zone the city, we have made a conscious decision to encourage business growth over neighborhood beauty. By allowing billboards to be placed alongside freeways that could be lined with trees, we again encourage business over beauty. So be it. Someday Houston will have its own "Renaissance". I have no doubt that one day Houston will turn its attention to greater urban beauty and cultural development. However, for the moment its focus is clearly on economic growth.

Paris on the other hand has the good fortune to be the epicenter of European culture for the past thousand years. The French have been world leaders in style, science, literature and art all the way back to the days of Medieval Europe. Paris is the envy of the world. For example, 300 hundred years ago Peter the Great of Russia took one look at Paris and decided to model his own country after the French. Peter absolutely could not bear to think how ugly his own country was after seeing this pearl.

The nice thing is that like Peter the Great, we are able to appreciate Paris for its beauty and perhaps even aspire to make our own city more attractive. Paris gives us an idea of what we could do if we put our mind to it. For one thing, our city could have just as many tree-lined vistas if we could just let go of our obsession with billboards.

That said, from my perspective, Houston isn't going to be lovely any time soon. So for the time being, I figure the easiest way to cope with my envy is to at least share the beauty on occasion. I am just happy I can earn a good living here in Houston so Marla and I can afford to visit a place like Paris.

Back to the Garden of the Tuileries

This statue was beside the Arc du Carrousel

Standing Woman, Gaston Lachaise, 1932

Louis XIV, the famed Sun King, 1638-1715. Voltaire dubbed his reign "an eternally memorable age," calling it
"le Grand Siècle" (the Great Century)
| | |
| --- | --- |
| | |
| | |
| Wherever I went, there were more statues. | I have never seen so many statues in my life. |
| | |
| --- | --- |
| So much to see, so little time. I desperately wanted to stick around and explore every corner of this amazing garden. The problem was that the Eiffel Tower looked really far away. | Marla and I were both worried that we didn't have enough time to get back. So with great reluctance, I stopped snapping photos of the Tuilerie Garden statues and began to head back. |
| | |
| --- | --- |
| Marla and I decided to descend those stairs and walk along the side of the Seine River. | It is very lovely down by the river. |
| | |
| --- | --- |
| This area down at river level was a veritable lover's lane. | There were all kinds of couples in the various stages of love. |
As we crossed the Seine at the Pont de la Concorde Bridge, I took this photo of the river. With this kind of beauty, how could there not be love?? My only regret was that poor Marla was fading fast. Marla didn't know she had norovirus, but its effects were kicking in.
A look at the Seine from the other side of the bridge. I shrugged my shoulders in surrender. Who could deny the beauty?

It was time to head back to the Eiffel Tower. We walked along Quai Branly for a while, named for Edouard Branly, the French inventor. Then we switched over to Rue de Universite. To our chagrin, we arrived back at the Eiffel Tower a half hour early. It aggravated both of us to waste a single second that could have been spent exploring.
| | |
| --- | --- |
| We passed one museum after another. Each museum called for us to come visit and learn, but it was too late for that. We both frowned and accepted our fate. | I was engaged in yet another mental debate. Is it better to stay ignorant of beauty that you cannot have or is it better to know the beauty and have it quickly ripped from your heart?? |
| | |
| --- | --- |
| The National Assembly meets here in what was once the Palais Bourbon created by Louis XIV | As I said earlier, there was never a fear of getting lost thanks to the Iron Monster. What fooled us was our inability to realize the Tower was so much closer than we thought. |
| | |
| --- | --- |
| France, of course, is home to the famed Tour de France. It wasn't until I enlarged this picture that I realized this was an official cycle team in training. | Obviously someone hired the Abacus bus company to put a vehicle in front and in back of the riders for their safety. |
| | |
| --- | --- |
| Hotel of the Invalides is a complex of buildings that contain museums and monuments, all relating to the military history of France, as well as a hospital and a retirement home for war veterans, the building's original purpose. The buildings house the Musée de l'Armée, the military museum of the Army of France, the Musée des Plans-Reliefs, and the Musée d'Histoire Contemporaine, as well as the burial site for some of France's war heroes, notably Napoleon Bonaparte. | Here is some of the most expensive real estate in the world. The apartments that line the Seine are said to be in the "if you have to ask, don't bother" category for price. |
| | |
| --- | --- |
| Now we are back at the Pont Alexander III. I know this because I recognize the golden statue. The main feature of Pont Alexandre III is the four 56 feet tall pillars with the shining gilded statues. These statues are known as the Fames. Each one of these statues has a specific name and each one stands for a specific period of Frances history. | Another look at the Fames and the Grand Palais. I can't help adding all these statues! I love statues!! |
| | | |
| --- | --- | --- |
| The base of the statue | The top of the statue | Statuesque |
| | |
| --- | --- |
| | |
| Heading towards University Boulevard | Unless I am counting wrong, those apartments are 9 stories tall. |
| | |
| --- | --- |
| Many buildings are crowned with delightful aerie gardens. | Another garden in the sky. |
Trailing behind, I noticed Marla suddenly stop in her tracks when she turned the corner. And what did Marla discover when she turned the corner?? Notice the tilt of her head. Her expression said it all. Wow!!

Two blocks away, there it was, the incredible Eiffel Tower.

Très magnifique!!

We walked on ahead and soon came to an enormous city park that lay at the footsteps of the Eiffel Tower.

With 30 minutes to kill, I decided to explore the park. Marla was exhausted, so she sat down on a bench and said go ahead without her.

I am not quite sure what it was about that park, but there were people embracing and kissing everywhere I went.
I counted well over a dozen different couples in various degrees of embrace similar to the photographs.

I would have snapped more pictures, but I respected their privacy too much to let them notice they were being watched.

As far as I was concerned, this vast outpouring of affection was all the proof I needed to conclude Paris had definitely lived up to its reputation as the most romantic city in the world.

My only regret is forgetting to take a picture of Marla and I smooching with the Eiffel Tower in the background.

To be honest, when I returned to Marla's side, I was more than ready to give my wife a kiss and a big hug, but to be honest, I could see she didn't feel very good. I decided to save our kiss for the next visit to Paris.

Now I was curious "how" Paris had developed such an enviable reputation. The second part of my story reveals what I discovered.