Monaco

Written by Rick Archer,
April 2011

For our day of exploration at the French Riviera, we had started at Villefranche, driven west to Nice, and driven east to Eze. From Eze we traveled three miles further east to Monaco, the second smallest country in the world (the Vatican is the smallest country... I knew you would ask).

Monaco is 0.7 square miles, yet it is home to 35,000 people. This odd feature gives you a clue to an unusual trivia question: What country is the most densely populated in the world?

One would immediately think of China or India, but in fact the winner is none other than Monaco. In fact, it isn't even close. Second place goes to Singapore. With 46,000 people per square mile, Monaco is TWICE as densely populated. (China is 360, the USA is 76 per square mile).

Monique, our travel guide, said the real estate prices here were prohibitive. She listed some prices and everyone on the bus gasped. You have to be very rich to live in Monaco.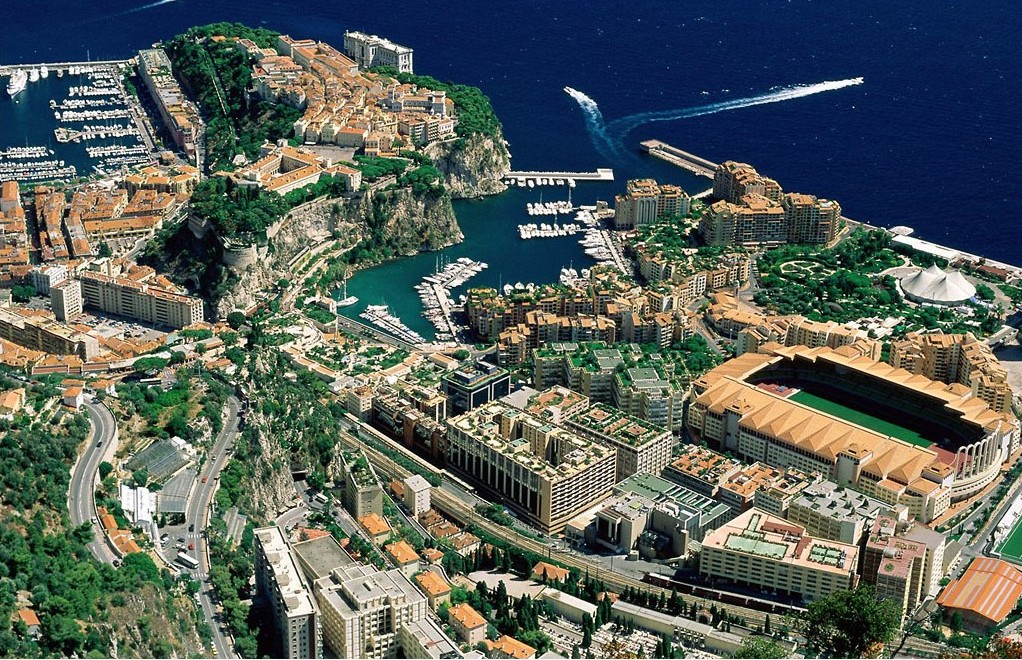 This photograph of Monte Carlo shows a span of about one mile which is half the city. Believe it or not, that soccer stadium marks the exact border between Monaco and France! If you walk across the street to the green area on the right, you are in suddenly in France.

Take note of the twisting, winding streets. These streets are part of the famous Monte Carlo Grand Prix racing circuit. I find it highly amusing that Monaco has embraced the culture of fast cars so greatly when it is possible to walk to any point in the city in just minutes.

The two marinas show that like the rest of the Riviera, boats are also a big part of its culture. The Über-rich love to anchor their expensive yachts out in Mediterranean and take a smaller boat in for a night of gambling at the casinos.

I guess that's one way of beating the taxes - live out at sea. But I forgot... the residents of Monaco don't have to pay taxes, do they? Monaco levies no income tax on individuals. Considering how expensive its property values are, the only way Monaco can attract new citizens is by serving as a tax haven for the rich. The absence of a personal income tax in the principality has attracted a considerable number of wealthy "tax refugee" residents from European countries who derive the majority of their income from activity outside Monaco; celebrities such as Formula One drivers attract most of the attention, but the vast majority of them are less well-known business people.

Europe's favorite playground offers such good tax breaks that some of the hottest shots in Paris and London now live there and commute. It's 7 minutes by helicopter to Nice airport (where planes fly direct to Orly or London City Airport) and a tax loophole allows non-residents 90 days a year in Britain, plus the day of travel out and the day of travel back. With a bit of jiggery pokery (underhanded scheming), workers can fly to the UK on Monday and back on Thursday night.

There is one very bizarre twist. Monaco has high social insurance taxes payable by both employer and employee. The employer's contribution is between 28%–40% of gross salary including benefits and the employee pays a further 10%–14%. Social insurance contributions, amounting to nearly 50% of salary, are a major disincentive to the hiring of staff. It costs so much to pay service people that no one can afford to hire any help.

Sad to say, many of the residents have to wash their own clothes and vacuum their own homes. Poor them. Sometimes it must be tough to be rich. They have my complete sympathy.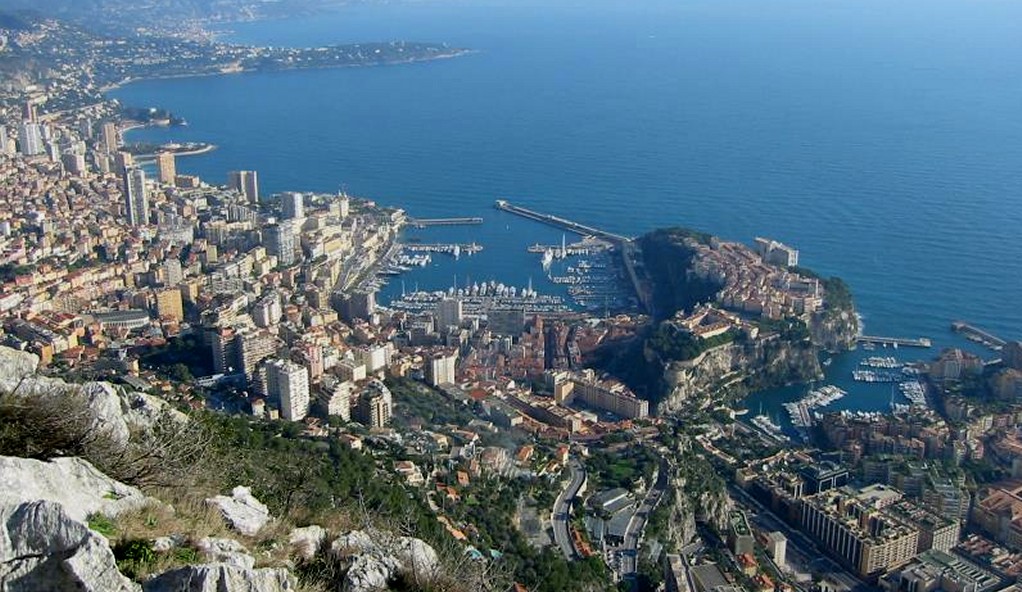 Life in the Fast Lane

I realize that Las Vegas, our favorite US den iniquity, prides itself in its nickname "Sin City". However Monaco and its principal city Monte Carlo laid claim to that title long before Vegas ever came along.

Monte Carlo first swung into action about the same time as the American Civil War. Vegas was still the home of the coyotes and the sage brush back in those days.

I can only conclude that the Europeans have been perfecting "Life in the Fast Lane" a lot longer than the Americans. Everything about Monaco is Fast. Fast men with their fast cars, fast boats, and fast women.

Unfortunately life in the fast lane can be dangerous. Some people who are attracted to Monaco push the limits and race whenever they get the chance. They like to take chances and risk making their life shorter by moving too fast.

Even the Royal Family is not immune. Of course their most famous citizen, Princess Grace, died of a car accident. Either she or her daughter Stephanie was at the wheel when their speeding car went off a cliff. For that matter, Princess Caroline's second husband Stefano Casiraghi died while racing his speedboat.

Life in Monaco is clearly not for the faint of heart.
Gambling and James Bond


Casino Royale was Ian Fleming's first James Bond novel. In addition to being a professional spy, Bond an expert gambler. His mission was to play against and bankrupt Le Chiffre, paymaster for the evil cartel SMERSH, in a high-stakes baccarat game at a Monte Carlo casino.

The game soon turned into a vicious confrontation between Le Chiffre and Bond. Unfortunately Bond hit a losing streak and lost everything. As Bond contemplated killing Le Chiffre outright, CIA agent Felix Leiter offered to stake Bond for one hand.

Bond accepted the money and the game continued. Bond's luck instantly turned. Bond eventually succeeded in taking tens of millions of francs from Le Chiffre belonging to SMERSH. Much mayhem followed as Le Chiffre resorted to violence to attempt to regain the lost money.

Casino Royale was one of Fleming's best. Fleming expertly portrayed the risk of gambling, wealth and stunning women. Of course, there were beautiful women involved in the story as well. It would not have been a Bond story otherwise.

Fleming recognized the connection between the excitement of gambling where men can win or lose entire fortunes, the danger of crossing swords with powerful and corrupt men, and the attraction that beautiful women have for wealthy and brave men.

Monaco's Grand Prix Auto Race


Considering how deeply Monaco wraps its identity around its Grand Prix auto race, I find it deeply ironic that a 1982 car crash cost Monaco its most famous icon, Princess Grace.

No one has ever explained exactly what happened to Grace. She and her daughter Stephanie were driving down from the top of the mountain above Monaco when the car spun out of control, ripped through a barrier and went plunging down a steep embankment where it came to a stop in some man's backyard.

Stephanie quite likely played a prominent role in her famous mother's death. The man who owned the house was the first person to the accident. He noticed that Stephanie appeared to be climbing out of the wreckage from the driver's side. In the thirty years since the death of her mother, Stephanie has not once commented on the circumstances of her mother's death. I think that lack of candor says it all.

Since 1929, the Monaco Grand Prix has been held annually in the streets of Monaco. The erection of the Circuit takes six weeks to complete and the removal after the race another three weeks. The circuit has many elevation changes and tight corners and includes a tunnel. In addition, the roads are incredibly narrow. These features combine to make the Monaco Grand Prix the most demanding of all Formula One tracks. Certain observers have likened racing round the course to "riding a bicycle round your living room".

Due to the tight and twisty nature of the circuit, it favors the skill of the drivers over the power of the cars. However, there is very little overtaking as the course is so narrow and dangerous. Passing another car is practically a death-defying accomplishment.

Prior to 1987, the number of cars starting the race was limited to 20, compared to 26 at other circuits. The famous tunnel section (running under the Fairmont Hotel, marked in grey in the circuit diagram above) is said to be difficult for drivers to cope with due to the quick switch from light to dark, then back to light again, at one of the fastest points of the course. As a result, the race outcomes tend to be decided by grid positions as well as pit strategies.

Considering how punishing the circuit is, it is no surprise that every race has as many as a half-dozen incidents including many 'near-misses' of serious accidents. Only two drivers have ever crashed into the harbor, the most famous being Alberto Ascari in the 1955 Monaco Grand Prix. The other was Paul Hawkins, during the 1965 Monaco Grand Prix. Fortunately, both men survived their crashes.

Despite the demanding nature of the course, only one man has ever died. In May 1967, Lorenzo Bandini was racing at the Monaco Grand Prix. He had been running second to Denny Hulme to Denny Hulme for several laps and seemed to grow impatient with his inability to find an opening to pass the leader.

On the 82nd lap, Bandini lost control of his car at the harbor chicane (Note: a chicane is a movable barrier used in motor racing; sometimes placed before a dangerous corner to reduce speed).

Bandini had just entered an S-turn when his Ferrari's left rear wheel hit the chicane guard rail, sending him into an erratic skid. Bandini's futile chase ended in horror when his car impacted a light pole and overturned. The car did a spectacular mid-air flip and crashed upside down in flames amongst the straw bales.

Once the car hit straw bales which lined the harbor side, the fuel tank ruptured and sparks ignited the fuel as the car rolled over with Bandini trapped beneath it. Race marshals flipped his car upright and pulled the unconscious Bandini out from his flaming Ferrari. The rescue operation was hopelessly inadequate. A second fire occurred when the gas tank exploded just as Bandini was being pulled away from the Ferrari. These flames made Bandini's condition even worse. Bandini's burns were too extensive to save him. He died three days later.

It is probably more a testament to the incredible skill of the drivers that there have not been more serious accidents. The Monaco Grand Prix is so difficult that it is still considered the ultimate test of driving skills in Formula One. Although Monaco is proud that it offers one of the last true city street circuits, many people question the safety of the course. More than likely, if the event was not already an existing Grand Prix, based on modern standards it would not be permitted to be added to the schedule for safety reasons.

It would be a tremendous shock to the system for Monaco to lose its beloved race. Residents of Monaco take great pride in the international fame their infamous race brings to their country. The motor race is deeply embedded in the nation's identity. As it stands, Monaco is most famous for gambling, excessive wealth, and decadence of Biblical proportions. Some of its citizens are openly called "Eurotrash" for abandoning their countries to save a few bucks, a tactic resented by many.

The car race is important because Monaco is glad to have this glamorous event to be proud of.
Monaco Sports


Befitting its reputation as the favorite playground in Europe, Monaco is home to two of the most beautiful sports palaces in the world.

Monaco sponsors the Monte Carlo Masters Tennis Tournament on a yearly basis. Last time I checked, Rafael Nadal from nearby Spain had won it for the seventh straight year.

Not one player on Monaco's successful soccer team was born in Monaco. However, Monaco is home to one of the most beautiful stadiums in the entire world. Thanks to the stadium, the country has no trouble importing players.

For a while, Monte Carlo sponsored a major golf tournament. I found this very surprising given the country's lack of space. The Augusta National Golf Course where they play the Masters Golf Tournament is about 7,500 yards long. Monaco is about 10,000 yards long. I assumed I would have noticed a golf course in one of the pictures.

So I checked. Sure enough, they held their golf tournament in nearby part of France. That made me feel better. For a second there, I thought that maybe their streets converted into a golf course whenever necessary.

Unless they begin doing landfill like those man-made islands in Dubai, I think it will be a while before Monaco gets its own golf course.
A Life of Luxury

Any discussion of Monaco real estate must begin with the understanding that there is no such thing as traditional homes for sale inside of Monaco. The place is far too small to have cul de sacs, recessed wooded estates and gated communities like we know here in the States.

Similar to New York City, if you want to buy a 'home' in Monaco, you have no choice but to purchase a condo and live high up in the air.

And don't expect anything spacious either. Space is sold at a huge premium. If you want 'space', buy a yacht. Live in your postage stamp home with lots of expensive artwork during the week and greet your weekend guests on the yacht. Isn't that so European?

I am not even sure if anyone really lives inside of Monaco besides Prince Albert. For one thing, over half the population of Monaco doesn't actually live there. They rent or purchase a living space the size of a closet and fly in periodically to maintain their 'tax haven' resident status.

Most of the people who work or play in Monaco have no choice but to buy somewhere in France and commute in. Many 'Monagesques' as they call themselves live in Beausoleil, a well-known suburb of Monaco. Or they in the hills and valleys that surround Monaco. Fortunately for everyone, France has plenty of land for sale.


Rick's Note: Here is an article on Property Values in Monaco

"Monaco is well known as a tax haven, and the luxury lifestyle associated with the principality is as legendary as her tempting zero income tax.

From the casino featured in James Bond films, the Grand Prix around the streets in early summer when anyone who is anyone has their yacht in the marina, the Aston Martin showroom at the top of Casino Square to the designer fashion labels with their boutiques looking out on the Mediterranean nothing comes cheap in Monaco – or does it?

Do you need to be a millionaire to share in Monaco's tax status and social life?

Not necessarily – but it helps!

To gain residency in Monaco you need to be able to commit yourself to live there for six months a year (not too difficult a task!). You will also need a property deed to show the residency officials a bank certificate from one of Monaco's banks to prove a deposit has been made. Many of the banks ask for 400,000 Euros, but for those in the know, some will accept 100,000. And the good news is that you're free to use that money how you want once residency is granted, and can be taken back out of Monaco without restriction.

The main cost is of course the property. Closing costs are high in Monaco – expect anything between 10% and 14% due largely to notary fees - and this needs to be factored in when deciding if you have sufficient capital to move to Monaco.

A first floor studio in Boulevard d'Italie for example is currently available for US $540,000. With the bank deposit and closing costs it works out under a million dollars – but the studio is only big enough for one person to get residency and has no views to speak of.

What about a two bedroom apartment with views of the Mediterranean, more perhaps what most people would want?

The cheapest two bedroom (again with no views to speak of) comes in around the million dollar level. One which has 95 square meters (about a thousand square feet) living area and a 23 square meters balcony with views of the Med and Grand Prix circuit is double that. Plus by the time closing costs and bank deposits are taken into consideration you wouldn't get a lot of change out of two and a half million dollars.

Once you're into the three million dollar bracket the choice and comfort level gets better – that will buy you a penthouse with a roof garden with a residents only pool in the complex and a couple of secure parking spaces.

So you do need to be a millionaire to live in Monaco? No… but to have a good standard of life and to enjoy Monaco to the full…yes!"

The Wild Tale of Villa Leopolda

Villa Leopolda Sold For $750 Million To Russian Oligarch

08-11-2008

A mysterious Russian billionaire has made an unprecedented splash in the real estate market along the French Riviera this week, buying the Villa Leopolda. However, his identity remains a secret.

This property is no stranger to mystery. In 2006, it was rumored that the house had been bought by Bill Gates, but apparently not. More recently the estate was said to be sold to Russian tycoon Roman Abramovich, but apparently not. Now no one is sure just who has purchased the estate.

The Russian billionaire has trumped his big-spending rivals and broken a world record by splashing out $750 million on one of the most sumptuous villas on the French Riviera. This famous villa was used by Alfred Hitchcock as the set for the exciting masquerade party seen in the conclusion of To Catch a Thief filmed on location here in the Riviera.

The price of the Villa Leopolda, a Belle Apoque mansion on the heights of Villefrance between Nice and Monaco has amazed estate agents. It has also fuelled local worries that the invasion of Russian money on the Cote d'Azur is getting out of hand. The Russians are coming!

Since the early 1990s, Russian oligarchs, drawn by memories of the Riviera-mad old Russian aristocracy, have been piling into seaside properties at Cap Ferrat, Cap d'Antibes, Saint-Tropez and the other great playgrounds.

TimesOnline reports that the seller of the villa had the steel nerve required to wait for the astronomical bid for Villa Leopolda. Mrs Safra was said to have held out for months as the buyer raised his bid for the villa, between Nice and Monaco, which King Leopold II of Belgium acquired in 1902.

The previous record for a house was said to be the £57 million that Lakshmi Mittal, the steel tycoon, paid for a property in Kensington Palace Gardens in 2004. This macho spending contest by Russian oligarchs is making property agents giddy.

Jean Pierre, a high-end agent, said: "It's completely surreal and we are really uneasy. We don't dare any more to propose any price below €100 million for these clients. Anything below and they throw you out...and you should see how they do it," he told Le Parisien. The Nice Matin newspaper said: "At this price tag, we are beyond luxury and even reality."


STORY TWO - Russia's 8th Richest Man arrested in "Pimping case"

January 12, 2007

Billionaire Mikhail Prokhorov has been arrested by French police in a sex scandal involving alleged prostitutes. Prokhorov is Russia's eighth richest man, with a 54.8% stake in Norilsk Nickel.

None of the press agencies have quite come out and said it, but they are heavily implying that he was breaking the law by organizing 'parties' for rich Russians where Russian 'models' just happened to be present.

The 30 guests, including about 12 young and leggy Russian women, mixed vodka and cripplingly expensive Chateau Petrus 1972 — sometimes in the same glass — and dined on oysters, foie gras and lobster.

Russia's Izvestia newspaper quoted a Russian matchmaker to the wealthy who often flies young girls to Courchevel to join the tycoons' parties. He said they were models, not prostitutes.

"These girls, you see them all the time, they never ski, they walk around Courchevel on high heels," another frequent visitor to Courchevel told Reuters.

Or, in the words of RIA Novosti, Prokhorov is a "pimp suspect."

Prokhorov, who said the women were models and his guests, was held for four days and released without being charged.
........................

Mikhail Prokhorov, a billionaire often described as Russia's most eligible bachelor, was detained during an investigation into a suspected international prostitution ring operating at an upscale ski resort, a French prosecutor said on Thursday.

Prokhorov, 41, chief executive of the world's largest producer of nickel, Norilsk Nickel, was taken into custody on Tuesday at Courchevel, a ski resort in the French Alps, after a lengthy investigation, said the prosecutor in Lyon, Xavier Richaud.

With an estimated wealth of $6.4 billion, Prokhorov ranked 89th on Forbes magazine's 2006 list of the world's wealthiest people. Among the 26 people detained, Richaud said, were Prokhorov, two of his aides, two other people on his company's staff and 10 women.

During the raid, $64,000 in cash was seized from a hotel at the ski resort. The women are not under investigation for a crime, Richaud said, and they are understood to have since left France.

He said, "Mr. Prokhorov denied pimping." Richaud did not indicate the nature of Prokhorov's involvement, or say where the investigation stood, but he said that Prokhorov could be held until at least on Sunday. Most of the people taken into custody have been released, with the prosecutor declining to give other names.

The investigations were started last year, after reports of many young women passing through Geneva using an Austrian travel agency, the Associated Press reported, adding that initial findings suggested that the women were offered payment in goods from luxury boutiques.

The arrests took place at several hotels at Courchevel, located 123 miles due north of Monaco.

This Alpine resort has been a favored playground for Russia's super-rich for some years now. Tycoons like Roman Abramovich, owner of the Chelsea soccer club, gather there each year to celebrate New Year and the Russian Christmas. One year, president Vladimir Putin arrived by helicopter for an afternoon of skiing and lunch at Chalet de Pierres, a mountaintop restaurant.

But the athletic Mr. Putin is the exception. Skiing is usually only an afterthought for many of the ultra-rich, who pay for chalets equipped with private pools, steam baths and fitness centres.

Upon hearing of the event, French interior minister and presidential hopeful Nicolas Sarkozy reacted with a quip.

After he learned that Prokhorov had allegedly offered the services of Russian women to guests at his parties, Sarkozy smiled and said, "Now there's a man who wants to please!"

What a shame the local authorities did not take as worldly a view as Mr. Sarkozy.

STORY THREE - Who Could it Be?

August 17, 2008

The secret has finally been revealed. The mystery buyer of Villa Leopolda is none other than Mikhail Prokhorov, the controversial Russian billionaire. Mr. Prokhorov is believed to have paid more than £400 million for Villa Leopolda, built in 1902 for Belgian King Leopold II near Cap Ferrat.

Mr Prokhorov, the 24th richest man in the world according to Forbes magazine, now heads the Onexim Group, a Russian investment fund specialized in new technologies. Single, he is dubbed "the world's most eligible bachelor" in Moscow.

The purchase suggests Mr Prokhorov has made peace with France, having previously threatened to boycott the country after his 2007 arrest in connection with a prostitution ring. In January 2007 it was believed that Muscovite call girls were being flown to Courchevel to "entertain" the hundreds of super-rich businessman who stay at the resort each January for the Russian New Year.

Mikhail Prokhorov was furious when police swooped on his hotel in the Alpine ski resort of Courchevel last year and began to question the 43-year-old industrialist about a number of young women in his party.

Detectives had carried out an investigation suggesting that prostitutes had been procured for guests. Mr Prokhorov, who is worth some pounds £40 billion and listed as the 24th wealthiest man in the world, was arrested the same night at his hotel along with 25 others.

Those held for questioning included several Russian businessmen and eight women in their twenties who said they were models accompanying Prokhorov.

No charges were brought and all accusations were eventually dropped. However, Mr. Prokhorov was incensed at what he considered to be unnecessary embarrassment not just to himself, but to his guests as well. At this point, the tycoon demanded an apology, saying the scandal had caused "immense damage" to his international image. He fumed when the apology was not immediately forthcoming.

Fellow Russians - some of whom had been arrested alongside him - accused France of disrespect, saying they and Mr Prokhorov were quite prepared to holiday elsewhere in the future. They no longer felt welcome in France, their favorite place to vacation.


But it is now 17 months after the incident and those bitter feelings appear to be in the rearview mirror. On Sunday Mr Prokhorov, who made his pounds £40 billion fortune through Norilsk, the platinum and copper producer, was named as the new owner of Villa Leopolda on the French Riviera.

Earlier owners include the late Italian industrialist and principal shareholder of Fiat, Giovanni Agnelli, and Lebanese-born Swiss banker Edmond Safra, whose widow Lily Safra has now sold the property. Her husband died at his Monaco home in 1999 in a fire that was deemed arson.

Early reports suggested Mr Prokhorov's fellow Oligarch and close friend Roman Abramovich, the Chelsea Football Club owner, had bought Villa Leopolda.

But local sources confirmed that Mr Abramovich had simply been advising his fellow Russian on the sale, and that Mr Prokhorov was in fact the new owner.

A real estate agent based in Monaco said: "Mr Prokhorov was deeply wounded by the fiasco at Courchevel, but this purchase draws a line under any quarrel he might have with the French authorities.

"Like thousands of other highly successful Russians, Mr Prokhorov sees France as a fine country to invest in."


STORY FOUR - UPDATE on Villa

Wednesday, February 18, 2009

The rumor and gossip about billionaire widow Lily Safra's notoriously high maintenance Villa Leopolda just seems never to end.

In the summer of 2008, it was widely speculated (and reported) that The Widow Safra sold her legendary Belle Epoque estate in the Cote d'Azure to Russian billionaire Mikail Prokhorov for a teeth chattering and record breaking £392,000,000.

That's around $560,000,000 to all us Americanos at today's rates. However, back when the deal was alleged to have been done, it rang up to $750,000,000, a nerve-wracking amount of money, the thought of which nearly landed Your Mama right up in the hospital with a colossal case of shock and awe.

Naturally, Mister Prokhorov's people said, "Nyet!"

They vehemently denied Mister Prokhorov's involvement in any rumored sale of Villa Leopolda.

Then came a report in early January of 2009 in The Londoner's Diary that stated The Widow Safra's trophy estate had, in fact, not Aha! been sold. About that time, Your Mama heard from a couple our savvy sources connected to the same sorts of jet-setting circles The Widow Safra runs in and both whispered in our big ol' ear that the news of a sale was just a bunch of hooey at best and a pathetic publicity ploy at worse.

Fast forward to the middle of February when the scuttlebutt starts up again in the London papers. Earlier today, both the Times Online and the Daily Mail ran titillating articles that claim Mister Prokhorov wants out of the alleged deal and is demanding his £39,000,000 deposit be returned by The Widow Safra.

Miz Safra, a lacquer haired high society ladee who knows well how to grind the financial gears, has reportedly refused to return the massive deposit citing French law which states property buyers lose their deposit in the event they back out of a real estate deal after the sales agreement has been signed.

As the children might imagine, the Widow Safra remains mum on the matter and, as usual, Mister Prokhorov's people have once again declared, "Nyet!"

Mister Prokhorov's spokesman went on to repeat the oft repeated claim that the insanely rich Russian billionaire would conduct no bizness in the country of France until French authorities apologize for arresting him for the alleged procurement of prostitutes for himself an some horny friends while they all threw it down billionaire style in the swank ski resort of Courchevel in January of 2007.

Needless to say, the French authorities have not apologized, nor does it look like they're going to. All of which means, of course, that any news of an offer, sale ore request for a deposit to be returned is all just speculation and gossip.

The Big Question

Will he move in or won't he? Whether The Villa is worth the kind of money offered is a debate best left to the realtors and the eye of the beholder. However, there can be no question that Villa Leopolda deserves its reputation as one the true luxury home prizes in the world with an impeccable address.

Affixed high atop a tall and heavily forested hill, the Villa has an amazing view of the beautiful Mediterranean Sea below. In addition, the Villa has a perfect view of Cap Ferrat, Villefrance and its harbor, Eze, and Monaco. It is right in the middle of the most beautiful part of the famous French Riviera. As they say, this place has location in abundance. You can't beat it for ambience.

Your Mama imagines we won't know when or if Villa Leopolda sells until a fleet of moving trucks shows up in the dead of night in an attempt to covertly squirrel out all The Widow Safra's glitzy gew-gaws and swellegant knick-knacks unnoticed by the media. We shall see, children, we shall see.

Incidently, one report went on to say that the global economic downturn has hit rich Russians hellaciously hard and that even uber-flashy Russian billionaire Roman Abramovich is quietly trying to dump his lavish water front spread in the Cap d'Antibes, another unconfirmed rumor that we should all savor, relish and take in with a gigantic grain of salt.

When it comes to Russians, Real Estate, and Rumors, all the salt in the Mediterranean might not be enough.


STORY FIVE - Mikhail wants his money back

January 2010

Russia's richest man Mikhail Prokhorov is going to court to try and get back the $55 million deposit he forfeited after backing out of a deal to buy the magnificent Villa Leopolda on the French Riviera for $750 million including the furnishings last year. The metals magnate signed a sales agreement for the Villa, and French law stipulates that purchasers lose their deposits if they pull out after such an agreement has been signed.

However, Prokhorov's lawyers are now arguing that that the agreement was rendered null and void due to two technical "anomalies", the London Telegraph reports.

Firstly, they say he should have been given the usual seven-day period in which to change his mind, which was denied as Prokhorov signed the agreement under a company name. Secondly, they argue that Safra's notary had "illicitly lumped the furniture price tag with the house price in a declaration to the French state", which they say was grounds for canceling the contract.

Safra's lawyer Jean-Michel Darrois disputes Prokhorov's claims and said in a statement to the newspaper, "We have written proof that Mr Prokhorov, via his lawyers, continued to confirm his intention to buy the property well after the sale agreement." A verdict is due in March.

STORY SIX - Mikhail Loses

March 2010

Poor Mikhail Prokhorov. Last month we reported that the metals magnate had been replaced as Russia's richest man by Vladimir Lisin, and now languishes in second place. Now a court in Nice has just ruled that the oligarch must forfeit the $55 million deposit he put down for the magnificent $750 million Villa Leopolda on the French Riviera in 2008 before backing out of the deal, the London Daily Mail reports.

Prokhorov signed a sales agreement for the Villa, and French law stipulates that purchasers lose their deposits if they pull out after such an agreement has been executed. The magistrate also ordered Prokhorov to pay the Villa's owner Lily Safra an additional $1.5 million penalty.

This may or may not have set a record for the biggest waste of money on a real estate deal in history. Lily Safra announced that she would donate the entire sum to a number of institutions focusing on medical research, patient care, education, and other important humanitarian causes around the world.

She added that Villa Leopolda may or may not be for sale. This may or may not be the last word on the subject.
Boys and Their Expensive Toys

It is time to talk about the real reason why the French Riviera is so popular. The stunning Mediterranean Sea has sparkling blue water that is beautiful beyond description. This area is truly Yacht Paradise. So why is the yacht such an important part of the Mediterranean lifestyle?

The yacht is ultimate status symbol. Everyone wants to be a member of the Yacht Club. We all know they're the ones ruling the world. They decide the fate of the world over mimosas in their glass-paned dining room of privilege.

In addition, we know the guy with the yacht always gets the girl. Beautiful women and yachts seem to go hand and hand. The rest of us ask, "What's so special about a yacht?"

For starters, they get to see something the rest of the world doesn't. From the luxury of their lounge chairs, they sit back and view the French Riviera from the perfect perspective.

They see see the mountains, the forests, the buildings and the villas. They see the harbor and the ships. The magnificent beaches of St Tropez, Antibes, and Cannes exist as their personal wallpaper.

A yacht is like a beach without people. You have the sun, the view and the breeze. Best of all there's no one out there to bug them. These are people who get chased all the time. Finally they have some peace. The women adore the privacy. In addition, they like the comfort, they like the prestige and and they love the private parties where no one can possibly sneak in.


The travel poster on the left shows a yacht docked off the coast of Corsica, a large island in the Ligurian Sea that is part of France. By the way, the Ligurian Sea is another name for the Western Mediterranean.

You history buffs may remember the island of Corsica was the birthplace of Napoleon. Corsica and its neighbor Sardinia are both known for their rugged beauty. The travel poster suggests that by yacht you can discover an uninhabited area on the island that might be fun to explore. Or perhaps go in for a skinny dip.

Nice is 110 miles northwest from Corsica. Translating the French on the poster, it says "By yacht, Nice is five hours away from Corsica".

You can also see a travel poster for Capri. This stunning island off the coast of Italy is 360 miles from Corsica. You would sail to the southeast.

There is a third poster for Ibiza, home of the all-night dance parties on the beach, swimsuit optional. Ibiza is 420 miles southwest of Corsica. This island off the coast of Spain has the reputation for wildest nightlife in the entire Mediterranean. Considering the stories of non-stop hedonism, no one dares to live there. On the other hand, everyone wants to visit it.

The point is simple. When you own a yacht, the entire Mediterranean becomes your backyard.

Some people say owning a yacht is like having a floating castle with a huge moat. You are completely safe. Better yet, anytime you get bored with where you are at, you simply move your castle somewhere else.

No one onshore can get to you, but you can go visit them any time you wish. That's the best of all worlds. No one can drop in on you. You have complete control of your doorstep.

Today the Riviera. Tomorrow Rome. A stopover for the Carnavale Masquerade in Venice.

Through the Suez Canal down the coast of Africa to the Seychelles. Back up to the Maldives and its stunning islands. How about a quick stopover in Dubai? Then over to Singapore. Bali. Tahiti. The Great Barrier Reef of Australia. Hong Kong.

Time to visit Hawaii. How about a trip to San Francisco? Then down the coast to Acapulco and on to Costa Rica. Through the Panama Canal to see Lake Gatun and visit Barro Colorado, a protected island with an incredible tropical rainforest.

Then its on to Cayman. Over to St Lucia. Maybe a detour down to Rio and Ipanema Beach. Or perhaps instead a visit to Miami for Salsa?

Now its time to hop the Atlantic. Bermuda anyone? How about the Azores or perhaps the Canary Islands off the coast of Africa. Then pass the Straits of Gibraltar to the Mediterranean.

Let's drop by Ibiza on the way back. Then its time to hang out near Cannes. Is it time for the Cannes Film Festival? This lifestyle is just a fantasy to most of us, but it sure sounds like fun.

Whenever you get lonely, stop at a favorite place and put down the anchor. The moment people find out you own a yacht, you have friends for life. When you find a few you like, throw an all night party on board. Let your hair down; have fun.

When its time to go, collect email addresses so you can stay in touch with your new friends. Then get out your map. Where to next? What the heck. Follow the sun.

Rick Archer's Note:

This story about the Yacht Lifestyle concludes my story about Monaco and our trip to the French Riviera. If you want to see one more story about yachts that will knock your socks off, go read my article about Greg Norman's yacht.

So tell me the truth. Are you ready to go out and buy a yacht and sail the Seven Seas? Let me know if you do so Marla and I can tag along.

My trip to see the Riviera was a day of mixed feelings. I can honestly say that Travel is almost always pleasurable, but once in a while I do get envious. I felt envious pretty much the entire day on our trip to the Riviera. I felt sort of the same way I do when I ride my bike through River Oaks here at home in Houston.

By the way, before our cruise trip, I wrote several interesting stories about the French Riviera. If you have enjoyed the stories I have written so far, I know you would enjoy the other articles as well. There are six stories in all. I am sure there is some overlap, but not that much.

Thanks for reading! RA, April 2011