LIFE IN THE FAST LANE - THE RIVIERA
Pre-Cruise Writeup

Story written by Rick Archer / June 2009

The French Riviera is a legendary stretch of French coastline that is home to some of the wealthiest people in the world. The French call it La Cote D'Azur - the Blue Coast.

Thanks to the combination of sun-kissed beaches, rugged French Alps, and the startling blue Mediterranean Sea, this area is incredibly beautiful. The area also enjoys a balmy climate - at least 300 sunny days a year is the norm.

The French Riviera has proximity to the major countries of Europe - France, Spain, Italy, Germany and Switzerland. As a result, this is the ideal place for the affluent to live or to at least own an expensive trophy vacation home. The Riviera is the home of the Super Rich.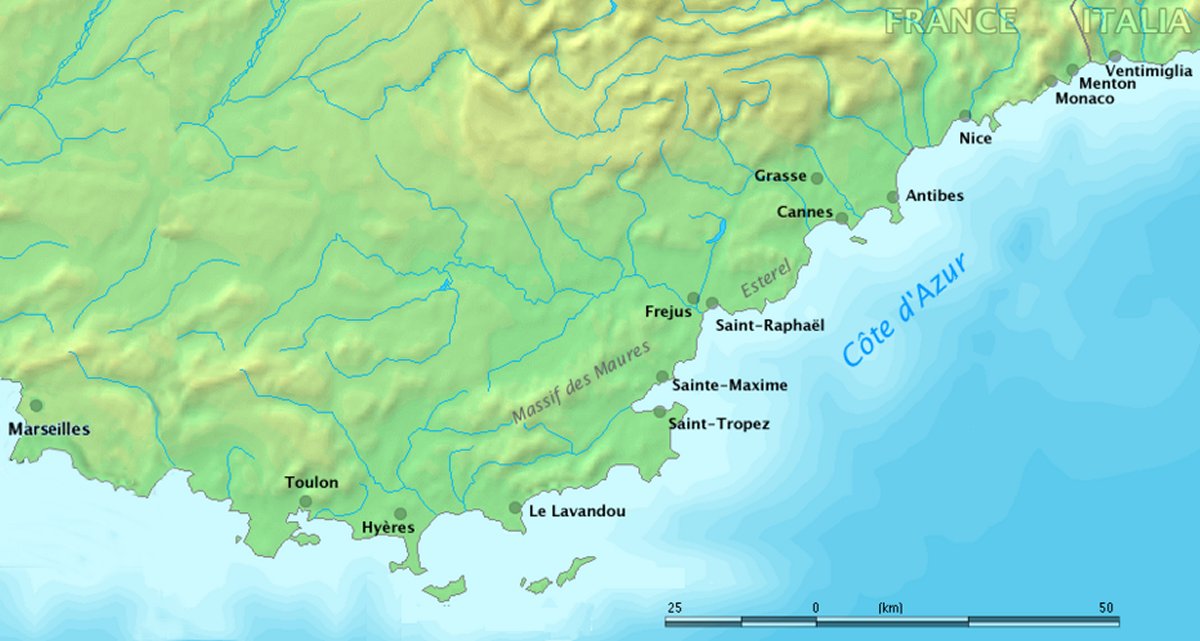 START AND END OF THE RIVIERA

There is some argument as to where the "true" French Riviera ends. Everyone seems to agree the French Riviera begins at Menton, a small town situated right on the French-Italian border. However, where the Riviera ends is a source of contention.

The very first source, Wikipedia, suggested the French Riviera extends from Menton to Hyeres, the southernmost part of France. This would mean the Riviera is 84 miles long or 135 kilometers if you prefer that irritating metric system.

On the other hand, if you prefer to believe the real estate snobs, the Riviera ends at Cannes, a distance of only 30 miles from Menton. Including Monaco, this is definitely the wealthiest stretch of the world's most valuable coastline.

A third source said the Riviera ends at the glamorous Saint-Tropez.

I spent two hours looking for the definitive boundaries of the Riviera. After scrolling through eighteen pages of Google listings, I stumbled across a book by Ted Jones. Mr. Jones called Hyeres the Gateway to the Riviera. Aha! I had to smile. The very first entry on Google - Wikipedia - had listed Hyeres as one of boundaries. Gee, I could have saved myself two hours if I had just stopped there. There has to be a lesson in that.

Monte Carlo in the famous country of Monaco
I MAKE A PREDICTION -
GET READY TO SEE THE RIVIERA!

On our cruise to Alaska back in 2005, our cruise ship hugged the incredible coastline of Alaska for the entire trip. I was so mesmerized by the beauty of this totally unspoiled wilderness that I spent hours just staring in awe at the panorama of mountains and forests. It was so exciting! I could never get tired of looking at that.

The same thing happened in Hawaii 2008. On our final day, our cruise ship sailed right along the spectacular Napoli coast. We were treated to a close-up view of this incredible mountain splendor on the island of Kauai. Very impressive.

As I study our itinerary, not only are we headed to Nice, the largest city on the French Riviera, but we are going to Marseilles as well. The shortest route from Nice to Marseilles is right along the Riviera. I could be wrong, but it makes complete sense that our cruise is going to hug the entire fabulous Riviera coastline.

I expect we will be treated to a marvelous two-hour spectacle of some of the most beautiful and famous postcard scenery in all of Europe. Don't forget to bring your binoculars!
THE FRENCH RIVIERA - A LITERARY GUIDE
By Ted Jones

(Rick Archer's Note: In 2004, Mr. Ted Jones, a resident of Villefranche, published a neat book about the Riviera. He chronicled the personal stories of the many literary giants who have fallen in love with this area. It was Mr. Jones' theory that these writers played a major part in creating the enduring legend of the Riviera. I have reprinted the Introduction to his book since it not only gives a keen insight into the Riviera mythology, but it is fun to watch him indulge in such delightful name-dropping.)

"I wish to God I had died in Hyeres." Robert Louis Stevenson

The Gateway is the old Roman port of Hyeres, the Riviera's southernmost town. Until the railway began to inch its way along the coast, Hyeres was the only convenient option for northern travelers. Its literary ghosts include the Russians Tolstoi and Turgenev, Americans Henry James and Edith Wharton, and Britons Rudyard Kipling and Robert Louis Stevenson.

Hyeres is the hub of a ring of coastal towns. These include resorts like Bandol and Sanary-sur-Mer, with their memories of Brecht, the Lawrences and Huxley, and St Tropez, which became the haunt of French writers like Sartre, Francoise Sagan, and Colette.

Next is trendy Cannes, at whose film festival stars and writers have romped for over 60 years. Cannes is the city that Kipling called a 'music hall revue' and Wodehouse 'a loathly hole', where novelist Arnold Bennett wrote his sequel to The Card - and entertained a young Rupert Brooke to tea - and where Guy de Maupassant cut his own throat.

At the eastern end of the Bay of Cannes, Antibes stretches out into the Mediterranean like a basking dolphin, at its nose the famous Eden Roc Hotel - host to the fabulously rich.

Antibes is rich in literary links. Here Jules Verne moored his yacht and wrote his scenario for Around the World in 80 Days. Scott Fitzgerald wrote Tender is the Night on its 'bright tan prayer-rug of a beach', and Graham Greene spent his last 24 years in a modest one-bedroom apartment, where he wrote his last seven novels.

Nice, the capital of the Cote d'Azur, is a treasure house of literary memories. Here Hans Christian Anderson and German philosopher Nietzsche used to winter, Oscar Wilde recuperated after his release from jail for homosexuality, and travel writer Bruce Chatwin died from AIDS.

Scores of writers have strolled the sweeping palm-fringed crescent of Nice's Promenade des Anglais, from Nabokov to James Joyce Louisa May Alcott set parts of Little Women here, HG Wells, Hemingway, and Scott Fitzgerald cavorted in its posh Negresco Hotel, and on its sky-blue chairs, a young American poet, Sylvia Plath, wrote a euphoric postcard to her mother. Here the Russian playwright Chekhov watched Queen Victoria drive by, and the dancer Isadora Duncan was strangled in a bizarre accident with her own scarf.

Around the bay of Villefranche, the Cap Ferrat dangles like an earring into the Mediterranean. Around its coast, the manicured lawns of sumptuous villas - many of which belonged to King Leopold II of Belgium - roll down to the water's edge.

One of these villas, the Villa Mauresque, originally built in the Moorish style to house King Leopold's personal priest, was bought in 1926 by the English novelist W. Somerset Maugham, who lived there until his death almost 40 years later. The villa was a writers' Mecca, its pampered pilgrims including the leading artists, musicians and writers of the day.

A 'mini-Manhattan' is what Anthony Burgess, author of Clockwork Orange, called Monaco. Ever since the granting of the gambling franchise of 1863, writers - and their characters ranging from AA Milne's Winnie the Pooh to Ian Fleming's 007 - have contributed to the Casino's coffers. Dorothy Parker and Harpo Marx left their offerings on its green baize tables (but his tetchy namesake Karl Marx called the Casino's clients 'lunatics').

Sandwiched between Monaco and the Italian border are Cap Martin and the city of Menton. At the peak of the Cap, in the Hotel Ideal-Sejour, the Irish poet and playwright William Butler Yeats spent the last flagging months of his life in 1939. He wanted his remains to be buried in his beloved Sligo back home, but a war intervened. It was nine years before the Irish navy came to collect what was left of Yeats.

The last town on this journey is that most Italian of French cities, Menton. Here, in the Villa Isola Bella, the consumptive New Zealand short story writer Katherine Mansfield finally found peace - 'this little place is and always will be for me the only place'. Here she published a succession of stories until her death in 1923. Sadly, her much-loved villa is now overgrown and crumbling - 'bella' no longer.

As in Menton, in 1947, the Irish playwright Samuel Beckett, author of Waiting for Godot, lived in the avenue Aristide Briand. It is the last street in France - appropriately, for the author of Endgame - and, like this journey, ends at the Italian border.

Writers created the legend of the Cote d'Azur, and, down the ages, writers have perpetuated it. 'Here,' wrote Aldous Huxley, 'all is exquisitely lovely.' Rebecca West called it 'the nearest thing to paradise'; Lawrence Durrell was 'convinced it is the only place to live'; to Vita Sackville-West it was 'a perfection of happiness'; and Kipling hailed its 'great leap forward into summer'.

Such is the wealth of literature written from and about the Cote d'Azur that shows its inspirational force is undeniable. Established writers were able to leave their day-to-day career pressures left behind. Here they were free to explore new styles and genres. Many writers, inspired by the combination of sunshine and serenity, and stimulated by the proximity of other gifted artists, found their voices here.

When Simone de Beauvoir wrote of 'looking forward to sun, silence, and time to work', she may well have been speaking for all the writers of the Cote d'Azur from Alcott to Zola, from Hyeres to eternity.
| | |
| --- | --- |
| | |
FAMOUS PAINTERS OF THE RIVIERA

Not to be outdone by the writers, famous painters have made their way to the Riviera. It probably comes as no surprise that many famous painters were drawn to the Riviera for the same reasons the writers were - beauty, rest, and good company. Indeed, the climate and vivid colors of the Mediterranean attracted many famous artists during the 19th and 20th centuries, the Golden Era of the Riviera. Not only did they come to relax, they came here for inspiration. As you can see in these paintings, the Riviera is a wonderful place to immortalize through art. Magnificent villas, colorful landscapes, majestic mountains, boats and yachts wherever the eye can see, plus always the amazing dark blue of the Mediterranean - this wonderful area would inspire anyone to paint!

Here is an impressive list from Wikipedia of the artists who frequented the Riviera. Since it is the "French" Riviera after all, you will see a Hall of Fame list of famous French artists plus some guy named Picasso.

Pierre Bonnard (1867-1947); retired to and died at Le Cannet.
Georges Braque (1882-1963); painted frequently at L'Estaque between 1907 and 1910.
Roger Broders (1883-1953); Parisian travel poster illustrator.
Paul Cézanne (1839-1906); a native of Aix-en-Provence, Cézanne painted at L'Estaque between 1878 and 1882.
Henri-Edmond Cross (1856-1910); discovered the Côte d'Azur in 1883, and painted at Monaco and Hyères.
Maurice Denis (1870-1943); painted at St. Tropez and Bandol.
André Derain (1880-1954); painted at L'Estaque and Martigues.
Raoul Dufy (1877-1953); whose wife was from Nice, painted in the region, including in Nice, Marseille and Martigues.
Albert Marquet (1873-1947); painted at Marseille, St. Tropez and L'Estaque.
Henri Matisse (1869-1954); first visited St. Tropez in 1904. In 1917 he settled in Nice, first at the Hôtel Beau Rivage, then at the Hôtel de la Méditerranée, then at la Villa des Alliés in Cimiez. In 1921 he lived in an apartment in Nice, next to the flower market and overlooking the sea, where he lived until 1938. He then moved to the Hôtel Régina in the hills of Cimiez, above Nice. During World War II he lived in Vence, then returned to Cimiez, where he died and is buried.
Claude Monet (1840-1927); visited Menton, Bordighera, Juan-les-Pins, Monte Carlo, Nice, Cannes, Beaulieu and Villefranche, and painted a number of seascapes of Cap Martin, near Menton, and at Cap d'Antibes.
Edvard Munch (1863-1944); visited and painted in Nice and Monte Carlo (where he developed a passion for gambling), and rented a villa at Saint-Jean-Cap-Ferrat in 1891.
Pablo Picasso (1881-1973); spent each summer from 1919 to 1939 on the Côte d'Azur, and moved there permanently in 1946, first at Vallauris, then at Mougins, where he spent his last years.
Auguste Renoir (1841-1919); visited Beaulieu, Grasse, Saint-Raphaël and Cannes, before finally settling in Cagnes-sur-Mer in 1907, where he bought a farm in the hills and built a new house and workshop on the grounds. He continued to paint there until his death in 1919. His house is now a museum.
Paul Signac (1863-1935); visited St. Tropez in 1892, and bought a villa, La Hune, at the foot of citadel in 1897. It was at his villa that his friend, Henri Matisse, painted his famous Luxe, Calme et Volupté in 1904. Signac made numerous paintings along the coast.
| | |
| --- | --- |
| | |

THE FRENCH RIVIERA - YACHT PARADISE!


The Mediterranean Sea is the most popular yachting destination on earth. Since the Mediterranean is almost completely enclosed by land, the waters are supremely tame. In addition, the warm climate offers little threat in the way of major storms such as hurricanes.

The French Riviera is considered the crown jewel of "The Med" with its stunning scenery, gorgeous coastlines, and charming ports. For the adventuresome, a yacht can offer the chance to find a secluded beach to spend the day or the chance to float over to Saint Tropez for its wild night-life.

The French Riviera is home to the greatest concentration of yachts in the world. Using Google Earth, I counted 40 separate yacht marinas along the French Riviera. Every one of those marinas had 20 or more yachts. Considering the Riviera is only about 80 miles long, that means there is one yacht marina for every two miles.

For example, the marina pictured on the right is located in Cannes. I estimate there are 250 boats docked in there. As you see, they are neatly sorted for size. What you can't see is that there is another marina in Cannes about a mile away. The other marina only holds about 200 yachts, mostly because they are all bigger! In addition, believe it or not, there are two smaller marinas in Cannes as well.

There are so many yachts in the waters around the Riviera that you start to think of Seinfeld - yachta yachta yachta. They are EVERYWHERE. I bet there are so many yachts that they have rush hour traffic at 5 pm just like freeways to get back into the marinas and prepare for exciting evening activities.

Some yachts are so big they don't even bother docking. They just stay anchored out in the bay. These yachts are so large they hold baby yachts inside that can be brought out and used to tender the guests into Monaco or Cannes. You have no idea how big some of the ships are. The current largest yacht in the world is the length of two football fields! Mind you, the largest cruise ships in the world are about 1,200 feet at the moment, so these mega-yachts are literally half the size of cruise ships. Imagine having half a cruise ship all to yourself.

The underlying theme of the French Riviera is LUXURY and lots of it.

Deluxe casinos, glitzy night life, million dollar villas, exquisite swimming pools, stunning women (and men), the finest restaurants, glamour, sophistication, expensive cars and world-famous celebrities are all part of the magnificent picture.

However this picture is incomplete; it is missing one more piece of the puzzle - a yacht to die for, the ultimate status symbol.

So what does a yacht like this cost? The cliché, of course, is that if you have to ask, then you can't afford it. A yacht is ultimately just a toy. But what a toy! It symbolizes everything - wealth, freedom, arrogance, power, glamour, leisure, and sex. Yum.

I don't know about the rest of you, but having a yacht sure looks like fun to me. In my dreams, of course. These pictures make me about as envious as I can possibly be!

The well-known philosopher Bertrand Russell said envy was one of the most potent causes of unhappiness. "It is a universal and most unfortunate aspect of human nature because not only is the envious person rendered unhappy by his envy, but also wishes to inflict misfortune on others."

Although Russell said that envy is generally seen as something negative, he also believed that envy was a driving force behind the movement towards democracy and must be endured in order to achieve a more just social system.

I just remind myself that money isn't everything, materialism is a waste of time and that rich people are certain to be very miserable. I repeat that to myself constantly.
According to affluentusa.com, the term 'Luxury Yacht' refers to a very expensive privately-owned yacht which is professionally crewed. There has been a big change in the long history of luxury yachts and these have been transformed from something simple and classy to a high-tech rich asset.

Also known as a super-yacht, a luxury yacht may be either a sailing or motor yacht. This term began to appear at the beginning of the 20th century when wealthy individuals constructed large private yachts for personal pleasure. Early luxury sailing yachts include Americas Cup classic J class racers like S/Y (sailing yacht) Endeavour and Sir Thomas Lipton's S/Y Shamrock. The New York Yacht Club hosted many early luxury sailing yacht events at Newport, Rhode Island, during the Gilded Age.

More recently, over the last decade or two, there has been an increase in the number and popularity of large private luxury yachts. Luxury yachts are particularly bountiful in the Mediterranean and Caribbean Seas, although increasingly luxury yachts are cruising in more remote areas of the world. With the increase in demand for luxury yachts there has been an increase custom boat building companies and yacht charter brokers.

Some yachts are used exclusively by their private owners, others are operated all year round as charter businesses, and a large number are privately owned but available for charter part time. Weekly charter fees range from a few tens of thousands of dollars a week to nearly a million dollars a week. This covers the wages of the crew, but not fuel, food and drink, or other incidental expenses.

Yachts from 23 meters (75 feet) and up qualify for design awards from the Superyacht Society, but at the bottom end of that scale yachts will not necessarily be crewed and many set the minimum length for a superyacht considerably higher. From around 30 meters (98 feet) and up yachts are always crewed. A 45 to 50 meters (148 to 164 feet) yacht, the smallest with a generally accepted claim to superyacht status, will usually be a three decker with cabins for 12 guests (that is a preferred number, more common than either 10 or 14, and is found on yachts across quite a wide size range), and for a crew of a similar size. A 50 meter yacht has one or two tenders for reaching shore and other "toys" which may include a speed boat or sailing boat, jet-skis, windsurfing and diving equipment and a banana. Up to date yachts have multiple flat screen televisions and satellite communications.

The number of really large yachts has increased rapidly since the 1990s and increasingly only yachts above around 65 meters (213 feet) stand out among other luxury yachts. Yachts of this size are almost always built to individual commissions and cost tens of millions of dollars (most super-yachts cost far more than their owners' homes on land, even though those homes are likely to be among the largest and most desirable). A yacht of this size usually has four decks above the water line and one or two below. It is likely to have a helicopter landing platform.

Apart from additional guest cabins, which are likely to include one of more "VIP suites" besides the owner's suite, extra facilities compared to a 50 meter yacht will include some or all of indoor jacuzzi, sauna and steam rooms, a beauty salon, massage and other treatment rooms, a medical centre, a discotheque, a cinema with a film library, plunge pool (possibly with a wave-maker), a playroom, and additional living areas such as a separate bar, secondary dining room, private sitting rooms or a library. There will be more boats and "toys" than there are on a 50 meter yacht.

It's only something to wonder - how yachts of the future would be and what directions would they take in terms of their design, purpose and to what different aspects of our lives would they touch.

This yacht can be found at yachtplus.com. I hope they don't mind letting us use
these pictures of their magnificent yacht to whet our thirst and imagination.
| | |
| --- | --- |
| | |
PAUL ALLEN'S MEGA YACHT - THE OCTOPUS docked in MONACO

The harbor at Monaco is always lined with mega yachts such as the famous Octopus (pictured above), a fixture on the Riviera. So it is surprisingly to realize this famous harbor is relatively small compared to other Riviera marinas. The foothills of the Alpes Maritimes just tower over Monaco. The harbor is lined with instantly recognizable landmarks: on the one side, the Hotel L'Hermitage; on the other, the Royal Palace and beautiful old town, not to mention the world-famous Casino Royale. For raw, unadulterated glamor, this is the place to be.

Paul Allen was the co-founder of Microsoft along with his buddy Bill Gates. He is considered one of the top ten wealthiest men in the world. In 2003, the launch of Allen's 416 ft Octopus secured its position as the world's largest yacht. Today, just six years later, the Octopus has fallen to eighth among the world's super-yachts. The current largest ship, the Eclipse, is 525 feet long. They just keep getting bigger.

The Octopus cost Allen over $200 million. It has a permanent crew of 60, including several former Navy Seals.

The Octopus has two helicopters, seven boats, a 10 man submarine and a remote controlled vehicle for crawling on the Ocean floor. The submarine has the capacity to sleep eight for up to two weeks underwater.

On average, owners must spend a minimum of 10 percent of the purchase price every year to keep these yachts in good working condition and cover crew salaries. Therefore The Octopus requires a $20 million annual budget

PORT GRIMAUD - THE INCREDIBLE YACHT PLEASURE CITY

As far as I am concerned, Google Earth is one of the most amazing features on the Internet. Google Earth literally allows you to visit any place on earth and get a pretty good close-up look. You can see your own roof top or go visit the top of the Mount Everest. It is a wonderful way to visit any location you are curious about. For this article, I have scrolled up and down the Riviera looking at everything there is to see from harbors to beaches to islands and mountains. One place in particular made me stop in my tracks.

"What the heck is this place?" I wondered. Fortunately, Google Earth has captions as well. The captions allowed me to identify this amazing boat community as Port Grimaud near Saint Tropez.

Here is a brief write-up on Port Grimaud:

At the head of the Gulf of St-Tropez, just north of La Foux on the main coast road, the ultimate Côte d'Azur property development half stands and half floats. Port Grimaud was created in the 1960s as a private lagoon pleasure city complete with waterways for roads and yachts parked at the bottom of every garden.

Port Grimaud was designed in 1966 by the French architect Francois Spoerry. It was the dream of a man who was both an architect and a sailor as well. It was always his ambition to have his own boat just in front of the house. As he let his imagination wander, he conceived of a Venice-style community where everyone would have access to visit the Mediterranean Sea in a matter of minutes.

So is this place a city or a mooring marina? Actually it was designed as both. The quays are lined with gardens and boats are moored against the houses. Built in a Venetian style, the mainly traffic-free town is popular with boat owners as most properties come with their own berth.

All the houses are built in exquisitely tasteful old Provençal style. Many come equipped with their own private pool. The owners, Joan Collins for example, are more than just a little well-heeled. It's surprising that the whole enclave isn't wired off and patrolled by fiercesome dogs, but then most tourists don't come equipped with boats to snoop around with.

The main visitors' entrance is 800m up the well-signed road off the N98. You don't have to pay to get in, but you can't explore all the islands without hiring a boat or joining a crowded boat tour (around €4). Even access to the church tower for views is controlled by an automatic paying barrier (€1).

However, if you want to eat and drink, there are rows upon rows of brasseries, restaurants and cafés, clearly designed for the visiting public rather than the residents, and not particularly good value (though affordable enough).

This entire area was originally shallow marsh land. The secret was to create artificial canals. As the canals were dug out, the excavated dirt was then used to create the islands.

Little by little, 2000 homes were built, none of them looking like the other; every paint color, balcony and shutter was registered in order to find the original color in case of restoration.

Do you see the little island in the middle? Look below for a close-up thanks to
Google Earth. Do you see the bridge? Is this place cool or what!