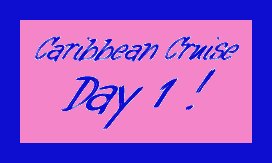 Well, for starters, the Intrepid SSQQ 30 made their way
to New Orleans on Saturday, August 29. We boarded the
Enchanted Isle Cruise Ship of the Commodore Cruise Line
around 2 or so in the afternoon.
My earliest memory was being shocked at just how small the room was. The bathroom was so small you could practically shower, brush your teeth, and go potty all at the same time. That is certainly one way to save time !
My other memory was the difficulty of figuring out where everything was. With 8 decks, there were also things located in the front, middle, and back of each deck. As Sam and I explored the ship we constantly got lost.
One of the ship's crew warned my daughter Sam about the legend of the ancient crocodile who lives somewhere in the bottom of the boat and has been known to attack passengers. Sam wasn't afraid until she found out that crocodiles are actually pretty fast. I told her I would simply run away. "But Daddy, everyone knows how slow you are. You can't outrun an alligator !"
"I don't have to outrun an alligator, Sam, I just have to outrun you !"
Nothing very exciting happened the first day. Everyone was pretty tired from the travel and wanted to get settled in before looking for trouble. Plus it was pretty hot outside. The Houston heat decided to chase us into New Orleans.
Around 4 pm we headed down the Mississippi River towards the Gulf of Mexico. I was surprised to learn that New Orleans is actually about 90 miles north of the Gulf. The strong current of the mighty Mississippi swept us quickly out to sea. By 8:30 pm we made it to the Gulf.
I enjoyed watching the scenery along the Mississippi, the river of Tom Sawyer and Huck Finn. There is actually very little development so far along the river, maybe because it floods whatever is built nearby. Duh.